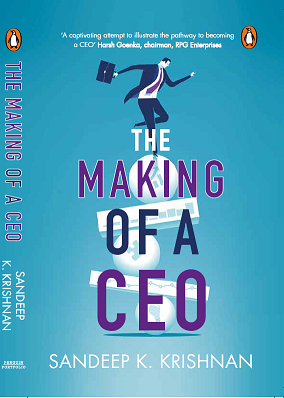 The Making of a CEO is an illuminating result of interviews and analysis of top level CEOs across various sectors. The book explores nuances of leading in different contexts like start-ups, large corporations, family businesses, educational institutions, not-for-profits, public sector and the government. The journey to the top involves three key aspects—building professional credibility, managing your career and managing yourself. Easy to read and dotted with insightful interviews, this book is a must-read for anyone who aspires to be in the top job or is already there.
Reviewed by Vijay Pasupathy, Director, EY – PGP 2005
Sandeep K. Krishnan has addressed a very interesting topic in his book, Making of a CEO.  In my consulting career, I have worked with CXOs across the spectrum. If there is a one single element that could make the maximum impact in the organisation's success, it is the CEO. The book addresses this question – What makes a successful CEO?
The most enticing part of the book is, Sandeep has blended multiple ways to share a concept.  Interviews of CEOs, research based insights, and his own experiences. The book is also written in a very simple and narrative manner that appeals to a senior professional or even a graduate straight out of the MBA school.
The other interesting aspect of the book is that it covers the wide-spectrum of contexts that a CEO will be operating. The book covers leading in established firms, Start-ups, NGOs, Family Businesses, Public Sector/Government, or educational institutions. I have not seen a book that so succulently covers a very pertinent topic. Practical and at the same time grounded on research, I found the book an easy yet effective read.
The other interesting aspect is that the book covers some of the IIMA's very successful entrepreneurs. It is a moment of pride for Alumni of IIMA to read about them in the book.
Review 2: By Hitesh Gossain, Founder Onspon.com, PGP 2005
I was delighted to get a copy of the book, Making of a CEO, from Sandeep who is a batch-mate from IIM Ahmedabad.  I have known Sandeep as a very passionate student in the area of HR and Leadership during his days at IIMA. He has followed up the passion with rich experience of working with various organizations and also teaching at IIMs.  The book is a deep and interesting peep in to his expertise.
The most appealing part of the book for me, was the chapter on the leading Start-ups. Being a founder of a start- up myself, I could relate to most of the insights that he shared in the book. Leading a start-up from an idea to a valid business enterprise is daunting yet challenging task. There is nothing more exciting than the same. Sandeep has shared this journey in a very easy to visualise narrative. The interesting stories of successful and upcoming entrepreneurs are worth reading and sharing.
I would recommend this book for its simplicity, rich narratives, and above all the insights the author brings to the table.
QUOTE: "'Is it skills, integrity, relationship management, family background,
keeping an ear to the ground . . . what is it that makes a good CEO?
This book goes a long way to help us understand this by blending
real-life examples with insights from research"—Prof. Errol D' Souza,
Director, IIM Ahmedabad
"Sandeep paints a vivid description of the role of a CEO in multiple
contexts—start-ups, established companies, the public sector, educational
institutes, family businesses and social organizations. He is able to
bring out the nuances of the role across these diverse environments
and provide valuable suggestions for professionals who aspire to be
successful CEOs'—G.V. Ravi Shankar, managing director, Sequoia
Capital India, PGP 2004.