Chennai Chapter 'The Prophet and the Poet: IIMA Alumni Chennai Chapter Raises Funds for VIDYA SAGAR'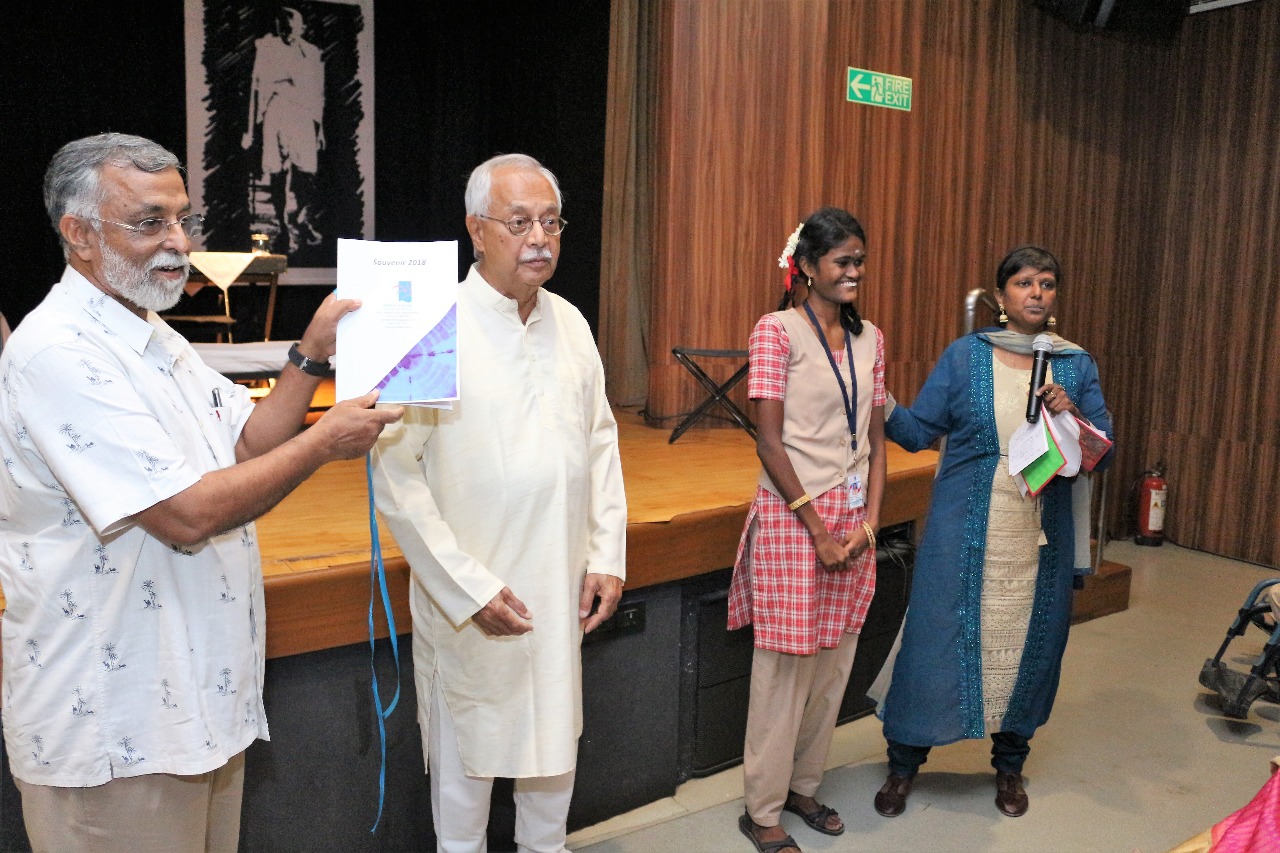 – KC John (FPM 1988)                     
The IIMA Alumni Association Chennai Chapter hosted an English Play, the Prophet and the Poet, at the Music Academy on Saturday the 28th July 2018 from 6:00 PM. We joined hands with Pan-IIM Alumni to raise much needed funds to help Vidya Sagar. Founded in March 1985, Vidya Sagar serves children and adults with profound intellectual disabilities. For three decades, Vidya Sagar has been a voice for the voiceless and a witness to the transformative effects of love, vulnerability, forgiveness and simplicity. Its message transcends the world of disabled, and speaks to all across traditional culture, class, castes and gender. The play attracted the who's who of Chennai city.
Review of the Play: the Prophet and the Poet 'The Prophet and the Poet' track letters exchanged between Mohandas Karamchand Gandhi and Rabindranath Tagore, the two stalwarts of the Indian freedom struggle. The Chennai play was the 100th performance by the Bangalore Little Theater since its opening. The play premiered by invitation at the Sabarmati Ashram, Ahmedabad and has been performed since at the Visva Bharati University in Santiniketan and travelled across the world.
Gandhi and Tagore managed to shake the nation out of its stupor and awaken in its people the realization that subservience must be replaced by proactive opposition. While both dreamt of an India that was sovereign, their approach was different in ideology and in practice. Tagore, the poet, roused the people through revolutionary and mellifluous prose. While Gandhi, the politician, preached active rebellion through non-violence and non-cooperation. The poet advocated both eastern and western education as the path to holistic development. The prophet on the other hand distanced the people from western ideology and celebrated Indian-ness.
A poet and a politician, amongst others, took the mutiny against the colonizer forward and realized the dream. Mentor, friend and critic to one another, they agreed very early on in their association to disagree. The play brings to life their 25-years old association through a series of letter that has been published by Visva Bharati University.
Vijay Padki, one of the founder IIMB faculties crafted the script and directed the play. It posits Gandhi's stance and Tagore's counter stance (or vice versa) through excerpts from their letters in the form of a debate between the two. The play was a debate and equally often, contradictory views extrapolated in isolation, in the form of monologue or soliloquy.
The central message from the play, 'the Prophet and the Poet' is relevant even in the contemporary India. The play teaches that serious ideological and ethical conflict could be discussed and debated with civility.  The play draws our attention to the ability to go beyond differences in search of common ground as was manifested through a historical friendship through the man Gandhi called 'Gurudev' and the man Tagore called the 'Mahatma'.