IIM ALLY: 2nd ANNUAL LGBTQ CONCLAVE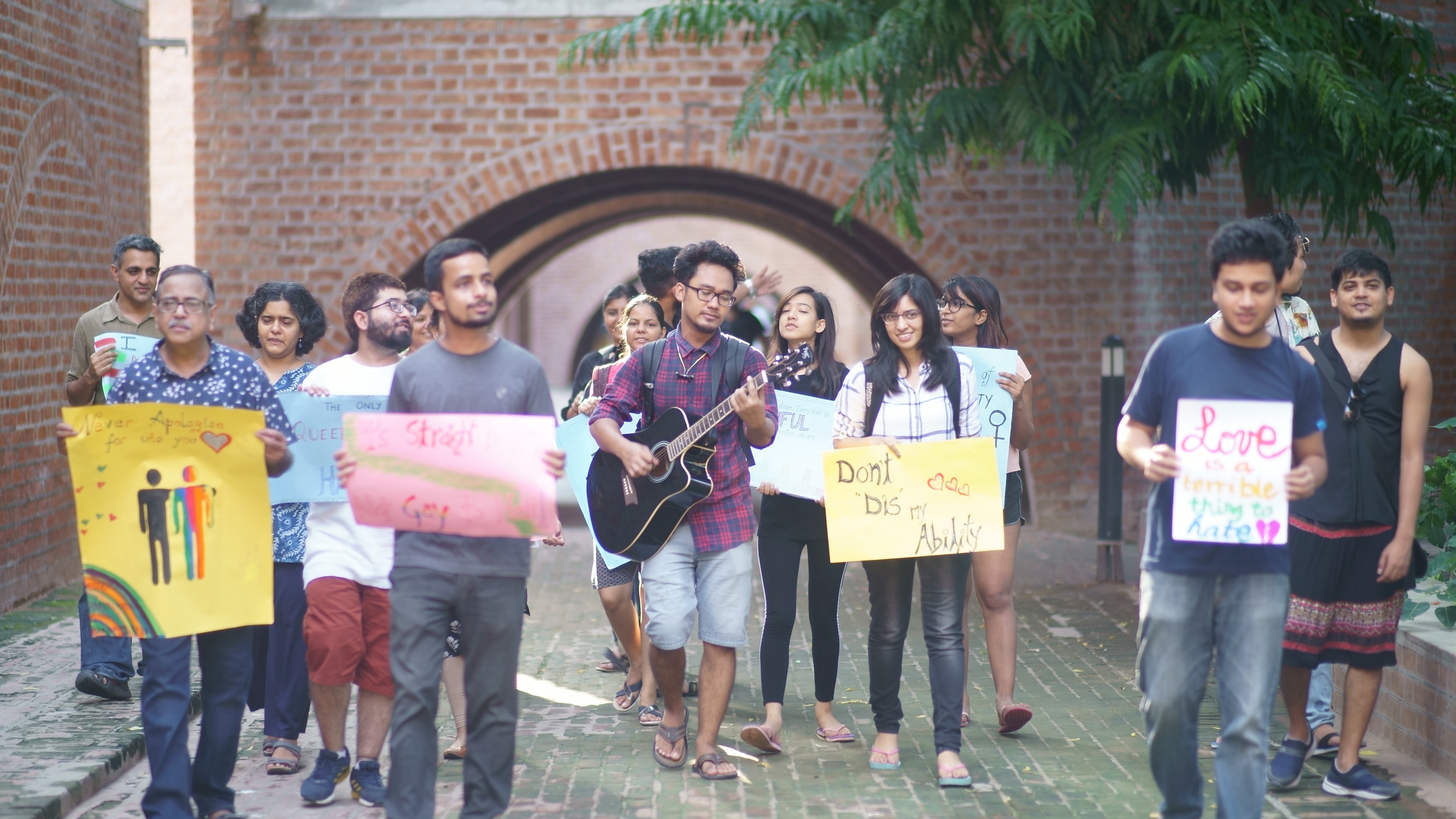 On September 06, 2018, the Supreme Court of India progressively reversed its decision on Section 377, a controversial ban on consensual homosexuality dating back to the colonial era and 157 years. Even before the verdict, IIM Ally organized the 2nd Annual LGBTQ Conclave in August – recognizing everyone's right to love and feel equal.
It was a lazy August weekend. The Supreme Court verdict was still awaited. But for IIM Ally, the LGBTQ resource group of IIM Ahmedabad, this was as good a weekend as any to celebrate queer pride and inclusivity. And so with hearts filled with joyous anticipation and heads held high, we walked around the campus singing, hollering and carrying slogans, thereby, signaling the commencement of the second edition of the annual LGBTQ Conclave on August 11th and 12th.
The 'Inclusion walk', as we called it, was the result of a unique collaboration with various clubs in the campus, including IIM Ally, WLS – the Women Leadership Society, EOSC – The Equal Opportunities Students' Committee, IIMACTS – IIM Ahmedabad Cultural and Theatrical Society, the Music Club and MAD – the Movies and Design club. Armed with the cacophonic voices of the milieu, the musical instruments like the guitar and the djembe; along with several beautiful and artistic posters displaying – queer pride, women empowerment and equal opportunities slogans; the entire IIMA community joined the walk singing and celebrating unity in all spheres of diversity. Even as we waited with bated breath for the honorable Supreme Court to deliver the historic victory giving the Queer community its long deserved independence, we walked with pride to show that we would endure, stand tall and stand for all! This was a walk that broke all barriers as students, faculty and staff walked together laughing, joking, sharing each other's joy.
The uniqueness of the event was even more augmented as one of our cis-gendered male students (who identifies himself as a conventional heterosexual individual and a queer ally) boldly showed up dressed in female attire bending all the rules of gender stereotyping! There were no boos or jeers as he walked in with confidence and took his place by our side. Instead he was welcomed with loud cheers and accolades as overwhelmed 'quite a few among us' had tears in our eyes.
The excitement was palpable as the whole campus turned electric. The enthusiasm was so infectious that people began to join us during the walk moving hand in hand together and singing – albeit off key – while having the time of their lives. Even the dry, afternoon heat could not dampen our indomitable spirits as we walked around the old and the new campus spreading smiles all around. Never had an hour passed by so quickly! After completing a full round around the campus, the walk ended with IIMACTS, the dramatics club of IIM A performing a street play to sensitize the campus community and raise awareness for queer inclusion.
We couldn't have asked for a better start to the two-day extravaganza!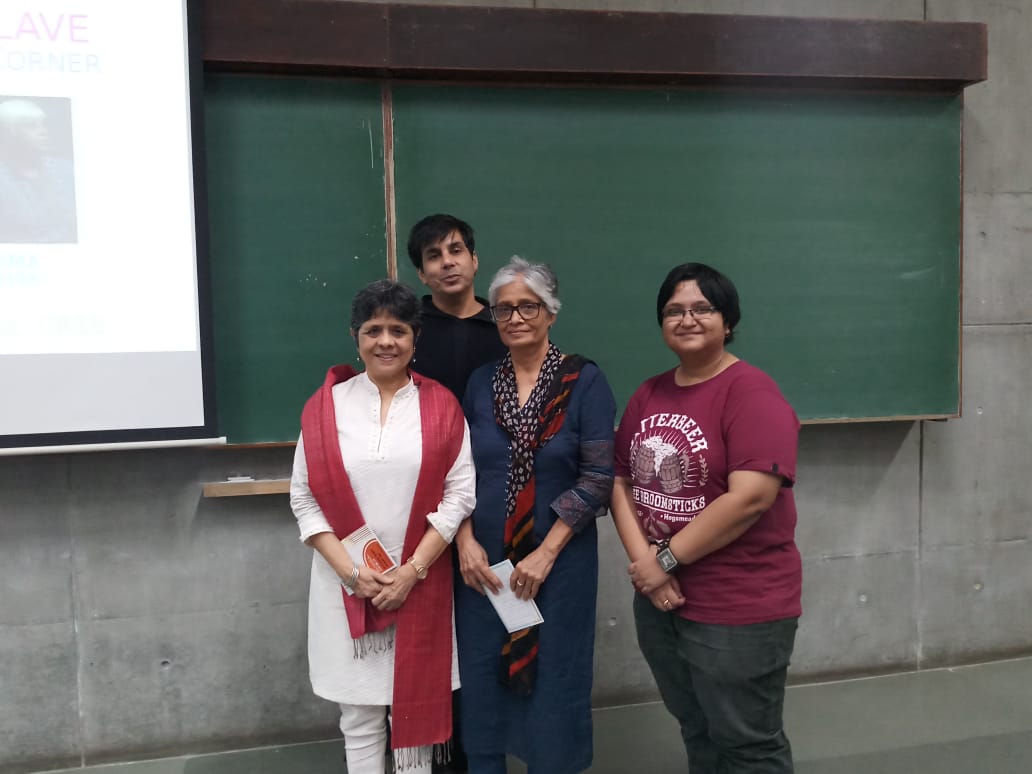 With the daylight disappearing, it was now time for some indoor fun activities. Thus, the 'Inclusion Walk' gave way to 'Rainbow Arts Workshop', organized in collaboration with Finesse, the fine arts club of IIM Ahmedabad. Using beautiful artistic and origami skills, the Finesse club indulged the campus community as they prepared beautiful pieces of art using the rainbow pride colors. With colors flowing freely, the artwork took a new form depicting pride and freedom. After the thrill of the 'Inclusion Walk' earlier, this was a quiet and yet fitting end to an eventful first day of the Conclave.
On the second day, IIMA opened its doors to everyone including the general local masses as well as the A-league colleges as hundreds of people, including special guests from various organizations in and around Ahmedabad and students from several colleges in Ahmedabad and nearby areas, came to attend the event.
Just like the day before, the second and final day also started with a bang with Ms. Maya Sharma, the co-founder of Vikalp Womens' Group, an organization in Vadodara that has done some amazing work with the underprivileged, rural and tribal women, along with transgender populace in the surrounding regions. Maya ji, as we called her respectfully, talked about the inception of Vikalp, the need for such a group, the challenges in day to day running of the group and several life experiences that not only enriched us, but also gave us a lot of food for thought. Celebrating queer pride and freedom was all very good in an educated surrounding, but what of the poverty stricken, oppressed and marginalized society that had neither the exposure, nor the knowledge of existence of such a worldwide movement?
Maya ji talked about the difficulties in keeping the organization with minimum funds and outside help. This is one of the reasons why Vikalp is unable to expand to other regions of the state, let alone the country. With the society cornering them, she explained how they came out with the unique concept of Naari Adalat where the marginalized, Dalit and other deemed backward class women could seek for quick and socially effective justice against all sorts of condemnable acts by the men and the upper class people in the oppressive patriarchal system.
Maya ji had brought with her Mr. Sailesh (name changed to maintain anonymity) who was born as Shalu in a small village. However, from his very childhood, Shalu knew that there was something 'wrong' with him. Despite being a cis-woman, Shalu loved women and this, he knew was unacceptable to the society.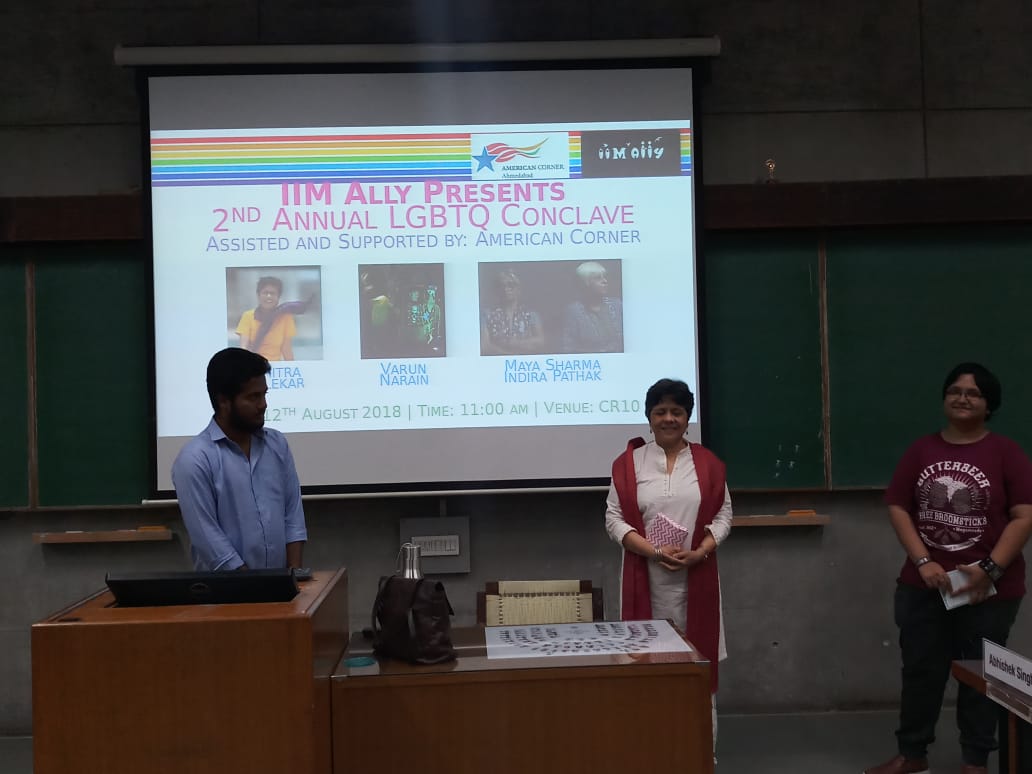 Sailesh talked about his journey towards self-acceptance, the decision to undergo gender correction surgery and the subsequent societal backlash. He said how, despite the approval by the Government to undergo a sex change, he faced myriads of never before thought of situations like getting his sex changed from 'female' to 'male' in government identity cards was next to impossible for him and this caused inevitable difficulty in getting a job. Sailesh talked about his family's resistance as they disowned him. He talked about his then partner, who while supportive, could not fight her family and left him. By associating with Vikalp, Sailesh found the emotional and mental strength to go through these ordeals on his own. Today, he has a place of his own where he lives with his current partner and his mother, who has finally accepted him. On a perfunctory note, Sailesh's might seem to be a story with a happy ending, but in reality, he is still fighting the social outrage and stigma.
Following this very insightful talk and experience, we then had the privilege of watching the master puppeteer Varun Narain in his act. With gender and sexuality as the theme, Mr. Narain (who had been puppeteering since the age of nine) enthralled us all with his demonstration of two stories – The Fisherman and his Soul and Photosynthesis by moonlight. While the former was a dark fantasy story by Oscar Wilde, the latter one was written to break all notions of gender and conventions through plants by showing the naturalness of having two genders in one body. With his own brand of eerie music in the backdrop, Mr. Narain took us into a different world of visual and auditory delight as he breathed life into the inanimate puppets and told his story through them.
We also had with us, Ms. Chitra Palekar, noted theatre veteran, director, scriptwriter, activist and a revered member of Sweekar – the 'Rainbow Parents Group' in Mumbai. As a supportive parent and queer ally, Ms. Chitra talked about the difficulties faced by parents when their children come out to them. Having been born and brought up in a society where such issues were never really talked of, she explained why it was necessary for the society to be sympathetic towards the parents.
She talked about her own experience when her daughter came out to her. She described the feeling of surprise that she felt when her own child came out to her. "You think such things do not happen to you," she said. It taught us an important life lesson, that no matter who we are, it's never prudent to assume that people are heterosexual or even identify themselves in the same gender as they were born in. Yet, despite the surprise, Ms. Palekar was also very quick to realize that her daughter was still the very same daughter and person she had known and raised her to be.
Her biggest pain in that interaction was the fact that it took her daughter (who was 19 then) so long to tell her own mother such an important truth of her life. Yet, even as she asked this question, her daughter's reply shocked her to the core, "You never discussed LGBTQ issues at home, maa. How was I to know what you would feel about it?" That truth sowed the seeds for a need of having a platform for discussing Queer issues out in the open as Ms. Chitra begun her journey of acceptance.
Through her daughter, she began to get acquainted with the queer community, but she always rued the fact that there was no such support group for parents where these parents of LGBTQ members could meet, share their stories and assuage each other's fears.
This, she said, was the reason behind the inception of Sweekar with Mr. Sridhar Rangayan – noted filmmaker and founder of the group in Mumbai. After her inspiring story, she talked with several members in the audience who had come to the talk to meet her. The story of Dharmesh (name changed) was mentioned specifically. Dharmesh had attended the event along with his parents who live in Ahmedabad and are member of Sweekar. He was aggrieved by the fact that there were no such parent support groups in Ahmedabad. Dharmesh's father – a pathologist – shared his story of initial fear and eventual acceptance of his son, who had come out to him. His son, an IIT student, was also one of the petitioners who filed the petition against section 377.
Yet, even as the queer community looked towards the apex court for being delivered from the centuries of injustice meted out to them, Chitra warned us of the long war ahead. Winning out freedom would be just the first step towards an inclusive society. The fight for social acceptance is still on. And with this note towards looking at the future, we successfully concluded our LGBTQ Conclave.