BUDDHA FELLOWSHIP – TOWARDS EQUITABLE AND EMPOWERED COMMUNITIES IN INDIA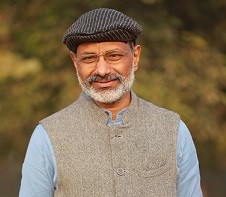 The Buddha Fellowship is an ambitious and innovative initiative of SRIJAN (Self-Reliant Initiatives through Joint Action), founded and led by Mr Ved Arya (PGP 1981). Given the need for an entrepreneurial approach in the social sector, Buddha Fellowship Program works in several areas including rural livelihoods, health, financial education, and energy. The program is committed to promote sustainable and self-reliant rural development through individuals who can strive to bring the change.

On 4th October 2019, six Buddha Fellows were awarded a certificate of completion by Shri Amarjeet Sinha, Secretary to Government of India, Ministry of Rural Development. Mr Jacob Ninan, Executive Trustee, Axis Bank Foundation also attended the ceremony as a support to the initiative. An entrepreneurship clinic was also organised from the 3rd to 5th October in Delhi, with domain experts, namely Mr Som Mittal, Mr Indranil Gupta, Mr Pawanexh Kohli, Mr Rohit Bhasin, and Mr Gaurang Singh shared their wisdom with the Buddha Fellows.
Here, we talk with Mr Ved Arya on the purpose, reason and impact of the Buddha Fellowship Program.
What is the idea of Buddha Fellowship? The idea is a jugalbandi – a talented youth exercising the choice to join an entrepreneurship program, and an NGO leader wanting to start marketing farm produce as a way to alleviate farmers' distress.
In 2018, Kolli Madhu, had a choice to make while graduating from IIMA. He preferred joining the Buddha Fellowship over a corporate job. His internship was in marketing frozen custard apple. He was successful in getting a record price of Rs. 225 for a kilogram of frozen custard apple (previous year was Rs. 180).  Enthused, he decided to set up a company along with four of his classmates. The company is taking a loan of Rs. 45 lakhs to erect a one-acre greenhouse. They plan to grow Dutch Roses in Guntur district of Andhra Pradesh.
Girish Sohani (IIMA'80), President of BAIF, a reputed NGO, had been working on preserving the indigenous varieties of rice for a decade.  He was afraid that once subsidy available to the project stopped, his years of effort will go in vain. He agreed to engage Ravi Gajraj, a Buddha Fellow. Today, Ravi has built a brand 'The Farming Monk (TFM)' to sell indigenous varieties of rice such as Kalbhat in Pune.
Buddha Fellowship is thus a way to marry two needs – young people's desire to do startups and social sector leaders' need to sustain their efforts. There are 10,000 graduates from IITs and IIMs every year, Buddha Fellowship Program aims to mobilize only one percent of these graduates.
It is heartening to see that there are a large number of youngsters who wish to take risks and be entrepreneurs. We are confident that we will be able to fulfill our mission of grooming 1000 development entrepreneurs and impacting the lives of 5 million people by 2028.
How are the Buddha Fellows selected and guided towards a fruitful impact in the community?  We have a two-step selection process – immersion and pilot testing of the idea. Rural immersion of one to two weeks is an opportunity for candidates to figure out whether they would last in such situations. Pilot testing makes them and us realize whether the idea is feasible, technically and in business terms. Further, it tests their execution ability.
Selected Buddha Fellows, go through two stages of growth, in order to become Development Entrepreneurs. In the first stage, he/she sets up and runs an enterprise in partnership with an organisation. He/ She is a Development Entrepreneur in Residence (DEiR). The DEiR is mentored in business skills, community skills and leadership skills. It lasts for a year. In the second stage, the DEiR becomes a Budding Development Entrepreneur (BDE) – independent and supported with more intensive mentorship in the areas of his or her choosing, and is helped in finding funds for the enterprise.
Young people also have the choice to become development leaders in the not-for-profit sector. The problems such as malnutrition, climate change, groundwater stress, education of underprivileged children and health care of bottom quartile of the society cannot be solved in a 'for profit' way, at least in the short run. Hence, Buddha Fellowship program encourages young people to go into these areas too.
How has the fellowship been instrumental in rural development and transition at the grassroots level? 
In this context, I share the stories of two Buddha Fellows who have started their entrepreneurial journeys in this program.
Kaushal Yadav is selling "ready to cook" food products in Bengaluru market under Farmveda brand even as MTR is an established brand. His products are available in more than 600 stores in this metro. He has begun exploring e-commerce channels such as Amazon and Big Basket, as well.  He graduated from IIT Kanpur in 2002 and after 16 years of corporate life, he joined Buddha fellowship. Farmveda recorded a sales of 45 lakh rupees last year.
Darshan Doresamy is solving the malnutrition problem of tribal children aged six months through three years. He is setting up 75 day care centres benefiting 750 to 1000 tribal kids in Anuppur of Madhya Pradesh, and may replicate it in another district called Singruali. Darshan graduated from IIM Kashipur in 2018.
How does the BFP mentorship network functions? Mentorship is one of the key inputs that Buddha fellowship provides, perhaps the most critical, given that most entrepreneurs struggle in the early stages. Mentors include several of my IIMA batch mates (1981 batch), such as Chitranjan Dar, Sushil Ramola, Rajeev Kapoor, Sheila Hooda, Kannan Sitaram, Rajesh Naik, Indranil Gupta, V Ravichander, and Alok Agrawal. Most mentors provide a pro bono service.
Besides, there are field mentors. Field mentors are usually heads of existing organisations doing work aligned to the Buddha Fellow's idea/ concept. They provide a protective umbrella for a Fellow as well as a sympathetic ear when they are in trouble.
Entrepreneurship clinics are held every quarter, usually lasting three days, giving plenty of time to mentors and Buddha Fellows to interact.
What are the primary setbacks and future plans of the BFP at the organizational and/or impact level? Convincing donors has been one of the toughest tasks since it is a new program. We are grateful to Axis Bank for providing us seed funding. It is not easy to find mentors who are willing to make a commitment of sustained effort, and adequate hand holding time to groom Buddha Fellows.
How has the journey of Buddha Fellows been? Six Buddha Fellows have established agri value chains, one is working for the nutrition of very small children from six months to three years, and another is working on generating employment for youth as freelancers in gig economy. Altogether the turnover was one crore rupees last year and they impacted the lives of 5000 people. Buddha fellows say they were provided with the opportunities to see the best projects to choose from and then they got the best mentorship among the organisational leaders. On top of it, they got financial support and external guidance.