FROM THE RED BRICKS TO UNIVERSITY OF WEST GEORGIA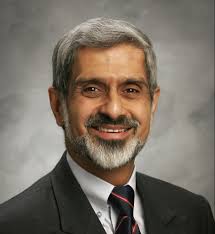 Expressions by Mr. Beheruz N. Sethna (PGP 1974), the most successful and longest-serving University President in the State (public and private)
The invitation to write for this issue of The WIMWIAN asked, "How does it feel to be in a foreign land with roots back in the red bricks?" So, this piece is a story about Red Bricks.
I left the red bricks of IIMA in 1973, to go to Columbia University for my PhD. I returned to Ahmedabad a year later to get married to Madhavi née Kaji, an IIMA alumna whom I first met on/at the red bricks of our dining hall near D-10. We were introduced by our mutual friend, another IIMA alumnus, Kirit Raval – the absolutely brilliant lawyer, who rose to be the Solicitor General of India at the incredibly young and record breaking age of 50, before his sad and untimely death.
OUR HUMBLE BEGINNINGS Madhavi and I started our lives in the US in 1974. We had practically no money, but we managed. We lived in a one-room apartment (I don't mean one bedroom; I mean one room which contained the sofa-bed we slept on, a desk, and a dining table!). We couldn't afford any of the cool stuff that one associates with living in New York City. Our idea of a great time was to take the Staten Island Ferry which costed 5-10 cents! To celebrate a really big event, we would go to a restaurant and order one meal, where Madhavi (who is still a vegetarian) would eat the vegetables and I would eat the non-veg stuff! We both graduated from Columbia in 1996.
BACK TO THE RED BRICKS We thought, at that time, we would be in the US just for 18 months after graduation (the period of our visa extensions), but 46 years later, we are still in America! We did return to the red bricks in 1986-87 when I was a Visiting Fulbright Professor at the institute. Madhavi and I taught at IIMA. We worked among the red bricks and lived on the campus too, for a short while.
TRANSFORMATION AND UWG Rising through the academic ranks (Assistant, Associate, and Full Professor) and the administrative ranks (Department Chair, Dean, VP), I found myself as the President of what was then West Georgia College in 1994. Finally, in 1996, I successfully led the charge to transform the college into a University, as the first Indian-born person ever to become President of a University in America. I still recollect touring the facilities as the new President, and realizing that a lot of work needed to be done to fulfill my dream that this institution I now headed could be a first-class University. Nineteen years later, when I stepped aside to resume being a full-time faculty member, thanks to the efforts of many talented people I had surrounded myself with – we had accomplished that goal. We were now a SACS Level VI University (that is the highest possible level – institutions such as Emory, UGA, Georgia Tech, University of Virginia, Texas, and every major research university you have heard of in the Southern or Southeastern US are all SACS Level VI), and a doctoral university. During the course of time, we had increased admission standards very significantly, increased enrollment by 50 percent, increased land holdings by 70 percent, increased the endowment to 11 times its value when I arrived, and so on.
Additionally, at a cost of close to one third of one Billion dollars, we had more than doubled the square footage of the campus (which had been an 88-year old campus with almost 1.2 million gross square feet when I first arrived). We had added almost 1.5 million gross square feet (1.477 to be precise) of major construction and major renovation projects during my 19 years as the President.
The punch line is that almost all of the ~1.5 million square feet had red brick exteriors! (I told you that this was a story about Red Bricks.)
RED BRICKS! PRECISELY! During one of the two periods during my 19-year tenure as President, I was pulled away to the University System Office to be the Senior, and then Executive, Vice Chancellor of the entire state system which included four research universities, 15 comprehensive universities, and 15 colleges. On one of my visits back to my home campus, I saw the construction starting for one of the buildings for which I had obtained funding before I left. I was not pleased that the color of the red bricks here was somewhat different from the ones in the existing building. After that incident, my staff would come to me to make the decision on every new building in terms of brick color and the color of the white-ish mortar between them. True, I have to plead guilty to a charge of a bit of micro-managing on that issue, perhaps, we never had that problem occur again. From then on, my facilities staff jokingly referred to that color as the Sethna Red Brick!
So, that's my story of red bricks that spans about 8,000 miles and 42 years – from 1971 (when I first saw the red bricks of IIMA) to 2013 (when I relinquished the presidency at UWG).
Pictures of just a few of the buildings constructed during my time as President follow. There were several other academic buildings, residential buildings, athletics facilities, and joint-use buildings not shown here.