MR BHASKAR BHAT – 36 REVOLUTIONARY YEARS AND A RICH LEGACY AT TITAN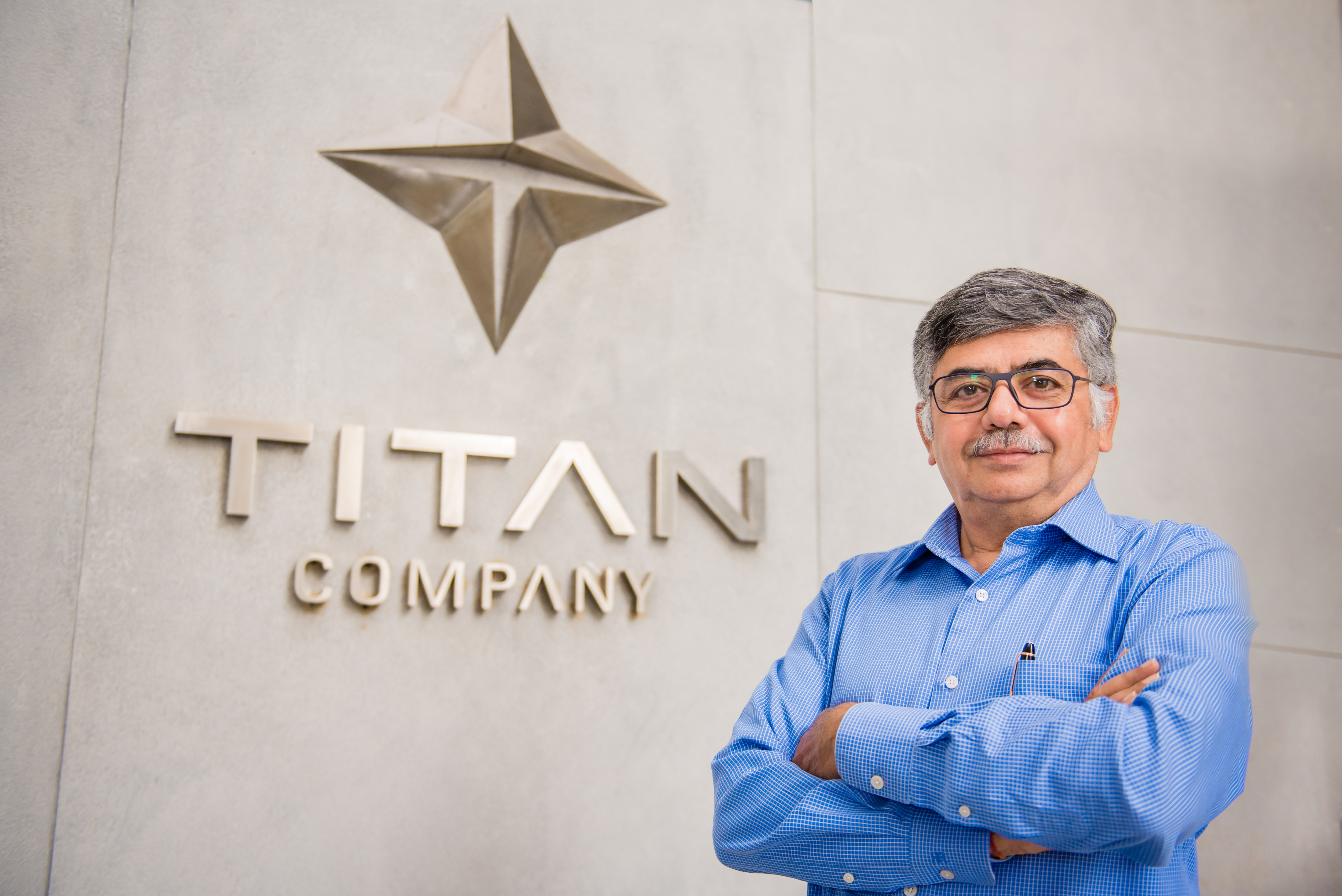 Mr. Bhaskar Bhat, Managing Director – Titan Co. Ltd, retired on September 30, 2019 after 36 years with 'the watch project' of the Tata group. He is known as the man behind the country's most trusted watch brand and for transformation of the watch industry. He joined the group in 1983, further putting the company on a stellar growth path, starting from weak balance sheets and struggles with losses. Prof. G. Raghuram, Mr. G Srinivasan and Mr. Harish Bhat shared with us beautiful anecdotes, highlighting their days together in the institute and beyond.
IT WAS A MASTER ORCHESTRATOR AT WORK By Prof. G. Raghuram, Director – IIM Bangalore 
Today being Bhaskar's last official day as the head of an organisation that he professionally and lovingly built up, a lot of heartfelt accolades have poured in.
We have been batchmates for seven years, and then I have on and off had occasions to interact with him during his professional journey. Just a few snippets from my side:
How many know that Bhaskar was a pugilist at IITM? I have seen this young talented (he was already known for his performances) and relatively small sized person getting bashed up in the ring, and yet coming back to fight it out. He used to be an inspiration for me as a person trying to participate in extracurricular activities, do well, and yet with no airs around him.
I saw more of his endearing personality at IIMA. Especially connecting with people, where possible, in their language. And then the participation in Alumni events, with full flow of his talent.
We used to be together in the Board of Studies of TA Pai Management Institute (due to Nagabrahmam). He would always bus it to and from Bengaluru. Being myself one who preferred surface travel over air, it was a nice resonance. In his case, it was also a way of keeping in touch with the market!
He always had interesting ideas from the industry perspective. After our meeting, there would usually be an event with students. His ability to communicate and share experiences and expectations had students literally eating out of his hands.
On one occasion in late 90s, when I was trying to write a case on Titan's inventory management, he would reflect that one could go only so far with watches. "Unless we get people to wear watches at other than wrists!" And he would talk of wearables in general. A vision that was being built up.
I have seen him in situations where in a workshop, there were breakout sessions and then each group had to present in a plenary. Bhaskar would easily be chosen as the spokesperson. But then, the way he curated his presentation would be to actually credit group members for their ideas and have the concerned individual say their piece. It was a master orchestrator at work.
One of the last formal events we were together was last year when IIMA alumni had a special function to honor Prof AK Jain at the HUL auditorium in Mumbai. He presented a customised set of watches to Prof Jain and his wife Kumkum. While describing the design elements and design process of the watches, he honoured not only Prof Jain, but also the Titan team.
Deeply human, he combined with full synergy, his talents, self-deprecating humour, an inherent driven sense of giving credit where it was due, and his professionalism to do whatever he was doing with excellence.
Bhaskar, look forward to your continued contributions in whatever you wish to do as you move on!
WHY EVERYONE LOVES BHASKAR By Mr. G Srinivasan, fondly called Delta of the 1978 batch
Bhaskar Bhat is retiring from Titan today, after being part of it, rather almost everything of it, from the time of its conception in the 1980's. I have been seeing him from the 90's in Bangalore both professionally and officially and been meeting many of his colleagues. What I have seen across these 25 years is the sheer love and affection everyone has for Bhaskar. This was seen in the multitude of farewells everyone wanted to give Bhaskar – some 20 of them in this last one month! I have been asking myself why everyone loves to love Bhaskar.
I will speak from what I have seen. I had heard of Bhaskar even before I joined IIMA, from my brother who was in IITM with him and about his skills. But I was taken by surprise when I met him at the campus and he started speaking to me in Tamil. A Bhat speaking in Tamil? Later, I realised that is his way of making the other person comfortable. I will never forget the way he chipped in with his astounding mimicry for a show, we Tamils at the Institute were putting for the Ahmedabad Tamil Association. And literally saved the show!
My first professional association was when I was involved in funding the watch dealers of Titan in 1995 or so. I observed that the dealers had a fondness for Bhaskar beyond what is required of them as an associate of Titan. I remember that his secretary, who I had spoken only over phone, one day called me excitedly to inform, "Delta, Bhaskar is taking over as MD of Titan". I could see the pride and affection in her voice for her Boss. This I saw with all his colleagues.
Whenever I dealt with Titan professionally, which were quite a few, or while meeting me for IIMPACT, his colleagues dealt with me as they would with anyone, while fully recognising that I was his friend. I could see that they had full trust in Bhaskar that he would not interfere with any decision they took. But, would give me the respect just because I was his friend.
I can think of many instances where one could see Bhaskar willing to give his time and money, if the cause was good. One is not talking of just his love for IIMPACT, but many more. He inspired many of his colleagues to do so too. Not only that, many followed his habits of traveling to airport by the bus or by overnight train to other cities. I remember the time when I got a SMS from Bhaskar asking me where I was. I guessed that he must be in the airport bus, where I was too, and bingo there he was. The guy next to me asked me "Isn't that Bhaskar Bhat, MD of Titan?" and without waiting for my answer, "I can't believe he's going by bus to airport". It was touching to hear one of the dealers from Madurai who recounted how Bhaskar took an overnight train to attend his daughter's marriage unannounced.
In his farewell dinners, many of his colleagues told me that they are going to miss him badly. Not because he grew the market cap of Titan from $ 100M when he took over as MD to $ 16 Billion today, but because each recounted how Bhaskar as a person was. One of the dealers shook my hands so much when he learnt that I was Bhaskar Bhat's classmate. I am seriously thinking of adding a line in my business card "Friend of Bhaskar Bhat"!
Do I need to say anymore why everyone loves Bhaskar?
Have a great life, Bhaskar. And not to forget Vrunda, who while forging her own path, was a pillar of strength to Bhaskar.
MARKETER, LEADER, TEACHER, TITAN By Mr. Harish Bhat, Brand Custodian, Tata Sons.
(The author acknowledges inputs from Suparna Mitra, Titan in the writing of the following article. The article was originally published in the Hindu Business Line newspaper on September 20, 2019)
Some lessons from Bhaskar Bhat, who powered iconic brands.
Earlier this month, we celebrated Teachers' Day. Later this month, a teacher who has had great influence on me will retire from an iconic company which he has led brilliantly. Bhaskar Bhat, Managing Director of Titan.
During his 17 years at the helm, he transformed Titan from a watches company with a small jewellery business, to a lifestyle behemoth that boasts some of India's finest brands. Titan, Tanishq, Fastrack, Sonata, Titan Eye Plus, Skinn by Titan, Nebula, Xylys, Mia, CaratLane, and now, Taneira.
I have had the unique opportunity of working as a member of Bhaskar Bhat's team for several years. Here, are some of the invaluable marketing lessons I have learnt from him.
Curiosity Bhaskar is a curious man. He is most curious about customers, and brings up the most fundamental questions in our meetings that provoke us to search for answers. Why does Fastrack, a youth brand, appeal to middle-aged men? Why do so many Indian customers wear deodorants, not perfumes? Why don't more people wear sunglasses in a hot, dusty country like India? How do consumers respond to dynamic pricing? He is constantly focused on the "how" and "why". His questions are often thoughtful and deliberate but always curious.
Lessson 1 – Marketers have to be curious people.
Simplicity Bhaskar brings to bear simplicity of thought, that cuts through layers of complexity. The notes that he prepares do not contain marketing jargon. Instead, they contain powerful common sense. He gets to the crux of the marketing or business problem in a crisp manner, but only after discussions that sometimes last for days. That process of deliberation yields the simplicity he searches for. I have never seen or heard obtuse marketing phrases such as "customer forward thinking" or "visionary brand construct" or "omnichannel optimisation" in what he writes or says.
Lesson 2 – Marketers have to keep it simple.
Market connect Despite being the CEO of a large corporation, Bhaskar spends more time in the dusty markets of India than in conference rooms. He has built legendary connect with hundreds of franchisees and distributors of Titan. More often than not, he is in their stores, talking to them about what is working and what is not. He brings this intimate market knowledge to bear in discussions. While he respects the results of market research or analytics, I have seen him also judiciously use his own market knowledge, as an additional layer of well-considered judgement.
Lesson 3 – Marketers have to be out there in the markets.
Social connect Bhaskar is totally rooted in mainstream Indian society. He enjoys singing Hindi film songs (he is very good at it, too). He knows all about what's happening in Bollywood. He follows cricket and other popular sport avidly. He is strongly integrated with Indian cultural traditions. He has been known to often catch an auto-rickshaw to his destination, and engage in an informal chat with the rickshaw driver on his way. All these points of connect ensure that he is in constant touch with Indian society and key social trends – some of which inevitably manifest themselves as consumer trends too. Sometimes, CEOs and senior marketers are focused only on their categories, to the exclusion of other social interests. Most often, they travel in cars or flights, shunning trains and public transport. All this isolates them from mainstream India. Bhaskar is quite the opposite, and he teaches us the power of social connect.
Lesson 4 – Great marketers build strong social connect.
Growth Bhaskar's inherent belief is that marketers have to constantly find ideas for growth. Creating demand has to be on top of a marketer's agenda. Notwithstanding market challenges, he would always push us to find pockets of growth for our brands, reminding us that the Indian opportunity space is vast. This is the philosophy that led to the creation of legendary brand extensions by Titan – such as Titan Raga for women, Fastrack for college-going youth, Reflex by Fastrack for people seeking accessible wearables, and many others.
Lesson 5 – Marketers should relentlessly focus on driving growth.
Product quality Bhaskar has constantly emphasised excellent product quality and deep category knowledge. He has emphasised that consumers first buy products, and it is on the back of such widespread usage that great brands are created.
Lesson 6 – For marketers, ensuring excellence in product quality is fundamental.
In addition to these lessons, I have also learnt from Bhaskar Bhat the discipline of sound product and margin management, and the need to make customer centricity the core of an organisation.
Even as he retires as Managing Director of Titan at the end of this month, my colleagues and I convey sincere thanks to this restless marketer, leader, teacher and Titan.