SPECIAL INTEREST GROUP (SIG) AT IIMA FOR HEALTHCARE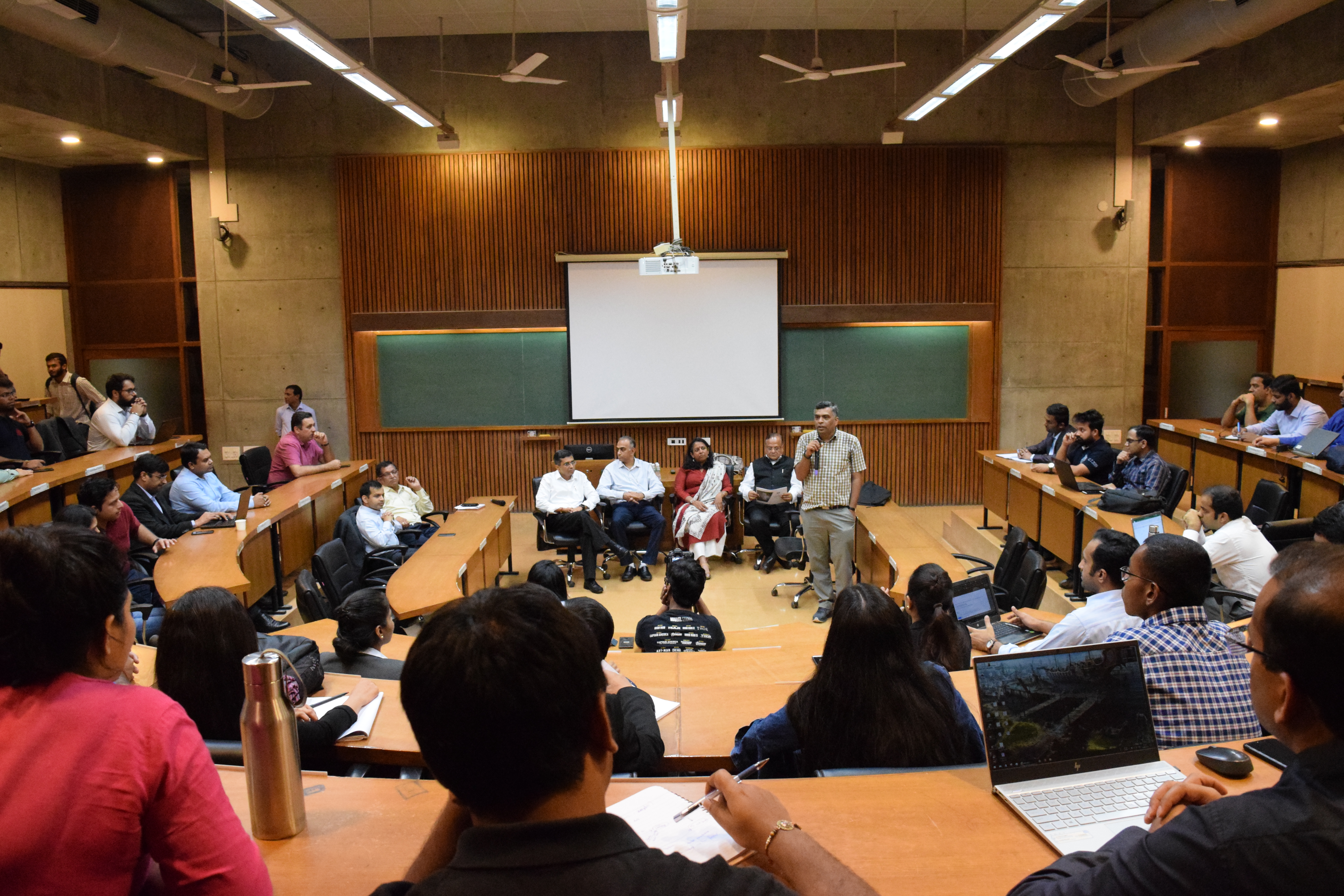 Curated and shared by Mr. Ulhas Joshi (PGP 1977)
Healthcare is fundamental to society, and involves multiple stakeholders. This sector faces a variety of strategic issues, and offers tremendous scope for solution generation and value creation. At the helm of affairs in many organizations in this sector are some truly healthcare-focused IIMA alumni, who have been making remarkable contribution to the sector's growth in the past few decades.
Not surprising, therefore, was the germination of the idea of a Special Interest Group (SIG) at IIMA, specifically for the Healthcare sector. The idea of IIMA Healthcare SIG (along with some other SIGs) was mooted in 2018 by Dean (Alumni & External Relations) – Prof Rakesh Basant, as an important IIMA-alumni-focused initiative.
There was a very encouraging response to Prof. Basant's invitation to IIMA alumni to join the IIMA Healthcare SIG. Based on the response and enthusiasm shown by alumni, Prof Rakesh Basant facilitated the formation of a Core group for the Healthcare SIG. This Core group comprised Prof Rajesh Chandwani, Prof Viswanath Pingali, Mr. Sudarshan Jain and Mr. Manish Gupta.
To move forward, it was decided to have discussions regarding the SIG at the Alumni Chapter level, and then formally meet in mid-February 2019 to give a concrete shape to the SIG.
CHAPTER-LEVEL INTERIM MEETINGS Chapter-level discussions commenced and there was an encouraging turnout at meetings such as those in Mumbai and Bengaluru. In addition, the presence of some IIMA faculty such as Prof Rakesh Basant and Prof Viswanath Pingali at these meetings helped clarify many queries. Through these meetings, it was clear that the main areas of engagement for the IIMA Healthcare SIG could be
Engaging with the current IIMA students and faculty in activities related to healthcare
Contributing to the start-up environment in this space
Provide networking opportunities for people interested in careers/growth in this sector
Create a platform for industry and academia to interact
Thought leadership that could guide industry level strategy and policy formation
The chapter-wise meetings also facilitated the updating of contact details of interested alumni, identifying their specific areas of interest, and brain-storming of ideas for possible activities that could be taken up by the SIG. Efforts to compile the data for use for SIG activities came in substantial measure from Head – Alumni Relations at IIMA, Mr. Anurag Choudhury, and his team, and contributed to the speedy formalization of the SIG.
KICK-OFF MEETING FOR THE IIMA HEALTHCARE SIG IN FEBRUARY 2019 In mid-February 2019, the Kick-off meeting of our Healthcare SIG was conducted concurrently with the IIMA International Conference on Advances in Healthcare Management Services, as well as the joint meeting of office bearers of Alumni Chapters from across all over India, all of which were held at the IIMA campus. Consequently, useful suggestions of many alumni from across various cities could be considered for the Healthcare SIG.
The primary objectives of this Kick-off meeting were to discuss and finalize
Role and aspiration of IIMA Healthcare SIG
Current initiatives by IIMA and discussions for 2019
SIG structure, role of chapters and anchors for initiatives and chapters
Prof Rakesh Basant's brief enunciation of the concept of SIGs at IIMA and the objectives for their formation set the tone for the meeting. Prof Viswanath Pingali then discussed various aspects related to the formation of the SIG. His lucid presentation had a useful mix of both – his own very considered views, as well as inputs from across various chapters. Prof Viswanath had travelled to some of the Chapter meetings to explain details regarding our Healthcare SIG.
The discussions at this meeting helped conclude that the main objectives of the IIMA Healthcare SIG would be to:
SUPPORT & ENCOURAGE ENTREPRENEURSHIP: Help create new organizations through leveraging significant expertise in this sector. To make IIMA the go-to place for healthcare entrepreneurship, innovation, etc.
ENGAGE WITH students to create more leaders in healthcare space – leading Indian and global healthcare organizations in this space: commercial, social, academic, etc.
To help in THOUGHT LEADERSHIP through sponsoring and disseminating research, case studies, research projects, think tanks, etc. and in facilitating debates and thought leadership for policy shaping
To provide MENTORSHIP to alumni currently in the field or, who want to explore this field as an option for the future
FOLLOW-UP INTERACTIONS FOR SIF ACTIVITIES By the time this Kick-off meeting was conducted, Mr Anurag Choudhury and the Alumni Relations office were able to compile in their email data-base, a list of over 150 interested alumni.
Adding to our delight was the fact that the current engagements  of the list of IIMA alumni confirming interest in the SIG, spanned across a number of healthcare-specific areas – Health-tech entrepreneurship, Hospital care, Pharmaceutical formulations and API businesses, Medical devices and diagnostics, Healthcare – focused Private Equity Funds and other investment services, experts from academia and healthcare consultancy, and persons engaged in healthcare-specific associations, government and other organizations.
Over and above the available email and phone channels, to enable even more convenient interaction among the SIG members, a special WhatsApp group was formed (IIMA Healthcare SIG). This WhatsApp group already has over 75 members, and this number is expected to grow fast, with efforts on to tap more alumni who would be keen on participating in the SIG activities. Currently, the interactions in this group are high and this has become a useful platform for healthcare related learning and networking.
IIMA HEALTHCARE SIG ACTIVITIES FOR THIS YEAR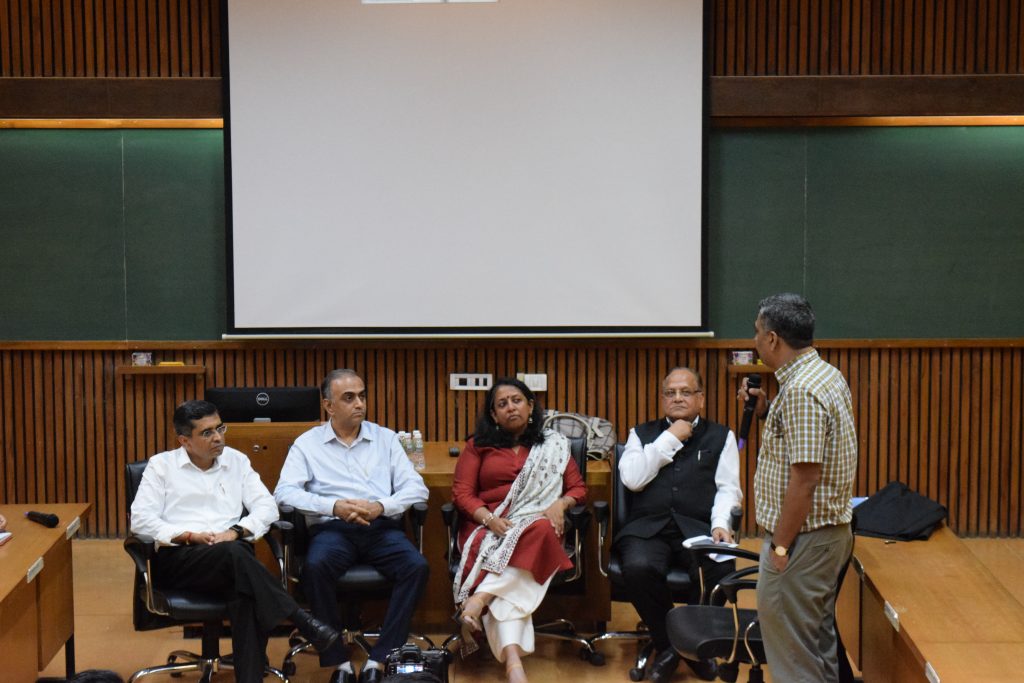 Engaging with current IIMA students As a part of the SIG's endeavour to engage with IIMA's current students, a Panel Discussion on the Healthcare Sector was held on August 26, 2019 at the IIMA campus. This was ably organized by IIMA's Panacea team & the IIMA Alumni & External Relations team. The panel comprised

Sudarshan Jain (PGP 1977), Secretary General, Indian Pharmaceutical Alliance & Former MD of Abbott Healthcare
Manish Gupta (PGP 1998), Co-Founder & CEO of Indegene
Meenakshi Nevatia (PGP 1994), Managing Director, Stryker India Pvt. Ltd.
Rajiv Sharma (PGP 1996), CEO Sterling Hospitals
Besides describing their respective segments of the healthcare sector, the panel members highlighted the opportunities for aspiring healthcare-interested students in each segment.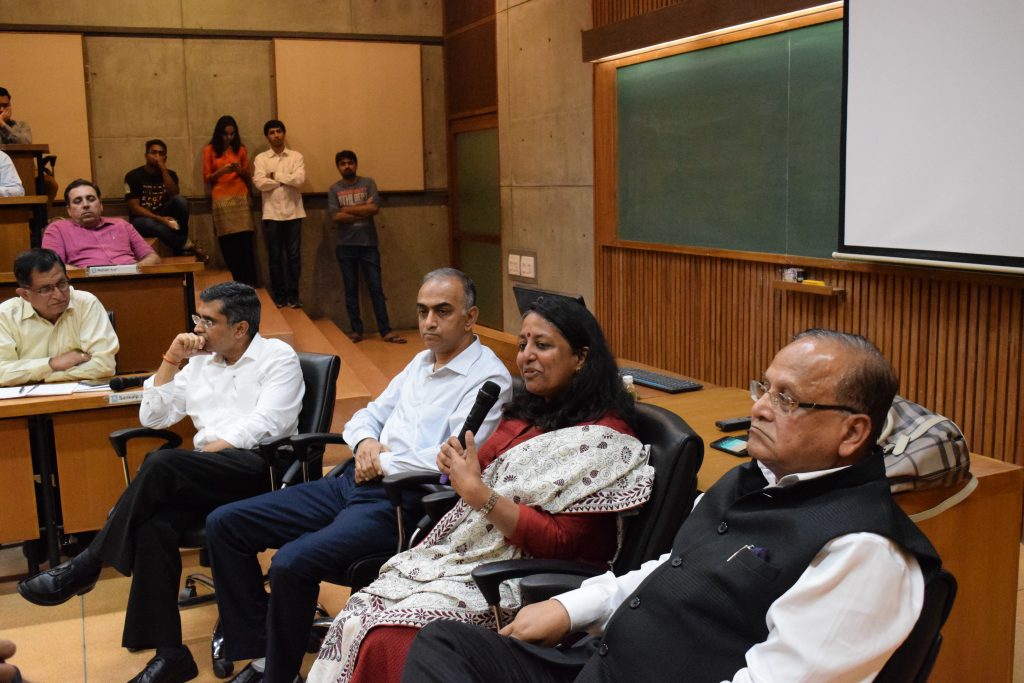 There will be continued similar activities to imbibe interest among students at IIMA to pursue career opportunities in the healthcare sector:
Thought Leadership Initiatives There has been significant support to our SIG's Thought Leadership activities through academic and research work in the healthcare sector by Prof.Arvind Sahay, Prof. Viswanath Pingali and Prof Rajesh Chandwani. More such work will be taken up in research work, case studies and related areas.
Other events During this first year, the SIG is keen on planning and organizing some healthcare focused events, both by ourselves, as well as in collaboration with relevant partners. Some of these are (i) A Hackathon at IIMA (ii) a Health-tech Summit in Mumbai
THE FUTURE This SIG is currently in its nascent stage, and will surely evolve into a body engaging in various areas of the healthcare sector more extensively.
Discussions are on currently to explore useful modalities of garnering funds for the various planned activities of the SIG, through sponsorships and participations by organizations, and other sources. There is also a need for more healthcare interested alumni to coordinate and follow-up at Alumni Chapter-wise levels to encourage more alumni to participate in the SIG.
The keen enthusiasm of members in pursuing various activities promises a significant and noticeable impact of our SIG in the Healthcare space.