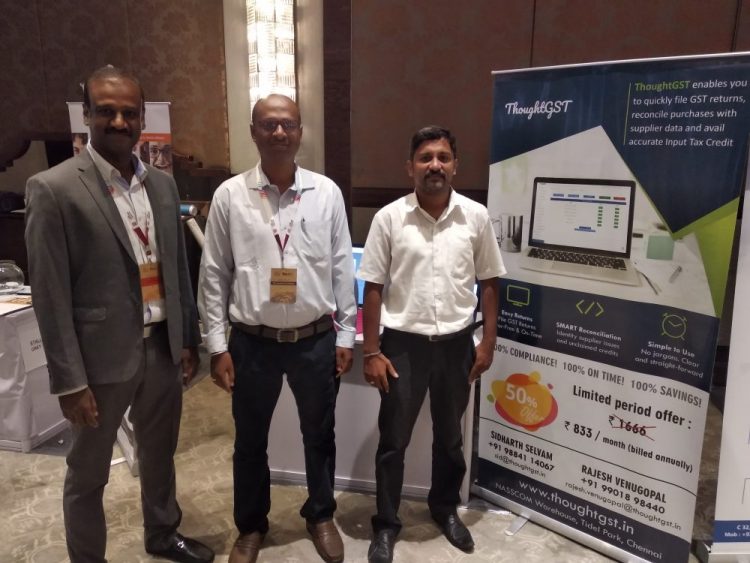 THOUGHTBIT TECHNOLOGIES: DECODING BUSINESS PROBLEMS AND ENSURING COMPLIANCE FOR SMEs
ThoughtBit Technologies was founded by Mr Siddharthan Panneerselvam (PGPX 2010) with the vision to offer innovative FinTech solutions for businesses, especially Small and Medium Enterprises that form the backbone of Indian economy. ThoughtBit is a one-stop-shop for compliance requirements, business analytics and cutting-edge data-driven solutions at affordable cost. Their products cater to different industry verticals. ThoughtGST, their proprietary software, enables complete GST Compliance and increases Cashflow of businesses.
Below is an overview, details of the founders, growth and future plans of the start-up. For further information and communication, Mr Siddharthan can be reached at sid@thoughtbit.in. You can also follow the company's websites at www.thoughtbit.in and www.thoughtgst.in.
ABOUT THE FOUNDERS The founders are Siddharthan Panneerselvam, Rajeshwaran Venugopal and Gopinath Thiagarajan. Founders put together bring over 50 years of industry expertise to the organization. In the past, they have engaged in multiple assignments with many Fortune 500 clients including top financial institutions across the globe.
Siddharthan Panneerselvam (Sid), the Mastermind, is a veteran in Information Technology with two decades of industry expertise. He oversees Operations, Finance and Business Development at ThoughtBit. Sid was part of Global Leadership Cadre in his previous organisation, an elite taskforce comprising leaders of the future. He was the runner-up of Economic Times Young Leaders 2011. Sid is alumnus of IIM Ahmedabad (PGPX, 2009 – 2010).
Rajeshwaran Venugopal (Rajesh), the Polymath, is the Go-To person for a variety of things, be it adopting new technology or preparing marketing content or running a focused campaign. After playing 17 years of leadership roles in renowned institutions, Rajesh now heads Technology, Innovation and Customer Engagement at ThoughtBit, infusing the culture of solving customer problems with a pioneering spirit. In his previous avatar, Rajesh was Product Head at a successful Media-Tech startup. Rajesh holds a Bachelor's Degree in Mathematics.
Gopinath Thiagarajan (Gopi), the Technocrat, has participated in a wide array of technology challenges in a career spanning 14 years. Gopi handles Product Development and Research at ThoughtBit, putting to good use his strong expertise in Information Security and scalable multi-tenant systems. Gopi provides relentless focus on developing concepts into robust software applications that address customer pain-points. He holds a Bachelor's Degree in Computer Science.
ThoughtGST SOFTWARE ThoughtGST is the flagship Software-as-a-Service (SaaS) product offered in a yearly subscription model. It enables complete Goods & Services Tax (GST) Compliance and increases Cashflow for businesses.
India has 1.2 crore GST registrants and 70% of them are Small and Medium Enterprises (SMEs). This sector is short of in-house talent and proper tools. This is also the segment that is often left out from taking advantage of technology trends. With the advent of GST, ThoughtBit team met a large number of such businesses and gathered exhaustive intelligence on the exact nature of challenges. A clear gap in the solutions offered by existing products in the market was felt. The need of the hour was a comprehensive compliance platform. Armed with market insights, ThoughtGST was built with the customer in mind every point of the way. Today, the platform enables many enterprises to stay compliant at the click of a few buttons. It is most beneficial for businesses with a relatively high volume of invoices.
Chartered Accountants and Tax Practitioners use the software to manage the entire gamut of GST activities for their clientele in a single login. The simplicity coupled with high level of automation helps them improve operational efficiency of their entire team and grow their customer base manifold.
ThoughtGST enables subscribers to (1) seamlessly file GST monthly returns, (2) reconcile purchases with supplier data and (3) avail accurate Input Tax Credit (ITC). The built-in intelligence with ThoughtAI engine ensures businesses neither overpay taxes locking up Working Capital nor underpay getting into government audit issues.
With the mission for data-driven solutions, the firm is going beyond GST compliance. ThoughtGST enables Working Capital loans in partnership with banks and NBFCs based on GST data. Multiple utilities such as Supplier GST Rating are provided as add-on services. Industry-specific solutions and integrations with multiple ERP systems are being built.
CUSTOMER SUCCESS STORIES On average, ThoughtGST saves 10% of working capital lost in tax irregularities. Return on Investment is often 1000% or more!
We are glad to create a positive impact on businesses, some of which are listed below:
Chennai-based SME recovered Rs. 80,000 per month from ITC right after adoption of ThoughtGST
Long-haul logistics company refocused marketing efforts based on insights from GST sales data
Automobile components manufacturer found supplier non-compliance to the tune of 30 lakhs and took corrective measures
WAY FORWARD The immediate goal is to acquire 500 customers in the next 6 months. ThoughtBit's focus will continue to be a complete overhaul of the technology landscape for SMEs to put them on a superfast growth track.
ThoughtBit participated in the Ease of Doing Business (EoDB) Grand Challenge organized by Startup India earlier this year. As of 2019, India's EoDB Rank for Paying Taxes is 121 (overall rank is 77). By 2021, the firm wants to boost this rank to 25 by enabling 100% GST Compliance for a large mass of SMEs across the length and breadth of the country.
The devil is in the data! ThoughtBit, at its core, is a data-driven intelligence agency. There is research underway in solutions such as SME business planning through in-depth Analytics and Robotic Process Automation (RPA) for complete compliance across the organization. These products will be launched by next year.
GRATITUDE TO IIMA FAMILY The IIMA community and alumni network has been greatly supportive. Industry experts from the community have provided their valuable inputs at different instances and have been an integral part of shaping the organization thus far. The founding team is sure that the fraternity will play a vital role going forward as well.
Future is Bright! Future is ThoughtBit!