SINGAPORE CHAPTER – Commemoration of S$1 Million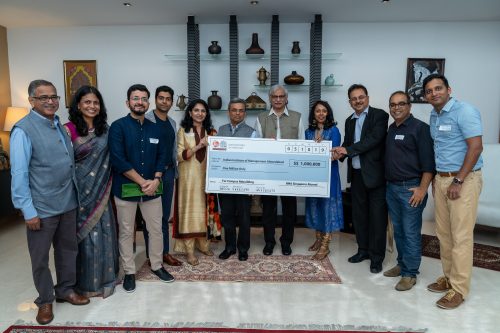 IIMA Alumni Association of Singapore (IIMAAAS)
Events Aug-Sep 2019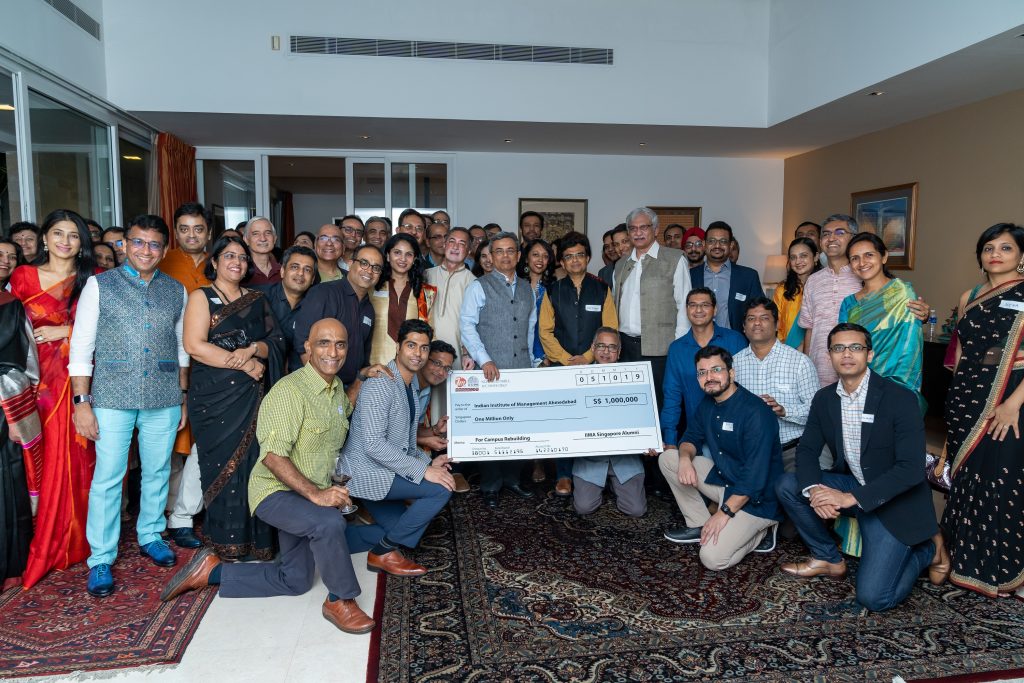 Commemoration of S$1 million raised by Singapore Chapter in first ever chapter fundraiser
Saturday, October 5, 2019
India House, Residence of the High Commissioner of India to Singapore HE Mr Jawed Ashraf
The big focus for this quarter and the highlight for the year was the ambitious S$1 mn fundraiser for the Institute undertaken by the Singapore Chapter. During Director Prof Errol D'Souza's visit to Singapore in October 2018, he appealed to Singapore alumni to support much needed renovations to the Louis Kahn buildings on IIMA's heritage campus. Moved by the extent of structural damage to our beloved campus, the executive committee of the association decided to launch the first ever fundraiser by a country chapter. The ExCo set a challenging target: to raise S$1 mn by end October 2019. The funds would be used for renovations to two faculty wings and our effort was branded 1'm for IIMA. The fundraising was spearheaded by 2019 President of the chapter Vidya Vasania (PGP 1994) and 2018 President Nayantara Bali (PGP 1988).
For success in such a bold endeavour, we believed it was necessary to approach alumni individually and appeal to them to support the cause. However, Singapore has about 470 IIMA alumni across fifty batches ranging from 1969 to 2018. The ExCo therefore enlisted the help of "batch champions" – motivated representatives of each batch – who would reach out in turn to their batchmates. A logo was created exclusively for the 1'm for IIMA fundraiser – one that could be easily adopted by any other chapter looking to do a similar fundraiser. An emotive e-booklet was designed and the ExCo presented the appeal to batch champions at a small event in end May.
One of Singapore's most supportive senior alumni helped kick off the fundraiser with the first pledge. In less than 50 days from the first serious start to the fundraising drive, we reached the target of S$ 1 mn in contributions and pledges. Over 110 Singapore alumni participated in the first ever country fundraiser for IIMA.
The success of the fundraiser was commemorated at a gala dinner held on Saturday, October 5, 2019, sponsored by the IIMA Alumni Association of Singapore and graciously hosted by the High Commissioner of India to Singapore, Mr Jawed Ashraf (PGP 1986), at his residence India House, a beautiful colonial building. About 90 alumni and spouses attended, most of them donors to 1'm for IIMA. The ExCo presented the symbolic "S$1 million" cheque to the Director Prof D'Souza, Dean Prof Rakesh Basant and Head of the Development Office, Mr Ajit Motwani and IIMAAAS representatives signed the MOU with the Institute.
Renovations to the faculty wings supported by the donations from Singapore would begin in December 2019 and would take about two years to be completed.