SPEAKER SESSION WITH MR SUDHANSHU MANI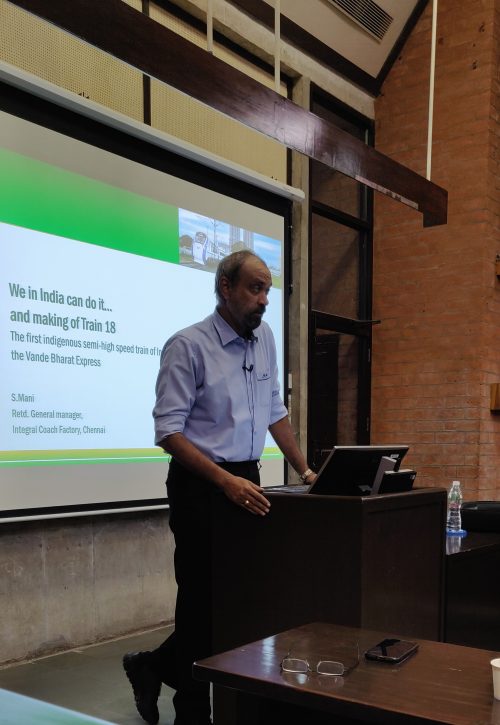 SPEAKER SESSION WITH MR SUDHANSHU MANI – THE MAN BEHIND TRAIN 18
An industry talk was organised by Intelligent Transport Systems course in collaboration with the Public Policy Club on 10th October, 2019. The speaker, Mr Sudhanshu Mani is known as the man who led the Train 18 (Vande Bharat Express) Project, the first engineless and the fastest train in India. He is also the Ex-General Manager of Indian Railways' Integral Coach Factory, Chennai – the biggest railway coach-building factory in the world. The production and manufacturing of Train 18 was made possible under his leadership within a record-breaking span of 18 months, marking the project as a landmark innovation in the Indian Railways.
The session hosted by Mr Sudhanshu Mani gave insights on Train 18 in terms of 'Innovation in Manufacturing and Project Development under Bureaucracy'. Mr Mani discussed about the innovation in project conceptualization, design, manufacturing, execution and operationalization of Train 18 – highlighting the barriers and achievements before his recent retirement on 31 December, 2018.
Calling himself a 'Railway Man', Mr Sudhanshu Mani termed the train platform a great leveller. Amongst various aspects, he talked on the punctuality of the IR time table, transformational work at Integral Coach Factory, Human Resource Management as the primary key in any initiative, carbon negative measures, women being treated equal at work, importance of world class sporting facilities, transfer of technology being an oxymoron and 'creativity in engineering'.
Expressing about the journey of Train 18 and it matching the world standards, Mr Mani quoted Lucio from Shakespeare's Measure for Measure with "Our doubts are traitors and make us lose the good we oft might win by fearing to attempt" and Iqbal with, "Girte hain shahsawar hi maidaan-e-jung mein, wo tifl kya gire jo ghutnon ke bal chale". Rising beyond the doubts of success, this is how the best train ever made in India became a reality.