THE RED BRICK SUMMIT 2019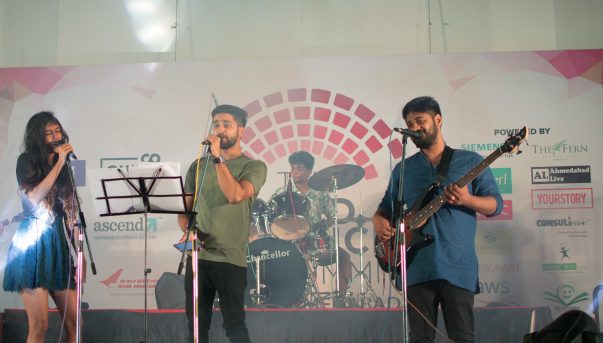 ENVISION. ENDEAVOUR. EXPERIENCE.
The Red Brick Summit is the time to outwit, outplay, and outlast as the Mecca of Management fests in India. This year as the third edition, it was back starting from 29th September to 2nd October. TRBS 2019 featured total of 19 business events, 15 speaker sessions, 15 workshops, 4 panel discussions, 1 management symposium and many other informal events. The winds of IIM Ahmedabad have always carried with them the spirits of adrenaline and enthusiasm for TRBS – this time heavy rains too.
The weather was stormy, and the rain was persistent, but it wasn't enough to extinguish the sparks at the IIM-A campus.
The theme for this year – "Envision – Endeavour – Experience" was conceptualized to inspire revolutionary ideas and path-breaking innovations through various platforms. The event was inaugurated by Mr Srijan Pal Singh, a renowned author, speaker, and social entrepreneur. Akin to past years, the grandeur of the festival was magnified with the presence of many other eminent speakers such as Sachin Bansal, Justice CK Thakker, Gaurav Ajmera, Anand Teltumbde, Raamdeo Agrawal, and Shri Gaur Gopal Das.
Teams from India's leading B-schools and from International Universities enthusiastically participated in the competitive events designed to challenge today's youth to think beyond their imagination. To tie together the aim and ambitions of the festival, the Innovation Playground provided a platform for entrepreneurs to pitch their ideas to social impact investors.
Participants also had a chance to attend workshops organized by industry stalwarts encompassing a fascinating breadth of subject matter. Attendees had a chance to learn about operations, marketing, strategy, leadership, finance, and innovation through interactive sessions with experts.
The campus was buzzing with excitement, as people poured in in large numbers in spite of the heavy rainfall. The flea market Kaleido, adorned with colourful veils and lights, offered a fun experience of shopping in a "Bazaar" within the hallowed walls of the IIMA campus.
Decibel, the music society at IIM-A, enthralled the crowd with an amalgam of Indian and Western melodies. The Dance Club Footloose put together a flash mob drawing participation from all onlookers. There were also informal and timeout events.
The festival left everyone in high spirits and with treasured memories. Much of the credit for the success of the event goes to the support received from the corporate sponsors – SBI, Motilal Oswal, Air India, Bisleri, Zebronics, Saffronart, Union Bank, Harvard Business Review, Unibic, The Fern Hotel, Oyo Rooms, Consult Lease, Ahmedabad Live, Your Story, KnowAFest.com, DU Updates, CIIE, Siemens, AWS, and Souled Store.