HARVARD STEPS: UP, DOWN AND AROUND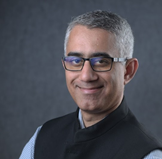 Narrative shared by Manish Pajan (PGP 1998)
What an evocative topic to write on! Harvard Steps – what can I say? Sharing a few memories…
Before joining IIMA, I had seen pictures of the institute in the media – the famous red brick architecture, the signature domes and arcs, Louis Kahn Plaza and of course the Harvard Steps. Looking at the pictures would fill me with wonderment, I remember. So in 1996, when I passed through the front gate of IIMA and set sight on the famed steps, I was filled with elation. The steps felt new, yet so familiar. Walking up those steps under the protective canopy of the murmuring trees was perhaps my first surreal moment at IIMA. (I say 'first' because there were many surreal moments over the 2 years!) As I finally ascended those steps and glimpsed the LKP and the adjoining verdant expanse, I think I went into a momentary daze – almost pinching myself to ensure I was awake. This was my first experience of walking the Harvard Steps.
Fast forward nearly a couple of years, towards the tail end of our PGP session. Business Today magazine (BT) had just ranked IIMA as the No 1 B school in India, and a crew from the magazine descended on campus for a photo shoot for the upcoming cover story. A bunch of us from the passing out PGP batch were dragged from our rooms for the shoot. We shot at various locations on campus, and one of them was the Harvard Steps. There we were, a raucous bunch of fresh near-MBAs shouting ourselves hoarse, almost crowding out a diminutive and somewhat embarrassed Prof Jahar Saha (then Director IIMA) in our midst, while the BT shutterbugs clicked away from different vantage points. The cover of the May 7, 1998 issue that resulted from this shoot is attached for everybody's reference. (Pardon the super grainy pic – that's the best that the BT archives had to offer)
Soon it was time to bid adieu to our beloved campus. On the afternoon of Convocation Day, crews from assorted TV channels were buzzing around the campus, taking sound bites from batchmates and their family members. One such crew (from ZEE News, I somehow remember) found a willing subject in my father. The crew selected – what else – Harvard Steps for the interview. Sitting at the top of the steps, like any proud parent whose child was graduating from IIMA, my father happily distributed gyaan to an obliging crew. I vaguely recall one of the crew members nodding approvingly at me after the interview. (A certificate before the diploma!) Hmm…wonder what the trees were murmuring among themselves? Swapping tales of their collective deja vu, perhaps? Only the trees and the omnipresent red bricks know. Later that evening, diploma in hand and dressed in convocation robes, under the Harvard Steps I posed for a few customary pictures with my family. And exchanged the mandatory farewells with my batchmates. A medley of emotions raged within me – joy, excitement, pride, relief, sadness, emptiness, confusion. Then I turned and left.