#MILLIONSMILES BY AMPLUS – PROVIDING SAFE SMILES DURING COVID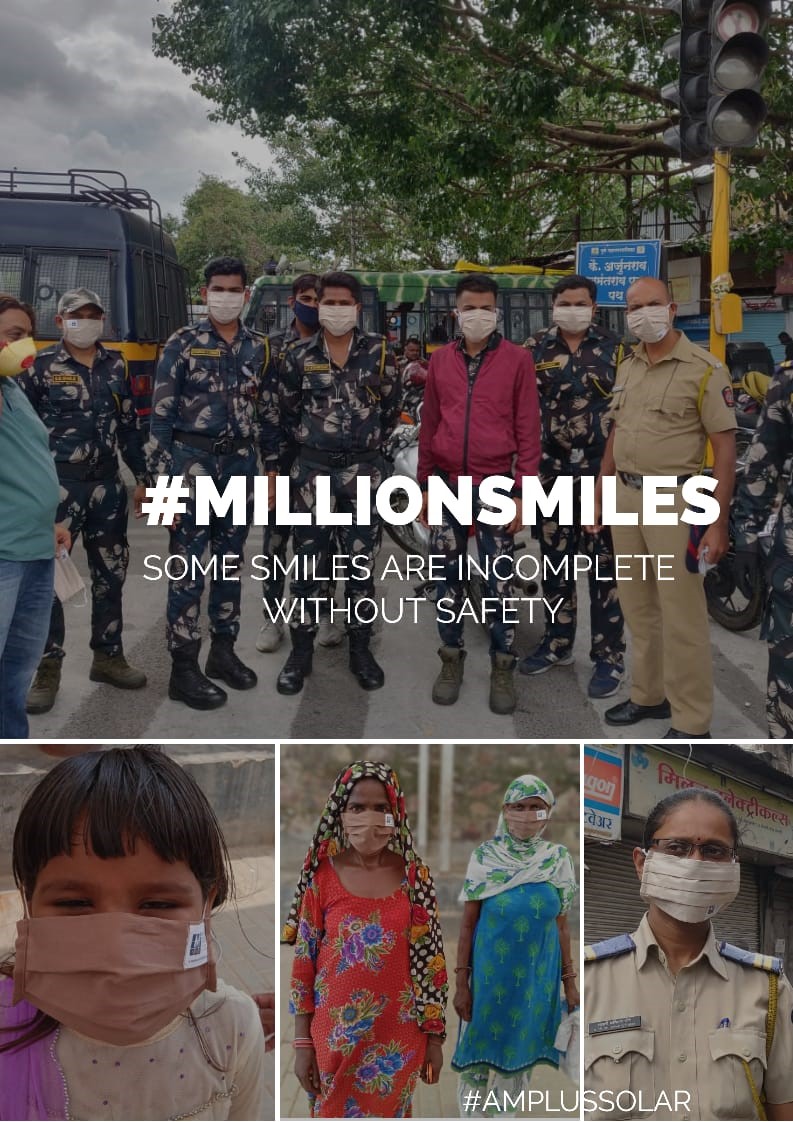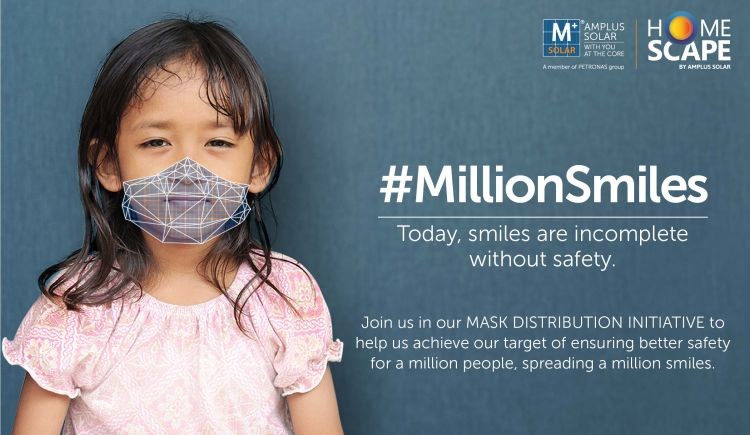 Contributed by Ms Maithily Sarkar (PGP 2015) on her experience leading the #Millionsmiles campaign for Amplus Solar, a company that is founded by Mr. Sanjeev Aggarwal (PGP 1995)
One thing that I have felt pride in, and seen grow stronger, is the solid and powerful alum network of IIMA. Despite having passed out only about half a decade back from the institute, I have had the opportunity to meet and interact with many alums, each one equally interesting and inspiring.
I was especially lucky, and inspired in 2017, when I landed a job in a company Amplus solar (now a member of the PETRONAS group), which was founded by Mr. Sanjeev Aggarwal (also an alum graduated almost 2 and a half decade ago). Mr Aggarwal's vision took the company from a 7-member team in 2015 to a 300+ team-sized company in just 5 years. Today, Amplus acts as the renewable energy platform for the global giant PETRONAS and is considered one of the leading companies in the renewable energy sector in India.
Recently, COVID-19, the global pandemic, sent shock waves to the entire world with healthcare facilities getting choked, normal ways of working-socialising getting revised, and economies getting questioned. After 2 months of standstill in summer, Amplus, like many other companies, was figuring out new ways of working and trying to resume operations while maintaining its priority: Safety. It was during this time, that Sanjeev saw how in the upcoming months masks would become an integral part of hygiene and the new normal. A recent report cites that wearing masks can reduce the chance of transmission of contagion by almost 70%. What I observed, as did he, was that masks were almost like a scarce commodity – only the privileged had them, purchased at Rs. 50 -100 apiece! For the contagion to be contained, it was necessary that every individual of the society wears them.
"We can afford Masks; we should distribute them to the ones who don't have them", said Sanjeev, one fine day. With this thought, #Millionsmiles, a campaign that in just two weeks of its inception had a massive impact, was born.
#MillionSmiles is a campaign in which Amplus Solar, as part of its CSR activity, pledged to make available one million reusable cloth masks to the non-medical front-line workers who do not have access to proper masks or cannot afford the same workers such as the house helpers, security, street vendors, delivery persons. The company also aimed at educating the society on the importance of using the masks and continues to spread awareness on the same to make our communities safe.
Being part of the Marketing team, I was lucky to have worked as part of the core team to drive this campaign, and with it saw the real impact a campaign like this had on the communities it was intended for. Agreed, the target of one million seemed ambitious at first, but with rolling days, it started looking more and more possible.
Perhaps one of the largest mask distribution drive during COIVD in the country by any organisation, the structure of the entire campaign is two-fold: Providing livelihood to one vulnerable section of the society who are out of work because of the slow-down in the economy, and providing safety to another vulnerable section of the society who either have no awareness or no accessibility to masks.
ONE: Getting masks made by the needy artisans: Creating Employment and Providing Livelihoods
Majority of the masks being distributed are being procured from multiple NGOs that are utilising the manpower of the underprivileged workers whose routine livelihood has been struck badly due to the pandemic. The donated money is helping to meet the necessities of these workers and their families.
One such collaboration is with a reputed NGO Urmul Rural Health and Development Trust, from the interiors of Rajasthan. Urmul focuses on the upliftment of vulnerable and marginal sections of the society – women and children and has been actively making an impact through health, livelihoods, education, governance, and advocacy interventions.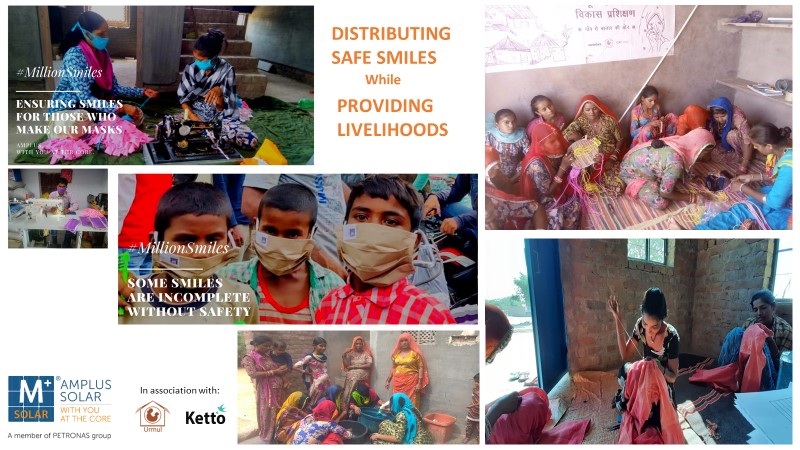 TWO: Distributing safe smiles to the ones in need
The masks made by the NGO workers are being distributed through a distribution drive started with Amplus employees at the forefront. The volunteers started with societies and residences in Gurgaon and the District Collector's Office, Gurgaon. Within two weeks of the launch of this campaign, more citizen volunteers joined the drive and distributed over 100,000 masks in more than 150 locations in National Capital Region alone.
The campaign continues to call for more volunteers to continue the distribution in their respective communities. Moreover, through association with the crowd sourcing platform www.Ketto.org/AmplusMillionSmiles , the company and its employees are working on raising more funds, to increase the scale of the campaign.
Amplus also distributed these masks at their solar plant sites across India, including Project Nayaka in Chitradurga, Project Veera in Gadag, Project Mirza in Mirzapur, to name a few.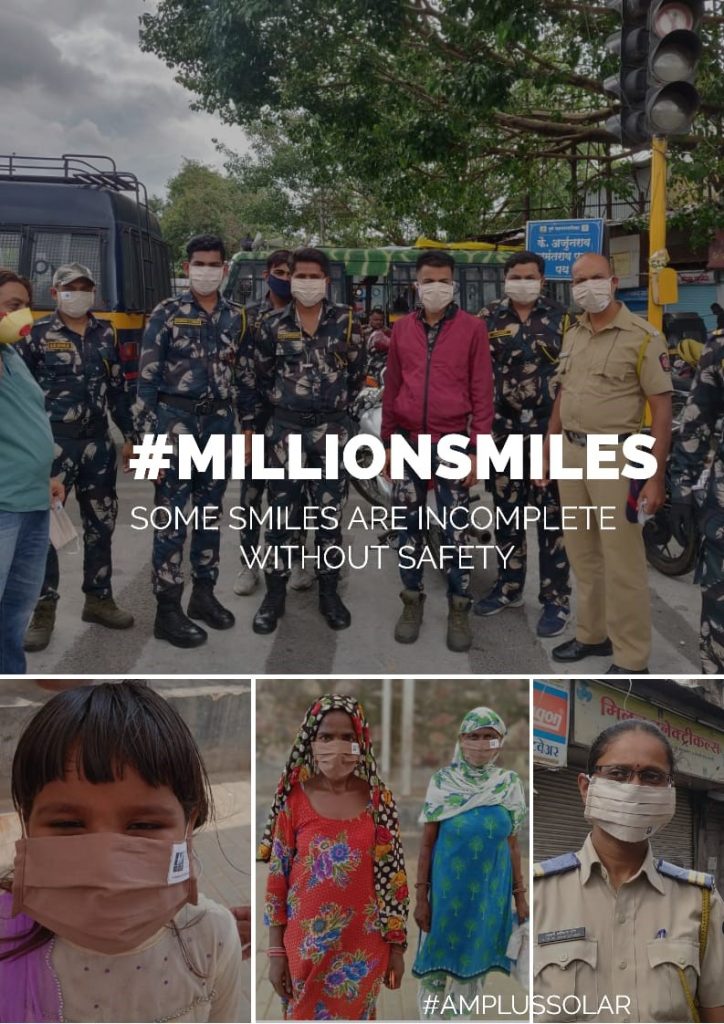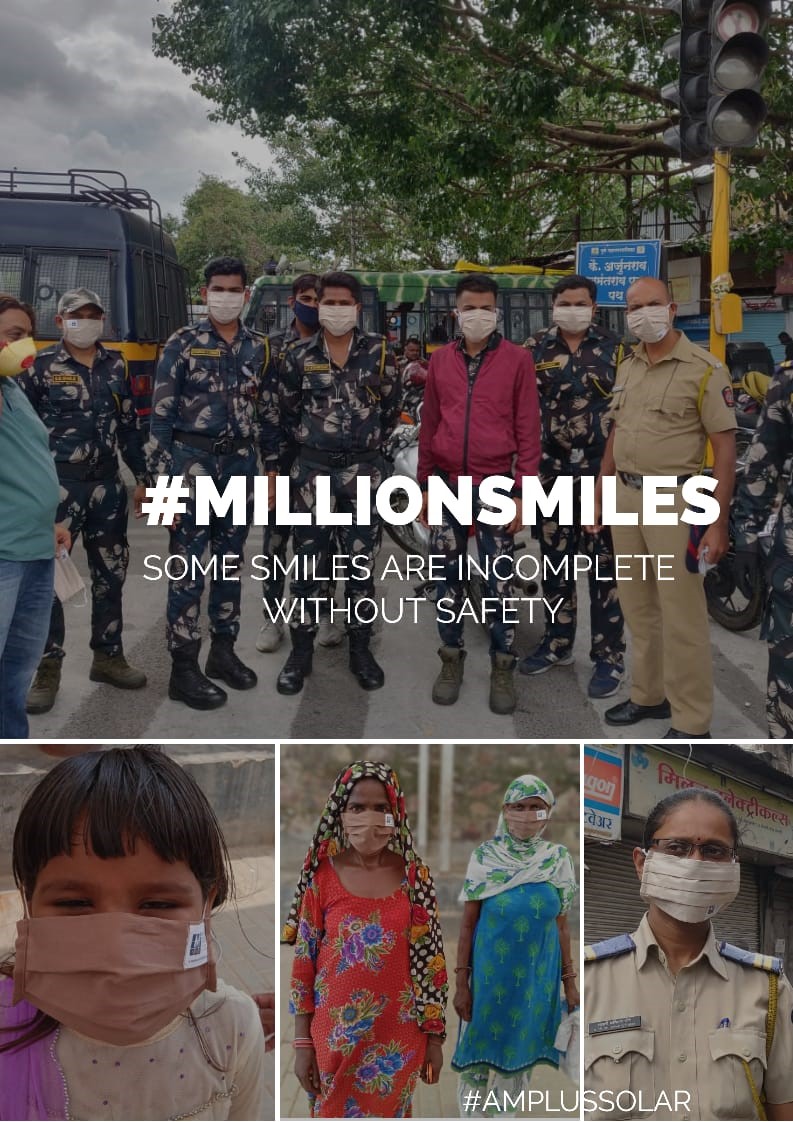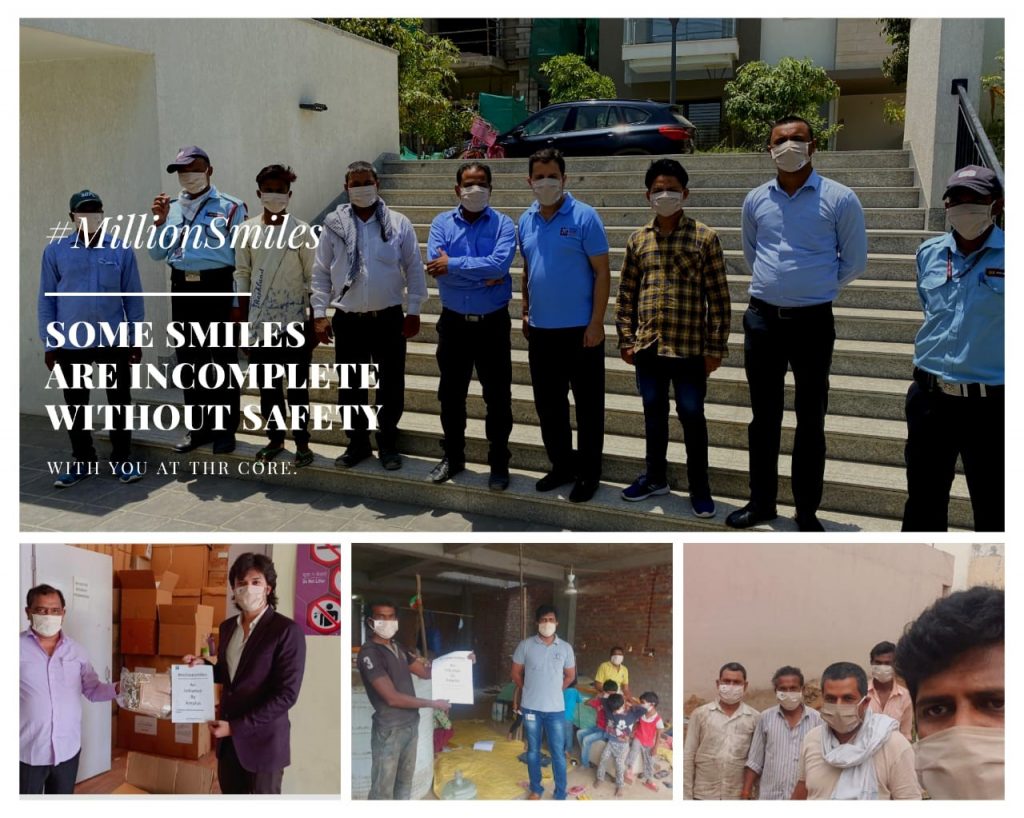 What was particularly impressive was when messages began pouring in from various sources saying, 'Thank you' and that they just saw security guards at their Condominium wear the masks distributed by us through this campaign.
I am confident, that with larger group of volunteers to help in distribution or contribute to the livelihoods of the artisans, the goal of 1 Million Smiles can be achieved quicker than planned. This project got me the answer to the question: 'But what can we do in this situation that has affected the whole world?' Well, we can do a million things to contribute. Small or Big.
To know more about this campaign, please visit our page: https://amplussolar.com/millionsmiles/
To help us reach the dream of 1 Million smiles, help us procuring more masks, you can contribute through this link: https://ketto.org/Amplusmillionsmiles
Follow the below hashtags on Social media for more updates: #millionsmiles #amplussolar
___________________________________________________________________________
About the Sanjeev Aggarwal: Sanjeev Aggarwal is the Founder & CEO of Amplus. He specialises in Building Businesses, Project Development, Investment Management and Project Financing in the energy sector. Prior to Amplus, Sanjeev led the business development team for AES Corporation in India. Sanjeev is trained as a mechanical engineer, with a PGDM from IIM, Ahmedabad, batch of 1993-95.
About the author: Maithily Sarkar is working as a Senior Manager in the Marketing team at Amplus Solar looking after Digital Marketing, Media Relations, Corporate Communication, Branding and Advertising. Experienced Branding and Marketing professional, she previously worked in e-commerce retail. As a WIMWIAN, she graduated with PGP 2013-15 batch.