THE JOURNEY HAS JUST BEGUN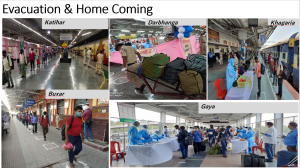 Contributed by Ms Seema Singh (3TP 2004), on her experience as front line Covid-19 warrior in Disaster Management Department, Government of Bihar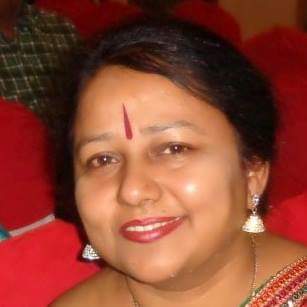 I have been working with the Disaster Management Department, Government of Bihar since 2016 to provide support in implementation of Disaster Risk Reduction (DRR) activities identified in the Bihar DRR Roadmap (2015-2030) in key sectors. My journey over the last four years with the Disaster Management Department has given an insight of diverse aspects of disaster handling. The recent crisis of COVID-19 pandemic is a lifetime experience for me at professional as well as personal level. It was just after an emergency meeting wherein I was also a part, Disaster Management Department, Government of Bihar was activated as a frontline COVID warrior.
Disaster risks in Bihar emanate from the interplay of multiple contributing factors. The state is prone to natural hazards including floods, earthquakes, drought, cyclonic storms, fire, hailstorms, lightning, heat wave, and cold wave. The prevalence, frequency and severity of these hazards vary across the 38 districts. Out of these 38 districts, 28 districts are flood prone with major flood events occurring in 2004, 2007, 2011, 2013, 2017 and a breach-induced flooding in 2008. Areas typically not experiencing floods hitherto in the state have also started experiencing occasional floods especially in areas lying in southern Bihar. A unique paradox is witnessed in Bihar wherein flood and drought events occur in the same year (2013) and sometimes in the same district. Though districts lying on the south of Ganges are considered drought prone, of late the incidence of drought has even spread to North Bihar as evidenced from drought being declared in 26 districts in 2009, all 38 districts in 2010 and 33 districts in 2013.
Year 2015 emerged as a landmark year for ongoing efforts towards disaster risk reduction. The 3rd World Conference on Disaster Risk Reduction (3RD WCDRR) was held on March, 2015 in Sendai, Japan. The conference was attended by representatives from 187 countries who deliberated on the post-2015 agenda for disaster risk reduction and adopted the Sendai Framework for Disaster Risk Reduction (SFDRR). Building upon the experiences of implementing the Hyogo Framework for Action (2005), the International Strategy for Disaster Reduction (1999), the Yokohama Strategy for a Safer World (1994), and the International Framework for Action for the International Decade for Natural Disaster Reduction (1989), the SFDRR is a comprehensive 15 year (2015-30) framework with 7 global targets and 4 priority areas.
Present situation of COVID19 pandemic poses a major challenge to manage the transit of the huge number of migrants who have been coming in from various parts of the country. This daunting task was carried out in a mission mode and was successfully executed on ground by officials with timely and decisive actions and effective use of technology. The whole process of management of migrants was being monitored in real time, keeping in mind the risks and spread of the pandemic. Fortunately, I am part of the team which is managing the State Emergency Operation Center, GoB (The war room) to mitigate the risk of spread of CORONA infection. It was an enriching experience while carrying out close coordination with the Ministry of Railways and respective States for effective management for flow of migrants labourers and students who were travelling through special trains. The whole team worked round the clock in close co-ordinations of State Govt and the district Administrations relentlessly.
It is worth mentioning here that approximate 3 million migrants have moved in till 30th May 2020. Disaster Management Department, Government of Bihar did a meticulous planning and well-coordinated execution. We formed a core team of efficient administrative officials and strategised the plan of action. Our main focus was on the monitoring of migrants travellers. We mapped out each and every migrant traveller using our in-house developed online portal and GPS tracking through a mobile app GARUDA Chakshu. All migrants were kept in 14 days' quarantine at block level, places that have been made reasonably comfortable. They have been provided with healthy food, facility of Yoga Sessions and regular health check-ups. Now, the Government has leveraged this situation as an opportunity to resettle them and build employment in the state. They are planning to create some employment locally for the labourers. Already, skill mapping is going on through the online database available with us, data was also shared with policy makers to provide further benefits to the eligible migrants labourers. Bihar became the first state to launch DBT support to stranded outside the state. Rs. 1000/- per family is provided directly to the bank accounts.
As a frontline warrior and senior professional I had to shoulder a load of responsibilities while leading from front at the helm of the affairs. Having gone through all this, I cannot forget that I have my 14 years old son at home along with his father and my elder son who was in another part of the country. All I could do for them is to distance myself for their safety and focus on my work, which at this juncture was more crucial for me. I had to take a call between choosing to stay at home or be part of the battle, but being from an Army family, I chose to fight the battle along with my team and am still fighting dauntlessly.  My family always encourages me and supports me to discharge my duties towards our nation.