Mr HARSHIT GUPTA (PGP-ABM 2014) – FORBES INDIA 30 UNDER 30 (2021) – AGRITECH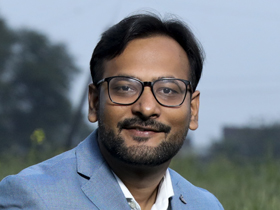 Mr Harshit Gupta is the Co-founder of Gramophone. With a vision to transform agriculture in the country by maximising farmer's income, the Gramophone helps the farmers by providing farmers with timely information, technology and right kind of inputs to achieve better yields – making farming more efficient. The Gramophone app has a six-pronged approach to help farmers increase their productivity: Input Planning, Support & Advisory, Quality, Availability, Convenience, and Cost- effectiveness. Besides providing input products, the platform also started connecting farmers to buyers since October 2020.
It is worthy to note that Gramophone was founded in 2016 by Mr Harshit Gupta, Mr Tauseef Ahmad Khan (PGP-ABM 2014), Mr Nishant Vats Mahatre (PGP-ABM 2014) and Mr Ashish Rajan Singh (IIT Madras).
Speaking to us on his association with Gramophone, the journey so far and the recent award, Mr Gupta expressed, "Recognition and awards always motivates an individual; acts as a source of energy and inspiration to do well in coming future. Getting included in the prestigious Forbes 30 under 30 list has been one such pleasant experience and also representing agritech sector of India is a proud moment for me.
Having done post-graduation in agribusiness management and working in agri-input companies gave an opportunity to work with farmers, understand their pain points and building deep domain knowledge. The common desire to help the farmers of the country in maximising their income is what brought all four of us together and start Gramophone. It has been quite an eventful journey since then having been grown from farmer to farmer to a current base of 500000+ farmers. With a preventive approach to agriculture we have managed to reduce cost of cultivation by 20% for engaged farmers and also increased the production by more than 30% in most of the cases."