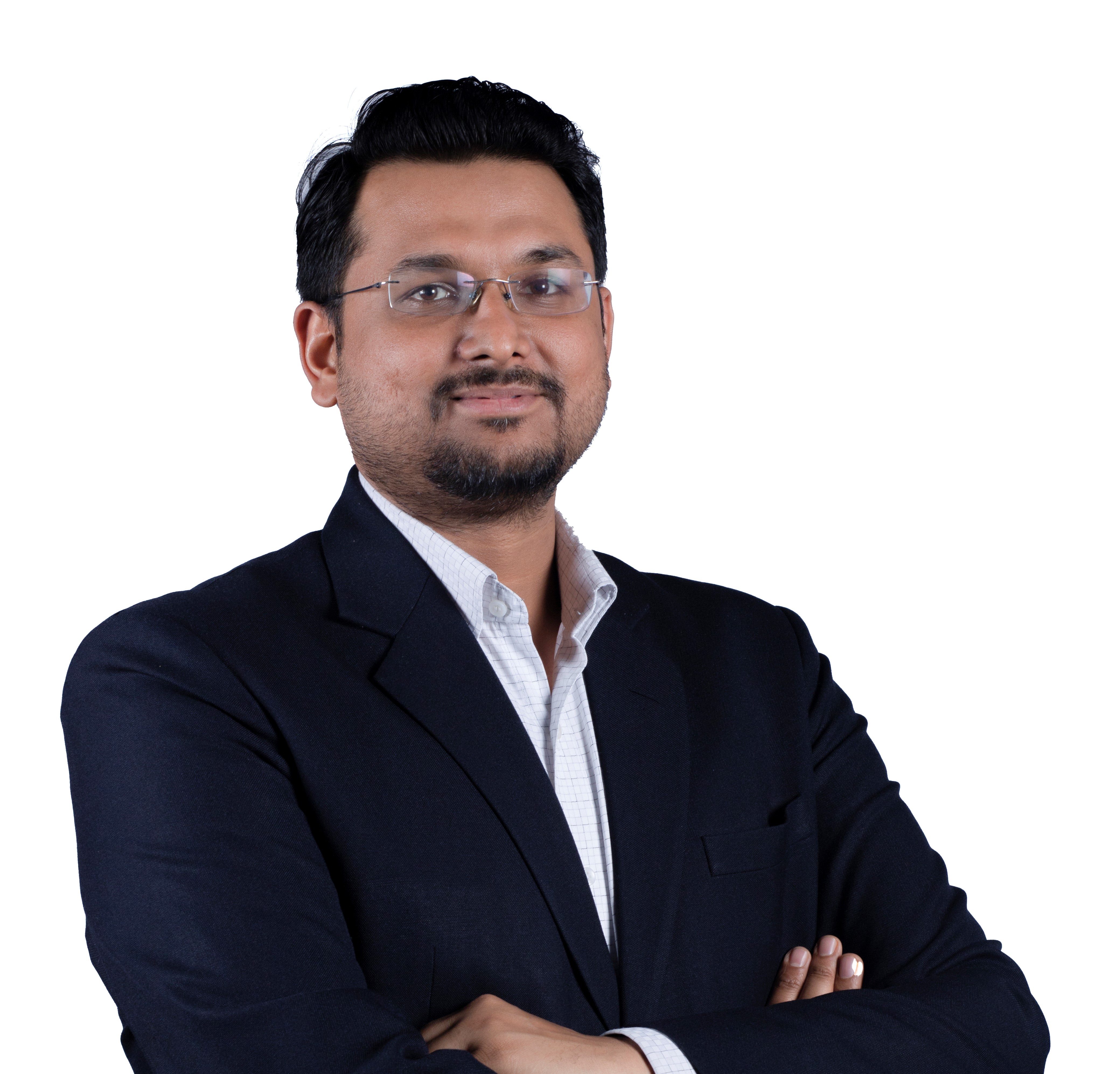 Mr Sandeep Gupta is the Co-Founder and Chief Operating Officer at Innovaccer, a health tech unicorn. At Innovaccer, a united team of highly talented and passionate individuals work towards accelerating world-class research, transforming the most influential academic business research into game-changing products, and disrupting innovation management practices. Combine Data, Technology, and Innovation with Passion, Commitment, and Disruption – Innovaccer.
SANDEEP KUMAR GUPTA (PGP 2011)
YOUNG ALUMNI ACHIEVER'S AWARD – 2021
ENTREPRENEURSHIP
What does the Young Alumni Achiever Award mean to you? I am honored to receive this award. It is always special to get complimented by one's Alma Mater and IIM Ahmedabad has always been the country's flagbearer of education, innovation, and entrepreneurship. I'm thankful to my professors and mentors at IIM-A, who taught me so much and always pushed me to strive hard and work smarter.
When were you last on campus? What are your fondest memories from the campus? I have always been associated closely with the institute and fondly cherish the years spent here. Often, I find myself reminiscing about those days, walking through those corridors, the late-night discussions, working on projects overnight, the canteen conversations, the early morning classes. I remain close to my friends from IIM-A, and we would often uncover the picture of the "good ol' days" whenever we would meet. I cherish the memories of every moment I spent at the campus, the learnings imparted by my professors and mentors, and the fun sessions I had with my friends.
Was entrepreneurship on your mind even when you were at IIMA, or did it take shape afterward? How did your time at IIMA help you? I have always been inclined towards entrepreneurship, even before joining IIMA, and the institute played an essential role in shaping my journey. The education, mentorship, and networking opportunity it provided have gone a long way. When I entered IIMA, I did not have a business sense and found it tough to decipher its nuances and intricacies. My time at the institute helped me immensely in this regard.
You co-founded Innovaccer a couple of years after graduating. How did it come about? Post my days at IIM-A; I joined Ingersoll Rand, where I met my fellow co-founders – Abhinav and Kanav. They were working on a data analytics project at Wharton and Harvard University. It focused on bringing distributed data sets together and leveraging them for downstream analytics. The project was basic research on how big data can be studied, crunched, and analyzed to derive valuable insights.
We were friends and remained in touch while working on this project. I would offer them insights and suggestions. I decided to join them in 2013 officially, and I added my business acumen to their technical whiz. Together, we launched the company and created a pitch for the product that could impact the growing Big Data sector. We worked with 80% of Ivy League colleges on various research projects in the first couple of years. Eventually, we moved onto an enterprise model focusing on diverse industries like retail and finance. That is what led to the inception of Innovaccer in 2014.
Innovaccer has had an incredible journey. How would you describe the journey so far? We started from a tiny basement with barely five to seven people taking care of every aspect of an organization. We created the sales pitches, brought in the leads, pitched our product, and then sat on client calls, doing the technical work on the backend, and then sat for demo calls. We grew from that basement to an organization of over a thousand employees. We now have the pleasure of working alongside some of the greatest minds in the industry. Established leaders in the space are now evangelizing the vision we had seven years ago.
There was a time when the handful of us would work overnight, sleep an hour on our desk, and get back to doing what we were for the next 24 hours, pitching to numerous sectors and industries. Then came the day when we made the difficult decision to leave over 70 percent of our revenue on the table to focus on a niche because of the impact we could create. In hindsight, this was the single most crucial decision for us.
It has been a roller coaster ride, and if I got to go back to the beginning, I would still change nothing.
What are some of the most formidable challenges you faced in scaling Innovaccer? The first significant challenge was pivoting to the US from India. We had a 100% India-based team and had zero exposure to the customer in the states and as newbies closing multi-million dollar contracts in one the toughest industries in the world was unheard of. Arriving in the US with $200 in the pocket and building the org to what it is today has been nothing short of a rag to riches story.
When we achieved the initial wins, we realized that if we did this horizontally for all sectors, we would not build a platform that could define an industry genuinely. And so, in early 2016, we did a second pivot and decided to focus just on healthcare. Saying that we need to operate in an area small enough to drive focus yet large enough to create an impact to bring about a major data-driven revolution is easier said than done. We knew what we wanted to do but leaving most of our revenue on the table was a scary decision. Getting major healthcare organizations to trust a new and upcoming brand with their data was hard, and we moved heaven and hell for that first contract. But that is a day to remember when we did sign the contract with Mercy. They are still Innovaccer's customers today and one of our most prized ones.
There is no doubt that every behemoth starts small, and while every founder has a vision of how grand their brand can and will be, it is not an easy task. There are hundreds of hurdles and numerous milestones to overcome before we can reach that point where we can think about celebrating. It was not a streak of wins that brought us to today. We learned a lot throughout the journey and what we know today is ten times what we did seven years ago, and there's much to learn in the coming days. There were times when we failed when we were unable to match the expectations we set for ourselves, and it was undoubtedly dispiriting. However, our investors and customers stood behind us, unwavering, which gave us the boost to do better the next time around, and we excelled when we did that.
Given the rapid customer adoption of the Innovaccer Health Cloud and the demand from the healthcare ecosystem for technology-driven innovative solutions, how do you see this space evolving in the mid to long term? Health Clouds and data platforms are the future. Companies like Snowflake and Atlassian are on the path but not in the context of healthcare. If we look closely, the foundation of companies like Spotify or Netflix is a robust data storage and analytics machinery to provide a customized experience to its users. We believe that such a comprehensive data platform is still missing in healthcare, and we want to orchestrate the shift in that direction. With the launch of Innovaccer Health Cloud, we are building a platform that will power the future of Health at a global level. We plan to enable users to develop thousands of innovations on it.
Today, we have troves of information on our Health locked in electronic silos. We need to bring this information together using a cloud platform that unlocks the power of the data and provides a platform on which new digital services and solutions can be built with native interoperability. Now more than ever, customers need a platform that allows them to obtain a 360-degree view of their patients, drive down unnecessary IT costs, and improve care quality and cost-effectiveness.
Cloud computing has changed how care teams envision and deliver quality and cost-effective care to the patients as it can help them better visualize and improve their processes. There are significant benefits to moving towards the cloud, including, but not limited to, better patient care, integration and scalability, cost-efficient and improved ROI, advanced data analytics, and more. The upsides of the health cloud are too significant to ignore, and they are the future of healthcare.
Innovaccer has enabled very significant improvements in patient care that have led to a quantum improvement in inpatient and customer outcomes. What would you highlight as some of the most prominent examples? Innovaccer has unified records for more than 24 million people and prevented $600 million in unnecessary healthcare expenditures using the connected care framework. Our Gartner and KLAS-recognized products have been deployed all over the US across more than 1,000 locations, enabling more than 37,000 providers to transform care delivery and work collaboratively.
Banner Health uses the Innovaccer Health Cloud to unify patient data across multiple systems, simplify workflows across teams, and support its population health management strategy for more than one million lives. With the Innovaccer platform, Banner Health is transforming patient care and driving significant savings in its IT operating expenses. Indeed, Banner has achieved $4M in savings from rationalizing various population health solutions with Innovaccer's comprehensive suite and a 70% reduction in IT infrastructure cost by moving to a SaaS-based model.
PSW has leveraged the Innovaccer Health Cloud to integrate all aspects of care delivery, including the care management and emergency department (ED) optimization process, using a combination of Innovaccer's application suite and third-party applications developed using the Innovaccer Health Cloud innovation toolkit. PSW has leveraged Innovaccer's intelligent APIs to successfully obtain insights into network performance, driving a reduction of approximately 8% in ED utilization year-over-year.
Elevate Health has leveraged the Innovaccer Health Cloud to create interoperable applications that leverage unified patient records to track the patient journey and analyze patient needs. Elevate is also using the Innovaccer Health Cloud to connect patients with community resources in real-time and help its partners successfully address critical medical and social service needs for their patients.
Innovaccer is the only company to score a perfect 100% in the KLAS "Keeps ALL Promises" index. KLAS rated Innovaccer as #1 in Population Health Management in 2021, and Blackbook rated us #1 in Healthcare Industry Solutions. We are the number one ranked healthcare technology vendor by some of the most reputed survey and analyst organizations in the space. Recognitions deservingly complement our organization's growth like Great Place to Work® Certification and LinkedIn Top 2021 Startups mention, among other appreciation from organizations like Inc. 5000, Gartner, Forbes, and Economic Times, among many more.
Key tents of Innovaccer's offering for digital transformation in healthcare is based on the democratization of patient data and requires an open, cooperative digital ecosystem where every healthcare organization and their members and patients can use healthcare data from virtually any source. Do you see any challenges with respect to patient data confidentiality and privacy at an individual level and at the macro-level where citizen patient data is stored outside the country? Data privacy is arguably one of the most critical aspects of our offering, and we have an indeed "security first" approach across all our processes. Protected Health Information (PHI) is a non-compromisable asset, and we meet government and industry standards like HIPAA compliance even when the citizen patient data is stored off-shore. We are dedicated to the responsible collection, use, and maintenance of PHI and are committed to complying with applicable privacy rules and regulations. I believe that data security and compliance are as much a cultural issue as technical ones. At Innovaccer, we have a profound culture of data security, and it not only strengthens customers' faith in us but also acts as a stimulus for growth.
We have a dedicated team of infrastructure security experts who work round the clock to ensure that the best global data exchange and handling standards are met. Our experts are responsible for deploying, automating, maintaining, troubleshooting, analyzing, and improving the systems that keep the backend infrastructure running smoothly. We are also NCQA-certified for HEDIS and AMP measures and put data security at the heart of our operations, not just for administrating security compliances but also for investigating security events generated through various security solutions deployed SIEM, IDS/IPS, and FIM, among others.
Global Rating Agencies have recognized us for our work on the cyber security front. We have also rated top of the class in KLAS (one of the most highly-rated healthcare technology research organizations across the US) ratings for Cyber Security. In addition to this, we are also the highest-rated healthcare company in Security ScoreCard, which is a Gartner-recognized (a world-renowned technology research and consulting company) rating mechanism for organizations globally. ​​We have reached a score of 97 on the said security scorecard and are officially ahead of our nearest competitors by a margin of at least 6 points (the average industry score is 84).
How do you think the recently launched Ayushman Bharat Digital Mission can be leveraged to improve the healthcare ecosystem and patient care in India? As the Indian Government says, "The Ayushman Bharat Digital Mission (ABDM) aims to develop the backbone necessary to support the integrated digital health infrastructure of the country. It will bridge the existing gap amongst different Healthcare ecosystem stakeholders through digital highways."
The focus of this mission is to move towards a digitalized health system where patient data is stored electronically – and the next step would be to generate valuable insights from those data points to deliver better care. That's when organizations like ours would be of immense benefit. The opportunities are boundless, and days aren't far before we see rapid strides in the direction of embracing healthcare technology.
We are keenly observing this development because, at its heart, Ayushman Bharat Digital Mission is about creating a unified view of patients. It'd act as a catalyst to digitize healthcare in India. It would entail the vision to connect each healthcare system stakeholder digitally. Right from patients to doctors to other care team members, it would focus on bringing everyone under the same hood at all times through robust and real-time use of vast healthcare data.
In the next few years, I hope to see a tremendous disruption in the healthcare technology landscape, and India is poised to benefit from those developments immensely.
What's next for Innovaccer? The company is currently growing 100% year on year, and we are confident of continuing the trend in the coming years.
To begin with, we want to scale the 25 mn patients currently on the Innovaccer Health Cloud platform to 1 bn globally. For this, we are investing significantly in R&D and our go-to-market teams. Our solutions will cater to the needs of tomorrow and are already gaining sufficient traction. We aim to help healthcare organizations improve care quality and reduce operational costs and make lives easier for every individual in a care-delivery model.
The next step is to see how doctors and other care stakeholders can collaborate on the platform. How do we bring in life sciences and pharma companies to do clinical trials on top of the same forum?
The healthcare industry is still growing. We have crossed into a digital transformation landscape, and the space now needs to develop scalable technologies and solutions that truly address the unique needs of all stakeholders and take a collaborative approach.
The company intends to release a new portfolio of Innovation Accelerators in 2022 that will help healthcare organizations tackle the most common and high-impact use cases in a fraction of the time associated with traditional methods and technologies.
What's next for you? Are there any personal or professional milestones you are working towards? Believe the next goal is to expand globally and become the largest SaaS healthcare company in the world.
Our goal has always been to help millions of people and make an enduring difference in the way care is delivered, in the way people envision healthcare, and bring back the joy of providing care for providers, nurses, and the care teams. That is still what we are constantly striving for. We are continuously investing in R&D to explore new markets and solutions and achieve our aim of making millions imagine a better care delivery system across the globe.
What would you advise budding entrepreneurs at IIMA? Starting a business does not mean you're your own boss. One needs to know how difficult it is to understand entrepreneurship and how hard it is to sustain it. Additionally, you have investors and your employees you are accountable to. If you have co-founders, you all must remain on the same page. So, the freedom of being your boss is often misconstrued.
Maybe, several years ago, budding entrepreneurs were considered nerds, geeks, or lost souls that drifted off the corporate path, causing friends and family to worry. But, now entrepreneurs are perceived as modern-era rock stars, and people value their relevance in society. This new exposure has caused people to develop several misconceptions, especially obsessing over the rose-tinted life. Private jets are few and far between. In reality, most entrepreneurs are watching fare alerts and leveraging credit card miles to book flights in coach class. It's a different world than what many people perceive.
Also, having an idea is not sufficient/ enough. The most important aspect is to have a team, especially co-founders that you can trust your life with. Build networks and friendships that will be critical for you when you start or scale.