BATCH OF 1971: ANDAMAN MEET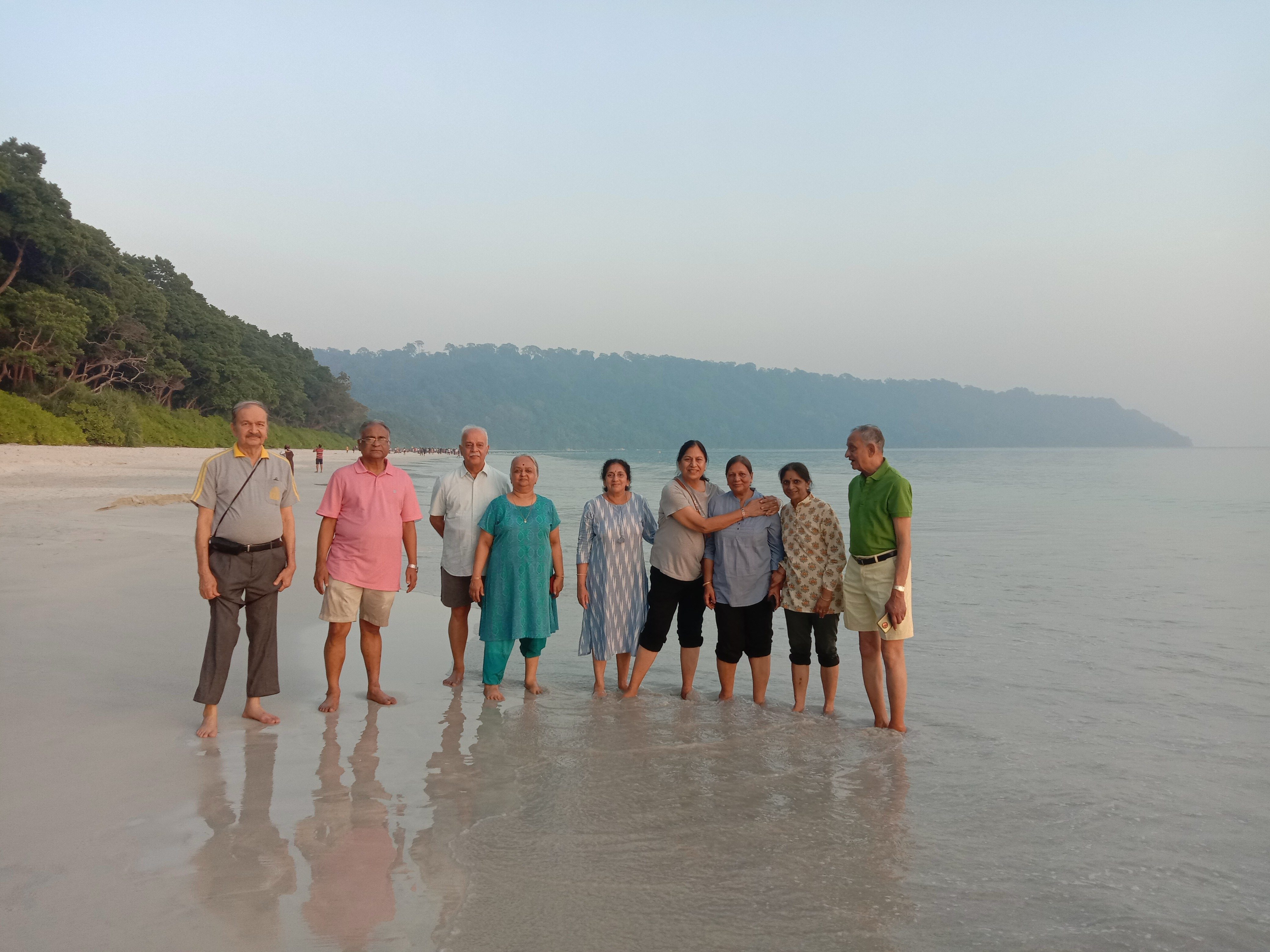 By P K Kishen Pejathaya
15 – 20 JAN 2023
Mr Ganapathi Subramanian mooted the idea of having a get-together of the 1971 batch in the eastern most part of India, the Andamans. Consequently, he got a package from EaseMyTrip.
16 members joined along with spouses
Average age of the group – 74 years
Cities travelled from – Delhi, Mumbai, Pune, Bangalore and Chennai
Day 1 (15 Jan, 2023)  –  Symphony Samudra Beachside Jungle Resort And Spa, Port Blair
We arrived at the Veer Savarkar International Airport. We were assisted with hotel transfers and briefed about the program. Later on the same day, we visited the Cellular Jail, the former 1900s prison complex, now a memorial and museum with grisly dioramas depicting inmates' lives. We then went to visit Chidiya Tapu Beach, behind the resort where we were staying, to see the sunset at 5 pm. While returning we had hot cups of tea at a stall run by a Tamil couple.
Day 2 (16 Jan, 2023) – Departure to Havelock (Morning Cruise) + Radhanagar Beach
We started early to catch the first available cruise to Havelock island. In Havelock, the staff assisted us with transfers to the Barefoot resort whose founder, Mr Samit Sawney, was an alumni of IIMA 1995 batch. We visited the famous Radhanagar Beach behind the resort and returned to the hotel after the sunset which is very beautiful to witness from the beach.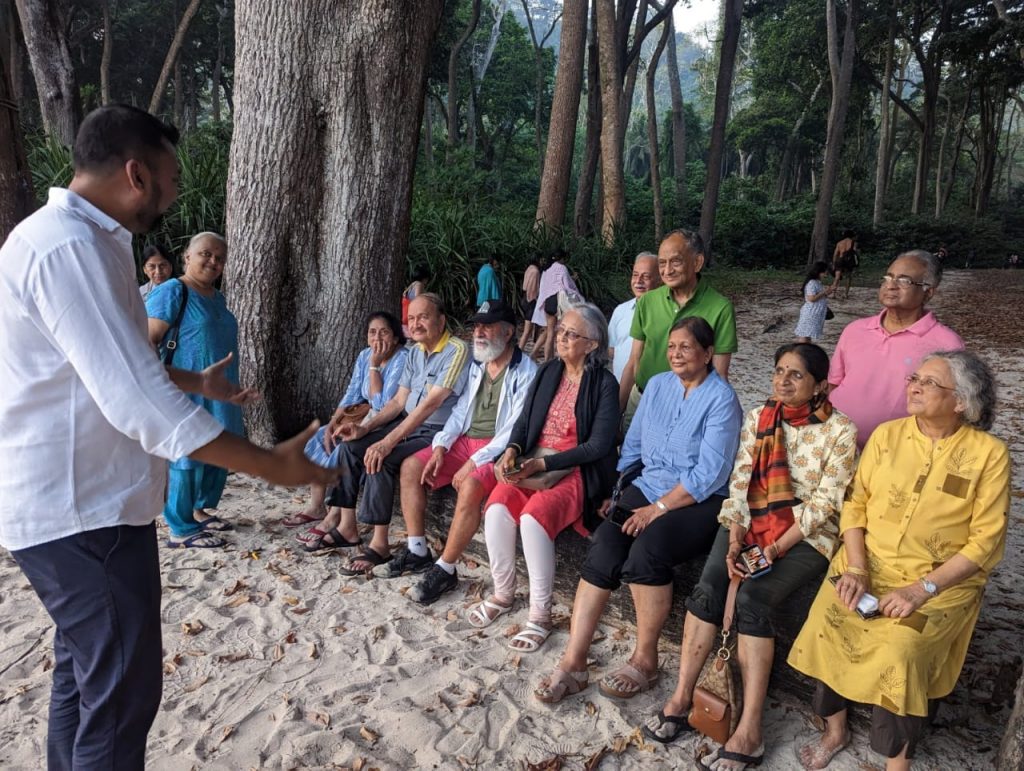 Day 3 (17 Jan, 2023) – Continue in Havelock + Elephant Beach Excursion
After breakfast, we took a speed boat to reach and explore Elephant Beach, a famous spot for water activities in Havelock. Here, we took a speed boat powered sofa ride. Unfortunately, one of our batchmates felt unwell, and there was quick coordination done by the speed boat driver to arrange for a local government doctor and transfer to the Primary Healthcare Centre – all without charging an extra penny! The batchmate recovered well with good efforts from the local administration. We also experienced the semi submarine coral safari, one of the best ways to explore the deep seas without getting wet. However, snorkelling was not allowed for those above 60 years in age.
Day 4 (18 Jan, 2023) – Departure from Havelock + Sightseeing in Neil island
After breakfast, we took the first cruise (Nautica) to Neil island. After check-in at the SeaShell Samssara in Neil, we went to Laxmanpur Beach and had lunch at Kiran Restaurant. Later, we went to Bharatpur Beach, to see the Natural Coral Arch. This was a unique beach as it was filled with dead corals. Due to low tides, fish, crabs, sea cucumber, starfish and many other coloured fish were spotted.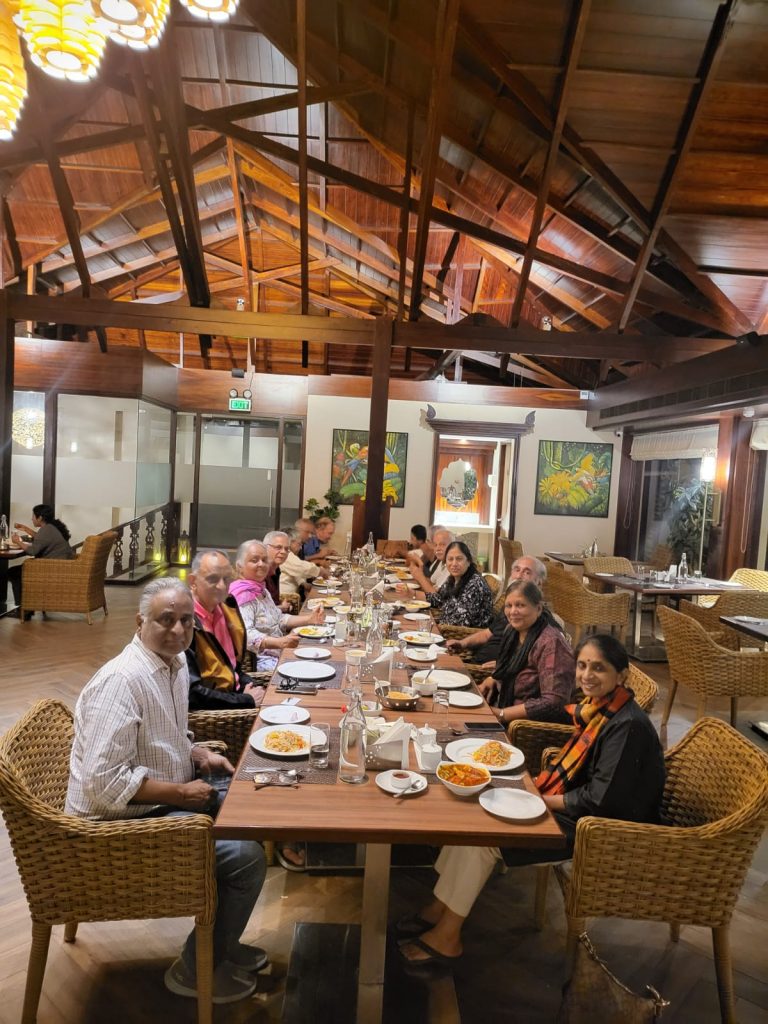 Day 5 (19 Jan, 2023) – After breakfast, we returned to Port Blair on a morning Cruise. Following lunch, we went shopping.
Day 6 (20 Jan, 2023) – We departed with memories of the good times spent together.