Couples-Galore-in-PGP-1990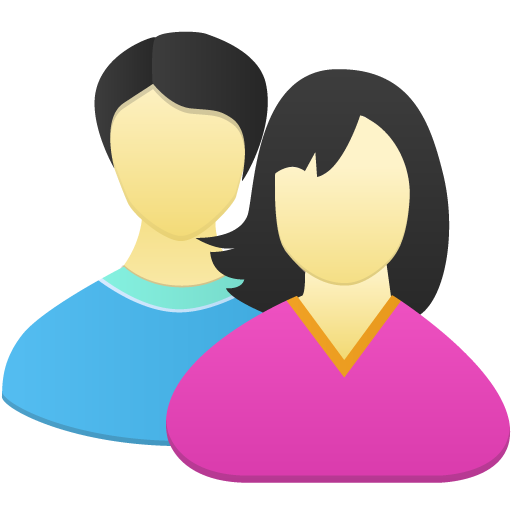 WIMWI COUPLES GALORE IN PGP 1990-  by P V Sreenath
There are some for whom WIMWI is a temple of learning, there are others for whom WIMWI was also a temple where Cupid struck. The batch had numerous couples on campus, many of whom continue till this day. Some formed post-campus too, with none in the batch having an inkling… maybe not even the couples had a clue at that time!
Who was it who said that campus romances mostly fade away into sweet memories – he or she obviously had not heard about WIMWI.  With less than ten per cent ladies in a batch size of 180+ who gathered at LKP for the convocation in 1990, eight ladies from the batch have distinguished themselves by marrying a fellow WIMWIian.
Special thanks to all the couples for their inputs/pics and to Shobana Anand for contributing to this write-up. Let's start off first with the intra-batch couples: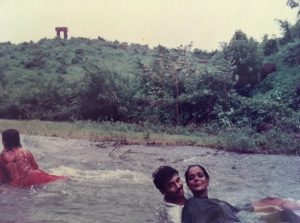 The first couple to form on campus was the lovey-dovey duo of Revathi & Shivi, who will possibly also be the first batch couple to celebrate their Silver Jubilee Anniversary shortly.  Quick off the blocks, at a time when others were more occupied with coping with the terrors of MANAC, they set the tone for others to follow. Unfortunately, one of the closest witnesses to this blossoming is no more with us, else Sundi (Sundar Rao) would have had plenty of secrets to spill about their campus romance. May his soul rest in peace.
Revathi-Shivi – 1989 outing from campus
Revathi-Shivi wedding – 1993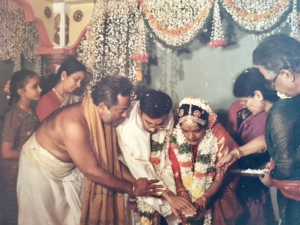 Today, with their Silver Jubilee wedding anniversary approaching, Shivi and Revathi are proud parents to Aadhya, who, from a young age, has been running for charity at the StanChart Mumbai Marathon in Jan each year, in support of initiatives of the Sadhguru Foundation, with which Revathi is closely associated.
Revathi, Shivi and Aadhya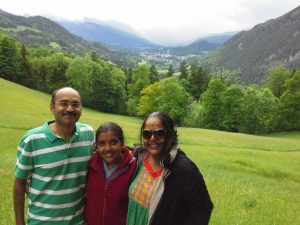 Something about Shivi also stands out in terms of his approach to his personal & professional life – he also continues to be wedded to his first job from campus, being still with Great Eastern Shipping, which he joined way back through campus placement in 1990.
Interestingly, Revs used to have two birthday celebrations & cake cutting ceremonies on campus – one in D1 & one in D12.
Revathi & Shivi in front of Shivi's room during the PGP days at the 20-year Reunion 2010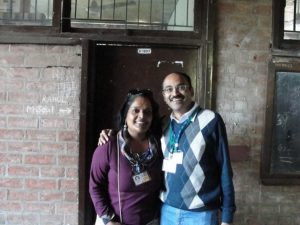 D12 had a pantry account and with all rooms listed. Revs was also considered a de-facto D12 resident, to the extent that she had a pantry account with an imaginary room D12 room number (Room 1221)!  During the 20-year Reunion and the Silver Jubilee Reunion of the batch on campus, Revs was disappointed to learn that this tradition of honorary room allotment was no more prevalent.
---
Anu and Ranajit first met at a D-12 dorm ice breaker party for the PGP-I girls. As fate would have it,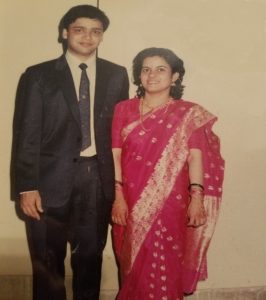 they were paired by a lottery system (and hit the jackpot) and danced to Anu's favourite song "Walk like an Egyptian". Perhaps Ranajit had the first "mover" advantage.
Subsequent meetings were with their common group of friends – Paul, Sreeni Iyer, Parag & PV. Their first date to a Chinese restaurant was spent productively – trying to figure out the overhead cost at that restaurant (Professor Jaikumar would have been moved to tears if he had known!!). Who said IIMA is all about brains?
Not only did Anu expect Ranajit to push the boundaries on numbers but also on other fronts – once, just to fulfil her wish to go for a ride, Ranajit (who had never ridden a bike before) took her for a spin on Parag's bike in the middle of the night.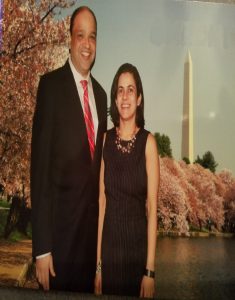 Thanks to all the stars watching over the LKP, both the bike and Anu were back on campus without any mishap.
As all PGPs know, the second year is a short one and Ranajit was not taking any chances with his lady. With prior family history on his side (his sister too had married an IIMA batch-mate some years earlier), Ron seemed to be well aware of the route to follow and employed the mantras with great success!
It is said that marriages are made in heaven and some get solemnised under the stars – in this case, the proposal was made under the stars. The 1989 New Year eve party was winding down and, on a starry night, Ranajit proposed to Anu on the lawns near the mess. The rest, as they say is history.
Anu, today, is a highly regarded professor of international business at the George Washington University and Ron runs his own IT consultancy based out of Washington DC. The couple are now happily married for over two decades and have a beautiful daughter Sonia – she graduated from the portals of the Ivy League Brown University.
While D-12 led the way with Shivi & Ron, D-18 was not to be left behind. Saurabh, a CA by training, led the way and accounted for Abha.  With brilliance on both sides, it was but inevitable that their kids would inherit these genes – while son Rishi completed his education from the Carnegie Mellon University in the US, twin daughters Tanya & Tanvi are close to finishing their under-graduation at the University of Chicago. Saurabh and Abha stay at Gurgaon…or rather, divide their time between the US & Gurgaon.
It is not very common to see batch romances commence after the batch passes out of WIMWI….But when there are two such instances in the batch, it is difficult to dismiss them as sheer coincidence. At least that's what the couples in question would have us believe, so we will defer to them and swallow the same, with bucketsful of salt!
First such couple are Vandana & Ashesh. Joint studies have often brought couples together on campus but this is an instance of joint studies post-campus…or rather a common goal of cracking the IAS that brought them together. The IAS dreams were soon chucked out of the window, with the view of making a life together!
Vandana-Ashesh with young Hrishit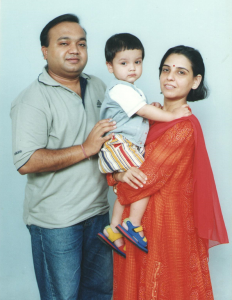 Knowledgeable folks from the two dorms D1 & D3 confirm that this was one case which escaped their watchful eyes, if ever there was an angle to it on campus! With D2 right in-between and with Lenka & Lungi forever manning the ramparts of D2 during those two years, one wonders how this happened!
Ashesh, Vandana & Hrishit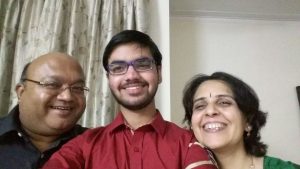 Vandana-Ashesh on a recent holiday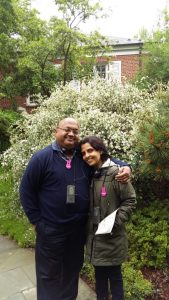 Ashesh, now sporting a Yul Brynner look, is a hotshot forex consultant to many organisations, and the ever soft-spoken Vandana is passionate about teaching and serves as a faculty of Finance at the Fore School of Management in Delhi. Ashesh testifies that Vandana's passion for lectures runs beyond college! Their son, Hrishit, recently finished his schooling and is following Ashesh's footsteps doing his under-graduation in Economics.
The 'scoop' in terms of news related to the batch, almost like one out of the pages of 'Stardust' when it was first revealed, was the marriage between Mayank Bhargava & Namita Dutta. With not a sign of this on campus, they caught the whole batch by surprise when the announcement came. Here's an instance of 'a batch wedding' that took place nearly a decade after we left campus. Namita, post- campus, served in many positions of responsibility with the Indian Administrative Service (IAS) for some years. She now serves with The World Bank at Washington DC. Mayank is an investor in the renewable energy space and they live at Washington D.C with their lovely daughter Arini.
Archana met David, an Exchange Student from France, while on campus, is now happily settled in France with him. Two of them live in Paris. Namita and Archana, the best of friends on campus, continue to be in close touch, with Namita and her daughter having spent a week recently at Paris with them Archana & David. One hears Archana & David are great hosts and would be glad to host anyone from the batch travelling to Paris.
Sanjay Pande, after spending two years at the temple of learning and with dreams unfulfilled on a life partner from WIMWI, decided to return to campus a few years later to try his luck again, this time while serving the Institute in an administrative role. His happy-go-lucky attitude won over Monica (PGP-1993) and, shortly thereafter, he decided to bid goodbye to IIMA with a sense of accomplishment at a job well done – accomplishing what he couldn't during his PGP days!
Both of them settled in Delhi, have two children – a daughter Kavya and a son Kartik, both of school-going age with interests as diverse as Sanjay's. Sanjay, apart from doing routine things like fire-walks(!), is an angel investor with his YourNest fund and also finds time to indulge in his passion of training people on soft skills…and of course, he trots off to the hills of Uttarakhand and Haldwani whenever time permits, to contemplate on life.
The latter half of the PGP-2 stint was the start of the Smita-Karnik story on campus, at least to the untrained public eye…though there are some who insist it started earlier. The two of them are now settled in the US.
Among the others from the batch to have married fellow WIMWIans but from a different batch is Priyamvada, who got married to Nagnath from a couple of batches senior. They are based at Mumbai and their son, who completed his under-graduation from Columbia University, is now working in the US.
WIMWI has always encouraged diversity amongst applicants for admission.  Living up to this ideal, the Batch of 1990 takes pride in having contributed a great deal to the diversity pool of IIMA Couples – the entire gamut of possible couple formations is covered by the batch…intra-batch…batch-mate with senior / junior…batch-mate with super-junior or super-senior…batch-mate with exchange student from abroad.  May they and all the IIMA Couples across batches have a long & fulfilling life together.