RUBY REUNION (40 YEARS): CLASS OF 1979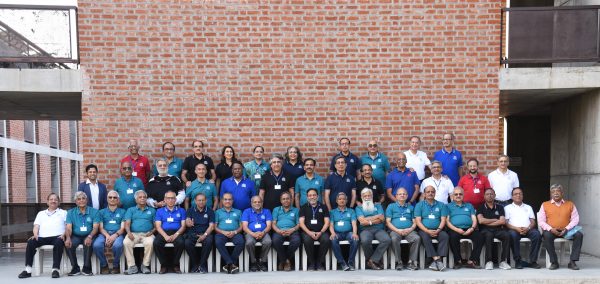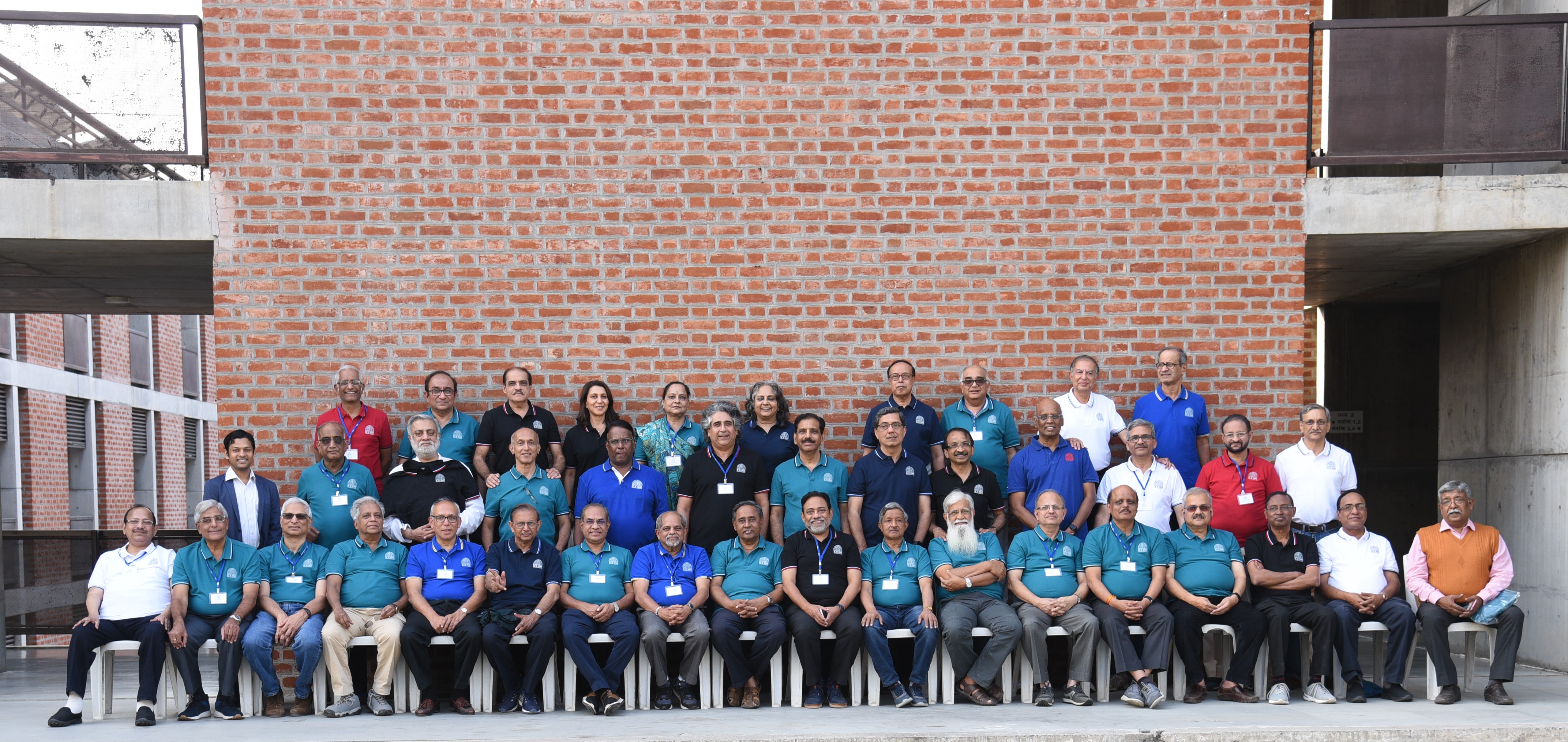 40 YEARS AFTER AHMEDABAD… ..SO MUCH TO DO AND SO LITTLE TIME
The Batch of 1979, a very well-knit group that meets often was at risk of suffering from travel fatigue as the Ruby reunion was quick on the heels of a wonderful reunion at Dharamshala. Thus, there was excitement and trepidation when we started organizing the event.
Will people come; will we recognize batch mates who we have not met in 40 years; how will we enjoy without single malt to fortify us and last but not the least was nostalgia a strong enough motivator to spend 3 days on campus?
As it turned out, the Ruby reunion was a roaring success with many batchmates coming for the first time and several generous souls observing that this was the best reunion we ever had (I guess age mellows us all).
The reunion was crowd sourcing of ideas and co-creation at its best. The visit to the Calico Museum of Textiles was sparked off by a suggestion from the Director, Prof Errol and wonderfully executed by Radhika. The dance classes by Pankaj got everyone jiving, Ravi the rocket man took us to ISRO, Bhushan and the BPA visit literally opened our eyes to a new world and Deepak Sethi enriched us with his wisdom. And to cap it all we had wonderful guest lectures by some exceptional faculty from IIMA.
But before the festivities was a sombre moment, we all paid our respects to batchmates and Professors who were no longer with us. Bala was sorely missed by all of us with batchmates sharing experiences that would keep Bala's memory alive.
The first day, 13th Dec, started in a true lecture style with Prof Douglas Haynes (Professor of History, Dartmouth College, USA) sharing the findings of his yet to be published book on advertising and conjugality in India with examples for brands like Horlicks. While some moaned at being inflicted with a lecture immediately after lunch, most of us relished the session and we had to control our CP genes. (Doug first came to IIMA with his father who was on deputation from Harvard when the institute was being set up.)
This was followed by a welcome session hosted by the Director. Prof Errol was candid and lucid despite some probing questions. He laid out the plans for the institute, the challenges and the emphasis on meritocracy not just for students but also for faculty. His willingness to answer every question endeared him to the entire batch.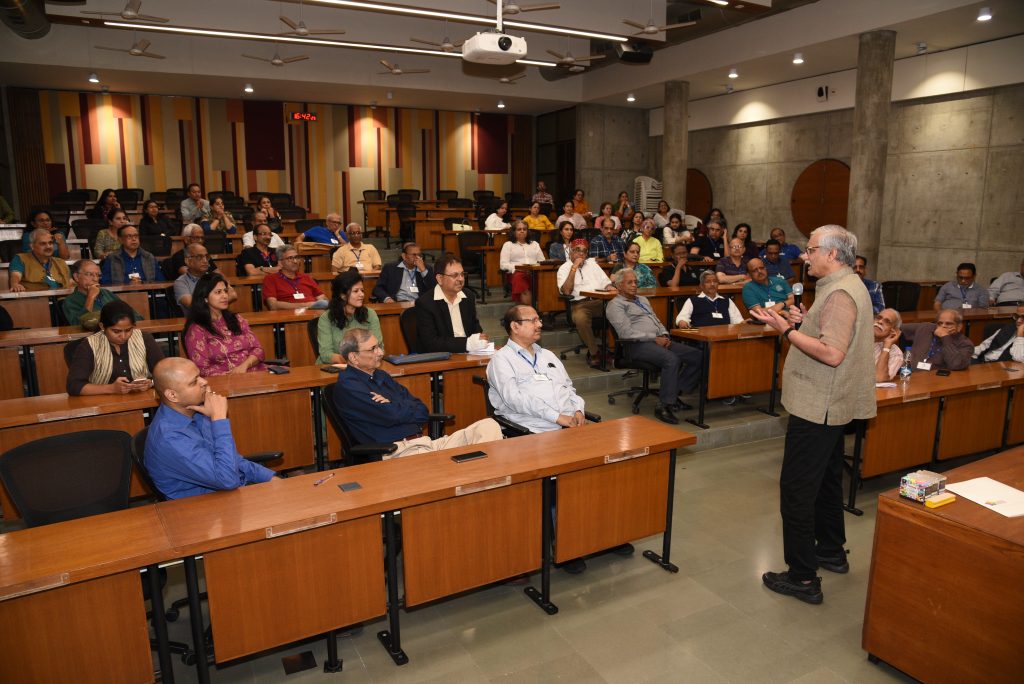 What made the session more special was the care that Prof Rakesh Basant, Victor and the alumni team had taken to give all attendees a really thought through welcome kit, replete with pictures of the entire batch and their seating placement in section.
After the welcome sessions, Pankaj and his dance partner mesmerized us with their energy and graceful dance moves. The meeting area outside the IIMA store came alive to music and dance classes which were in demand for all three days of the reunion.
Late night was a lavish dinner at the Tower Lawn with faculty, and Prof Kalro, Prof Jain among others exuding ageless energy thru the night.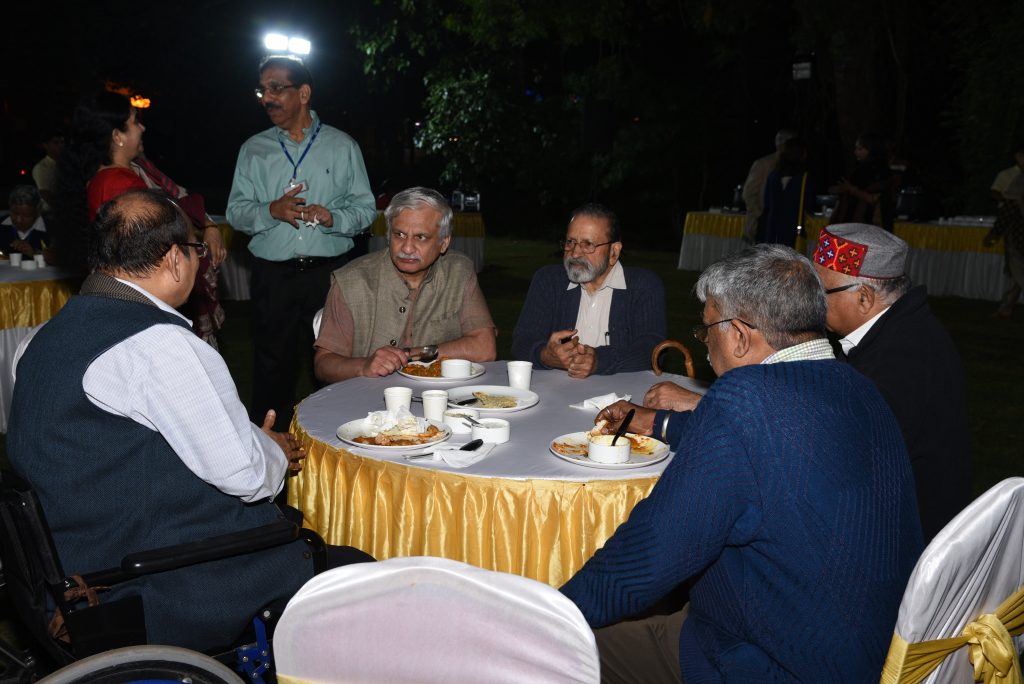 All three days had multiple events being repeated with off-campus visits in the morning and lectures, along with free time on campus in the afternoon and night.
Many of us discovered a gem that is the Calico Museum of Textiles. The process of getting an appointment was arduous but it was well worth the effort, specially if you love textiles and the Indian history.
What would have been a simple visit to the Vikram Sarabhai Space Exhibition: ISRO Museum became vivid and enriching, thanks to Ravi T requesting a senior ISRO scientist to walk the group through the achievements and the technology.
The visit to Blind Peoples Association (BPA) a short walk from the campus was transformational for everyone who spent time in the specially created experience centre, which has curated experiences to really understand what it means to be totally blind. Bhushan self-effacing as always despite just having received a big award took time out to usher in every group from the batch.
Deepak Sethi's sessions were like a silent hit. By the third day, the classroom was overflowing with batchmates wanting to listen to more from Deepak guruji.
The second and third day (a Sunday session) saw Prof Debjit Roy and Prof Amit Nandkeoylar take lectures. This format of having lectures was possibly a first for any reunion on campus (Nishith was the instigator to make it happen with a constant follow up from Ashank). That the lectures were exceptional is an understatement. It kept a group of 60-year olds who thought they knew everything wanting more session time and of course a copy of the sessions.
Day 2 saw the group going to Vishala for an authentic Gujarati dinner. What should have been a 15-minute drive turned into an hour-long traffic jam (the economy is doing well). Vishala was filled to capacity but the wait was worth it.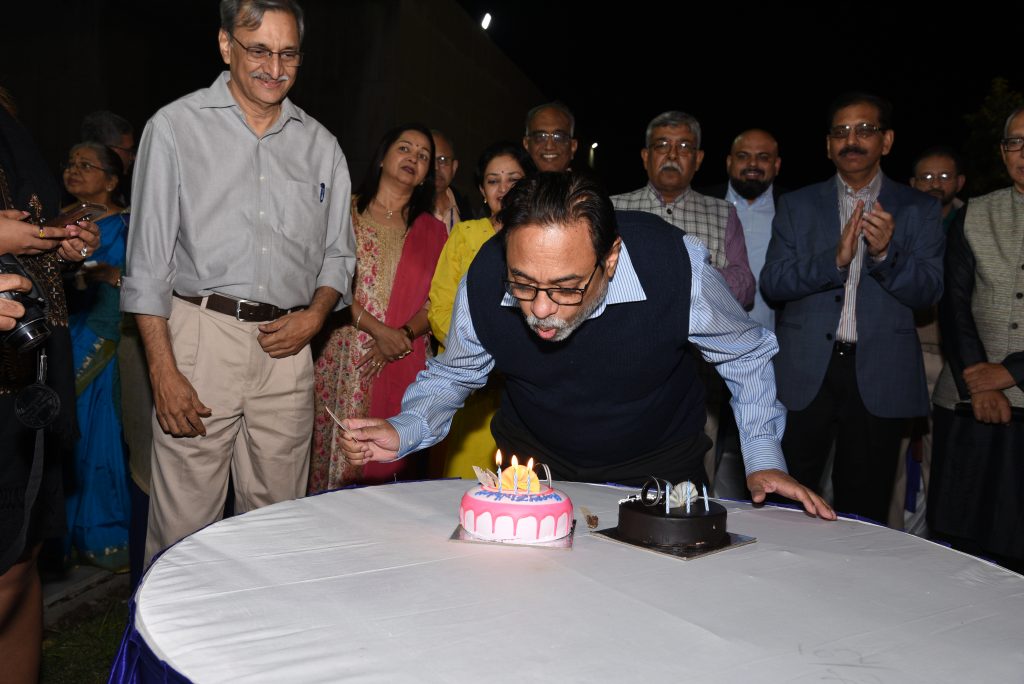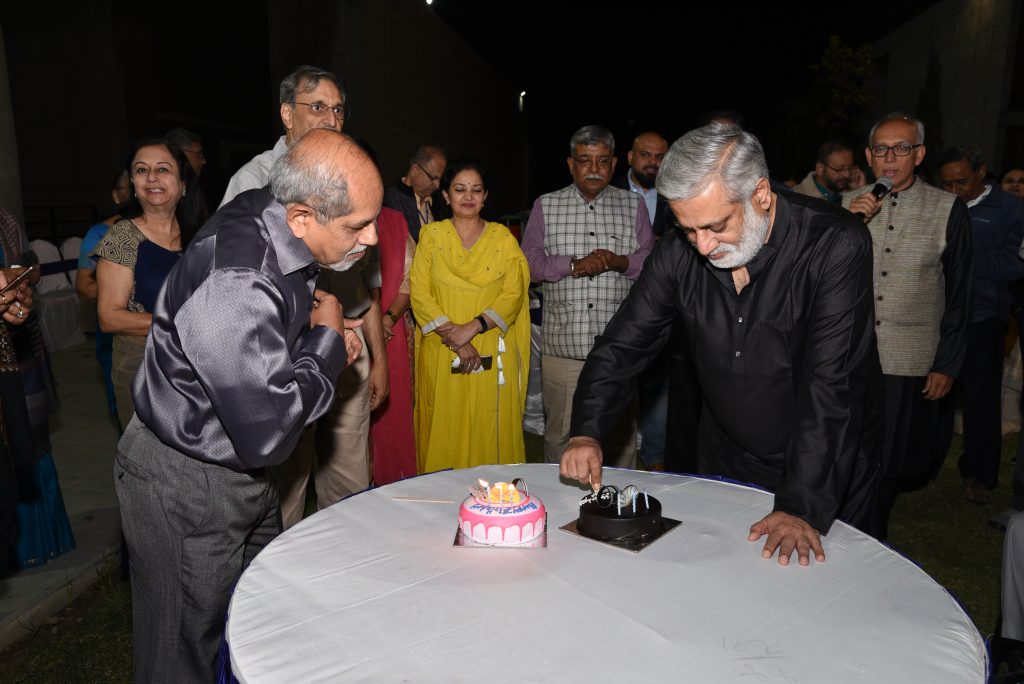 The last session on Day 3 had batchmates share the wonderful CSR work that is being done. Rajiv was crisp and spoke about the seminal work being done by the team to manage mental illness. Sundar brought energy and pace to the discussions with the work that he is doing in schools in Maharashtra using basketball as the vehicle for health and personality development. Pankaj was honest and shared personal experiences and how he is channeling his efforts to give new life to children who have severe disabilities. Pradeep (Kops) built on the work that he has shared with us in the past about the interventions his NGO has effected in villages across Maharashtra and Karnataka.
Ashank overwhelmed us with the sheer scale of work that he is helping promote and more importantly underscored the fact that when you partner with government agencies you can truly have a mega impact. Chinna spoke about the work being done in Hyderabad and Ramesh in his understated style talked about the school he has set up. Nishith was not present but many shared the silent funding that he has done for their work. Gopal who could not attend has also set up a charitable hospital in Chennai. The efforts of all batchmates to make the world a better place continues to inspire all of us.
The reunion wound down with a bang. The gala farewell dinner had some surprise attendees. Prof T V Rao left all of us teary eyed when he felicitated Chinna. In Chinna's words being felicitated by one's professor was the biggest honour that one could hope for. Indira Parikh took time out to be with the group and everyone went down memory lane with their IPR experiences.
The winter chill was forgotten when the Karaoke Kings took centre stage and the institute walls reverberated with classic Hindi film songs.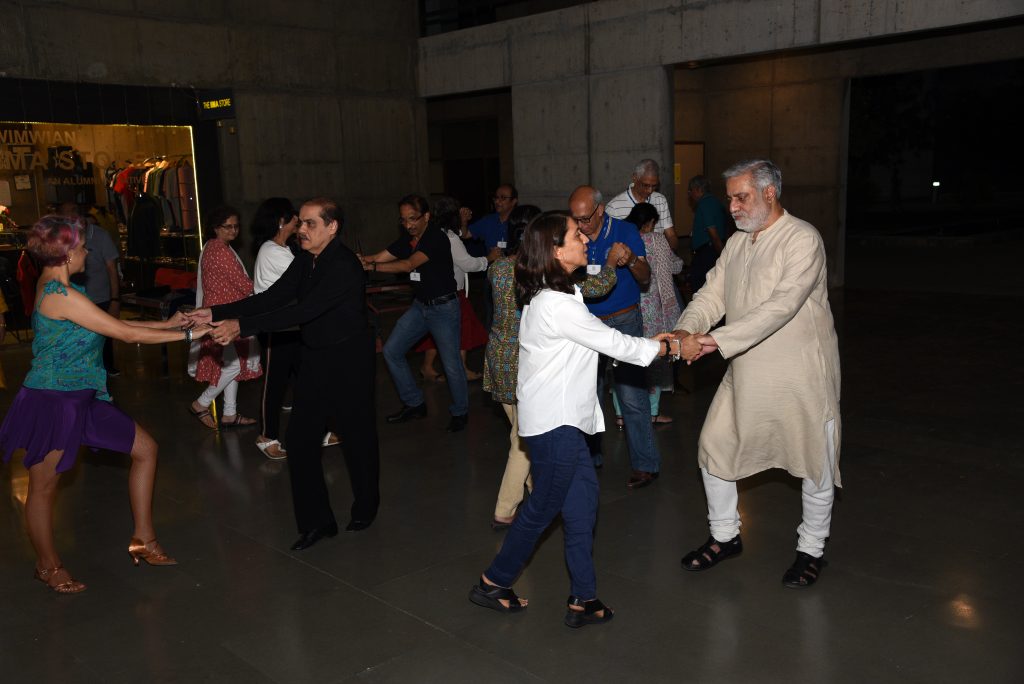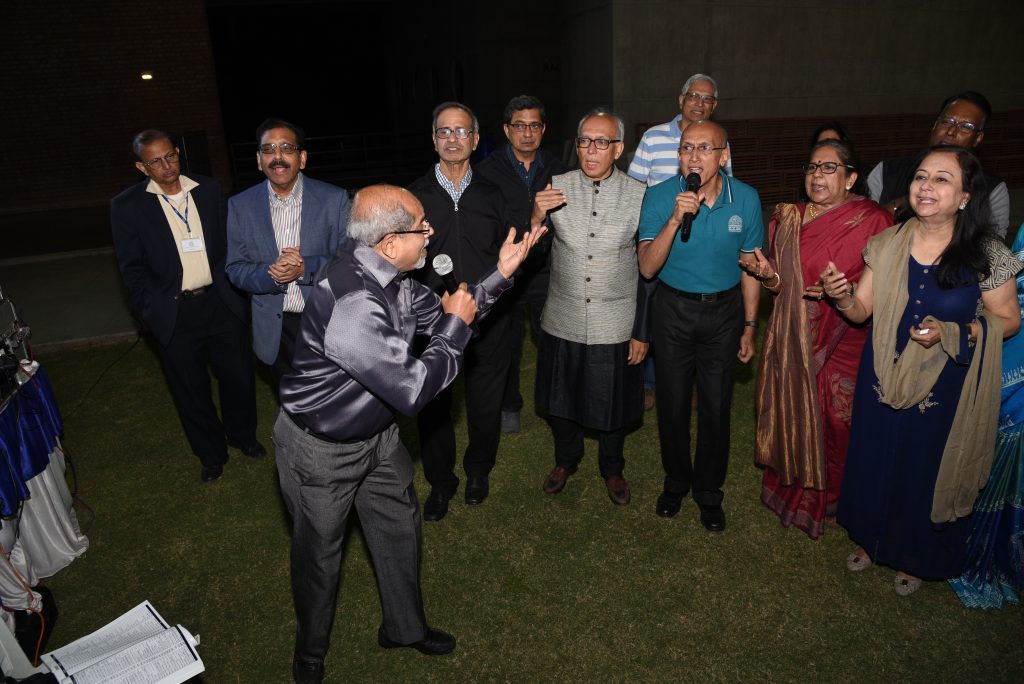 Three days of sight-seeing, lectures, nostalgic trips to the dorms and the refurbished library, late night prowls around the campus, sipping coffee at midnight had come to an end. Forty years are a blur, but the three days made us relive the best of our days on campus and made it truly unforgettable.