CORPORATE LEADERSHIP | GV Ravishankar (PGP 2004)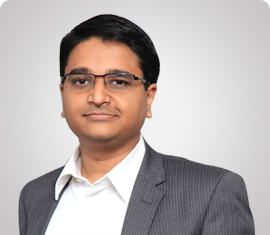 GV Ravishankar (PGP 2004) – Managing Director, Sequoia Capital
Lead the Growth business at Sequoia Capital India
Lead a team of 100+ people as a part of the Senior leadership at Sequoia Capital India
Investment experience across sectors (Financial Services, Education, Retail) and across stages (Seed to IPOs)
Key Recognitions 
Executive Committee, Venture Capital, Indian Venture Capital Association, 2019
Serves on the boards of Byjus (Think & Learn), Capital Float, Eruditus Learning, Faces Cosmetics, Five Star finance,  Finova Capital, HomeLane, India Shelter Finance Corporation, Indigo Paints, K12 Technoservices, Prataap Snacks (NSE:  DIAMONDYD), Rebel Foods, Rupeek, Suburban Diagnostics and Turtlemint. Also served as board member/observer of  companies like Via (sold to NASDAQ: EBIX), Manappuram (NSE: MANAPPURAM) and Equitas (NSE: EQUITAS)
Gold Medalist, IIM Ahmedabad
What does the YAAA and recognition mean to you? I would like to thank the Institute first, as we all have many fond memories of the time at IIMA and it has given us a lot. It is a big gift to be recognized for what I have achieved in the corporate world and the impact people like me are making on the economy or the country. It also means that the Institute also feels that I am on the right track and it is always good to get a pat on the back and some words of encouragement from people that are wiser than you are. This recognition might also inspire others to take the path that we have taken.
When was the last time you were on campus? I was there in Dec 2019 for the 15th year reunion of the batch. But, I have been coming to the campus, I wouldn't say often, but as much as I can, especially for the Endowment Fund that has been recently established. I have also been able to see some of the changes that are happening in the Institute.
So, I am always looking for opportunities to come back and unfortunately as a firm, we are too small to recruit from campuses, but I have been on campus to speak to the students as part of a few courses. Primarily, my agenda of coming back at every possibility is to absorb and relive some of the memories from our stay there.
You moved to the nascent venture capital industry during the mid-2000s. How has that journey been? According to me, a lot of life is about serendipity and you know what matters is how you capitalize on the serendipity. So, I was prompted to join McKinsey with the thought that it is closest to what I would enjoy doing and have a wide-ranging learning opportunity. But, two years in, I realised that I can drift to something bigger in terms of my expectations.
Also, back in the campus, me and a friend of mine who were regulars at breakfast would make a fair point to discuss new ideas, ranging from low-cost hotels to business opportunities that can be. So, when I met folks at Westbridge, which was later called Sequoia, it seemed unbelievable that someone could pay me for what I was enjoying doing in my breakfast meetings and weekends with my friends. So, it was in December 2005 when I joined the firm and it has been 15 years now. It is sheer gratitude for having this opportunity of learning and growing with the firm.
What are your thoughts and recommendations on the impact of technology in the consumer market, especially with other emerging start-ups in the sector? Here, the first thing to acknowledge is that India is still a developing country with a low per-capita GDP. Also, with vast geographical diversity, our country behaves very differently in every region. So, when I started in 2006, India had like 20 to 30 million broadband users at 256 Kbps. This left no scope of building anything revolutionary considering the network and infrastructure constraints. The real change happened after Jio launched in India, as a large proportion of India is now connected with real data, followed by a significant acceleration in technology adoption.
Incidentally, the recent pandemic has also revolutionised the way we consume technology as most of the people have got used to not just being online, but transacting online for a wide array of routine tasks like groceries to education.
So, if you ask me about the time when we started our investing career in 2006 in comparison to now and how it would be 15 years from now – I wouldn't have guessed the transition that has happened till now, but from a recent perspective, I think I will underestimate the possibility of what can happen.
If about the emerging start-ups, we had 11 or 13 unicorns during the shutdown itself. So, in my view, the emergence is going to accelerate, because of a few aspects such as, India being one of the fastest-growing countries, increased technology penetration, and improved capital availability. Considerately, India can build these good companies domestically, but more importantly, we can build companies for the world as well.
In terms of recommendations, we have to continue to invest in infrastructure by lubricating the economy in as many ways as possible and eliminate friction in as many ways as possible, if you want to build businesses. You also need to enhance capital availability in terms of debt because debt markets in India are not as deep as in the western markets. Similarly, on the public front, a lot can be done to ease companies accessing the markets in terms of regulations. Again, a lot can be done, even for private market capital in terms of taxation and clarity on taxation that can allow more capital to come. Finally, our regulatory and judicial systems need to get faster and clearer.
According to you, how has the pandemic affected your industry? I would say that pandemic is clearly a human tragedy that has affected a lot of people. We have companies in our portfolio with extended families who have also been affected, but from where I see it, every crisis is also an opportunity in many ways. It is a chance for many of us to relook at the very core and figure out a way forward.
But, beyond this, there have indeed been gainers and losers. So, anything that was technology-driven gained because those markets have remained broadly open, but anything that has been significantly offline struggled a little bit. There was this whole dichotomy of the haves and the have nots.
I also feel that the companies will take a few more months to figure out how to take advantage of the new growth opportunities and reorient themselves to the benign market environment that we see today.
You being a self-confessed introvert, how did you overcome the disconnect in terms of what you are and what you're required to do? I was obviously apprehensive initially, but the beauty of our job and this role is that you meet a lot of wonderful people who are aspiring to change the world. In my view, it is highly motivating to go meet a founder and have a conversation about how they see the world differently. This experience is never energy sapping and generally giving me the opportunities to learn new things.
Also, a lot of people talk about how to widen your network and so on and so forth to be successful. I think of it a little differently. I try to be genuinely helpful to people as much as I can, and I do feel 'what goes around comes around'.
"Were we just lucky or did working harder pay off?" – How does one grow professionally or even personally in the serendipity sphere according to you? The way I think about serendipity is, you know, events happen and they can be good or bad. You can get a break when you least expect, can bump into someone, can be sitting next to somebody in a flight and something clicks during a random conversation. So, the question is not about whether these things happen or not, as you can not control these events, but what you can control is your reaction to these events. It is all about how you intercept that opportunity or the lucky break, when you are in a situation with a positive frame of mind. I mean, the simplest example can be how I got into Sequoia, following a conversation with a friend from McKinsey who just happened to go to Walberg. After the conversation, he got a call from his Head to say that they were looking for someone junior at Westbridge, which is now Sequoia. So, if that conversation had not happened and I had no curiosity about what that friend was doing, it wouldn't have led him to recommend me for the role.
So, to get lucky, you really need to show up and be open minded to new experiences. You also need to knock on doors as there is no down set to asking.
Looking at all that you've achieved so far, what according to you is your biggest achievement? This is a profound question in many ways. It was late 2016 when I went for a Vipassanā meditation retreat for 10 days. So, this was the time when you think a lot and self-reflect. So, in terms of life, I could thank God in many ways. But, in terms of true achievements, it turned out, for me, it was a very simple incident that happened during my undergrad days and placement season. I was the campus placement representative and the 11th day was my break day, where I step off and somebody else steps in to play the role. While I was placed with Wipro on Day 1, we still had a few people who were not placed. Although, it was my off, I went to college. This also happened to be the day when Polaris was coming to the campus and it's a company that is also focussed on databases. We had this guy in the class who was highly interested in databases. I believed that he would make it to that particular company, but wasn't short-listed in the second round. So, I thought of giving it a shot by having a conversation with the recruiter and it turned out they ultimately ended up hiring him. This is not a big deal, but is the highlight of my life and the biggest achievement.
So, if you can touch the lives of people and make a meaningful contribution to them, I think that is a real achievement. Also, a part of my writing process is really to see if I can add value to people.
When not working, what are the little things that you enjoy doing the most? I look forward to spending time with my family. Apart from that, once a week, I play squash which happens to be the sport that I picked up quite late in my life. I like to read a lot, which was acquired quite late again. So, in the last year itself, I have read about 50 books. I also enjoy writing and want to do more of that. Additionally, my recent interest has been in Biology.
<Transcribed from video interview>