MOMENT OF MAGIC: MEMORIES OF A BEAUTIFUL LIBRARY, FROM MY VIRTUAL CLASSROOM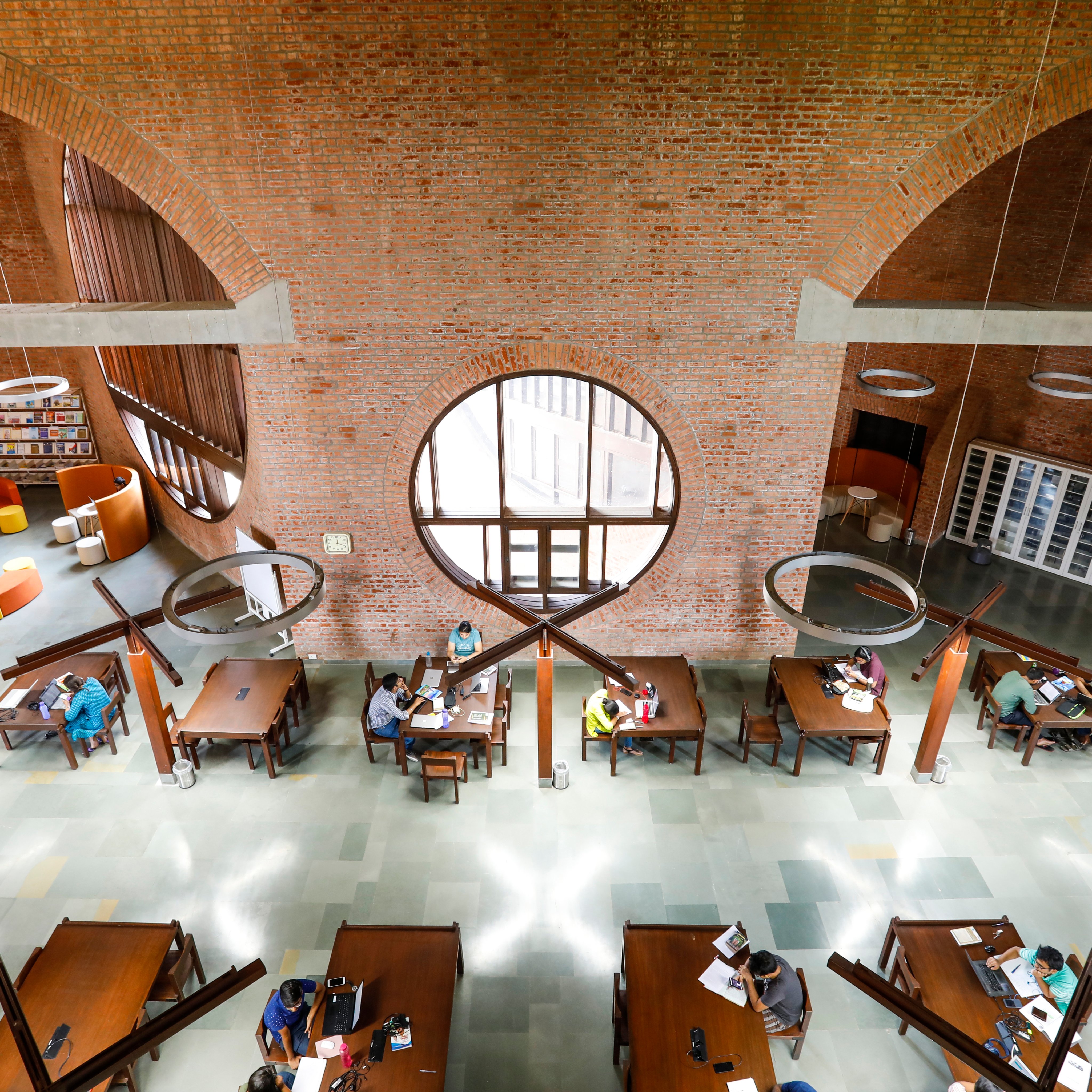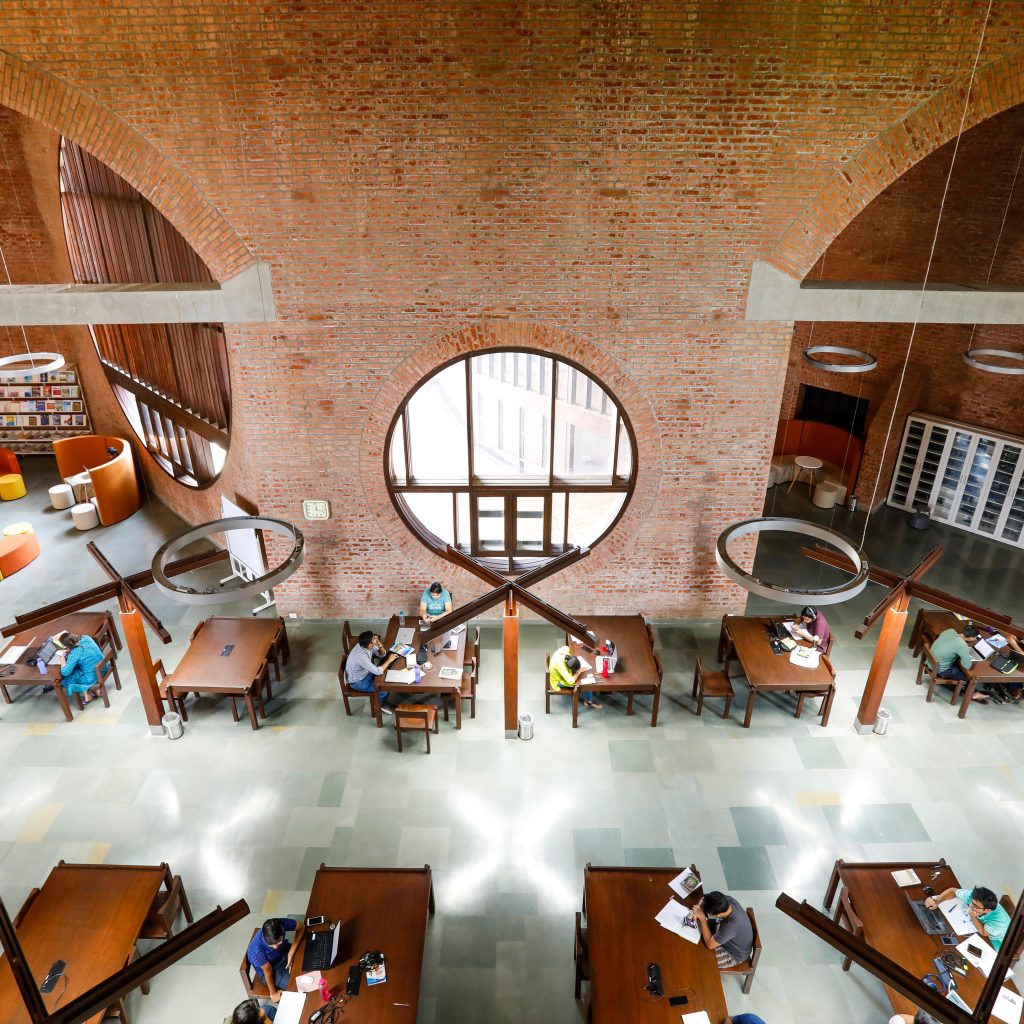 Prof Priya Narayanan (PGP 2011 and PhD 2020)
It was a regular virtual classroom session for my course that mixes Marketing and Finance, for first year MBA students. The group presentations and Q&A were done, I had uttered my usual "thank you, see you all" when I heard a soft voice speak: "Ma'am, you will like this background!"
I was surprised. Despite my requests, most students had put on a virtual background, the common one showing a translucent version of a campus view. Hmm, maybe this is a different virtual background, I thought. But then the student removed the virtual background with the campus image and revealed another virtual background, this time rows and rows of bookshelves. Oh well, I have seen such backgrounds, was my next thought. That's when he moved the laptop in an arc and his zoom video square showed where he was sitting: a high-ceilinged room with two huge circular gaps in the wall and dark brown tables. Lo and behold, for one magical moment, I was back at Vikram Sarabhai Library (VSL), IIM Ahmedabad.
I think my face glowed!
To appreciate this fully, you must realize that I am a library girl, if there is such a thing (well, why not, if there is a Complan girl!): growing up in the meticulously maintained and well-stocked (with Enid Blyton to Larousse's Encyclopedia and everything in between) private college library next to my house; exploring the musty bursting shelves of the public library of my small town – forgetting to take a bag and returning with my books held in the crook of my elbow and, with the other hand, hanging on to the rails of the bus – and then VSL of the late 2000s, on to the posh security-rich library of the American Embassy at Bombay, and back again to a VSL rejuvenated with corporate funds.
The outburst of memories triggered by that virtual visit to VSL is not small, and the memories from PGP and PhD are so drastically different! As a PGP student, I looked at the library as a tool, largely functional. I loved the never ending shelves of fiction. The 24 hours policy, introduced in my second year at IIMA, also meant that the library with its air-conditioning was much more comfortable than our dorm rooms! And it was sitting at VSL that I seriously considered pursuing research in consumer psychology as a career.
As a PhD student, my relationship with the library turned emotional. VSL became a loved space, a home within a home: I still loved the never ending shelves of fiction, with a children's books section to match. I read Amitav Ghosh's Ibis trilogy and then all this other books, all volumes of Calvin and Hobbes (which I had read many times earlier), Booker prize winners, Arundhati Roy's new work, Alex Haley's Roots, Jonathan Franzen, non-English writers, and on and on. The list of non-fiction is probably longer: The Ivory Throne, on Kerala's erstwhile royal family, books by IIMA professors, Thinking, Fast and Slow (before it became the hit it was to become), Misbehaving by Thaler, books by business leaders, books on history, science, writing, and on and on. When bored of research, I would walk among the shelves of little understood stuff, pick a book at random, and see what new worlds would come open. As a PhD student, I (like my doctoral friends) used to be irritated at the PGP students crowding the library prior to their exams. I suppose PhD students earn a right to be possessive about the library!
Today I miss the calm ambience and the dedicated library staff, some of whom became my friends during the PhD journey. Most of all, I miss the brown polished wood tables, solid and immovable, as comfortable for working as for a bit of stolen sleep! It wouldn't be too much to say that whenever I land at IIMA next, I will pay a visit to VSL before even unpacking!
More than a record of my memories of VSL at IIMA, this article is also a tribute to a great soul who was lost to us in the onward march of time, someone who built VSL to the delightful, calming, functional, stimulating space that it is today.