Hyderabad Chapter: Umeed 1000 Cyclothon 2017 from Hyderabad to Vishakhapatnam (via Tirupati)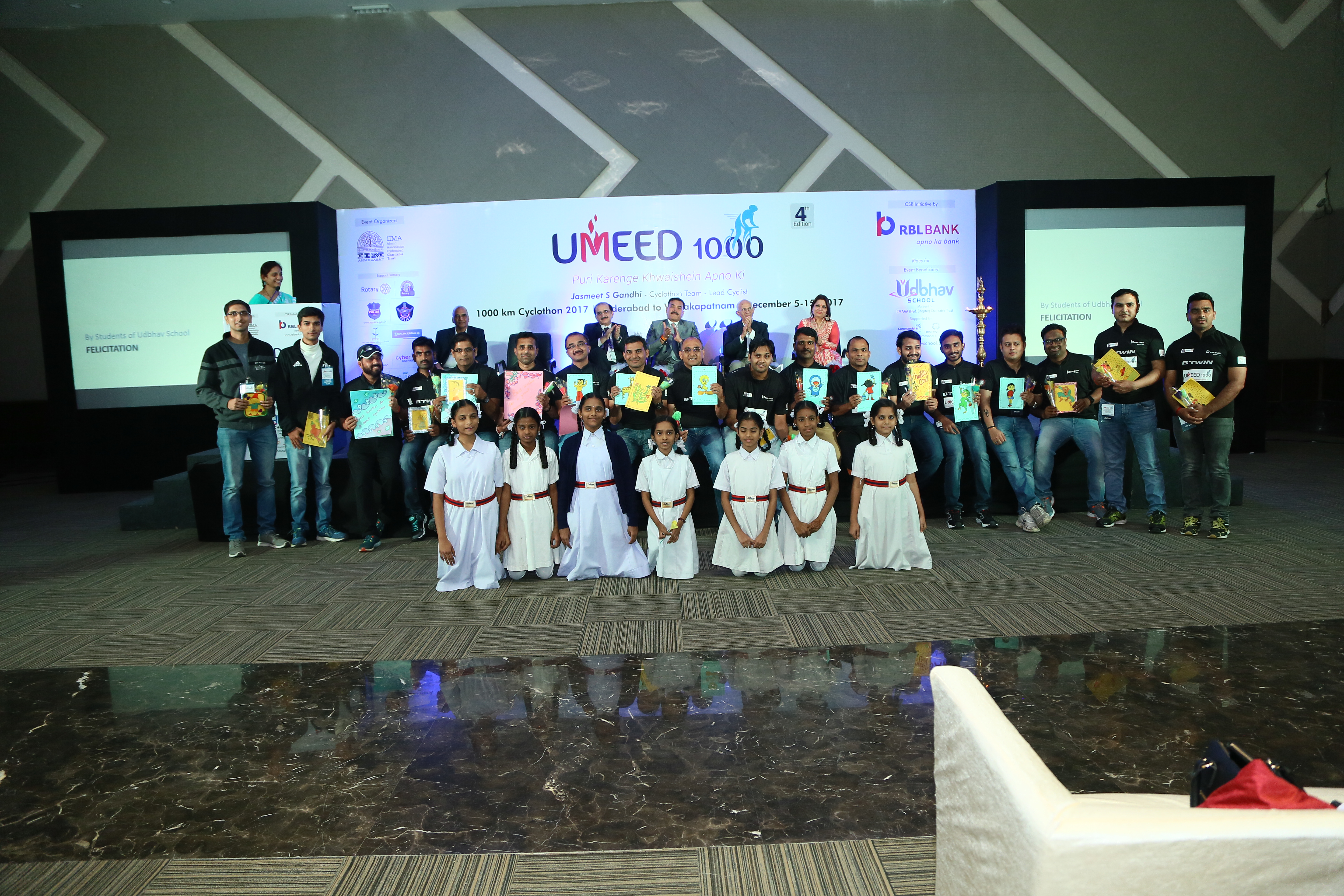 Hyderabad Chapter: Umeed 1000 Cyclothon 2017 from Hyderabad to Vishakhapatnam (via Tirupati)
Fifteen RBL Bank corporate employees under the leadership of lead cyclist Jasmeet Gandhi have taken 11 days' time off from their work and cycled 1000 kilometers to raise awareness about girl child education under a program called "Umeed 1000 2017". On the other hand, about ten IIMA Hyderabad Chapter alumni have taken time off from work to plan and support this entire event and RBL senior management have taken time off from their busy schedule to support, monitor, fund and lead the fundraising effort. A closer look unravels the fact that every involved individual believed in the good cause and the purpose was close to everyone's heart. Girl child empowerment and education were close to many involved professionals because it is common in India among poor and single-parent families to invest in boy's education and avoid girl child education purely because these families are unable to afford education to many children. What was fascinating was that the DGPs of two neighborhood states (Telangana & Andhra Pradesh) have come together to support the entire event. At the end of the event, a total of INR 1.5 crores was raised and the money for donated as the corpus for running Udbhav School.
The entire program was a humongous task. In hindsight, I feel working on this program was like working with many uncertainties. If I had to draw an analogy to the start-up uncertainty framework that is taught on campus, the event would be a perfect example. We had product uncertainties, we did not know whether the cyclists, especially considering there were about 12 amateur cyclists, would complete 1000 kilometers in ten days i.e. 100 kms a day. We had environmental uncertainties. For instance, the Cyclothon was being conducted in areas which were hairpin close to areas where there was a heavy cyclone forecasted. We had regulatory uncertainties, we did not know by when and under what conditions we would have the support of the police authorities considering that both states DGPs were recently appointed. The list of uncertainties could go on and on. The next few paragraphs will provide a detailed glimpse of the various phases of the program.
What is Umeed 1000 Cyclothon, When did this all start?
Umeed 1000 Cyclothon is a CSR initiative conceptualized by Mr. Jasmeet Gandhi along with one of the country's fastest-growing private sector banks, RBL Bank Ltd. making it a Cyclothon with a cause, which was initiated in the year 2014. In 2014, the cyclists traveled from Mumbai to Bangalore, to raise funds for Iksha foundation which provides free medical care and surgeries for children suffering from Retinoblastoma (eye cancer). In 2015, the cyclists covered another 1000 kms from Mumbai to Delhi to support IIMPACT, an NGO that provides primary education to girls living in remote rural India. In 2016, the cyclists covered 1000 more kilometers from Mumbai to Hyderabad, to raise awareness and funds for the education of the girl child. Mr. Jasmeet Singh Gandhi, a cycling enthusiast, spearheads this initiative and is a regular participant as a lead cyclist.
Why was the money donated to Udbhav School? What makes it so special that the event was conducted two times in two years?
IIMA Alumni Association Hyderabad Chapter Charitable Trust took over Udbhav School (facing imminent closure) located in Rasoolpura, designated as a notified slum area in Hyderabad by the local government.  An advisory council of eminent alumni was constituted for the governance of this school, whose target was to ensure continuity of school operations by providing annual expenses. Today the school educates 630 underprivileged children, 52% of them are girl students. Several members and their families regularly engage with the students. Several initiatives have been taken to upgrade the quality of the teachers and improve the facilities. Coromandel International Limited is supporting Udbhav School by contributing 50% of the annual operating expenses, i.e. 35 lacs per year starting. They have contributed this for three years starting in year 2014.  The money raised in this year's event of Umeed 2017 was given to Udbhav School for a corpus that would be created for taking care of operational expenses for running the school.
In 2016, Umeed 1000 was conducted and the funds raised (approximately 83 lakhs) were given to Udbhav School. Since then the RBL Bank management has made multiple visits to the school and have realized the societal value they have been able to add. Further discussions with IIMA Hyderabad Chapter Alumni has made RBL bank management decide to redo the event at even a bigger scale. Hence, Umeed 1000 2017 was again done in partnership with Udbhav School Management and IIMA Hyderabad Chapter.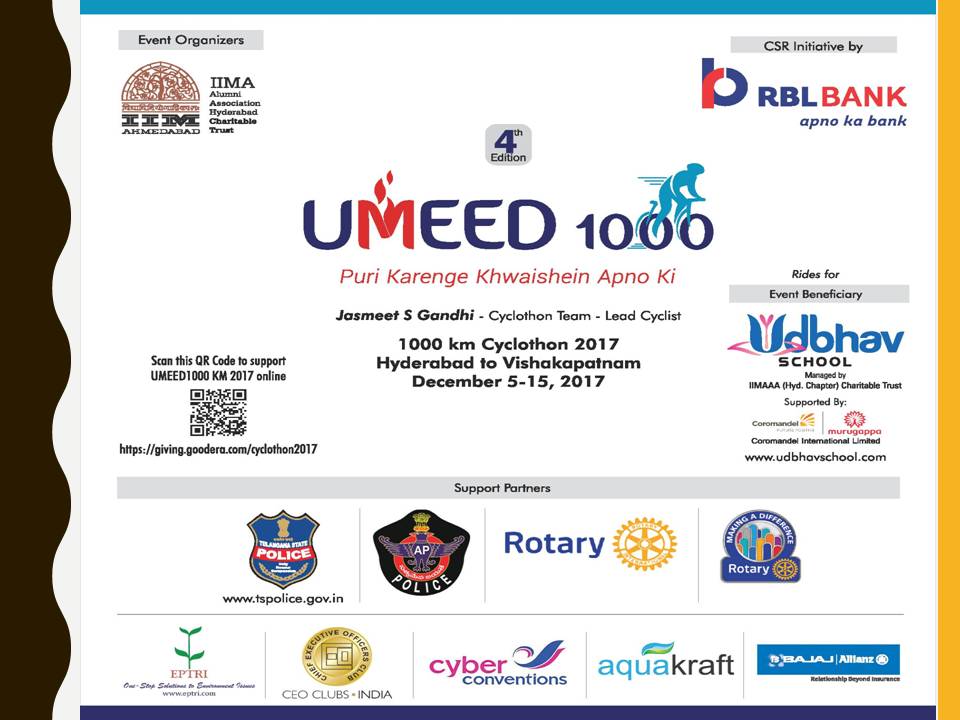 The inception of Umeed 2017
As early as September 2017, a core team was formed to decide on the number of cyclists, the route plan, fundraising targets, the operational tasks, opening ceremony, closing ceremony etc. The success of Umeed 2016 has attracted a bigger contingent of the cyclists. With a support convoy of four vehicles, an ambulance, doctor, Para-medic, safety and security officer, assistance team, cycle technician, project management team and a physiotherapist UMEED 1000 2017 team was formed. The cyclists wereM/s Harshawardhan Sharma, Arun Khelkar, Vishal Pahdais, Yashodeep Pawar, Abhinandan Patil Paraj, Sagar Mane, Nanjundaswamy Hiremath, Sandeep Bhosale, Amit Bhosale, Leela Yanamaddi, Kothapalli Gopichand, Balkrishna Mishra, Vinayak Salgar, Zaheer Khan, Mohammad Rashid and Jasmeet Gandhi. Except for Jasmeet Gandhi all other cyclists are RBL Bank employees, who have not just taken time off from their professional schedule but also played a major role in raising funds. Each cyclist has taken a personal pledge to raise a minimum of INR 50K by speaking to their fellow colleagues. Some cyclists have even gone to an extent of raising INR 2Lakhs.
Challenges for Project Team
The project management team had to ensure that the entire event was hassle-free. The team had to plan the opening ceremony and closing ceremony, arrange logistics such as flight tickets, hotel bookings in 9+ different towns & cities, enroute food arrangements considering dietary requirements etc. An initial brainstorming by the team made them identify over 200 tasks to be completed in a couple of months. The challenging aspect was the fact that each task had dependencies on multi-parties. For instance, Tirupati Darshan booking on rest day meant arranging traditional dress code (Dhoti), collating Aadhar card details, and getting no-Hindus to sign darshan declarations. However, the entire experience even though was tiring but was helpful to bring the senior and junior alumni together. The alumni now enjoy a great mentor mentee relationship and have only gained positives by working in this project.
Opening Ceremony & Flag Off
This year's event was kicked off by an opening ceremony on 4th December 2017 at Cyber Conventions. The promoter of Cyber Conventions Mr. Hari Vallurupalli was so drawn by the social cause that he decided to borne all expenses for the event. The opening ceremony was the first instance where all the cyclists interacted with one another in person. It was fascinating to see the energy and passion demonstrated by them during the photo shoot. They were oozing from every pore about girl child education and the difference they were going to make to Udbhav School girl child kids. The opening ceremony was also a perfect platform for the media to interact with the cyclists. It was fascinating to see a large media contingent were present for the interaction with the cyclists. Mr. Anjani Kumar, Additional Director General of Police, Telangana was the chief guest of the evening and he shared his personal journey and the role Sports has been playing in uplifting education standards in India. Udbhav School Kids also leveraged the opportunity to interact with the Cyclists and thanked the cyclists by felicitating them with self-made greeting cards and bouquets.
All the cyclists led by Mr. Gandhi started their cyclothon journey at about 6AM on 5th December after a grand flag-off ceremony at RBL Madhapur branch. The flag off was done by Mr. T. Krishna Prasad,  Telangana Director General of Police (DGP) and an IIMA alumni, Mr. Rajeev Ahuja, RBL Bank's executive director, Ms. Shantha Vallury, Head HR, CSR , RBL Bank and Mr. Sai Praneeth, India's leading badminton player. The flag-off like the opening ceremony witnessed a lot of media attention. In fact couple of Hyderabad based television news channels also broadcasted clips from the event in their news bulletin.
The Meet and Greet programs enroute
Environment Protection Training and Research Institute (EPTRI), Gachibowli, Hyderabad is headed by IIMA PGP alum Kalyan Chakrvarathy (IAS) and he hosted the cyclists on EPTRI campus on the night of 4th December. After the flag-off at RBL Bank Madhapur, the cyclists went back to EPTRI for their first meet and greet in Telangana. After that over the next 11 days the Cyclothon team was hosted by different organizations at various stop points. To name a few, IMT Hyderabad, The Mourya Inn, Kurnool, Hotel Sarovar, Ongole, Mahindra & Mahindra dealers in Kurnool, Nellore and Ongole, Sai Prakash Institution and GSL Institution, Rajahmundry have hosted the cyclists. In addition, RBL branches in Vijayawada, Tirupati, Peravaram, Guntur, Kovada and Vishakapatnam have also hosted the cyclists. At every meet & greet location, the cyclists were felicitated and the meet & greet team has raised funds for the event through their local contacts. The entire meet & greet locations witnessed a large gathering of local inhabitants and media personnel. Jasmeet, the lead cyclists, spoke about the event and the importance of girl child education. The news about the event was spreading so fast that enroute at multiple times, strangers, and local police personnel have stopped the convoy and made financial contributions from few hundreds to thousands. All such episodes were a testimonial to how good causes can inspire the society.
The cyclists also had a day break in which they have sought the blessings of Lord Balaji in Tirupati.
Closing Ceremony
After the cyclists reached Vishakhapatnam on 15th December 2017, the cyclothon was concluded on 16th December 2017 with a closing off ceremony. Like the opening ceremony the closing ceremony was also grand affair and the event was conducted in Satya Sai Vidyavihar School (SSVS) in Vishakhapatnam. The school management has borne all the expenses related to the closing ceremony. Mr. Gautam Gambhir, well-known Indian cricket team player graced the closing ceremony. The cyclists were not informed about the Gautam Gambhir's presence till they walked in the venue; hence they were all taken by surprise.
The energy at the closing ceremony multiplied tenfold when SSVS school kids started played drums at the first sight of the cyclists walking into the school gate. About 15 Udbhav School Kids, who traveled from Hyderabad have warmly welcomed both the cyclists with welcome message placards and flowers. The cyclists reached out to every student with handshakes and the sense of gratification and smiles in their eyes, conveyed the joy of having contributed towards the lives of girl children. Udbhav school kids staged a skit and danced on a song, which was thoroughly enjoyed by all the audience. The event concluded with Gautam Gambhir, Jasmeet Gandhi and Shantha Vallury handing over the 1.5 crore cheque to Udbhav School & IIMA Hyderabad Chapter representative Mr. Harish Kumar.
Fundraising
For raising funds online crowdfunding platforms ketto.org and goodera.com were leveraged. As the team had a successful experience with an online portal, ketto.org, from last year's edition hence the platform was invited to come on board again and do the needful for the UMEED1000 2017 edition. While the cyclist's team started covering the kilometers, the online portal's funds contribution counters also started ticking in. With the message reaching various parts of the country, emails of cheer and supports started pouring in.
Partnership with the Telangana State Police and Andhra State Police
By support from our members of the Hyderabad Chapter, Krishna Prasad, Umesh Sharraf, IPS and SV Ramanamurthy, IPS, Telangana State Police and Andhra State Police have joined us as our support partner for this event. We received stupendous support, right from designing the route map from Telangana border to all necessary approvals. Both the state DGP's ensured that the entire state police supported Umeed 1000 Cyclothon 2017. Police Commissioners of Hyderabad, Cyberabad, Vijayawada and Vishakhapatnam gave their approval.
IIMA Alumni come together
Several IIMA Alumni have involved personally made this event a grand success. Alumni who played an instrumental role in the entire event include Amardeep Singh, Venkat Rahul S, PGPX 2014 and Sandeep Ganji,PGPX 2015 under the guidance of senior alumni like Mr. Vinay Kumar, PGP1992; Mr. T Muralidharan, PGP 1981; Mr. S V Ramanamurthy, PGP 1979; Mr. Sitaram H, PGP 1974 and Mr. Harish Kumar, PGP 1978. Incidentally, the Managing Director of RBL Bank, Viswavir Ahuja an IIMA alumnus is also a big supporter of Udbhav School.
There were 55 print media articles and 7 clippings of the event in television news channels. Such extensive coverage meant numerous opportunities for the alumni to interact with professionals and celebrities from diverse backgrounds. All volunteers cherish working on the project and only convey about the learnings and the difference the learnings have already started making in their professional lives.
Going forward
"This event has established that whenever there is a great cause and a creative event, IIMA alumni and corporate employees are more than willing to participate in full measure. This is my happy discovery," said T Muralidharan, VP of IIMAAA Hyd and the chief fundraiser for Udbhav School. IIMAAA Hyd hopes to partner with the UMEED Cyclothon team to repeat this exercise in 2018 December for a 1000 km east coast drive through Andhra Pradesh.