JAPANESE MUSIC PERFORMANCE AT IIMA CAMPUS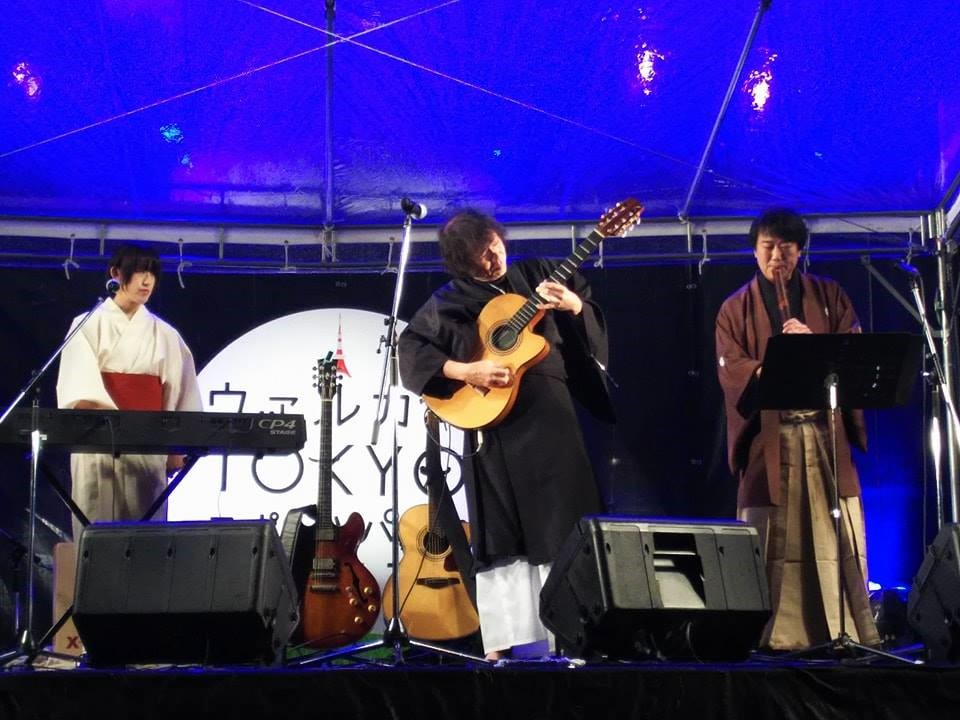 -Prateek Tade (PGP1), on behalf of the Music Club IIM Ahmedabad
Shinki – bringing happiness and peace through music Indian classical music recognises "navarasas" – nine categories of emotions that music can evoke. Music is so powerful that you do not need to add words with it to communicate the emotions it carries, which is why it is not limited by the boundaries of geography and language. It was a unique moment when the Music Club of IIM Ahmedabad collaborated with the Cosmo Future Initiative & Foundation for Peaceful Change to bring an experience of one of these emotions on the evening of the 25th of November 2018, through a live music performance by the Shinki group.
The word Shinki in Japanese means "the God spirit of music" or "a divine voice and sound". The Shinki music unit works to convey emotions similar to those conveyed by its name, giving a spiritual experience. Through their music, they spread the message of peace and happiness, something which the world needs at a time when cut-throat competition is creating unrest and weakening human beings, leading them to dark paths where they could end up harming themselves and others.
The unit has two members – Mr. Hideshi Takatani and Ms. Sayaka Ogawa. Ms. Ogawa is a songwriter, pianist and singer. Her extraordinary crystal transparent voice beautifully expresses a unique world of cosmos. Mr. Takatani is a music composer and guitarist, who performs Blues, while preserving traditional Japanese music. Along with performing arts, he is also an academician, working as Specially Appointed Professor at Saniku Gakuin University and Lecturer at Shukutoku University. He holds senior leadership positions in various organisation, serving as President, Art Academy; Vice President, LLP International Beauty and Health Network; and as Board member of NPO Re-Challenge Tokyo and Research Institute on Future of Old Town. He is a special member of the International Peace Research Association, through which he has worked for spreading the message of peace and happiness.
Shinki is known for dedication performances at shrines and temples. Their most notable performances were at the Togakushi Jinja Shrine and Zenkoji Temple, where they performed in the grand festival which happens every 7 years; and at the harvest festival at Yamagata Tsuruoka. They have produced theme songs of Foundation for a Drug Free World, the NPO Suicide Prevention national movement and an AIDS prevention campaign. They have collaborated with poet Michiko Ishimure to compose songs based on his poems. They participated in a play for the 70th anniversary of theatrical company Gustaf, and have composed music for a drama program telecast on TV station Tokyo MX. They also offer a course on Miyabi – a Japanese aesthetic value which signifies elegance, at the Shukutoku University.
For their tour to India, Shinki were accompanied by Hozan Yamamoto II, composer and shakuhachi player; and son of prolific Japanese shakuhachi player Hozan Yamamoto. They brought along original Japanese instruments, such as the big Japanese harp, the small Japanese harp, the Japanese drum and the shakuhachi, which is a Japanese bamboo flute.
The concert began with a skit type introduction, which was an appeal to God. It was followed by a piece involving aerial acrobatics, resembling a shadow fight, accompanied by high notes. The next piece was a solo performance on the Japanese drum by Ms. Ogawa. The final performance saw all 3 musicians perform together with Mr. Yamamoto playing the shakuhachi, Mr. Takatani playing the harp and Ms. Ogawa playing the keyboard. Through the different performances, the artists conveyed the message – "There is no underlying path to peace. Peace is the path."
To have a musical group which works towards propagating peace and happiness perform in an educational institution like ours, located in a city which is associated with Mahatma Gandhi, who strived for peace all his life; was a beautiful moment which the listeners would savour for a long time.
In totality, the performance created a mesmerizing atmosphere in the serene LKP lawns with both students and faculty enjoying the moment together.