100 IDEAS TO IMPROVE GOVERNANCE IN INDIA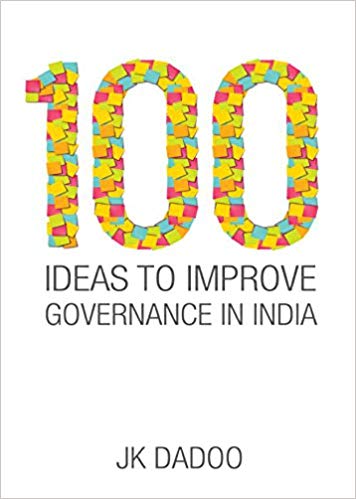 When a book is written based on the personal and creative experiences of the author, we are usually assured of a very rich and practical offering that can enable readers to think in new ways. Overlay this with a conscious desire of the author to share ideas which are "out of the box" and disruptive, and you have a treat for very serious practitioner of governance.
Written by Jitendra Kumar Dadoo (PGP 1980)
Review by Arun Wakhlu (PGP 1980)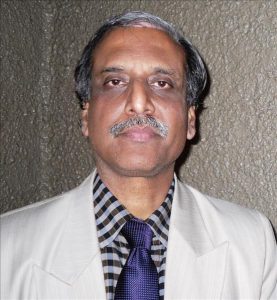 The author Jitendra K Dadoo (1983 batch of IAS) has had 35 years of intense experience serving the Government of India.  JK has vast and rich experience of dealing with every sector of the economy. This has enabled him to acquire a multi-disciplinary approach in recognizing issues, appreciating their ramifications in a big country like India, and focusing on the essence, quickly and responsibly. His forte is his strategic thinking and practical planning of tasks, to achieve the organizational mission and realise its vision.
He started with an outstanding academic foundation of topping Delhi University in B.A. Hons. from St. Stephen's College (where he also won the Rudra Economics Prize), and passing out of the Indian Institute of Management, Ahmedabad in 1980.
Some of the achievements (amongst many) that have provided insights and ideas for his very practical book:
Revamping and executing the entire export infrastructure development policy interacting with 15 State Governments;
As Director General Anti-Dumping for India, developing a new state of the art office, and establishing systems and procedures for fair and timely execution of all anti-dumping legislative matters;
Chairing the Audit Committee of 7 big PSUs (MMTC, STC, ITPO, NTC, NIFT, Cotton Corporation of India and Jute Board);
Facilitating the acquisition of weapons systems, by concluding more than 60 contracts with manufacturers in Russia in record time during the Kargil War, and
Playing three roles combined in one – (Governor, Chief Minister and the Chief Secretary!) as the Administrator of Lakshadweep Islands
To quote Suresh Prabhu (Minister Commerce & Industry; And Civil Aviation Government of India) about Jitendra's work: "His contributions to different Union Territories Governments where he has worked, and in the Government of India, in the Ministry of Defence and Department of Commerce have been exemplary".
The 100 ideas that Jitendra has shared in his book have been clubbed into 24 subsets including Agriculture, Horticulture, Renewable Energy, ease of doing business, Media & Entertainment and Legal. Each idea is backed up with relevant data.  This makes the ideas grounded in reality and yet stretching from the current reality towards new possibilities.
As a Facilitator, and Course Director who has worked extensively with Public Servants of the Government of India, I see this book as a valuable resource for generating a new idea and brainstorming possibilities. We could view these 100 ideas like the coloured pieces of glass in a kaleidoscope…. shake the kaleidoscope and you get a new pattern. Join the dots in new ways and new combinations of possibilities will open up for you.
For example, if we combine the idea of Rooftop Solar (No. 80 on page 191) with the Idea Village Level Entrepreneurs (No. 67 on page 159), we see the possibilities of village level entrepreneurs setting up of solar panels and micro energy-plants in villages. Connect that to the Idea of an Indo -Israel R&D Fund (No. 54 on page 127) and you see how innovative countries like Israel have implemented this and learn from their experience. Connect this to Idea of Smart Villages (No. 69 on page 162, a part of the Rural Development subset) and suddenly you can envision a full-fledged smart village with solar panels, digital connectivity, widespread Wi-Fi and a channel for the utilisation of CSR funds.
The value of Jitendra's book can be further enhanced, if he would also write a sequel on the theme of liberating the collect genius of Leaders in governance. One of the biggest failings in governance in India has been the top-down approach to idea generation. Go to a typical conference in India and you will see a clutch of experts and politicians sitting on a dais making speeches one after the other, while 200 or 300 very intelligent people listen passively. The collective genius that can emerge through connection, conversation and co-creation is untapped. When a book bristling with ideas like this one by Jitendra, is coupled with a process of generating and tapping into innovative ideas and consciously selecting and channelizing them to full execution, India will see the breakthroughs that are desperately needed in governance and in public life.
The book is a very valuable resource for anybody interested in good governance. Potential spirants to the Civil Services will also benefit immensely from this labour of love.
May the creative ideas in this book catalyse more innovation and value creation in India and the rest of the world.