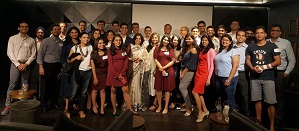 IIMA Alumni Association of Singapore (IIMAAAS)
Events April-May 2019
 Navigating the College Admissions Process and Understanding the Benefits of the EB5 Program – April 23, 2019
The IIMAAAS instituted the 'Evening with Experts' series of events in 2018. Under this series, for our first event of 2019, we presented expert insights on topics that have created much discussion among Indian parents of college-age kids, viz. navigating the US college admissions process and understanding the option for long term US residency via the EB5 program.
Our experts were representatives of LCR Capital Partners and Hale Education Group who flew in from Dubai and the US to share their insights, expertise and advice with us. LCR Capital Partners was founded in 2012 by a group of Harvard Business School alumni and offers EB5 consulting services. Hale Education Group provides mentoring and admissions counselling to international students for admission to US universities.
The event was opened up to family and college-going children of IIMA alumni. Subsequently,e invited Singapore alumni from the other IIMs to attend as well. The event was held at the atmospheric Gilmour Room of the Singapore Cricket Club on the evening of Tuesday, April 23, 2019. We had a total of about 70 attendees and the session was highly informative, interactive and engaging. The speakers were very knowledgeable and the attendees were quite well-informed and focussed on the topics under discussion. It was a successful start to the association's events for 2019.
Synchrony 2019 – May 10, 2019
Synchrony 2019, held to welcome the PGP'1s doing their summer training in Singapore, was a resounding success. The event was organized in the format of an evening quiz, similar to last year's Synchrony. When accompanied by a free flow of drinks and snacks, this is a format that works very well! We had over 50 attendees who came to meet the "fachchas", to chit-chat with batch mates over drinks and to enthusiastically demonstrate their quizzing chops.
Quiz Master Arun Arugham, a leading light of the Singapore quizzing circuit, put together six rounds of "pun-gent" questions, ranging from lyrics of Bollywood songs to reasons for rest days in cricket. Divided into six teams, the WIMWIANs present showed that neither age nor niceties (work boss/alumni spouse competitors) could blunt their competitive instincts and serious RG attempts were made to scuttle competition. It all finally came down to the last round with the winners pipping the runners up by just 5 points at the end.
We had an enthusiastic group of 8 PGP1 summer trainees who attended the event. They were warmly welcomed by all and enjoyed the opportunity to mingle with the alumni present.