IIMPACT HEALTH CONFERENCE – THE DIGITAL TRANSFORMATION OF HEALTHCARE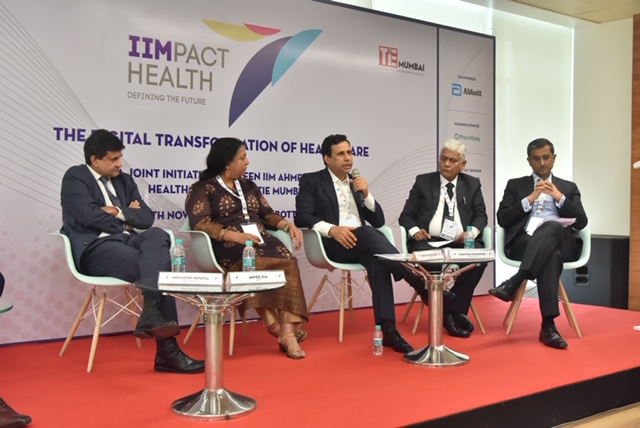 Organised by IIM Ahmedabad Alumni Healthcare SIG and TiE Mumbai 
Contributed by Mr Tushar Singh (PGP 1999) and Ms Shweta Mani (PGP 1999)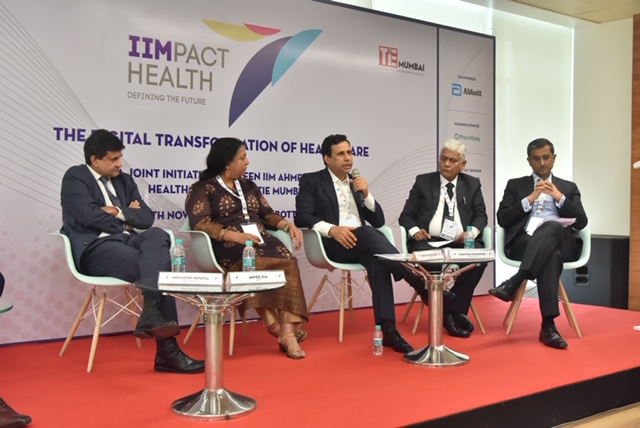 IIM Ahmedabad Alumni Healthcare SIG and TiE Mumbai organized a marquee healthcare conclave to promote, connect and foster the healthcare startup community among their peers and large Healthcare Companies. The conclave consisted of a start-up showcase that included 40 of India's most promising Health Tech start-ups and an all-day conference that was attended by over 250 entrepreneurs and leaders of Industry. The event was hosted by Abbott at their India headquarters in BKC on 30th November 2019.
The platform was dedicated to discussing how the digital revolution continues to transform healthcare in fundamental ways. India is seeing its own digital health revolution. The speakers shared insights on the rapid growth of e-pharmacies, preventive health through wearables, use of AI to deliver treatment, clinic management via cloud-based platforms, rapid expansion in the use of big data, amongst others.
Prof Rakesh Basant of IIM-A kicked off the event and set the context, followed by Mr. Amit Mookim, TiE and Mr. Jawed Zia, Abbott. Mr Pankaj Patel, Chairman – Zydus Cadila delivered the inaugural address.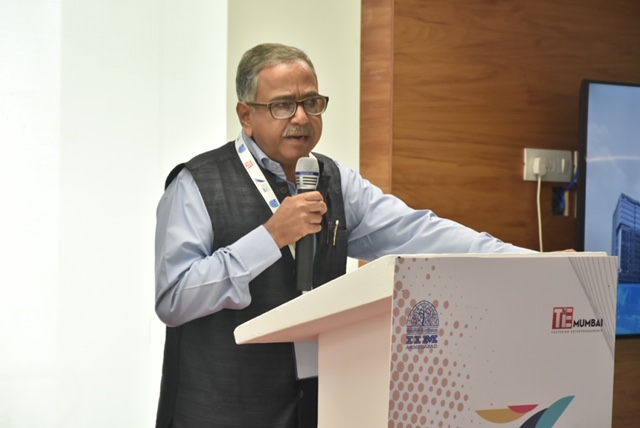 Prof Vishwanath Pingali, Associate Professor, IIM-A, highlighted how technology will play a major role in improving the quality of care and pointed out that the next challenge in health-tech would be to provide healthcare access to the whole population. Gautam Kumra, Managing Partner India – McKinsey & Company, pointed out that patient centric ecosystems can unlock full continuum of care. Prashant Gupta, Regional Business Lead, Healthcare, Microsoft Asia emphasized that organizations building healthcare solutions face significant challenges as the data needed for modern solutions leveraging advanced analytics and machine learning, can be difficult to access and is often segregated into different silos. The ability to digitally capture, annotate, and combine data to apply machine learning will transform the delivery of healthcare.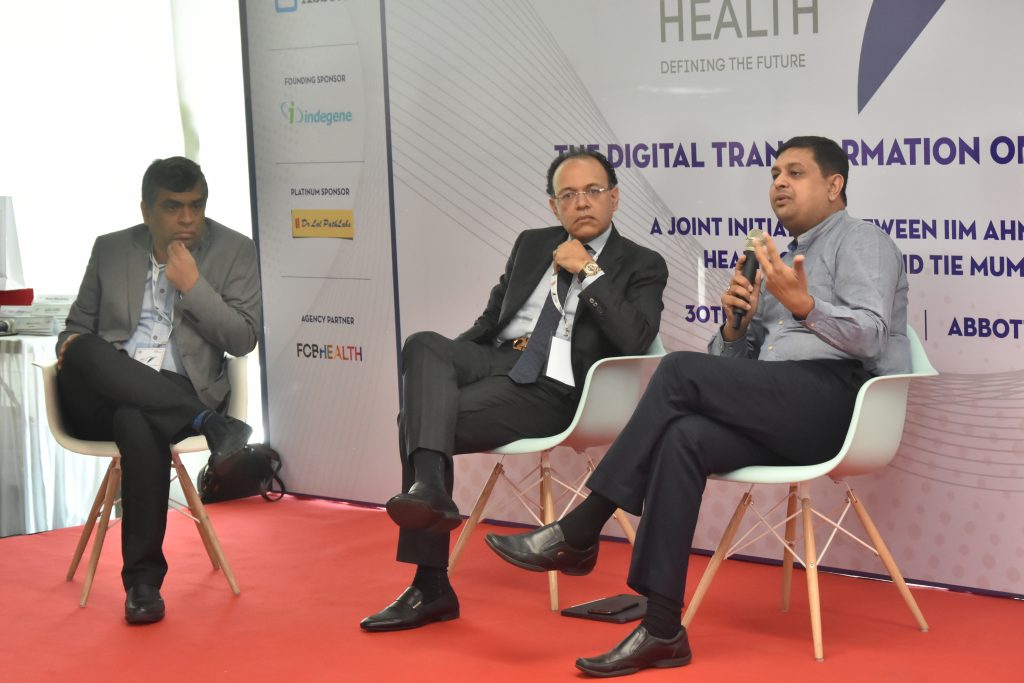 Alka Goel, Founding Partner of Healthcare Fund Alkemi Ventures moderated a panel discussion on the opportunities and challenges in healthcare' with founders of young start-ups and incubators like igenetic, PharmEasy, Healthifyme, Doxper, myUpchar and BIRAC during a panel discussion on 'Scaling Healthcare Startups'. They believed that there are ways in which startups and large companies could come together to innovate and shape health sector. Deepak Jayaraman, curator of award-winning podcast 'Play to Potential,' chatted with health-tech entrepreneurs, Manish Gupta, Founder, Indegene and Vishal Gondal, Founder, GOQii, shared their respective journeys and insights into entrepreneurship, highlighting the diversity of the health-tech sector.
In a session dedicated to showcasing the best start-ups in India, 3 start-ups, curated from a list of 45+ applications by CIIE and TiE, were invited to present to a Panel of VCs and Industry Leaders. The winning start-up 'Endimension Technology' focused on an AI based approach to diagnosing lung cancer.
In a power-packed panel moderated by Vikas Bhadoria of Mckinsey, 'Using Technology to Disrupt Established Business,' Jawed Zia, Head of Abbott's pharmaceutical business in India, predicted that technology would influence the quality and efficiency of services for better patient outcomes across the continuum of care. In the same panel discussion, Dr. Om Manchanda, Dr. Lal Pathlabs stated that Labs are getting closer to patients and emphasized the need to cater to the bottom of the pyramid. Meenakshi Nevatia, Stryker, educated the audience on the differences between devices and medicines. Gautam Khanna, Hinduja Hospital, resonated the need to focus on the quality of outcomes. Venkat Changavalli, Advisor, Govt. of Telangana, highlighted that to make public private successful, the 3 Ps should be in place – political will, public servants who are willing and private partner who is capable and willing.
Closing Keynote Speaker, Sh. J. Satyanarayana, Former Chairman, UIDAI and Chairman, NDHB Committee underlined the importance of creating an ecosystem rather than standalone systems. He stated that national digital health blueprint is a first step in building a digital health ecosystem in India.
Co-author of the book Bridigital Nation, and closing Keynote Speaker Roopa Purushothaman, Chief – Economist, Tata Group indicated that India's technology transformation can be different given that India's context is different. Other challenges in the country is driven by physical gaps and suboptimal system. India has a significant gap specifically in healthcare. This gap can be bridged through technology which needs to be specific to India's context.
Professor Arvind Sahay from IIM-A and Mr Sudarshan Jain concluded the event by thanking all participants, organizers and sponsors.