CLASS OF 1980: BATCH ACTIVITY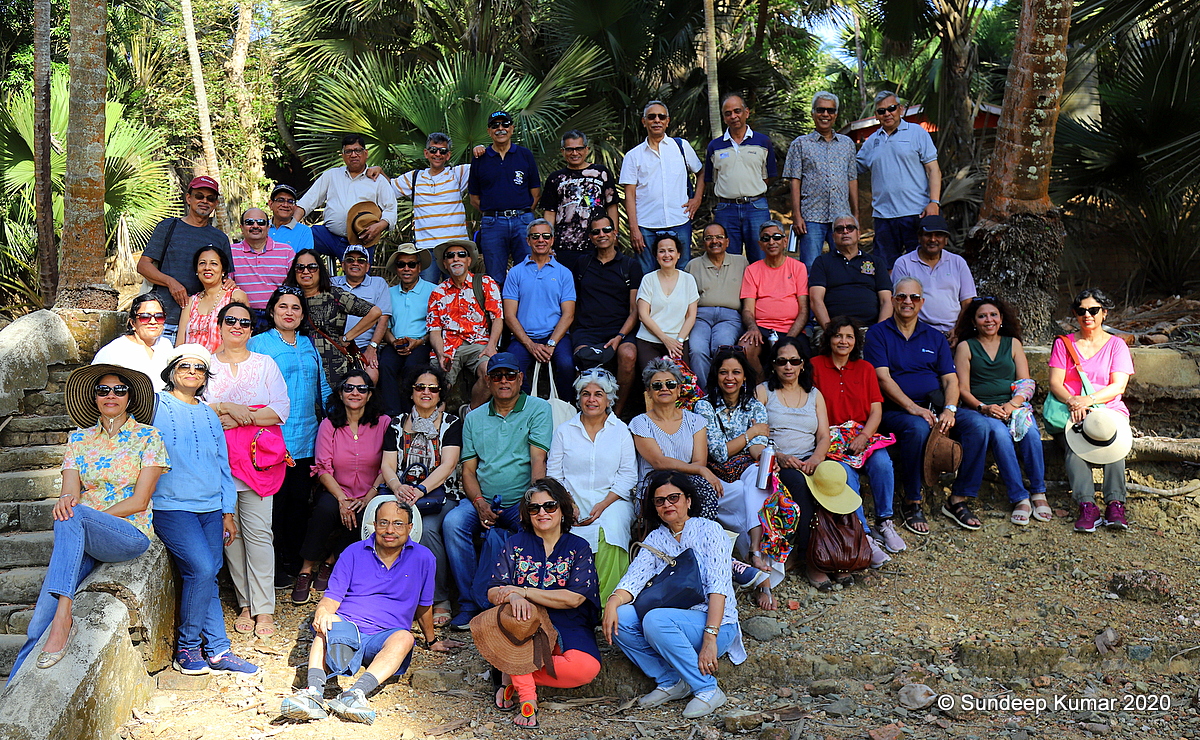 CELEBRATING 40 YEARS OF TOGETHERNESS AT ANDAMAN
Reported by Mr S Gopalan, with inputs from Mr Sundeep Kumar and Mr Arun Wakhlu. 
Pictures courtesy Sundeep.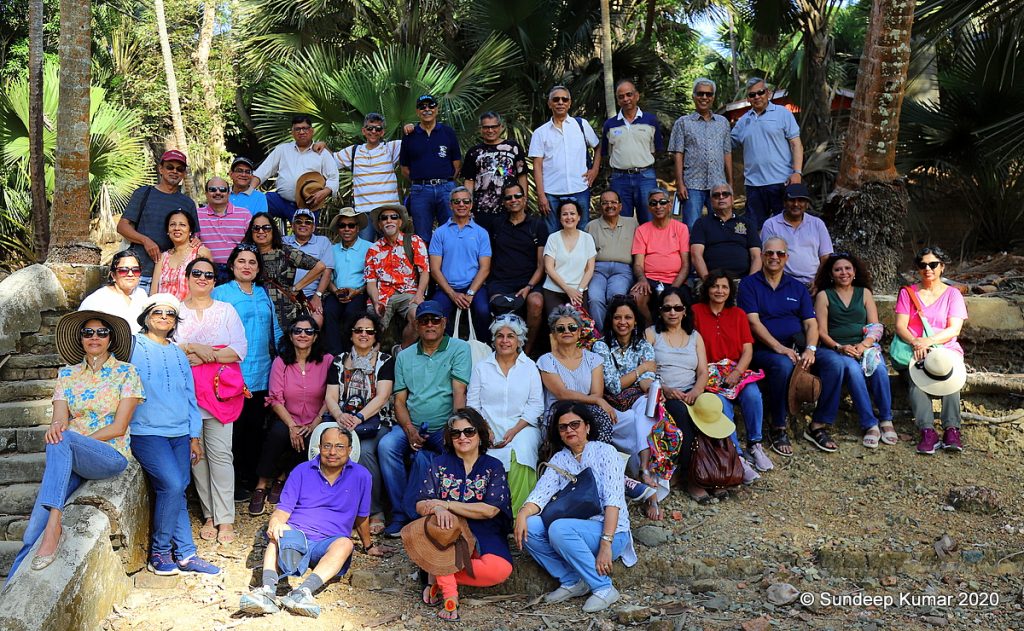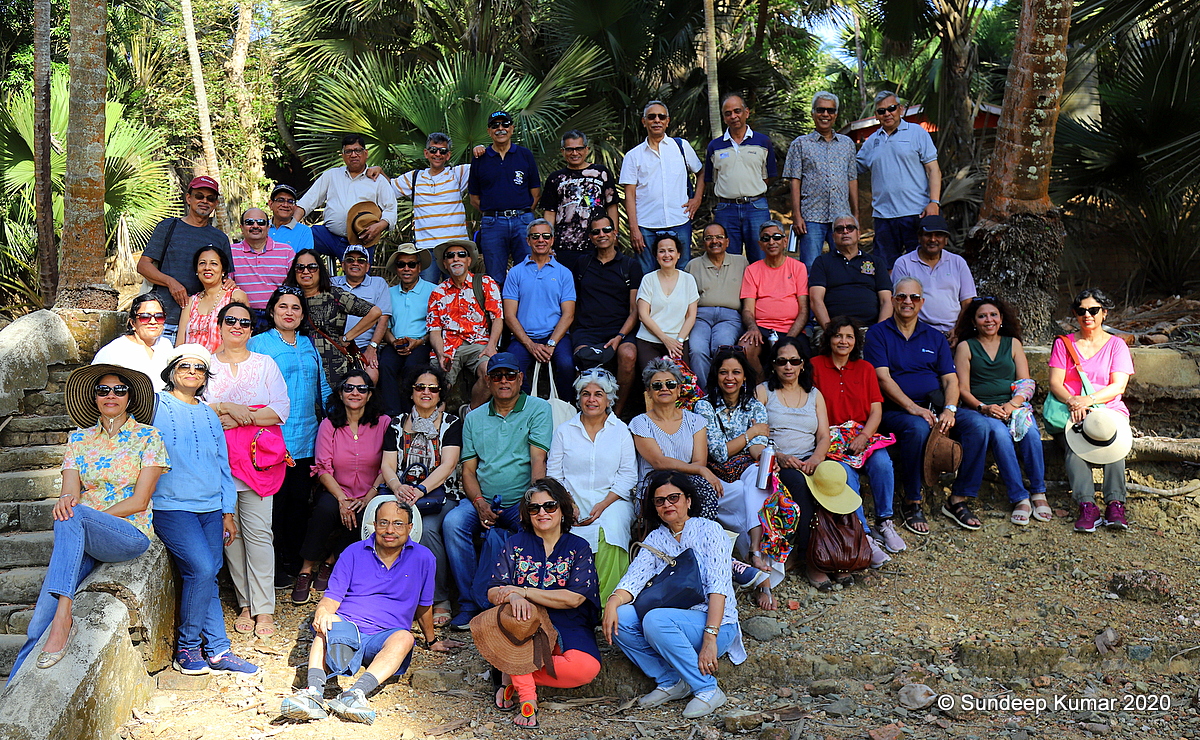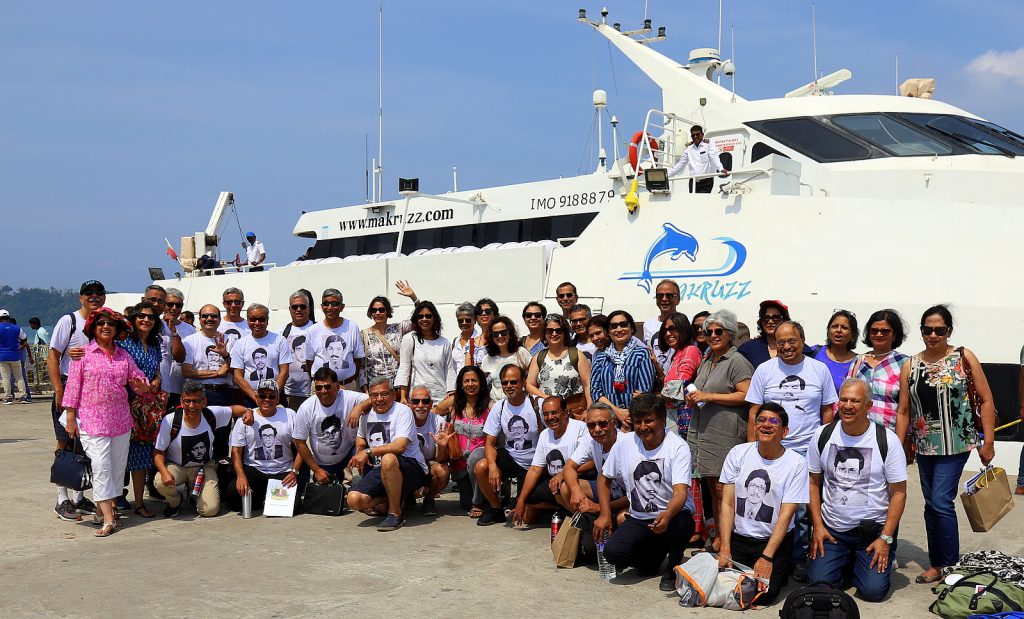 We never expected, even in our wildest dreams, that a casual discussion at Kaziranga in February 2019 would turn out to be such an awesome Ruby Reunion, bang in the wilderness of the Andamans.  The planning and execution by Sundeep was so perfect, that some of us wondered if he is in the wrong profession!
45 excited and young at heart senior citizens landed in the Andamans on the 7th of February, little knowing the roller coaster ride Sundeep had kept in store for us. After being picked up at the airport, we landed at the Peerless Resort with a brief photo-op stopover at Jogger's Park, to get a bird's eye view of Port Blair. Bonding immediately began with fond back-slapping and hugs at the front desk of the hotel while we waited for our rooms. The bonhomie, including amongst our partners who now know each other well, continued over lunch. Water-proof backpacks, emblazoned with the Ruby Reunion logo, and brightly coloured sun-hats for the wives, awaited us in our rooms.
A short rest and off we were to Ross Island, following a short 15-minute boat ride from the Aberdeen Jetty of Port Blair. Nicknamed 'Paris of the East', the once seat of British colonial rule is endowed with breath-taking ruins giving a peek into its impressive past. One of the highlights of the visit to Ross Island was a guide called Anuradha Rao. She spoke to the peacocks, spotted deer, squirrels and monkeys on the island with amazing fluency…and we saw them all obey her!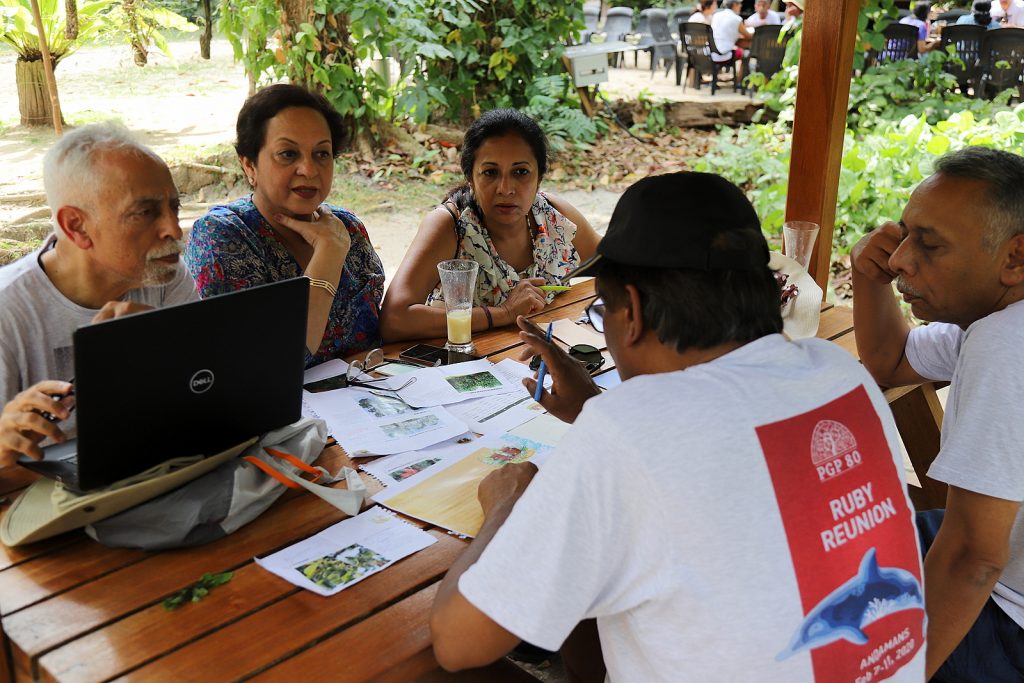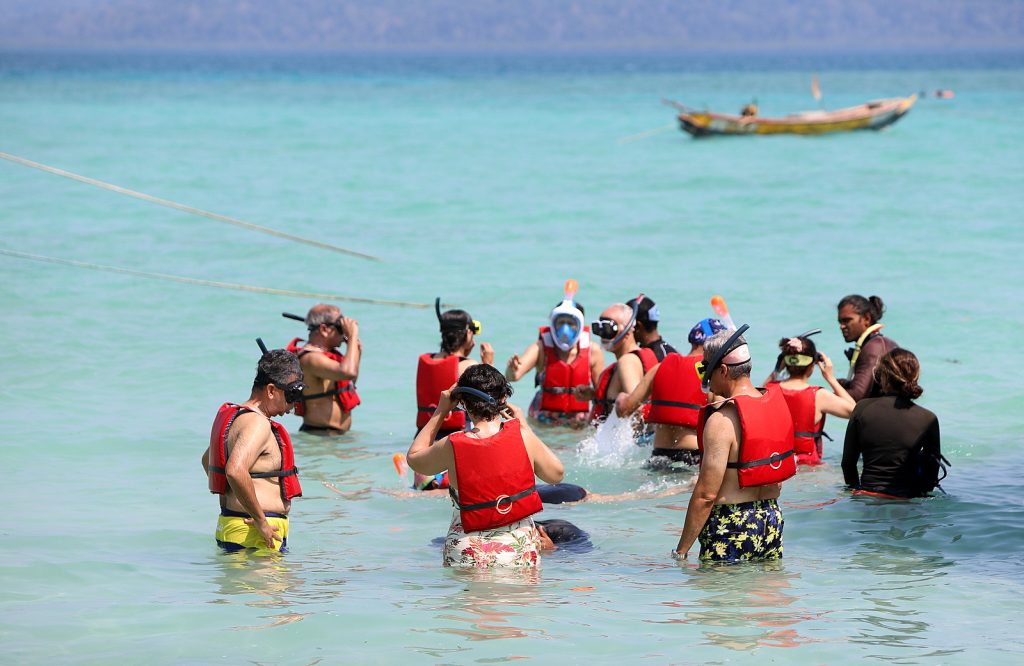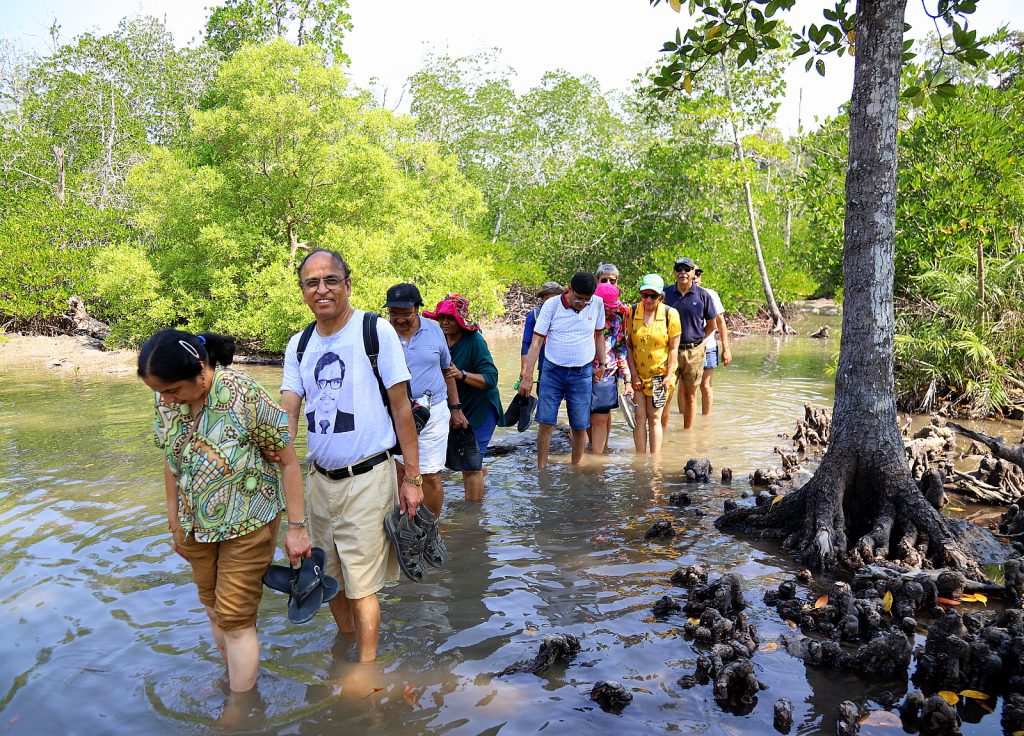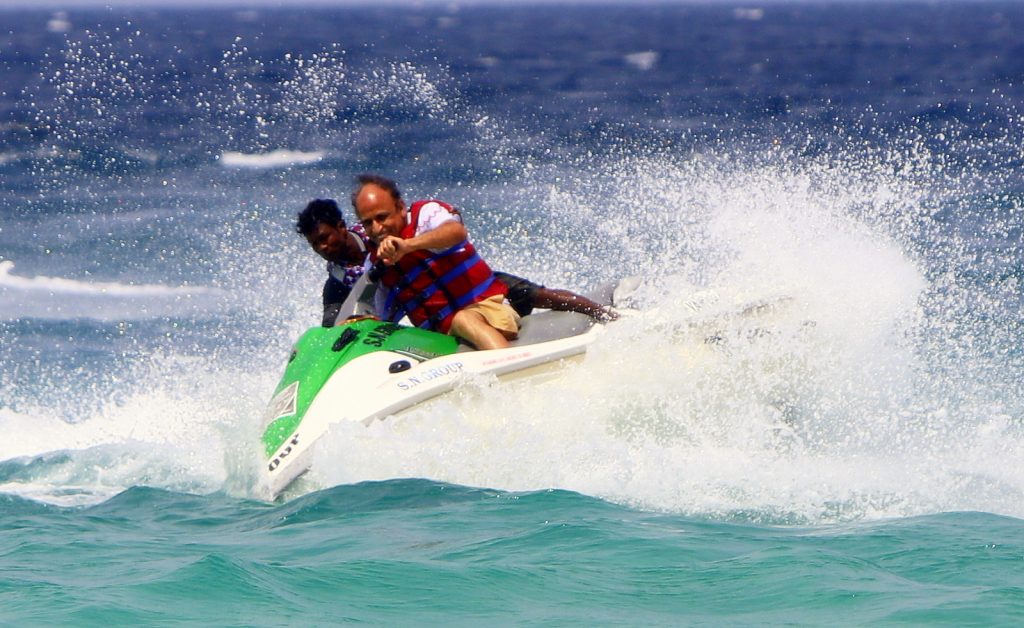 The evening was spent at the infamous Cellular jail or Kala Pani. The 'Son-et-lumiere' show at the jail was a moving experience that gave us a feel of the sacrifices made by our freedom fighters, and the inhuman torture they faced at the hands of the colonial masters.
No IIMA reunion can ever progress well without a cocktail evening every day! Right on the beach, with glasses clinking and a sumptuous spread, no one felt like retiring for the day but for the tiredness of long-distance travel and the prospect of an early morning departure the next day. The spouses were all given a heap of T-Shirts to rummage through and find the one that belonged to their partner. Sundeep had organized to print our own mugshots from the PGP 80 Yearbook onto the T-Shirts.  That wasn't the end of Sundeep's creativity. He then threw a googly in true IIMA style by forming groups and distributing case studies (on trees), late at night for the tree-hunting competition at Havelock island the next day!
Day 2 saw the refreshed gang gather at the reception, wearing their mugshot T-Shirts, grab packed breakfast with individually named water bottles, and leave for the ferry terminal. The ferry ride of 2 hours went totally unnoticed with each group studiously trying to comprehend the details of various trees, googling for more info etc. The I-schol led groups of Sanjay Bhargava (tool bit), and Arun Wakhlu pulled out their laptops and started designing spreadsheets and what not! It was rumoured that one group would even use AI.  While a few groups decided that the best strategy would be to spy on Sanjay's and Arun's group, a few decided, in IIMA style, to take it easy knowing you can always get a C by doing nothing.
We landed at Havelock Island and were transferred to the Barefoot Resort (BR). We were welcomed with fresh and sweet coconut water. Co-founded by Samit Sawhny, a co-alumnus from IIMA, BR is a perfect eco-resort set in the wild, and fronted by Radhanagar Beach, the most pristine beach in Asia. After a short R&R, each group was given a set of cleverly-crafted and somewhat cryptic clues to identify six trees. The rule being, that after identifying them, the entire group should take a selfie in front of each tree as proof. The I-schols led groups lost out while the winners were Team Onge led by Chris Farias and comprising Bhaskar Bhattacharya, Anita (Sanjay) Bharagva, Punam (Viresh) Dayal and Mitra (Sanjay) Das. It reaffirmed the IIMA philosophy of chilling at the LKP and still getting a good placement! A few days after the event, Virender Garg (VK) was still haunted by the fact that he had not been able to locate the "Bhoot Vriksha" at the Barefoot Resort.
The evening was for moon-light Kayaking. The adventurous group set off for Kayaking, on a route adjacent to dense mangroves, on a full moon night…. indeed, a heavenly experience. For once a husband and wife pair (two people to a Kayak) had to pull in unison without bickering. It taught us an important life lesson!
Day 2 ended with another evening of drinks and live music by the talented house musician cum yoga teacher cum naturalist, Ms. Christabel, and our very own Mark Silgado, Ritu (VK) Garg and K Srinath.
Day 3 began, after breakfast with a visit to the dive centre for some scuba diving and snorkelling. What a wonderful viewing of corals and fishes! Awesome experience for most of us who were first-time snorkelers/scuba divers. Pre-snorkeling swim in the sea was great fun too. After the activities the famished (and thirsty) guys had some great lunch on the beach, lounging amidst a palm grove. This was the time that Yasho (Sabooo), having brought only his telephoto lens from Chandigarh, clicked some amazing portraits of people in our group.  The other ace photographer in our group was Sundeep.
The evening started with an impressive and eye-opening presentation by Samit Sawhny (the founder of Barefoot Resort) on the history of Andaman, Nicobar, and their various tribes. This was followed by the sponsor's presentation on how to plan our retirement. Of course not to speak of the gyan that was rendered by Sanjay throughout the reunion.  We also held a solemn moment of silence, remembrance, and prayers for our recently departed batch mates: S Umakanth, Ajay Chauhan, Radhe Shyam Rohra and Abdul Ali.
Day 4 began with farewells and send off for the few who were leaving the reunion early. The rest left on a trek through a rain forest to Elephant Beach, which included wading through a mangrove in knee-high water. What with glass-bottom boat trips and water scooters and parasailing, it was another awesome morning in the aquamarine waters at the beach.
The early morning walks at the Radhanagar Beach every day amidst the Indian Navy warships conducting exercises on beach landing, was quite an experience.
The 4 days of bonding and fun ended with a lovely sunset cruise and a quiet dinner. Inspired by Rina (S) Bhandari, Mark, Joan (A) Pal and Arun also jumped off the boat for a sunset swim in the deep blue sea.
Day 5 was all farewells with all swearing to make such meets happen more often and the groups left back to Port Blair en route to their respective destinations. The return ferry ride being much more somber in contrast to the palpable excitement of the ferry ride a short four days ago. We now all look forward to meeting again (including those who missed the glorious Ruby Reunion in the Andamans) on the IIMA Campus from 18th to 20th December 2020.  And Kilimanjaro/Everest Base Camp, look out……PGP 80 will be there in 2021!