HYDERABAD CHAPTER: UMEED 1000 KM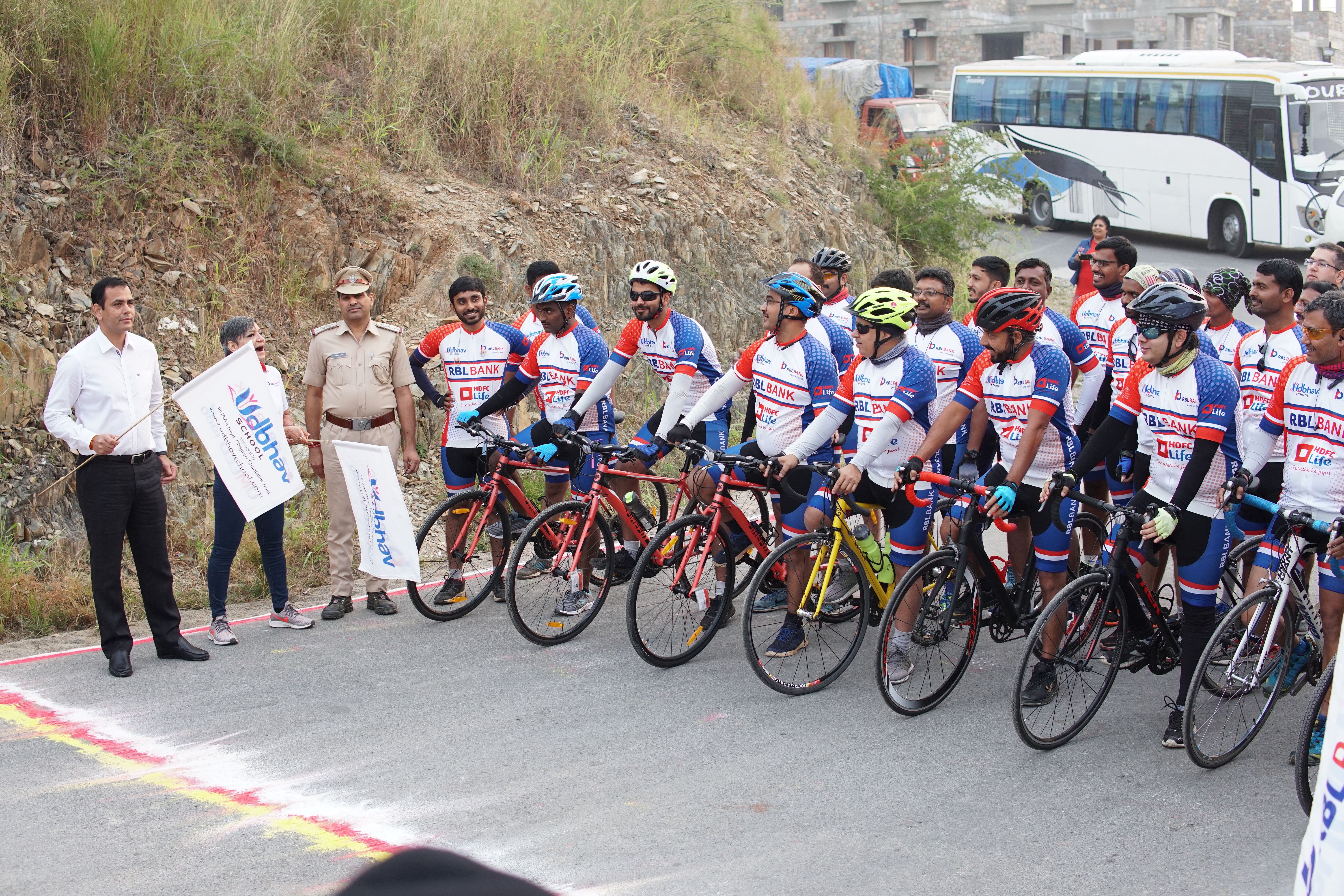 SIXTH EDITION OF THE UMEED 1000 KM CYCLOTHON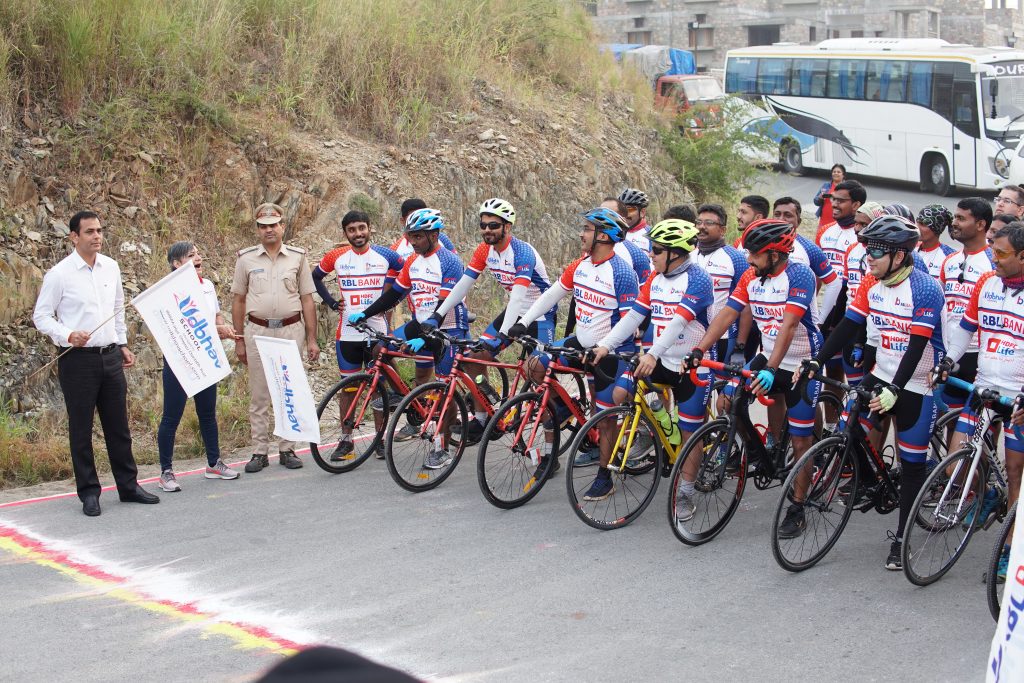 Umeed 1000 Cyclothon 6th Edition culminates in Amritsar with a Fund Raiser of Rs 5.10 Crores for the Udbhav Kids. The Hyderabad Chapter shared with us an update on the event as follows.
46 cyclists braved a journey of 1000 km over 10 days to raise awareness and funds for girl child education.
In the past 5 years, the initiative has garnered funds close to INR 5 Crores.
The sixth edition of the UMEED 1,000 km long Cyclothon was flagged off from Udaipur on 10th November 2019 and reached Amritsar on 19th November 2019 to raise funds for "Udbhav School" which is run by Indian Institute of Management Ahmedabad Alumni Association Hyderabad Chapter Charitable Trust (IIMAAAHCCT).
In India, close to 53% of girls in the age group of 5 to 12 are illiterate because they dropout of schools, it is either due lack of finance or lack of basic opportunity. Globally, education outcomes have improved but much must be achieved in India. Umeed 1000 Cyclothon is a unique awareness initiative that also raises funds to support girl child education. Every year select set of cyclists cover a 1000 kms to support the work of the non-profit partner, Udbhav School. In the past, the funds raised were used to for two schools in Hyderabad for underprivileged communities. In 2019, the cyclists covered a 1000 km stretch from Udaipur to Amritsar via Delhi under the leadership of lead cyclist and coach Jasmeet Singh Gandhi to raise funds.
Umeed 1000 was launched in 2014 by RBL Bank in association with IIMAAA Hyderabad Chapter Charitable trust to support Udbhav School that has been catering to the education needs of students coming from urban slums in Hyderabad. 
THE FLAG OFF
The Bank flagged off the sixth edition of 'UMEED 1000' – a 1000 km Cyclothon at Udaipur today. The team rode from Udaipur to Amritsar via. Delhi. The Cyclothon was flagged off by Mr. Kailash Bisnoi, Superintendent of Police, Udaipur; Mr. Janat Shah, Director IIM Udaipur, and Ms. Shanta Vallury Gandhi, Head HR, CSR & Internal Branding. It concluded on 20th November, 2019 in Amritsar.
The cyclists covered Udaipur, Jaipur, Ajmer, Delhi, Ludhiana, Jalandhar and Amritsar along the route. This initiative was led by Jasmeet S. Gandhi, a cycling enthusiast, who is passionate about contributing towards education of girls, along with 46 RBL Bank employees.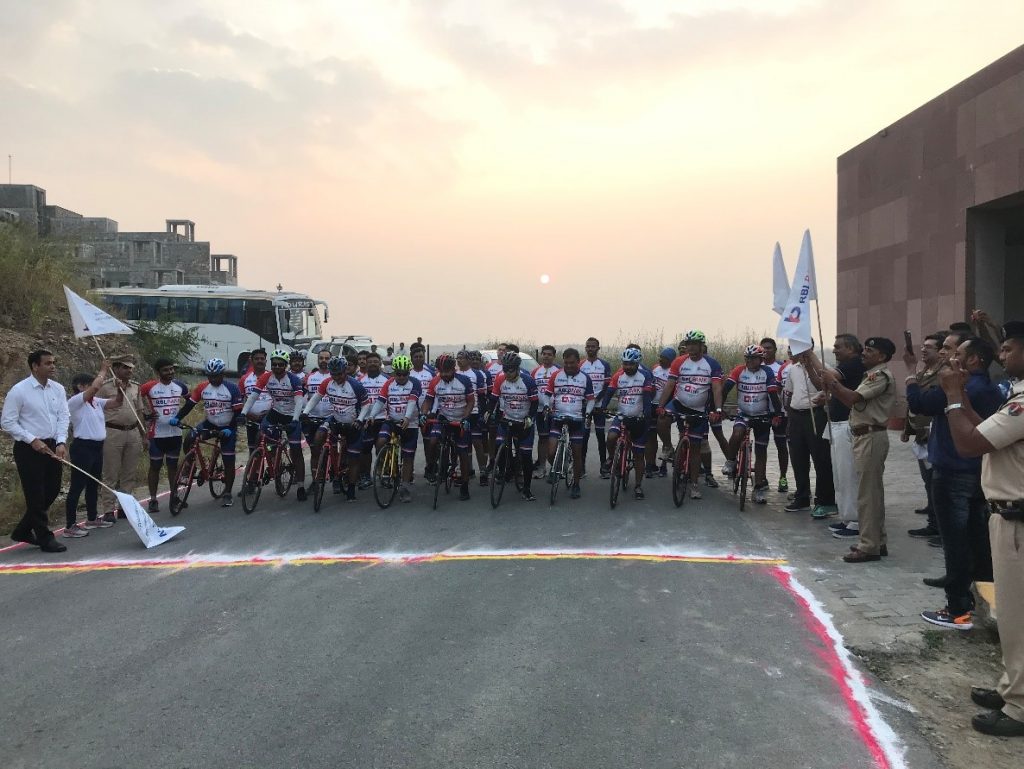 GOVERNOR OF RAJASTHAN, SHRI KALRAJ MISHRA, SUPPORTS UMEED CYCLOTHON The event organized in Jaipur was graced by dignitaries including Hon. Governor Shri Kalraj Mishra as the Chief Guest; Shanta Vallury Gandhi, Head – HR, CSR & Internal Branding, RBL Bank; Dr. Sandeep Bakshi, Chairperson – JNU; Prof. H.N Verma, President, JNU; Dr. Preeti Bakshi, Executive Director, JNU; T. Muralidharan, Representative IIMAAAHCCT and Jasmeet Singh Gandhi, Lead Cyclist, Coach – UMEED 1000 Cyclothon.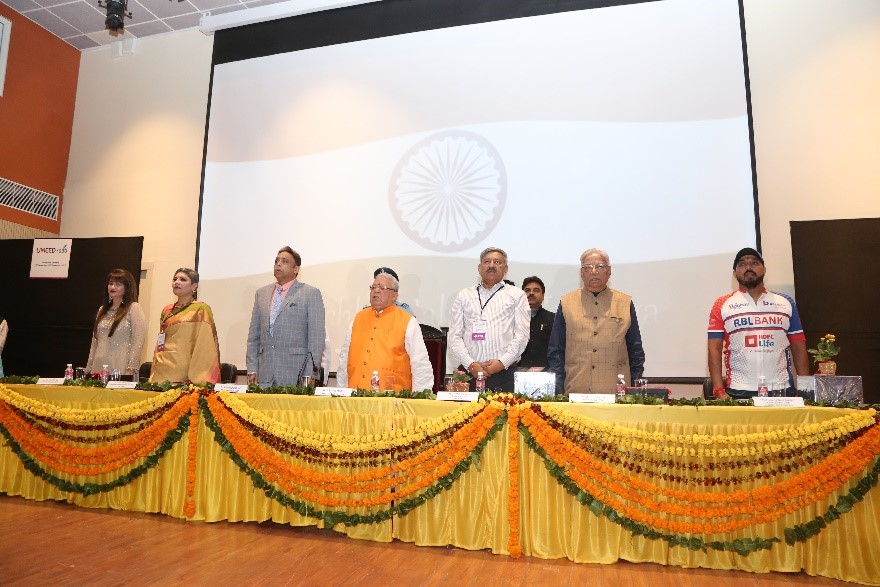 Shri Mishra said, "I support the Umeed 1000 Cyclothon 2019 because it is focussed on how to increase awareness of educating more and more girl children in India. Girls in our country do not get the opportunity to study and this is a big loss to the society and the country. Educating girls and empowering women is the only way a country can move forward."
Murlidharan, Member IIM Ahmedabad Alumni Association Hyderabad Chapter and Chairman of TMI Group said "IIM Ahmedabad Alumni would like to provide every child with the same opportunity that they got when they were young. We are very delighted that RBL Bank Ltd has chosen IIMAAA as a partner and Udbhav school as the beneficiary".
For the first time the Haryana Police, Rajasthan Police and Punjab Police support the Cyclothon 2019 Not only we received immense support from the police teams of all the states, but a team of 400 cyclists from Haryana Police, cycled with the Cyclothon team wearing the Cyclothon jerseys! They cycled throughout Haryana raising awareness for Girl Child Education. The DGPs of all the three states, Shri Manoj Yadava, Haryana, Shri Bhupendra Singh, Rajasthan and Shri Dinkar Gupta, Punjab ensured that the entire state police supported this noble cause.
THE CLOSING CEREMONY Umeed 1000 Cyclothon which was flagged off in Udaipur on 10th November, 2019, culminated at IIM Amritsar campus. The closing ceremony was attended by Sardar Navinderpreet Singh, Sardar Jaswinder Singh Deenpur (Manager, Sri Darbar Sahib), Tamannaah Bhatia (Film Actress), Vishwavir Ahuja (Managing Director & CEO, RBL Bank); Prof. Amit Gupta HRM & OB, IIM Amritsar.
Speaking on the occasion, Shanta Vallury Gandhi, Head – HR, CSR and Internal Branding, RBL Bank said, "The sixth edition of UMEED 1000 Cyclothon is a testimony of our commitment towards the mission of girl child education. We have progressed a step further in our endeavour by recently opening UDBHAV RBL School in Fatehnagar, Hyderabad. We applaud the cyclists from RBL Bank along with lead cyclist Jasmeet Gandhi who have tested their endurance and overcome challenges to raise funds for the students and help them lead their lives with freedom, dignity and equality."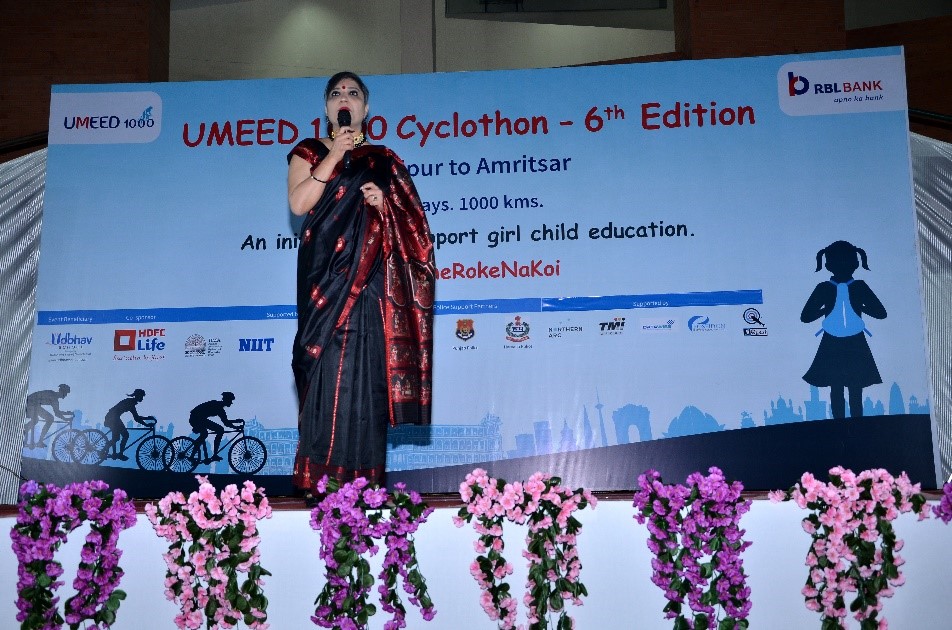 TAMANNAAH BHATIA SUPPORTS UMEED 1000 TO RAISE AWARENESS ON GIRL CHILD EDUCATION Tamannaah Bhatia (Film Actress) added, "It's incredible to see so many RBL Bank employees cycle together to support the cause of girl child education. Education is the most powerful medium to empower women and I strongly believe that every girl should have access to it. I have been associated with UMEED 1000 Cyclothon in the past too and I must say that the team has come a long way. I congratulate RBL Bank for this initiative."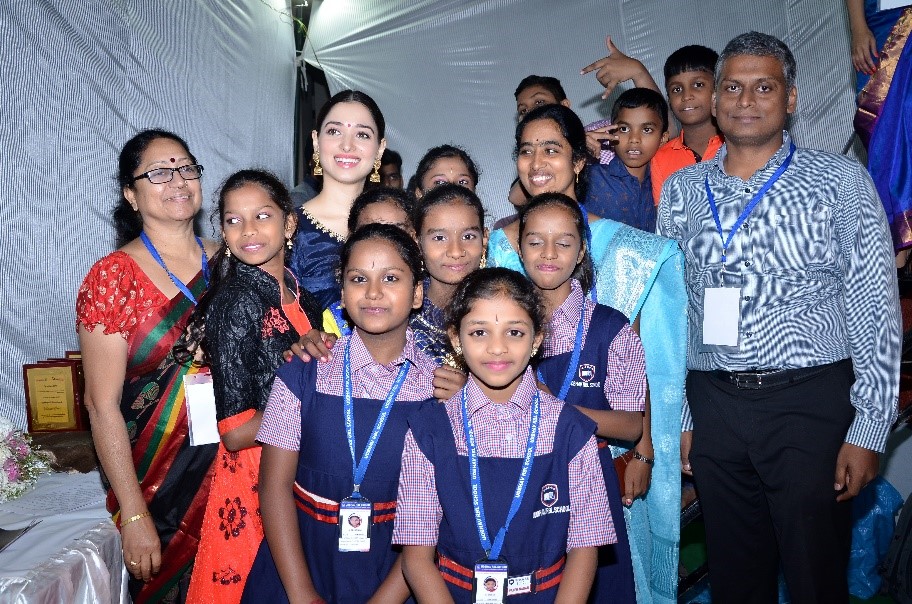 A TOTAL INR 5.1 CRORES WAS RAISED FOR THE SCHOOLS THROUGH UMEED 1000 – CYCLOTHON 2019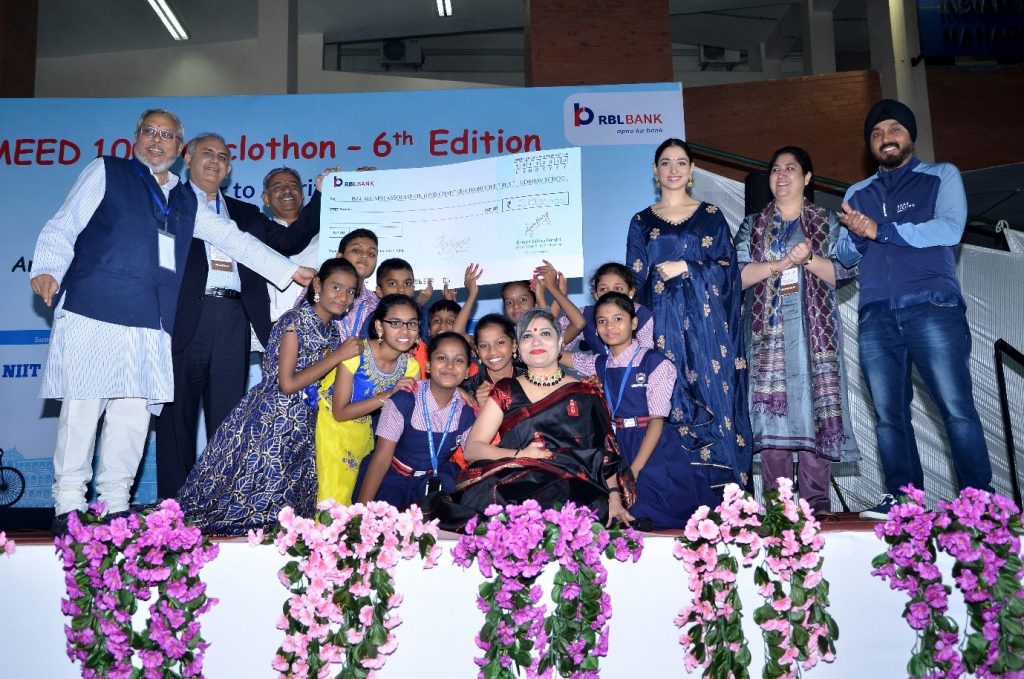 MEDIA COVERAGE There were 25 print media articles and 6 clippings of the event in television news channels. Such extensive coverage meant numerous opportunities for the alumni to interact with professionals and celebrities from diverse backgrounds. All volunteers cherish working on the project and only convey about the learnings and the difference the learnings have already started making in their professional lives.
WHAT IS UMEED 1000 CYCLOTHON. WHEN DID IT ALL START? Umeed 1000 Cyclothon is a CSR initiative conceptualized by Mr. Jasmeet Gandhi along with one of the country's fastest growing private sector banks, RBL Bank Ltd. making it a Cyclothon with a cause, which was initiated in the year 2014. An NGO that provides primary education to girls living in remote rural India. Mr. Jasmeet Singh Gandhi, a cycling enthusiast, spearheads this initiative and is a regular participant as a lead cyclist.
| | | | | | |
| --- | --- | --- | --- | --- | --- |
| SNo | Year | Route | Cause | Beneficiary | Funds Collected |
| 01 | 2014 | Mumbai to Bangalore | Retinoblastoma | Iksha foundation | 25 lakhs |
| 02 | 2015 | Mumbai to Delhi | Girl child Education | IIMPACT | 137 lakhs |
| 03 | 2016 | Mumbai to Hyderabad | Girl child Education | IIMAAA HCCT | 87 lakhs |
| 04 | 2017 | Hyderabad to Visakhapatnam | Girl child Education | IIMAAA HCCT | 150 lakhs |
| 05 | 2018 | Mumbai to Bangalore | Girl child Education | IIMAAA HCCT | 250 lakhs |
| 06 | 2019 | Udaipur to Amritsar | Girl child Education | IIMAAA HCCT | 510 lakhs |
Forty-six RBL Bank corporate employees under the leadership of lead cyclist, Jasmeet Gandhi have taken 10 days' time off from their work and cycled 1000 kilometres to raise awareness about girl child education under a program called "Umeed 1000 2019". On the other hand, about ten IIMA Hyderabad Chapter alumni, Mr S V Ramanamurthy, Mr Muralidharan, Mr Vinay Kumar, Mr Shiv Rungta, Mr H.Sitaram, Mr Hairsh Kumar, Mr Amardeep Singh and TMI Group have taken time off from work to plan and support this entire event. IIMA Alumni & RBL senior management, Mr Vishwavir Ahuja have taken time off from their busy schedule to support, monitor, fund and lead the fund raising effort. A closer look unravels the fact that every involved individual believed in the good cause and the purpose was close to everyone's heart. Girl child empowerment and education was close to many involved professionals because it is common in India among poor and single parent families to invest in boy's education and avoid girl child education purely because these families are unable to afford education to many children.
WHY IIMAAA HCCT? The IIMAAA Hyderabad Chapter Charitable Trust was initiated with a vision to provide holistic, quality education and implement innovative educational initiatives so that every child achieves their full potential. The trust comprises members who are eminent leaders from private and public sectors. Following are few activities that trust enjoyed doing in the past:
Jaipur Foot Camps – benefitted over 1100 physically disabled poor.
Plastic Surgery Camps – given a new future to over 3600 children with deformities such as cleft lips, squint, etc.
The CXO Advise initiative – provided career counselling to over 1200 youth.
IIMA Alumni Association Hyderabad Chapter Charitable Trust took over two schools (facing Imminent closure) located in Rasoolpura & Fatehnagar, both being slum areas of Hyderabad, designated as a notified slum by the government in April 2013 "Udbhav School" & "Udbhav RBL School" in 2019.
The IIMAAA HCC trust is actively supported by members of the IIMA Alumni Association Hyderabad Chapter (IIMAAA HC). Our Vision is to transform the lives of at least 10,000 underprivileged children and their families by 2025.
WHY WAS THE MONEY DONATED TO UDBHAV SCHOOL? WHAT MAKES IT SO SPECIAL THAT THE EVENT WAS CONDUCTED SIX TIMES IN SIX YEARS? IIMA Alumni Association Hyderabad Chapter Charitable Trust took over Udbhav School (facing imminent closure) located in Rasoolpura, designated as a notified slum area in Hyderabad by the local government. Several members and their families regularly engage with the students. Several initiatives have been taken to upgrade the quality of the teachers and improve the facilities. Coromandel International Limited is supporting Udbhav School by contributing 50% of the annual operating expenses, i.e. 45 lacs per year starting. They have contributed this for three years starting in the year 2014.  The money raised in this year's event of Umeed 2019 was given to Udbhav School for a corpus that would be created for taking care of operational expenses for running the school.
In 2016, Umeed 1000 was conducted and the funds raised (approximately 83 lakhs) were given to Udbhav School. Since then the RBL Bank management has made multiple visits to the school and have realized the societal value they have been able to add. Further discussions with IIMA Hyderabad Chapter Alumni has made RBL bank management decide to redo the event at even a bigger scale. Hence, Umeed 1000 2019 was again done in partnership with Udbhav School Management and IIMA Hyderabad Chapter.
ABOUT UDBHAV SCHOOLS Objective is to provide good quality education to socially and economically backward sections of society, with special focus on the girl child. An advisory council of eminent alumni was constituted for the governance of this school. Today the school educates over 594 underprivileged children, 54% of them are girl students. The trust is in the process of taking over a second school. Several IIMA alumni and their families regularly engage with the students. Several initiatives have been taken to upgrade the quality of the teachers and improve the facilities.