EMOTIONAL WELLNESS AT IIMA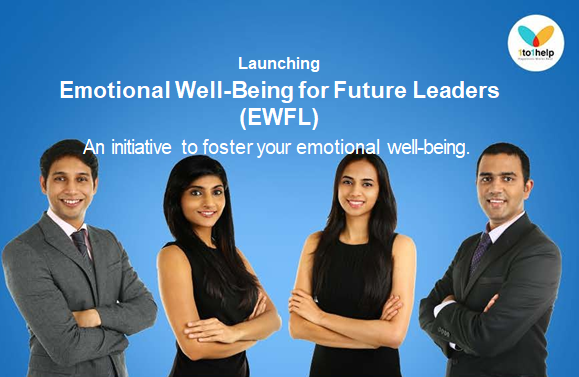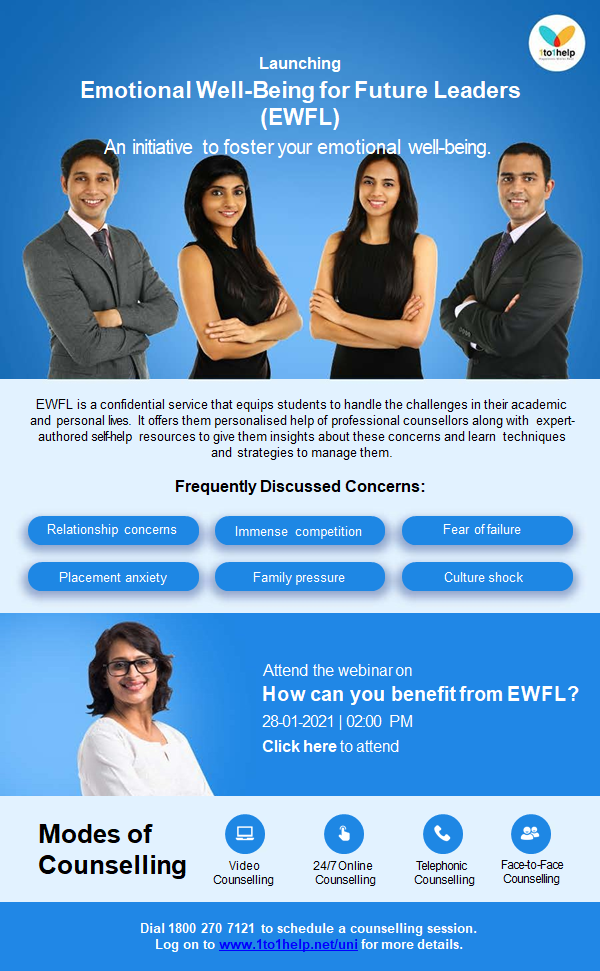 1TO1HELP & GOVERNING BOARD FOR MENTAL HEALTH SERVICES INTRODUCED
The wellness services at the Institute are supported by the PGP 2008 batch in memory of their batch mate and friend Vivek Gupta who passed away in a tragic accident. Good emotional health being crucial for the overall wellbeing for any individual, such efforts are imperative to inspire self-care, adapt to stress and cope effectively with life.
The institute has, following up on the recommendations of a Task Force on Psychological Well-being and support services at IIMA, engaged the services of 1to1help for a program on emotional wellness services. This program will assist and support staff, students, and faculty at IIMA in addressing their emotional wellness needs through professional counselling services provided via various modes, as well as through webinars to create awareness about topics related to emotional health and wellness.
The resources/services that will be provided are:
COUNSELLING: Phone/Video/Chat/e-Counselling (8 am to 8 pm), 24X7 emergency support (monitoring and interventions for risk), face to face counselling and on request, counsellor support in Ahmedabad.
DIGITAL CONTENT:  Audio/video resources, self-help articles, access through web portal/digital app.
ASSESSMENTS: Situation based assessments, Emotional Quotient assessment, recommendations and risk tagging based on assessments.
GROUP INTERVENTIONS: Webinars, talk by experts and suicide prevention protocol
AWARENESS RESOURCES AND LAUNCH OF SERVICE: Launch collaterals, LIVE Training/Awareness sessions
SERVICE PROVIDER IS TO DEPLOY AN AFFILIATE COUNSELLOR, with 5 years+ experience, based out of Ahmedabad to handle counselling requirements for IIMA locally, to complement the counselling services currently being provided at the institute, on a need basis.
In order to facilitate the onboarding of 1to1help into the IIMA ecosystem, to coordinate with the student community and to complement the activities of the counsellor on campus, a Governing Board for Mental Health Services has been set up. The Chair of the Board is Prof. Rakesh Basant. The other member of the Board is Ms. Radhika Bahadur (PGP 2004) who has extensive experience in the field of Health & Wellness.