Decisive Decade: India 2030: Gazelle or Hippo – Kiran Karnik (PGP 1968)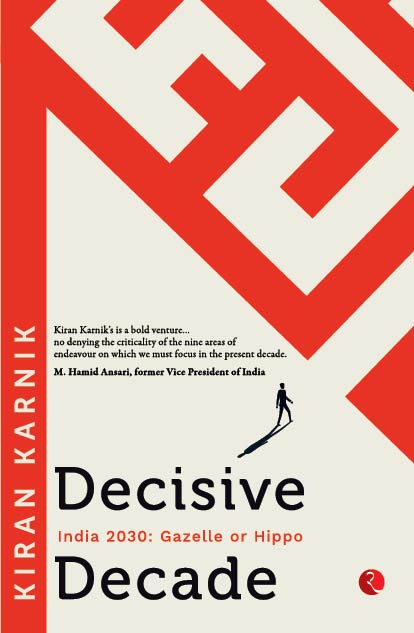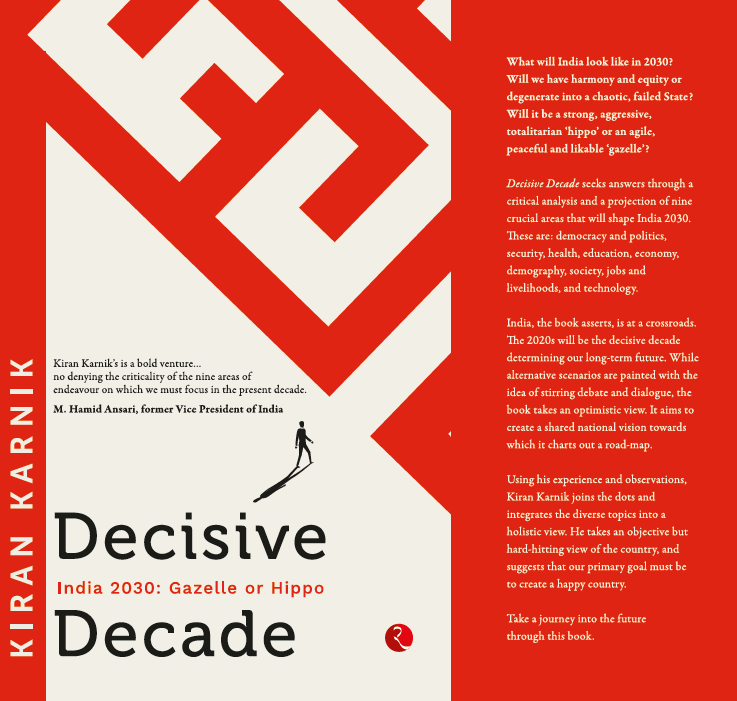 DECISIVE DECADE: INDIA 2030: GAZELLE OR HIPPO
Authored by Mr Kiran Karnik (PGP 1968). Through this book, Mr Karnik sketches an optimistic picture of India, but just a layer below, his gentle brushstrokes paint dystopia.
What will India look like in 2030? Will we have harmony and equity or de-generate into a chaotic failed State? Will it be a strong, aggressive, totalitarian 'hippo' or an agile, peaceful and likable 'gazelle'?
Decisive Decade seeks answers through a critical analysis and a projection of nine crucial areas that will shape India 2030. These are: democracy and politics, security, health, education, economy, demography, society, jobs and livelihoods, and technology. India, the book asserts, is at a crossroads. The 2020s will be the decisive decade determining our long-term future. While alternative scenarios are painted, with the idea of stirring debate and dialogue, the book takes an optimistic view. It aims to create a shared national vision towards which it charts out a road-map.
Using his experience and observations, Kiran Karnik joins the dots and integrates the diverse topics into a holistic view. He takes an objective but hard-hitting view of the country, and suggests that our primary goal must be to create a happy country.
Take a journey into the future through this book.
In this unputdownable book, Kiran Karnik combines his amazing insights and uncanny observational powers to show that 2020s will be a make-or-break decade for India.