IIMA ENDOWMENT FOUNDERS AND CO-FOUNDERS VISIT THE CAMPUS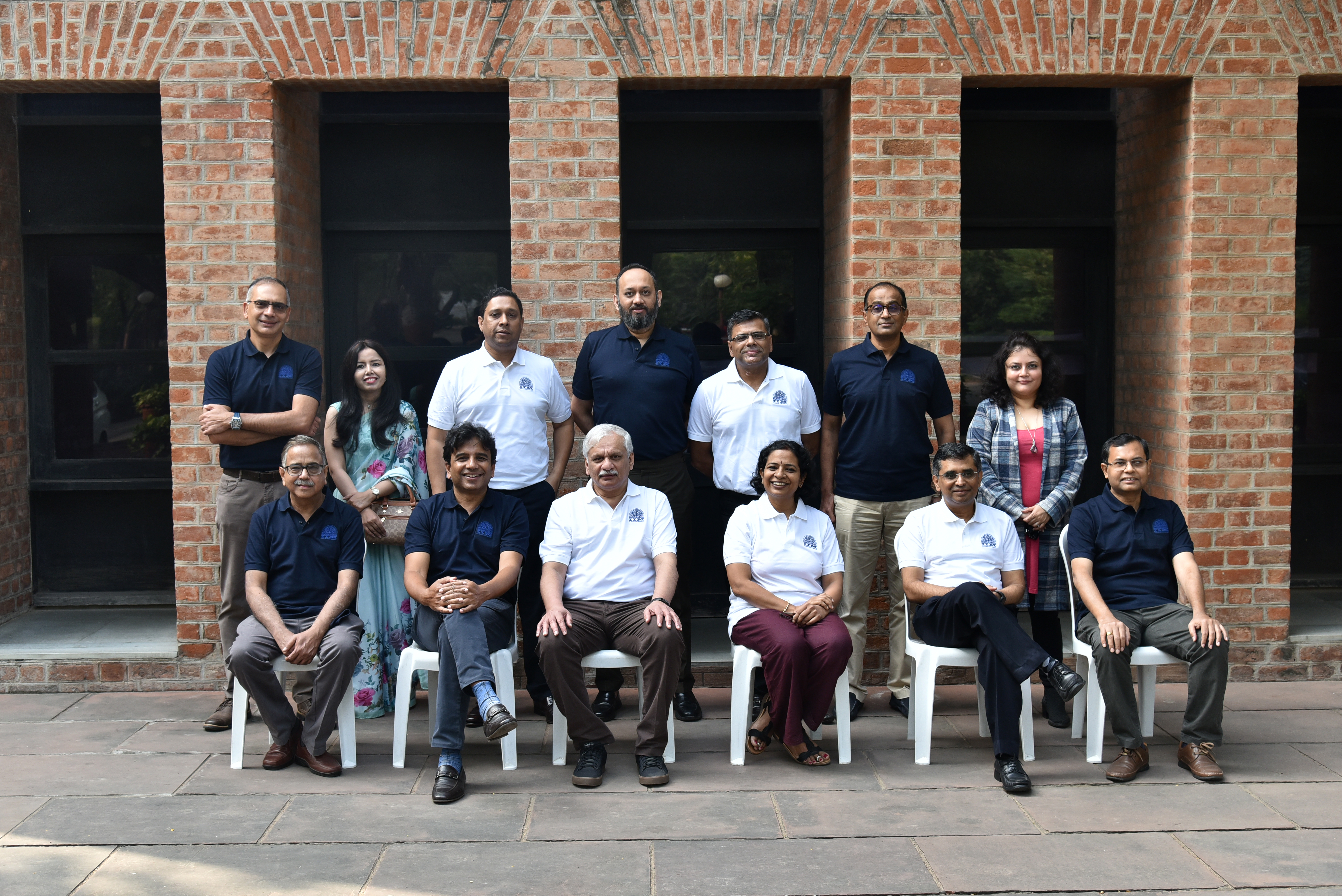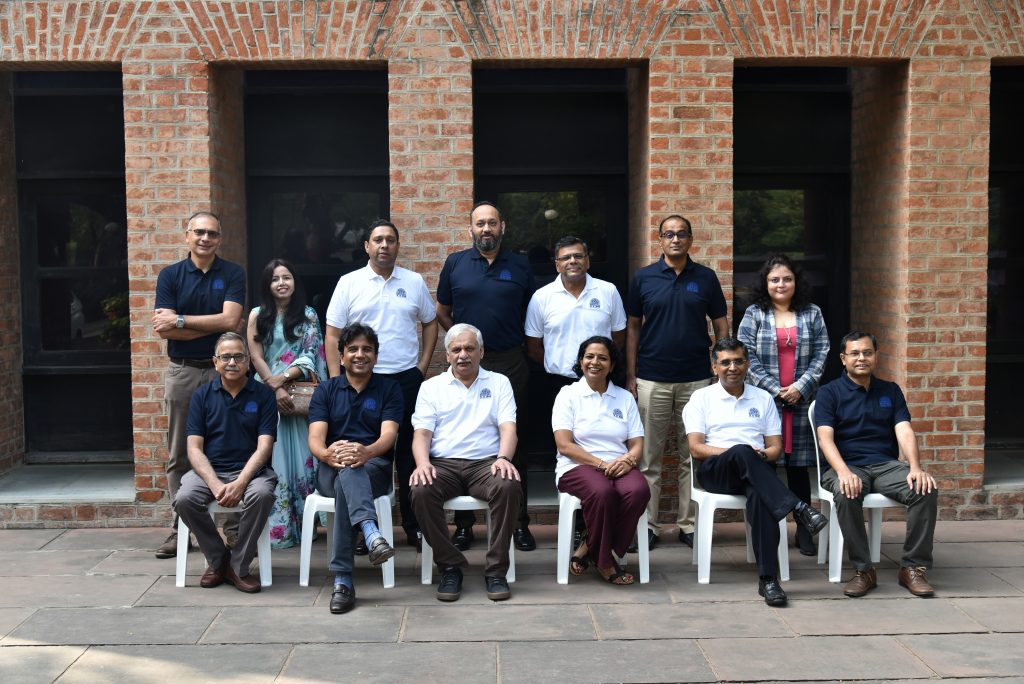 REMINISCING OLD STORIES & CREATING NEW ONES
Chhavi Moodgal CEO – IIMA Endowment Fund (endowment@iima.ac.in)
10 like-minded alumni came together in 2020 to kickstart the IIMA Endowment Fund – a first of its kind initiative for an Indian B-School, with an intent of providing long term financial autonomy and supporting IIMA in its future endeavours. The fund was launched with an initial commitment of INR 100 crore and an aspiration to grow the fund significantly. This would place IIMA on a path similar to that of leading global business schools, which have raised billions of dollars in their endowments, powered by their alumni. Since then, the IIMA Endowment Fund family has extended to 12 Founders and Co-Founders, with a few more alumni joining shortly.
The Endowment Fund is managed by an independent Board consisting of initial alumni contributors, and the Director Prof. Errol D'Souza, Dean – Alumni and External Relations (AER) Prof. Saral Mukherjee and Prof. Rakesh Basant, under the guidance of the IIMA Board of Governors. The Endowment Board oversees the key activities related to the IIMA Endowment Fund through the 'IIM Ahmedabad Endowment Management Foundation', a Section 8 (not-for-profit) company. I, Chhavi Moodgal, an alumna of the PGP batch of 2004 joined as the CEO of the IIMA Endowment Fund in January 2021. Since then, the team has expanded and is based out of the IIMA campus.
After the integration with the erstwhile Development Office in July 2021, IIMA EF is the Institute's unified fundraising and philanthropic arm for all donations given to IIMA – individual, batch, corporate, CSR, etc. In the last year, the IIMA EF team has also helped repurpose past donations in accordance with the Board's guidelines and as per discussions with the Institute. These funds are now allocated to various initiatives and/or uses such as general corpus of IIMA EF, infrastructure, scholarships and so on; in discussion with batch representatives. Since integration, the IIMA EF team has also helped build a structure to manage donor reporting and documentation.
Since the fund was announced in 2020, these alumni, the Founders and Co-Founders of the IIMA Endowment Fund, visited the campus on 5th Dec 2021 for the first time, together as a group. We would of course have liked to do this sooner but given the pandemic, we are glad that we could make this happen despite logistical challenges. During their visit, our Founders and Co-Founders interacted with the faculties, Ahmedabad chapter alumni and current students. The Founders and Co-Founders also participated in a tree planting ceremony at the Cricket Ground, with the Director and Dean-AER, to mark this day. The tree planting is symbolic of how the Institute is being nurtured by its highly experienced faculty as well as its multifaceted alumni.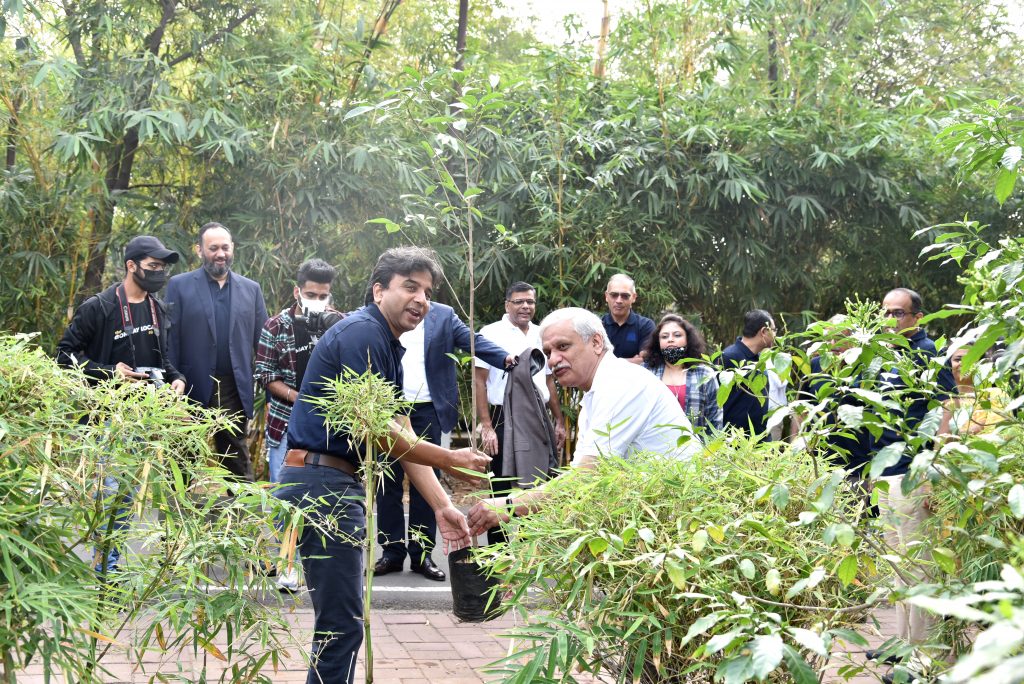 IIMA EF Founders and Co-Founders announced an INR 1 CR best start-up pitch contest for IIMA students on 5-Dec-21 at LKP, IIMA With INR 1 Crore going to the winning idea – this is the highest ever such initiative for students announced on campus till date. The Contest is open only for current IIMA students (2021 – 22 from PGP, PGP-FABM, PGPX, ePGP and PhD programmes) with an aim to encourage innovation and entrepreneurial spirit among Institute's students, by way of supporting their idea with the much-needed early-stage funding support. Students can apply in teams of up to 3 members, of which at least one co-founder must be a current IIMA student, non-IIMA co-founders could be professionals (however, existing/operational companies are not eligible to participate). This contest complements IIMA's other initiatives in this space (such as IIMAvericks). The winner of this contest will still be eligible to receive the fellowships under the IIMAvericks program.
IIMA has always been at the forefront of promoting and furthering research and innovation through Institute's 10 Centres of Excellence across numerous domains. Through this contest, the IIMA students have a meaningful and secure opportunity to explore their innovative and entrepreneurial idea, contribute to existing knowledge base and continue towards the pursuit for excellence. Beyond receiving the prize, the winning team will also be mentored by IIMA EF Founders/Co-Founders with possibilities for additional funding support.
The participating teams shall compete to pitch start-up ideas in a domain of their choosing. The winning business plan is expected to be innovative, demonstrate a large addressable market, have a unique competitive advantage for the product/service being offered, an effective go-to-market strategy, and an enthusiastic and passionate founding team.
WIMWIONEERS: A first of its kind of walk-in and informal interactive Q&A session with alums WIMWIONEERS, a theme dedicated to our piONEERing WIMWIans – centered around the theme 'Entrepreneurship' – was organized with the student body. This open Q&A session was a first-of-its-kind of informal, walk-in platform between several alums – the Founders and Co-Founders of IIMA EF and the students where they discussed everything from their worst grades to the mantra of success. The Q&A session saw an impressive turnout from the students, where they got a unique chance to ask their seniors questions that were never asked before!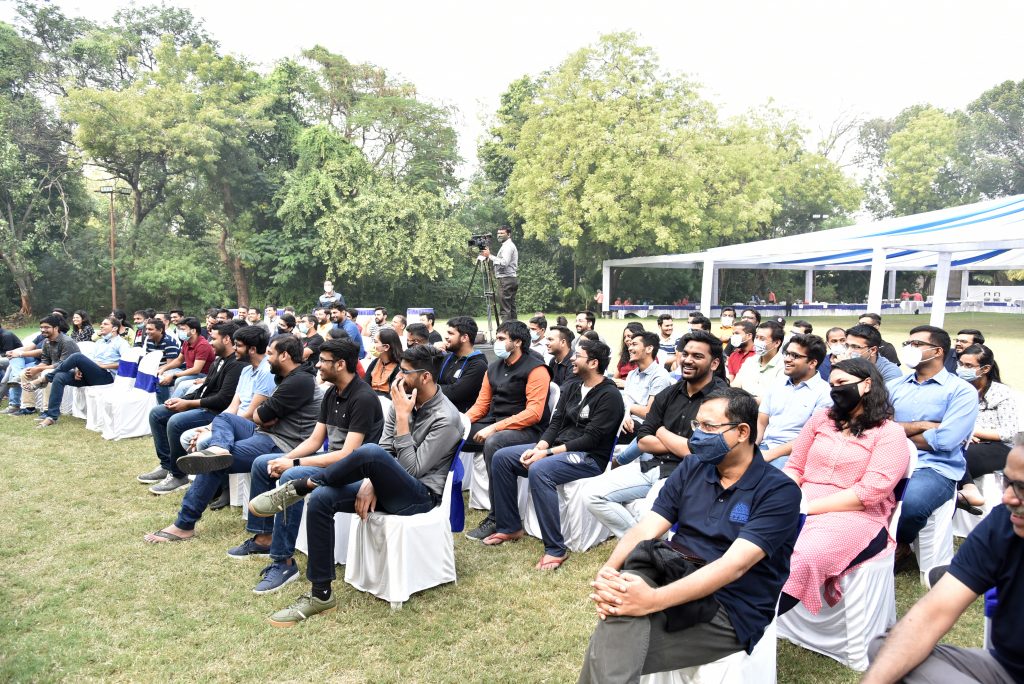 Special lunch for IIMA students hosted by IIMA EF These informal, impromptu discussions continued during lunch as students joined for the special lunch hosted by IIMA EF – more like an annual tradition in the making. The Founders, Co-Founders, Director, Dean, some faculty members and staff, alumni team, and over 700 students joined. The lunch served as an extended opportunity to directly connect with the Founders & Co-Founders; students sounded their start-up ideas and generally reached out for advice. With live music, a menu specially curated by students and the grand venue of LKP, this was a memorable afternoon for all of us!
As the IIMA EF team builds on to the legacy of Giving Back to IIMA, we invite our alumni community to join us in building the future of the Institute that built us; and help raise awareness for the Fund across the globe. We look forward to collaborating, ideating and engaging with our vibrant alumni community.