HYDERABAD CHAPTER – 8TH EDITION OF UMEED 10000 CYCLOTHON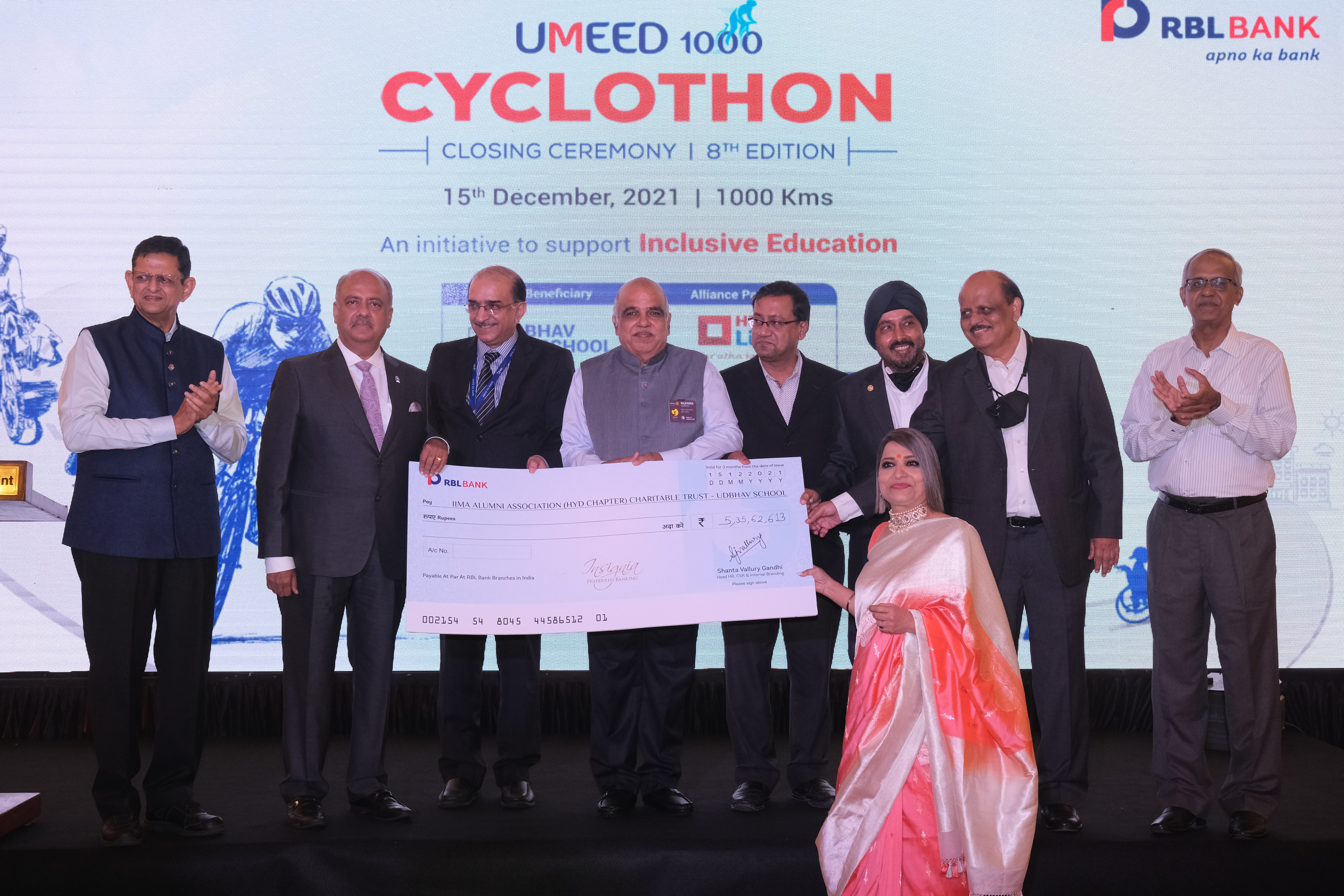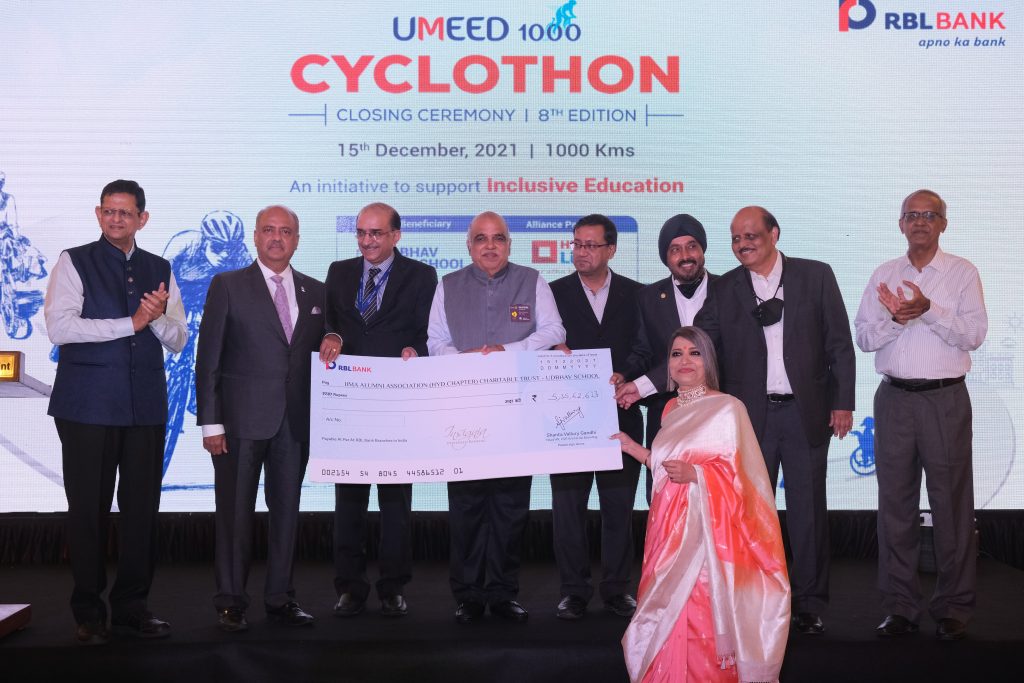 8TH EDITION OF UMEED 10000 CYCLOTHON
A SOCIAL ENDEAVOR TO SUPPORT INCLUSIVE EDUCATION
In India, close to 53% of girls in the age group of 5 to 12 are illiterate because they dropout of schools. It is either due to lack of finance or lack of basic opportunities. While global statistics of Girl Child Education are improving, India still has a long way to go! The IIMA Alumni Association Hyderabad Chapter Charitable Trust is undertaking various initiatives to support and bridge the gap for the impacted communities.
159 cyclists, including 59 RBL Bank employees, collectively covered a distance of 1,14,289 km. The proceeds of the initiative were donated to Udbhav RBL School, in Fatehnagar, Hyderabad, a school adopted by the RBL Bank in 2019 and catering to underprivileged children and also to the new school adopted by the Bank for children with special needs under the Udbhav RBL School franchise, in Nallasopara, Maharashtra.
UMEED 1000 Cyclothon was preceded by a charity challenge, Donate Miles to Educate, that had commenced on October 2, 2021 and continued alongside the main cyclothon. The challenge witnessed people across India, IIMA alumni, employees of RBL Bank and their families to walk, run and cycle to donate miles, which were tracked through an App and monetized into funds. A collective distance of 3,66,203 kms was contributed through this challenge.
On the occasion, Rajeev Ahuja, Executive Director, RBL Bank, said, "Education has been largely impacted in the pandemic, especially for the disadvantaged communities. With school dropouts at an all-time high, and many being left out of the sphere of education for multiple reasons, it is our endeavor to provide quality education to all. We are grateful for the tenacity of all the participants of the UMEED 1000 Cyclothon for making the dream of Inclusivity in Education a reality and helping us bridge the gap for these impacted communities."
T.Muralidharan (PGP 1981), Chairman-Fundraising, Udbhav Schools shared that, "The Central Cabinet Minister of Education highlighted a little known fact – that 150 million Indian children are out of school. Some of them are poor, some are special children and most are learning challenged. Our endeavour in Udbhav RBL is to focus on all the three segments and we are probably the only one in private sector to do this."
Shanta Vallury Gandhi, Head – HR, CSR and Internal Branding at RBL Bank added, "Each year, it is the support of our cyclists, partners, NGOs and employees that helps the UMEED 1000 initiative grow stronger. To help communities cope with the challenges posed to education due to the pandemic, RBL Bank aims to establish 10 Udbhav RBL Schools in association with the IIMAAAHCCT  by 2030 to provide quality education to children from underprivileged communities, adults who dropped out of school and set up a school focusing on Children with Disabilities (CWD) in Maharashtra, while continuing to educate the girl children of Udbhav RBL School in Fatehnagar, ensuring we extend the best possible hand of help and encouragement for our collective dream of inclusive education to those who get left behind."
IIMA Alumni Association Hyderabad Chapter Charitable Trust and Efforts There are several Initiatives to support education what makes Udbhav School special. This initiative was established by alumni S V Ramanamurthy (PGP 1979), Sitaram H (PGP 1974), Harish Kumar (PGP 1978), T Muralidharan (PGP 1981), T.R. Shanmukha (PGP 1981), S.K. Rungta (PGP 1978), Arvind Kumar (PGP 1989), G. Sree Harsha (PGP 1988) and many more. IIMAAAHCCT was established by the IIMA Alumni in Hyderabad as a vehicle to undertake social causes. The Trust comprises of senior bureaucrats and corporate leaders. In the past, IIMAAAHCCT have given back to society through Jaipur Foot Camps (benefiting over 1100 physically disabled poor), Plastic Surgery Camps (which have opened a new future for over 3600 children) and providing career counselling through the CXO Advise initiative, Umeed 1000 Cyclothon and many more.