Building the Metaverse for Learning – Xplorro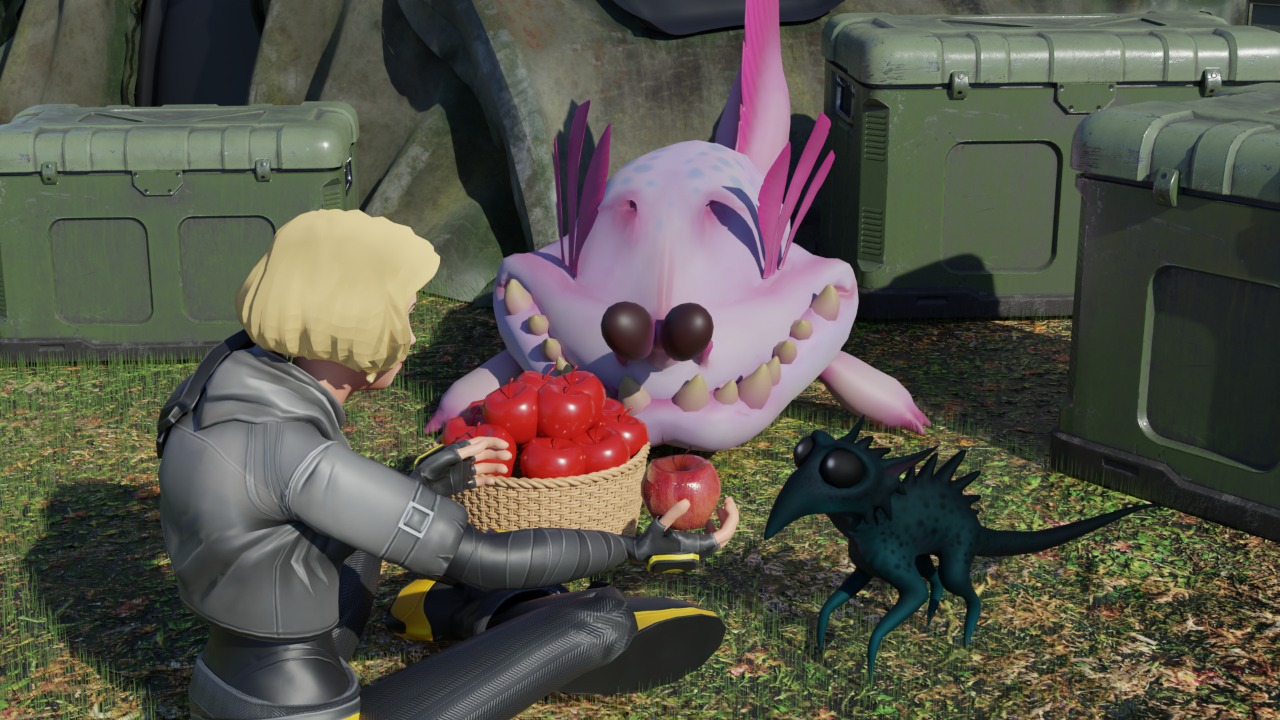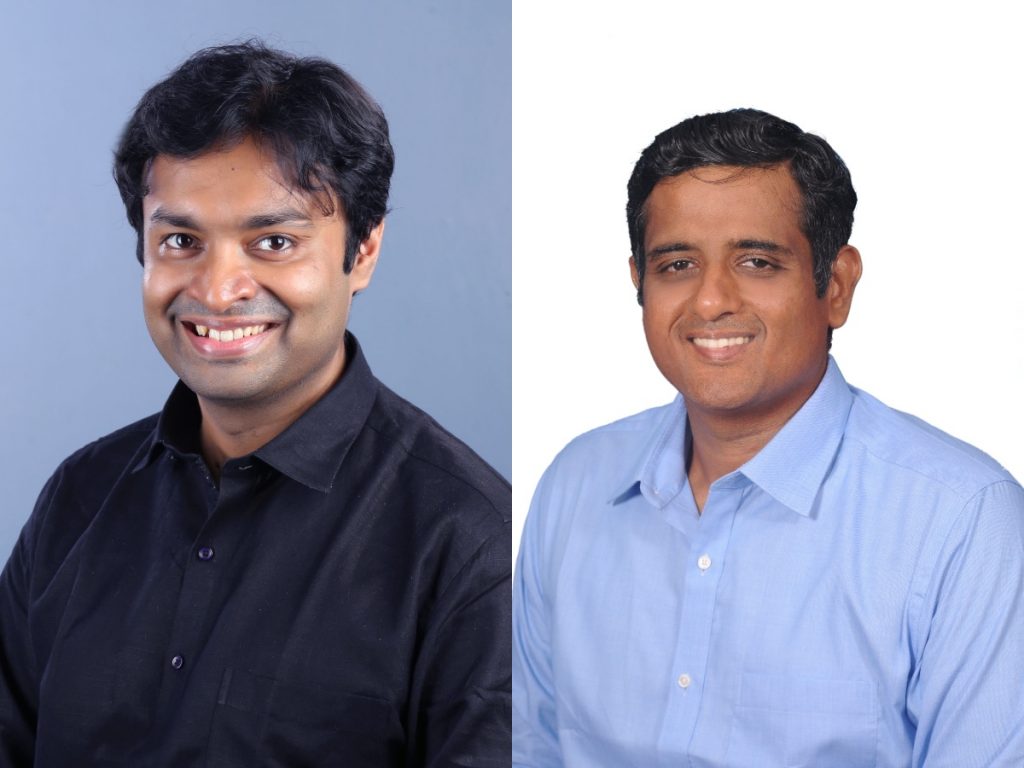 Xplorro, co-founded by Rajiv Nair (PGP 2008) and Narayanan Parameswaran (PGP 2008), is a London and Chennai-based start-up redefining the future of learning with its metaverse platform. In the age of immersion, Xplorro makes learning engaging through a survival game simulating real-life situations that would have otherwise been impossible in a physical learning setting.
(Xplorro is redefining learning through its game-based learning metaverse)
Xplorro wasn't born out of a light bulb moment. Narayanan's and Rajiv's experiences with education and learning, coupled with their professional journeys for over a decade, led to the conceptualization and execution of Xplorro.
Narayanan Parameswaran, with over 12 years of career in banking, has worked at Kotak Investment Bank, SUN-ARES PE Fund and Spark Capital. In his last role, he was actively involved in fundraising in the technology space. As he evaluated multiple start-ups in the education and gaming sectors, he noticed the magnitude of the engagement issue in the learning segment and realized that no one was trying to address it through a gaming lens. He needed someone with a good product management background to help build on the idea.
Rajiv Nair, Narayanan's good friend and batchmate from IIMA, has built a career in strategy consulting and product management. Rajiv joined Arthur D. Little as a strategy consultant in 2008 and worked on numerous strategy projects in the Middle East and South-East Asia region, but he craved to create impact beyond slides and thus enrolled for his second Masters in International Development at the Fletcher School in Boston. It was, however, a design thinking course under Prof. Srikant Datar – the current Dean of Harvard Business School (an IIMA alumnus), that drove him into product design and development. Since then, he has led various product design and development projects worldwide. As a casual gamer, Rajiv was thrilled when Narayanan approached him, as he was convinced about the potential of game-based learning. In fact, Rajiv, surprisingly, still remembers stats on his WWF trump cards better than the elements in the atomic table!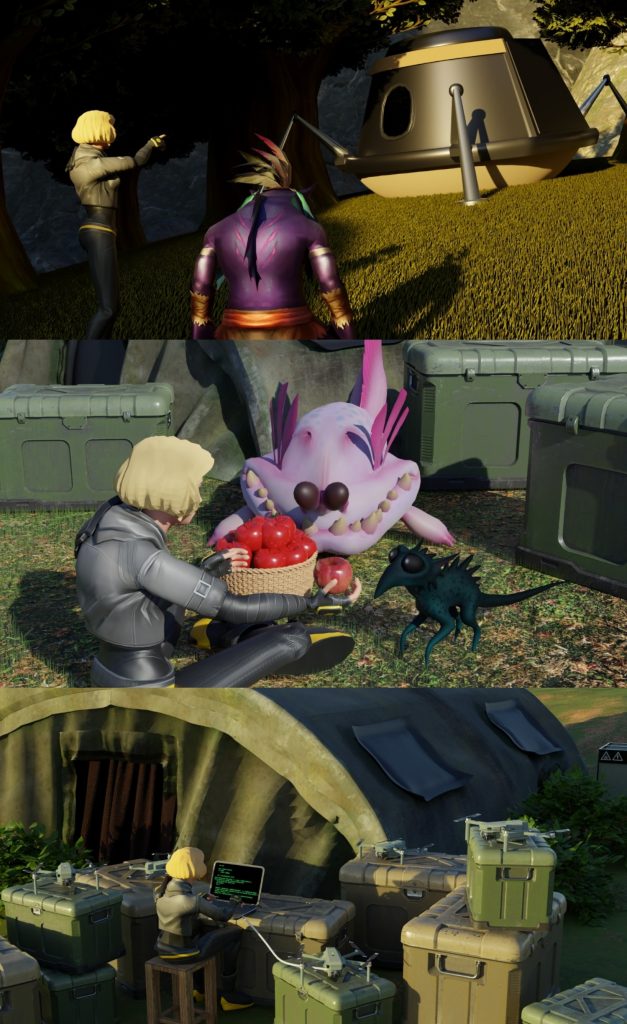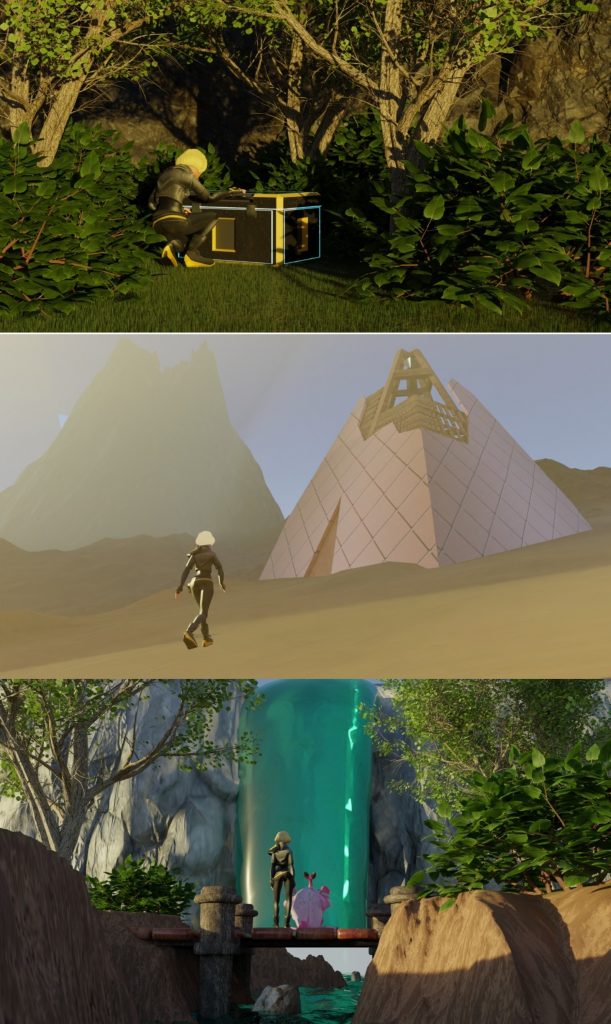 (In this metaverse you can explore terrains, befriend/fight aliens, mine/craft/trade items, and learn concepts)
Rajiv and Narayanan used a design thinking approach to conceptualize this idea. They conducted multiple interviews (for a K-12 use case) and learnt that the engagement problem was real. While parents and teachers worried about students' lack of attention in class, students complained about boredom in learning. Multiple studies validated that it was not a local problem. Reports suggested that 75% of the students were disinterested in learning, the average attention span of a student in the class was only 10 minutes in an hour-long lecture, and retention of concepts after a week of learning was barely 25%.
Game-based learning is a term that is increasingly being used to solve engagement issues in learning. Most games use 2D environments to teach. However, learning in such an environment is limiting as learners cannot immerse themselves in the context in which particular learning can be applied. Building an immersive 3D metaverse (akin to Minecraft or Roblox) seemed to be the solution that was most likely to work.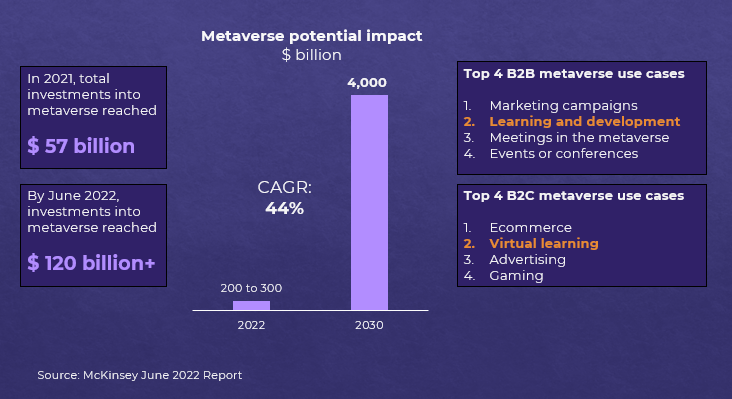 (In the age of immersion, learning will be one of the leading use cases of the metaverse)
Nothing great comes easy, and while building a metaverse learning platform, Narayanan and Rajiv had to face multiple challenges. They had to build the capability to create an immersive metaverse (a talent not widely available in India), after which they had to test the product market fit. As the first step, they built a prototype single-player RPG metaverse to teach science to students aged 8 to 11. To achieve this, they had to go through multiple iterations to understand how concepts can be taught using a game inside a metaverse. After recording over 150 sessions with students playing their games, they are convinced they have mastered the ability to educate using games in a metaverse.
However, this wouldn't have been possible without the team they built with utmost dedication. The co-founders meticulously identified and cherry-picked motivated young professionals passionate about gaming and coached them to be experts in building a game-based learning metaverse. The team behind this metaverse is comprised of mavericks from across the country. It consists of game designers, developers, visual designers, art directors, content developers, tutors, and product marketers – all motivated with the vision to revolutionize the way learning is approached by creating the world's first guided game-based learning platform – Xplorro. In addition, the team is also grateful to their advisors including Malak Mohamad (Head of Strategy at Discovery Education), and members of the IIMA faculty, especially Prof. Kathan Shukla and Prof. Rakesh Basant.
Xplorro completed an oversubscribed pre-seed round in January 2022, with prominent professionals coming together as angels to support building this metaverse. After establishing that, the team could now build an engrossing metaverse. The next stage of the product roadmap is to create a free-to-roam multiplayer metaverse where learning missions can be built in a scalable manner. The team is now in discussions with corporates and academic institutions to move their L&D activities into the free-to-roam metaverse.
Just as the stability of a building rests on a solid foundation, a nation's strength depends on its knowledge capital. Thus, with a vision to create an immersive learning experience, Rajiv and Narayanan are all set to redefine learning through their ultimate game-based metaverse – Xplorro!