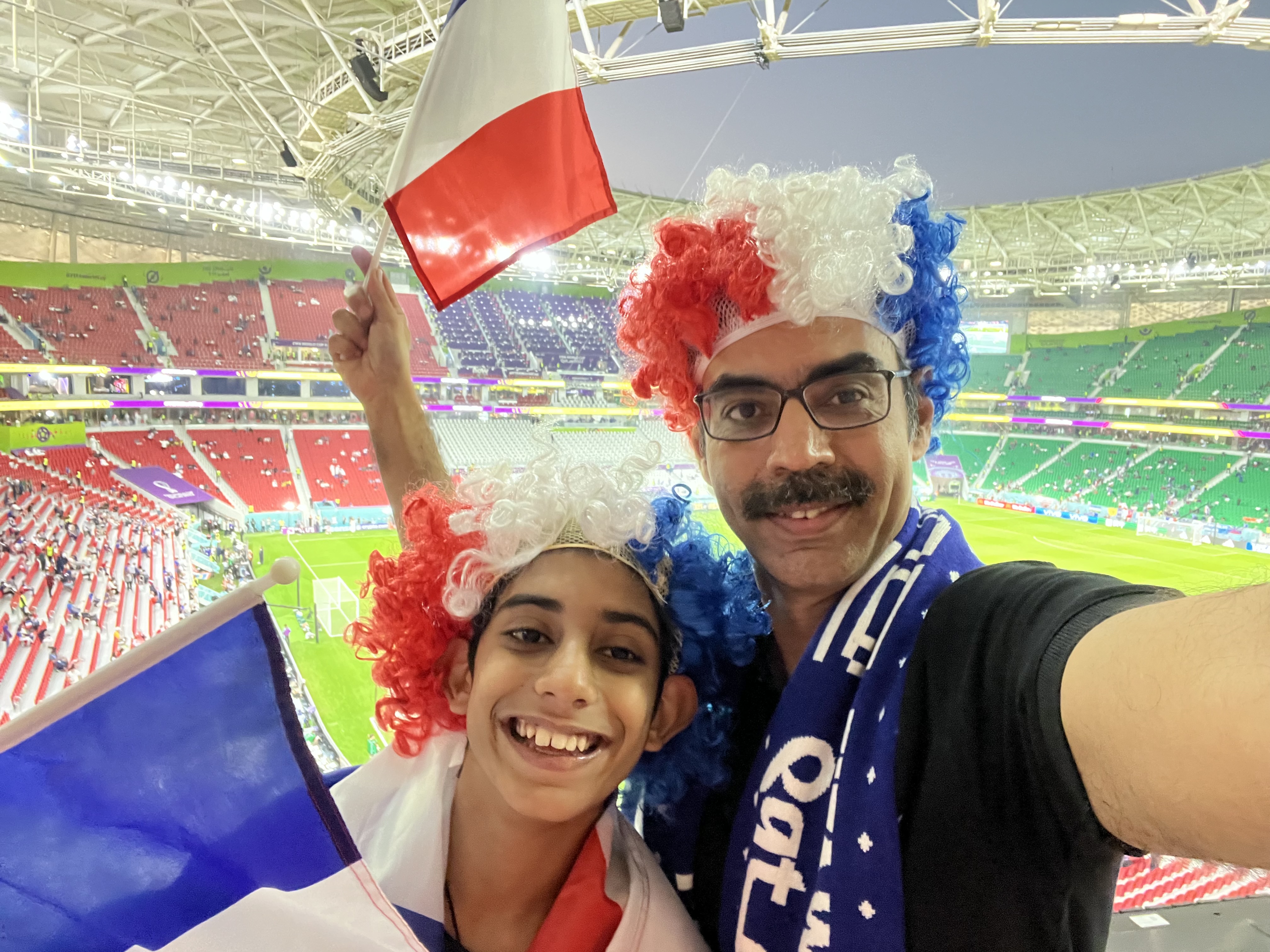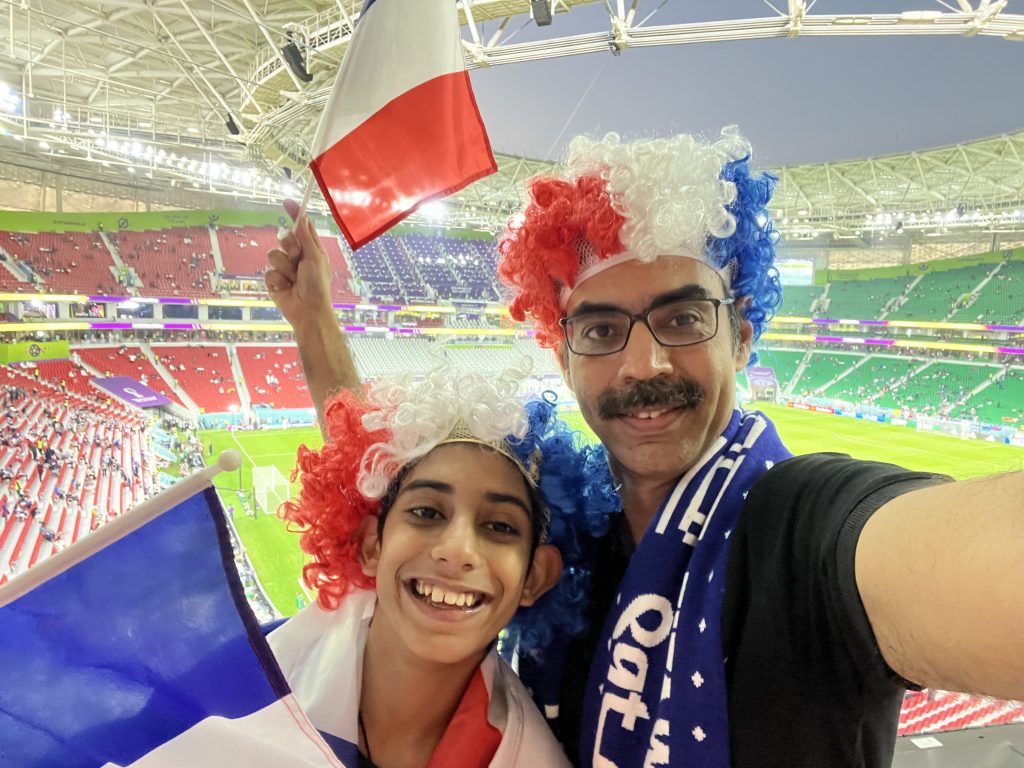 Mukul Sharma (PGP 1995)
Mastercard used to have a popular ad campaign about comparing materialistic acquisitions with life experiences, with the former being quantifiable while the latter were deemed 'priceless'. A cute campaign, but one which doesn't resonate unless one goes through one's own priceless experience; something which I recently did when I took my just-turned-teenager son to watch a few matches at the Fifa World Cup in Qatar. Not only was it the Boys' week out, but we stayed with my childhood friend in his bachelor pad, which indeed was priceless due to the significant savings in exorbitant hotel costs, the hosts probably forgetting that the rest of the world doesn't have the same purchasing power as those with the world's largest natural gas reserves.
So what is it about the football World Cup (yes, Football and not 'soccer', a blasphemous word that should be banned) that makes teens and 50-year-olds behave similarly? While the real teen had innocent excitement oozing from all pores, the 2 men weren't much different. The teen bought a ridiculously priced jersey; they bought the knock-off. The teen sang 'Allez Les Bleus' with full-throated passion, even making it to the second stanza; we got the first 3 words right too! The teen roared when his team scored; we made sure he sounded like Simba by drowning out his precocious voice with our lion-hearted guttural man sounds. The only time the men realized that the baton had indeed passed to the younger generation was when he used to casually name all 11 players of each team, their positions, their parent clubs, how many millions each earned and all their recent controversies courtesy Instagram Reels. We were happy remembering that Messi was from Argentina and Mbappe from France; any more mental effort would have required quaffing another Budweiser Zero, which for those who have had one would have been the equivalent of returning to Alcatraz.
Qatar had indeed laid out the red carpet for those privileged to get their Hayya card and tickets. Probably the equivalent of NCR in size and slightly smaller in population than Dharavi, this thumb-shaped land mass was bent on proving that it had arrived on the world stage. First-world airport and transport infrastructure – check; Autobahn-style highways making the Germans go green and hence exiting in the first round – check; gas-guzzling SUVs putting Americans to shame – check; artificially-cooled stadiums and enough greenhouse gas emissions that Greta Thunberg will soon start tweeting about it once she gets the country's spelling right – check. What we loved about Qatar was not only had it acquired first-world wannabe status, but it had also retained its soul as the salve of those from the Third World. Hyderabadi-accented Hindi courtesy our Uber driver – check; Zabardast Urdu aur shero-shaayari courtesy our Pakistani desert safari guide – check; South Asian cricket passion replaced for a month by Argentinian-jersey wearing Bangladeshis outnumbering the originals – check. The only thing missing – drunken fans at the stadiums courtesy the 'no alcohol' diktat; though some English fans continued to throw their Bud Zero's into the crowd whenever their team scored, in the true spirit of the game.
Most of my generation had never experienced world-class football, till we saw a short, squat man with twinkling feet, frizzy hair and God's own hands perform magic in the 1986 World Cup in Mexico. Those memories have been imprinted on the hard drive, and anything since is always compared to Maradona's magic. Pele was a name we had heard, a mystical genius from a land far away, like a Himalayan hermit who is talked about reverentially, but never seen. But Diego was alive, real in the flesh but unreal with the ball at his feet, as if the divine had, just for those few moments, entered the mortal world. While there have been many World Cups since and Ronaldo, Ronaldinho and Zidane have entered the pantheon of greats, probably the final of this World Cup was the closest to that of the epic Argentina-Germany clash of '86. Maybe such matches need the main protagonist's name to start with M; maybe it has to do with a team going up 2-0, the rivals equalizing in unbelievable fashion and then the drama unfolding with the world holding its collective breath; or maybe it has to do with those watching knowing they are seeing a piece of history being created before their eyes, something that will be passed on from generation to generation, as Mundial Magic ensures that the beautiful game lives on.