IIMA Healthcare Summit 2023
The IIMA Healthcare Summit 2023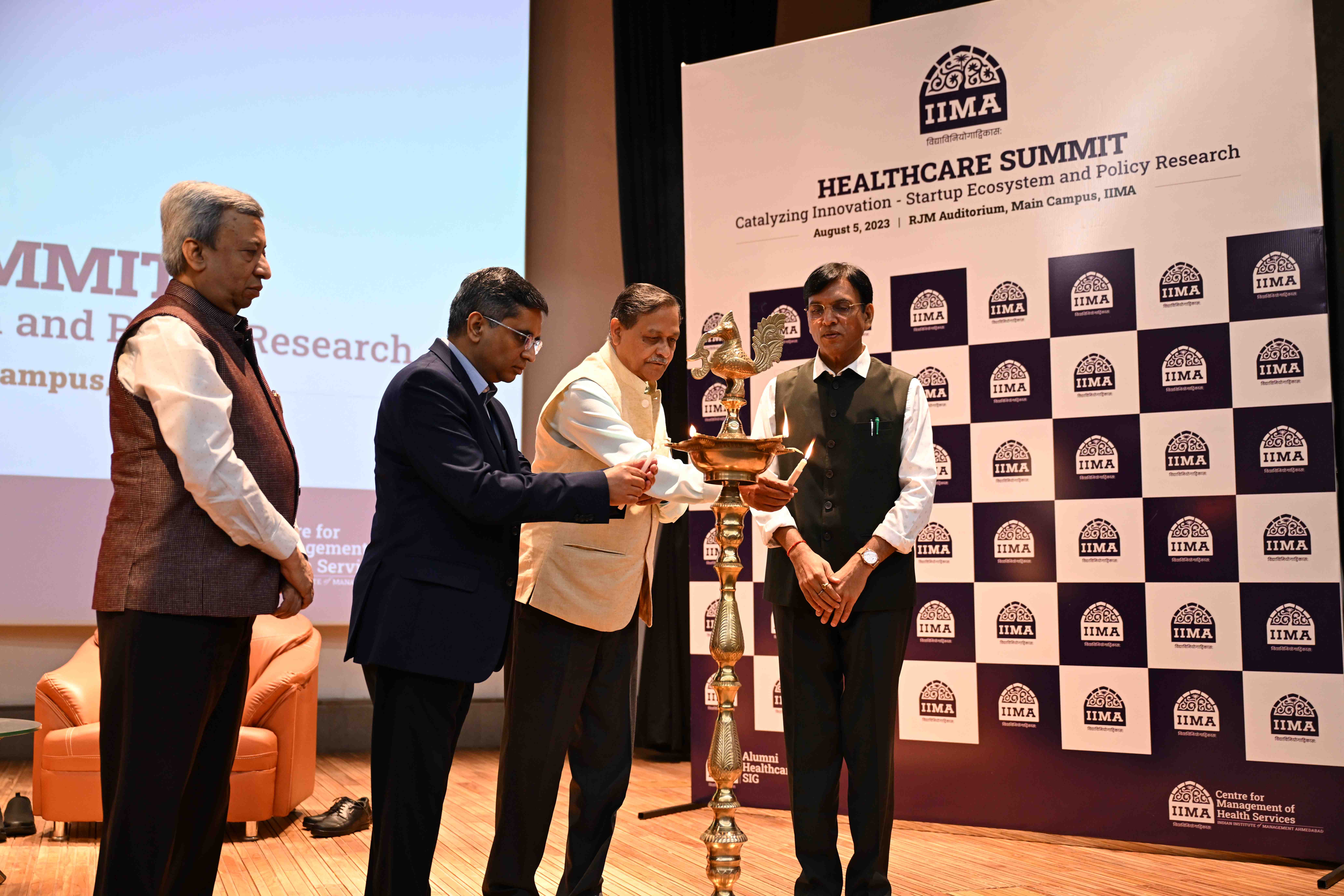 (From left to right) Pankaj Patel, Chairman, IIMA Board of Governors and Chairman Zydus Lifesciences, Manish Gupta, Chairman of Indegene, Prof Bharat Bhasker, Director of IIMA and Dr Mansukh Mandaviya, Hon'ble Minister of Health & Family Welfare and Chemicals & Fertilizers, Government of India, inaugurating the 2023 IIMA Healthcare Summit.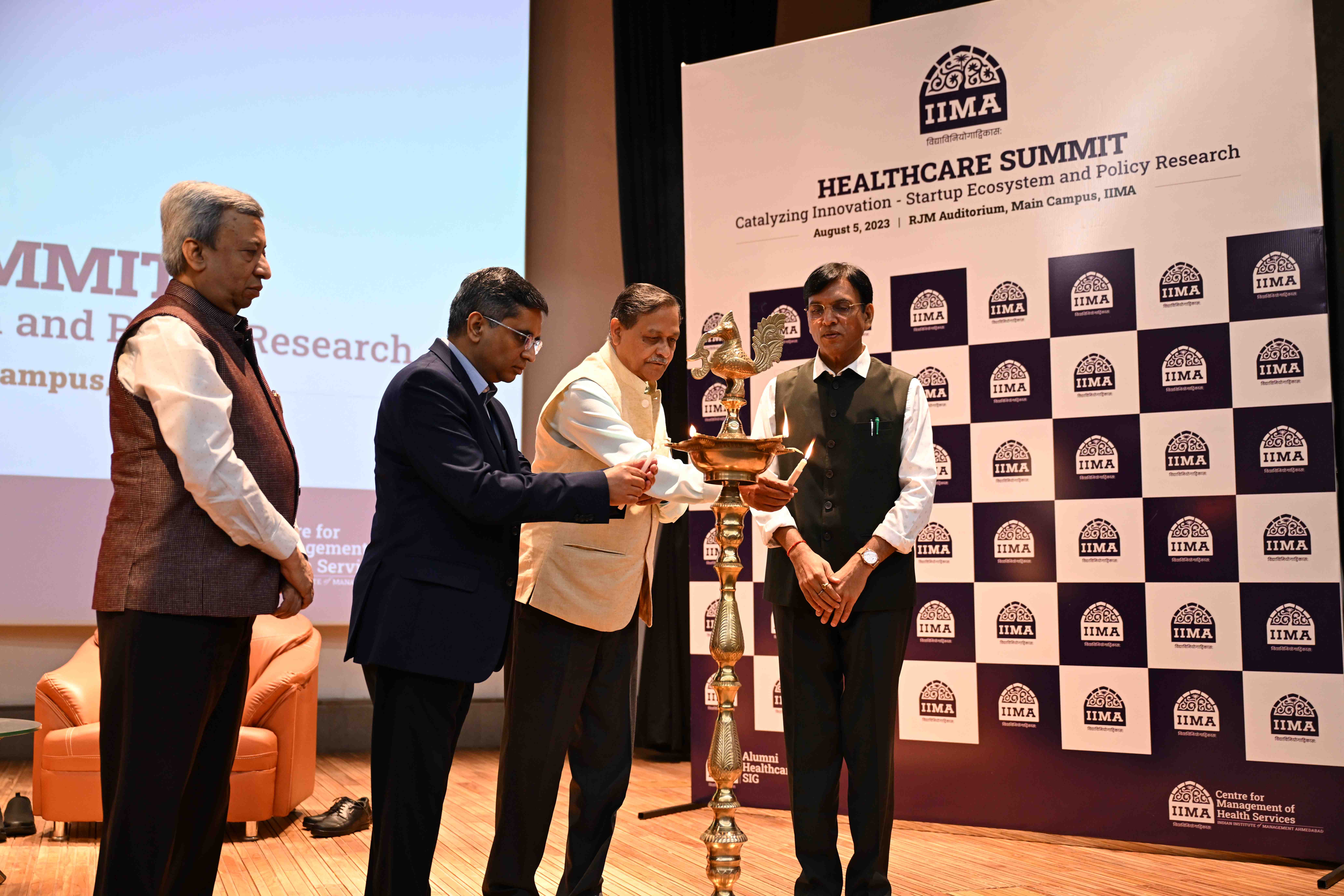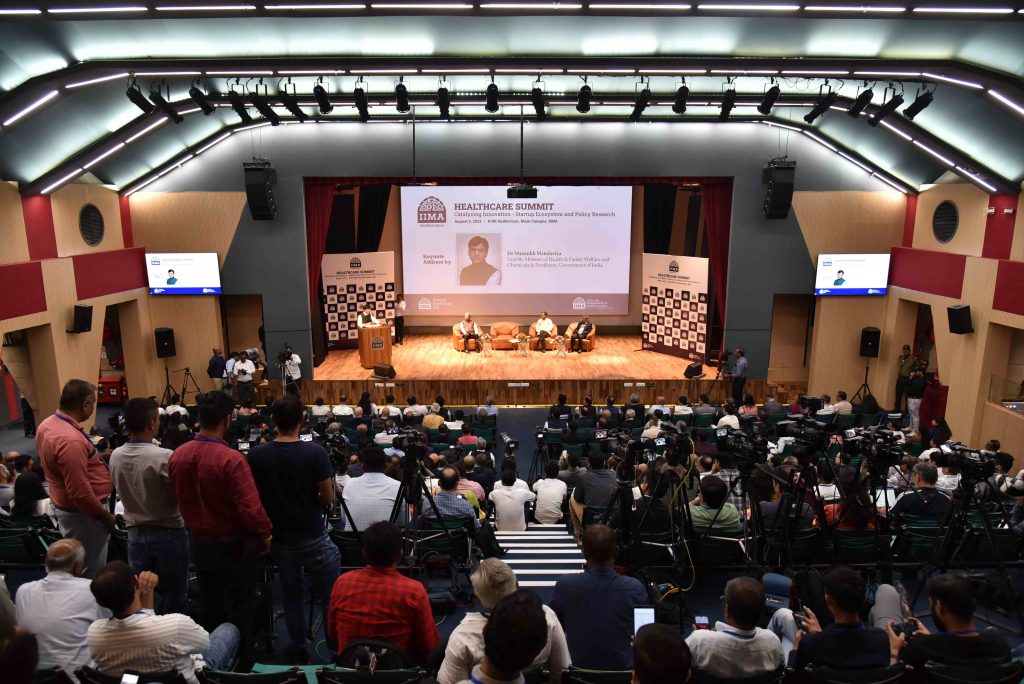 The first edition of the IIMA Healthcare Summit was held on August 5, 2023 and jointly organized at the IIMA campus by the IIMA Healthcare Alumni Special Interest Group (SIG) and IIMA's Centre of Management of Health Services (CMHS). The theme for the event, 'Catalysing Innovation – Startup Ecosystem and Policy Research', reflected IIMA's commitment to foster innovation and drive transformative changes in the healthcare sector.
0ver 300 professionals and entrepreneurs from leading healthcare enterprises attended the event. The summit featured two tracks, each focused on a crucial aspect of healthcare innovation. Track 1,
'Healthcare Start-up Ecosystem', was conducted by the Healthcare SIG, while Track 2, 'Policy Research', was conducted by CMHS. The inaugural and closing sessions were common for both tracks, making it a comprehensive and engaging experience for all attendees.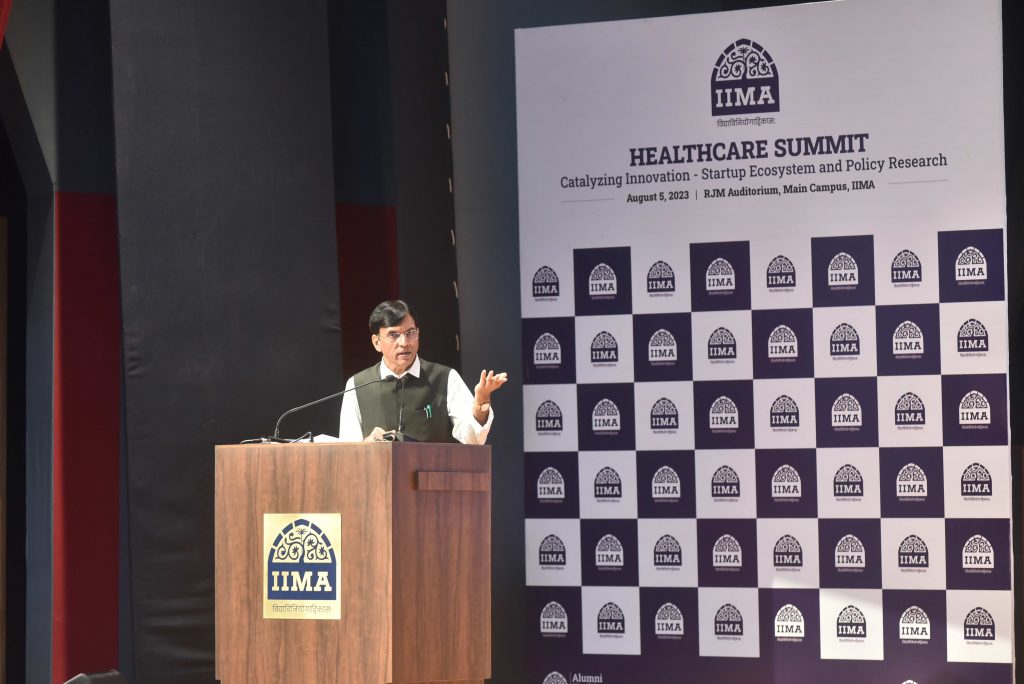 The chief guest for the event was Dr Mansukh Mandaviya, Honourable Minister of Health and Family Welfare and Chemicals and Fertilizers, Government of India. Manish Gupta, IIMA alumnus and Chairman, Indegene, welcomed the dignitaries and attendees, setting the context for the day's proceedings.
Prof. Bharat Bhasker, Director, IIMA, in his opening remarks, expressed that the deliberations in the summit would lead to newer thoughts and could rekindle ideas, powered by the application of relevant technology to the healthcare sector.
Pankaj Patel, Chairman, of IIMA Board of Governors and Chairman, of Zydus Group, in his inaugural address, highlighted how the world is seeing a wave of startups that have the ability to usher in growth and innovation for the healthcare industry.
Dr Mansukh Mandaviya delivered the keynote address for the Summit speaking about India's achievements in the healthcare sector, highlighting special achievements during the Covid pandemic, and about the government's various plans to strengthen and expand the sector towards the national goal of a healthy India.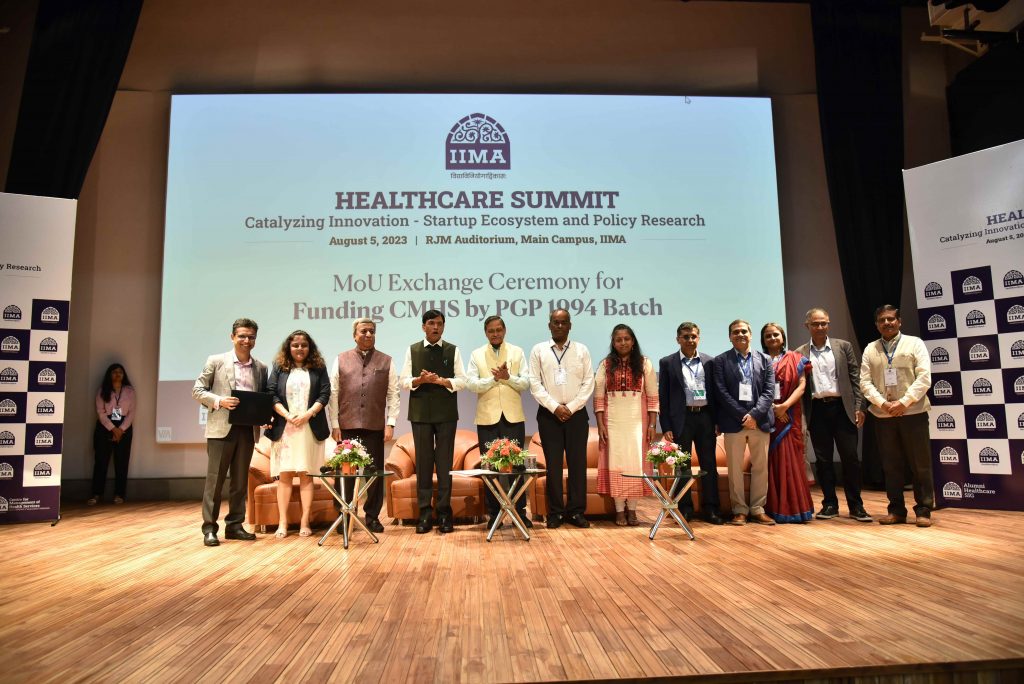 During the inaugural session, IIMA alumni, representing the PGP batch of 1994, formally signed an MOU with Prof Bharat Bhasker, Director IIMA, signifying the batch's generous financial support to CMHS.
Dr Mansukh Mandaviya also took the opportunity to interact with current IIMA students, to understand their views and suggestions regarding the healthcare scenario in the country.
Track 1 included thought-provoking panel discussions and a competition for healthcare startups. The first-panel discussion on the topic, 'Entrepreneurial Journey: Learnings, Insights, and Experience', was moderated by Alka Goel, IIMA alumnus and founder of Alkemi Growth Capital. Distinguished panellists, including Rizwan Koita, founder of CTS Tech and Koita Foundation, Siddharth Shah, co-founder of PharmEasy and API Holdings, Om Manchanda, Managing Director, Dr Lal's Pathlab, Prem Pavoor, Senior Partner, Eight Roads Ventures, and Prashant Warrier, Co-Founder and CEO, Qure.ai, shared their entrepreneurial experiences.
This was followed by a panel discussion on the topic, 'Role of Government and Academia in Shaping Policy for Enabling Innovation', moderated by Dr Shailesh Ayyangar, Value Accelerator and Healthcare Sector Advisor at Goldman Sachs Asset Management. Panellists included Hiranmay Mahanta, CEO of I-Hub Gujarat, Rajiv Raghuvanshi, Drug Controller General of India, Vikram Pagaria, Joint Director, National Health Authority, Dr Abdur Rub, CEO of IIT Bombay's Bioengineering Translational Centre, Raja Jain, CEO of Pada Ventures, and Prof Rakesh Basant, Professor at IIM Ahmedabad.
The next session was a key event at the Summit – the Startup Competition, aimed at encouraging entrepreneurship by providing a platform to Indian healthcare-focused startups. The SIG received over 80 applications from outstanding startups in a variety of subsectors, including healthcare services, consumer health, med-tech, life sciences and drug discovery. The startups were classified into two groups (Group A – startups founded during 2017-20, and Group B – startups founded after 2020). Five startups were shortlisted from each group, and two in each group received awards. The Healthcare Startup contest was judged by a panel of eminent professionals in the healthcare sector. Devdutt Marathe, an IIMA alumnus, provided introductory remarks regarding the Healthcare Startup competition. Ulhas Joshi, an IIMA alumnus, delivered the concluding remarks for this session. The competition was conceptualized and executed by IIMA alumni Alka Goel, Devdutt Marathe and Varun Jhaveri. The winning participants received their awards from Ms. Aparna S., Secretary, Department of Pharmaceuticals, Government of India.
Track 2 focused on Policy research. The session was moderated by Prof Tarun Jain, Chairman, CMHS. Six eminent speakers from academia and research provided valuable insights to a well-attended audience.
Prof Viswanath Pingali, from IIMA, presented his paper, 'The Cost of the Missing Patient'.
Prof Anindya S. Chakrabarti, from IIMA, enlightened the audience with his work titled, 'Technology Change as a Paradigm shift? Evidence from Electronic Medical Records.'
Dr Kailash Gupta, IIMA alumnus, discussed 'Tissue and Organ Transplantation from Unidentified Disaster Deceased'.
Dr Ashish Sachdeva, from the Indian School of Business, presented 'Using Dynamic Financial Incentives to Increase Physical Activity'.
Prof Namrata Chindarkar, from IIMA, spoke on, 'Access to Improved Sanitation and Dietary Diversity.'
Prof Anuj Kapoor, from IIMA, presented his work 'Does Access to Human Coaches Lead to More Weight Loss than with AI Coaches Alone?'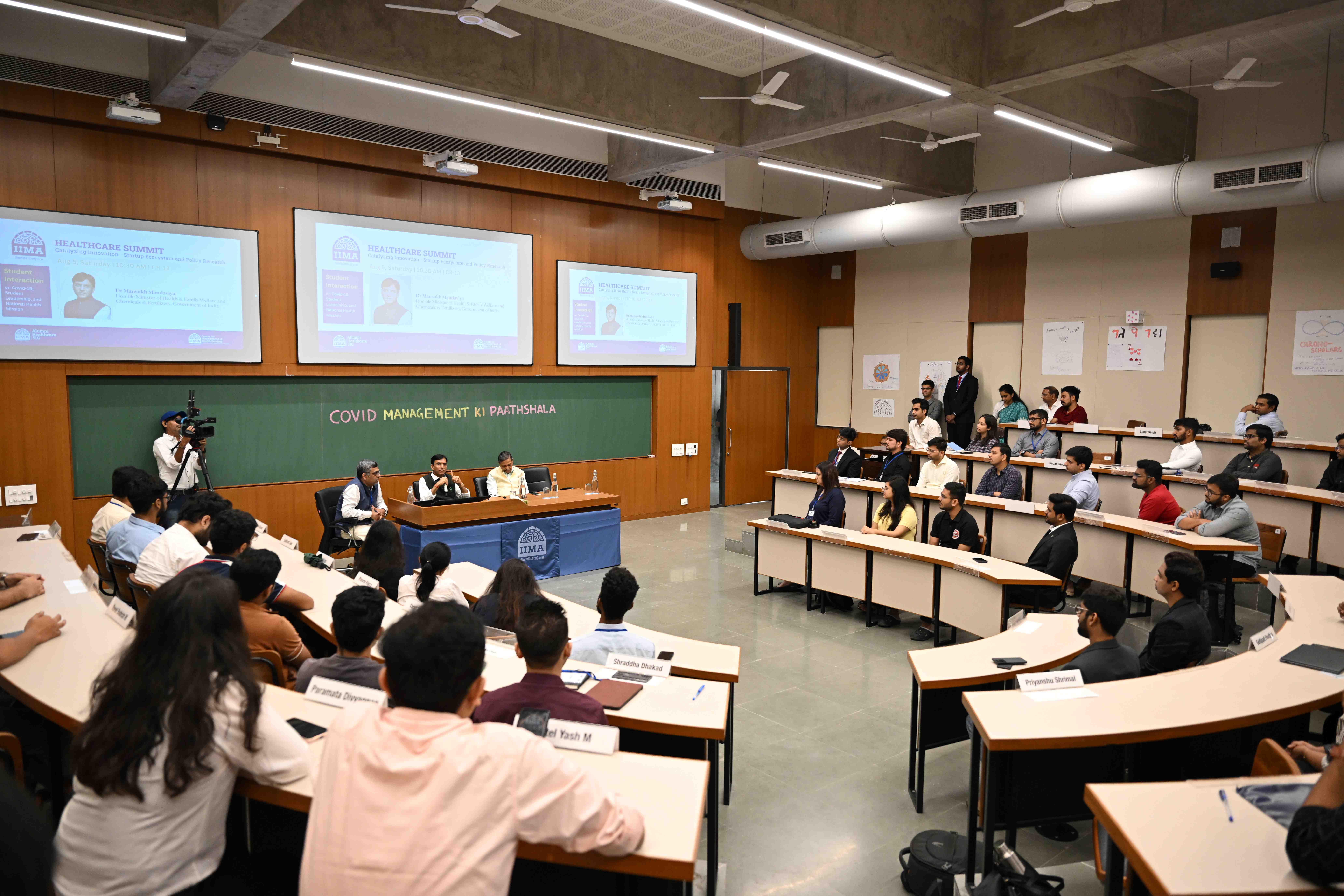 The two tracks converged for the final part of the Summit with an insightful conversation moderated by Prof Arvind Sahay of IIMA, with Pankaj Patel, Chairman, Zydus Group and Chairman, IIMA Board of Governors. Patel shared his experience of building the Zydus group over the past few decades, providing a valuable source of learning for all.
Ms. Aparna S, Secretary, Department of Pharmaceuticals, Government of India, delivered the valedictory address and dwelt on various issues related to government-industry-academia interaction on healthcare issues. In response to a question from the audience, she readily assured encouragement and support to IIMA's health-tech-focused initiatives such as a Hackathon, and more.
This was followed by concluding remarks by Prof Viswanath Pingali, IIMA, and Sudarshan Jain, IIMA alumnus and Secretary General, Indian Pharmaceutical Alliance. Anurag Choudhury, AVP, Alumni and External Relations delivered the vote of thanks.
The Healthcare Summit was the result of several months of focused planning and diligent execution by the core organising team comprising members from the IIMA Healthcare Alumni SIG, CMHS and various IIMA officials. Encouragement from Prof Bharat Bhasker, Director, IIM Ahmedabad, and support from Prof Sunil Maheshwari, Dean – Alumni and External Relations, facilitated the smooth execution of this Summit.
The IIMA Healthcare Summit is envisioned to be an event that garners recognition as a must-attend event in India, akin to some prestigious international healthcare events in the US. This summit aimed at receiving support from healthcare associations, start-ups, and academic and research institutions, fostering a conducive environment for collaboration and innovation in the healthcare sector.
With its distinctive agenda, esteemed speakers, participation of prominent stakeholders, active involvement of healthcare-focused alumni, current students and faculty who helped in various aspects of the Summit, and support services at IIMA, this IIMA Healthcare Summit was a milestone event at IIMA, seeking to catalyse innovation, foster partnerships, and help shape the future of healthcare in India.