Chennai Chapter: Heritage Walk Mylapore Temples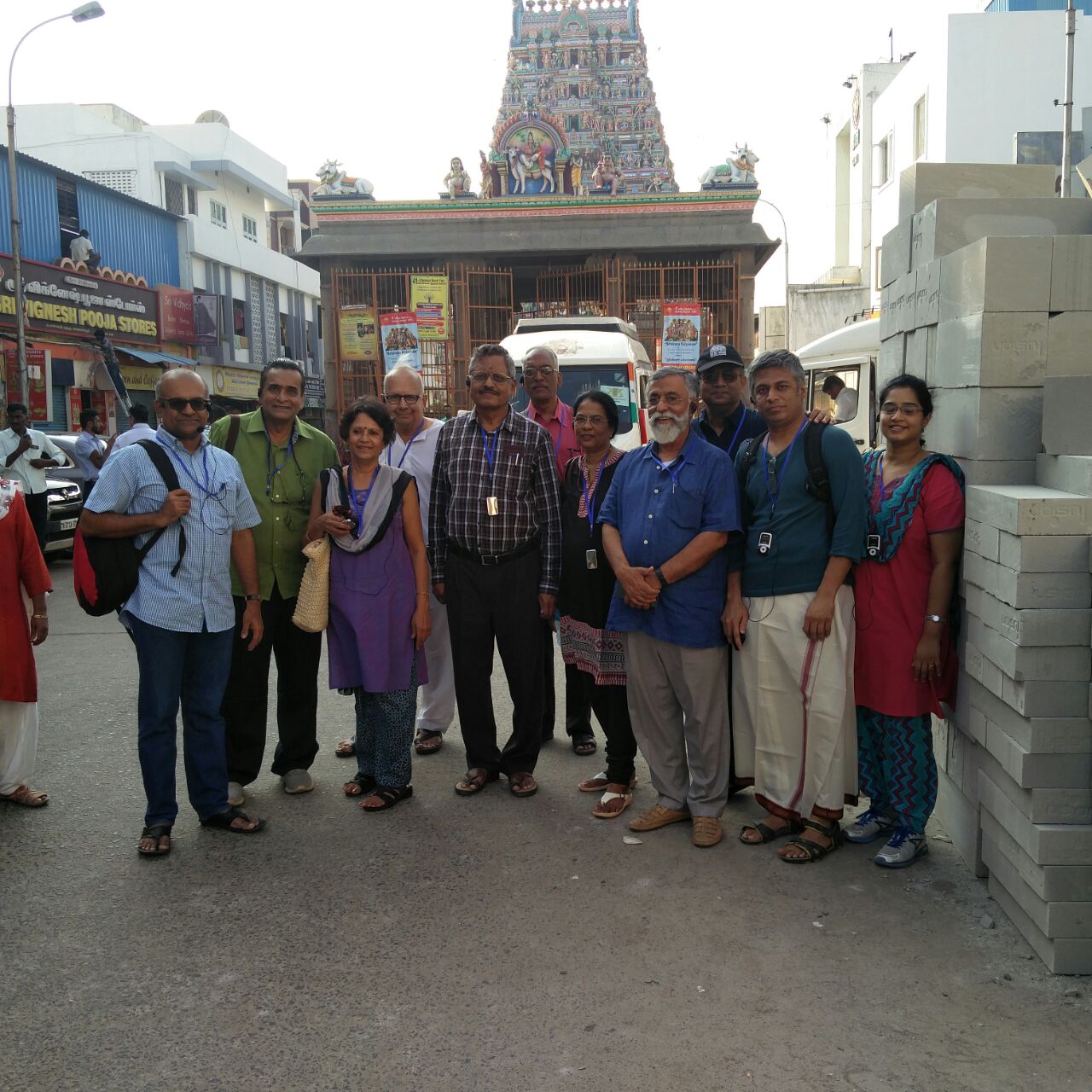 – Ananthaswami Rajagopal(PGP1977)and KC John (1988])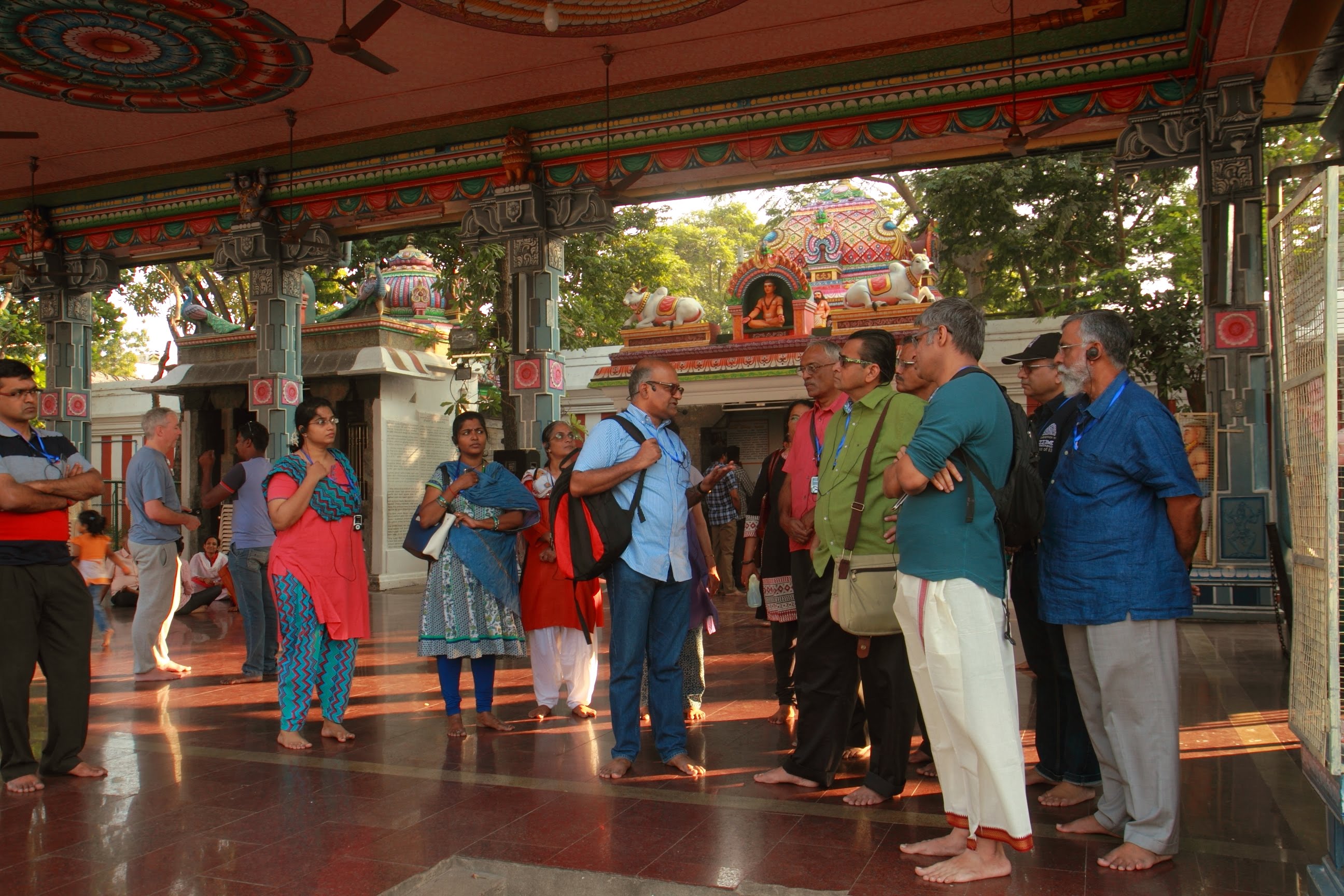 Chennai [formerly known as Madras] is the oldest Indian city, with a history of 400+ years. It arose from the British settlement of Fort St. George and its subsequent expansion through merging of numerous temple villages and European settlements into the city of Madras. However, the temple of Thirumayilai [Mylapore], Thiruvallikeni [Triplicane], Thiruvanmiyur and Thiruvotriyur have existed for more than 1000 years.
On Sunday the 28th January 2018, about 30 IIMA Alumni and spouses undertook the first of its kind Heritage Walk of Thiruvamayilai [Mylapore] to explore, learn, photograph and experience the history of the first Indian city – Chennai that was Madras, earlier.
The Chennai Chapter partnered with historian V Sriram, who is passionate about building historical body of knowledge based on archaeological inscriptions found in ancient temples and Carnatic Music. He is author of over 10 books based on his historical research. Some of the prominent ones among these include: Carnatic Summer; the Devadasi and the Saint, and Fifty Historic Residences of Chennai.
The heritage walk started in the precincts of Sri Kapaleeswarar Temple and over a span of 120 minutes wade through agraharams [settlement for pujari] and devadasi residences.
Of particular interest was the Mylapore house of Diwan Bahadur Raghunath Rao [where Viswakamal Apartments now stands] on R.K. Mutta Road. It was the venue of a series of meetings, 130 years ago among Col. H.S. Olcott, A.O. Hume, Annie Besant and fourteen eminent men from South India that resolved to establish a pan-Indian nationalist party in 1884, to speak for the people of India. Subsequently, the seed sown in Madras, fructified in the national assembly in Bombay during December 28 – 30 1885 that led to the formation of Indian National Congress. Of course, the Grand Old Party is struggling to emerge as the Grand Old and Young Party, now.
The highpoint was the walk under the guidance of V Sriram, and discover the immense wealth of history that lurks around each nook and corner of Mylapore. It's the sort of heritage that other cities would die for and yet, the IIMA Alumni in Chennai were barely aware of it.
Sriram tossed aside both convention and conformity in showcasing the architectural splendor of 7th century temples and the lives of a once splendid community of priests, dancers and musicians [devadasis], who graced the inner sanctum of the gods in their role as temple dancers.
Ramakrishna Ashram in Mylapore is associated with another famous son of India – Narendranath, later to become famous as Swami Vivekananda. Towards, the end of his 1888 – 93 Bharat Darshan, he came to Madras and spent several months and met Alasinga Perumal. It was Alasinga Perumal who collected the required funds and made it possible for Swami Vivekanand to go from Madras to Chicago.
What started as a trip to the Parliament of Religions, thanks to the fame acquired there, ended as a four year lecture tour of the Americas and Europe. Appropriately, on his return to India in 1897, Swami Vivekanand first touched the shores of South India. Alasinga played a major role in starting Ramakrishna Ashram, where Swami Vivekanand stayed in Madras.
During the nine days in Madras, Swami Vivekanand delivered several memorable speeches, including one where he asked young Indian to "Arise! Awake! Standup and assert yourself."
On popular demand the next heritage walk is scheduled on February 17th to Fort St. George.