PGP 1991: The Social Mavericks Scholarship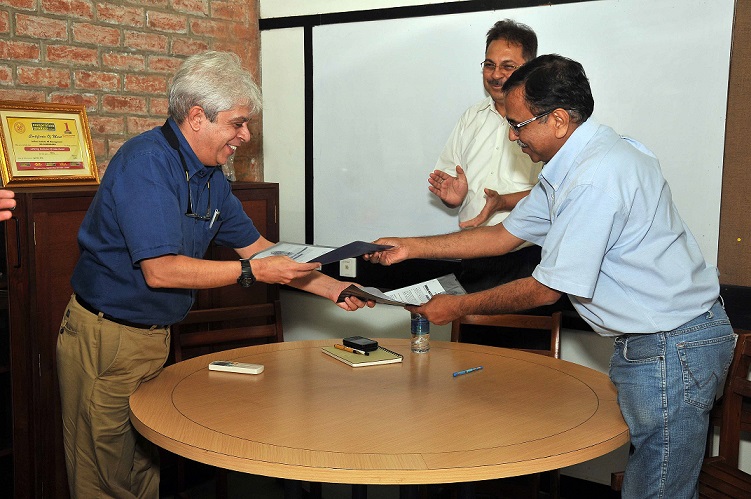 THE NEED TO GIVE BACK: The batch of 1991 met for its 25th year reunion at IIMA in December 2015. As we reminisced about what we had done in our careers and lives, and where we had come, we realised the tremendous difference IIMA had made to our lives. Without our two years here, and the values instilled in us here, we would have been very different people, and maybe not people we would today look back at and have liked! Given this, there was an overwhelming need from the batch to give back – both to the institute and to society at large, to pave the way for others to gain in the way we did, and to make a difference to the society at large.
THE INCEPTION OF SOCIAL MAVERICKS SCHOLARSHIP: In its deliberations, the batch focused on three initiatives. One of these was the Social Mavericks Scholarship. Ours is a batch that has the privilege of having a number of social entrepreneurs. All of us have seen first-hand the impact they have made on society, while also fulfilling their own dreams of building institutions and wealth. It seemed natural that we should look to grow more such entrepreneurs as our way of giving back. From discussions with students and faculty, we realised that while there were many students who had dreams of entrepreneurship, and a significant number amongst these who had ideas that could have a social impact, a key barrier to them starting out on their own was the monthly installment on the student loans they had taken. The monthly installment becomes due six months after a student graduates from the Institute, and students need a steady source of cash flow to begin servicing this loan. This seems to be the single largest barrier to students starting their own ventures.
From this insight, we build the Social Mavericks Scholarship. The scholarship offers a monthly scholarship of Rs. 40,000/- for three years to one student/student group each year. The criteria for being eligible for the scholarship are that the student/student group must belong to the PGP/FABM/PGPX cohort, and the entrepreneurial business idea must have a social impact. Our definition of social impact is fairly loose – all we ask is that society and its members be impacted in some way. Students apply to CIIE in the way they would normally apply for Mavericks Scholarships, and from within them, a social maverick scholar is chosen. Along with the scholarship money, the recipient also receives all the backing of the Batch of '91, which includes mentoring, coaching, advice on setting up a business entity, scaling it, taking venture funding, advice on sales, product development, hiring etc., and even office space, if needed! On its part, the Institute offers a two – year placement deferment – should things not work out, the student can come back and take placement within two years of graduating.
THE RECIPIENTS SO FAR: The scholarship is in its third year now. We have two recipients so far. Our first recipient is Arvind Kumar, from the batch of 2016, who is in the process of rolling out a system to help supplement classroom learning amongst student in English Medium Schools in small towns. The front end of the system consists of a mobile phone app, where students are tested on their knowledge of a particular subject, and given supplemental education as needed. An intelligent algorithm at the back end varies the content provided depending on the students answers to test questions. Teachers have access to their students' results, and can modify their teaching in the classroom accordingly. The system is currently being Beta tested in Haryana, and a rollout across the state is expected to be completed by the end of Fiscal 2019. Our second set of recipients are Gaurav Bagde and Somesh Agarwal from the batch of 2017. Gaurav and Somesh, along with a third collaborator from IIT Ropar, are working on developing and deploying charging infrastructure for electric vehicles. We are bullish about the prospects of both these ventures; and expect them to positively impact education and the environment in the years to come.
In 2018, we also decided to mentor summer interns. Our idea is to work with a PGP I student who has a promising idea, to help him/her flesh it out during the summer between PGP I and PGP II, and then ask them to bring it in for a possible Social Mavericks scholarship in PGP II. Our first summer intern was Mikul Patel, who is working on setting up an online counselling service for young people. Mikul's project goes into beta testing in September, and we are optimistic about its ability to make a significant difference in the mental health of young people – not least of all stressed IIMA students!
It's been a fulfilling journey so far in our effort to promote social entrepreneurship. What really makes the difference is the willingness of the batch to give – both monetarily and of its time – and the role models within the batch that potential entrepreneurs can see. Going forward, we're looking for ways to expand our footprint and multiply the impact we can make. Watch this space!