A SELF-CHALLENGING LOCKDOWN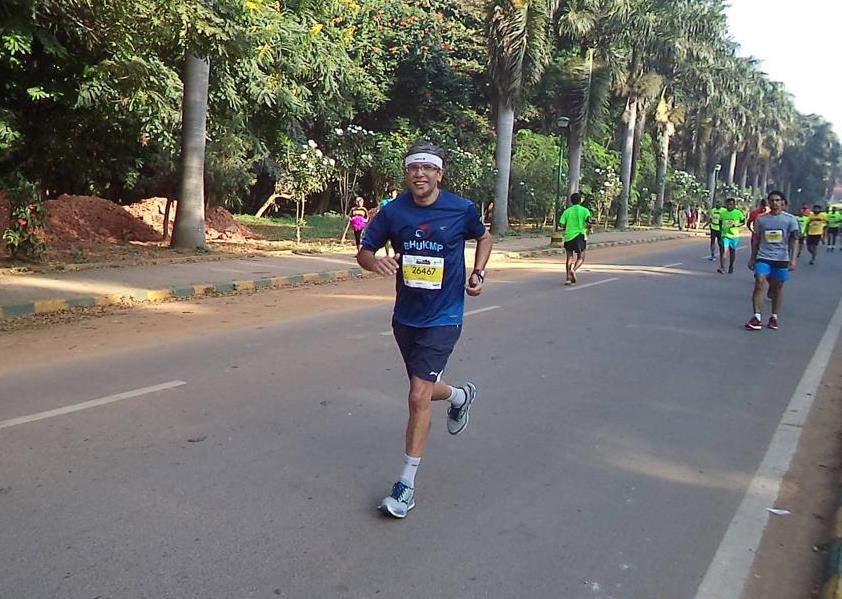 Shared by Mr Sunil Chainani (PGP 1980)
As my colleagues know, one of my greatest passions is sports and in particular long distance running. So the lockdown threw up a huge challenge – I love running outdoors, and so do not possess a home gym. And even though Bangalore is not as badly affected as many other cities in India, I was being careful and did not run outdoors till curbs eased in early May.
I needed to challenge myself to do something – and so in the last 2 months initiated 2 challenges to spur myself and some of my athletic friends.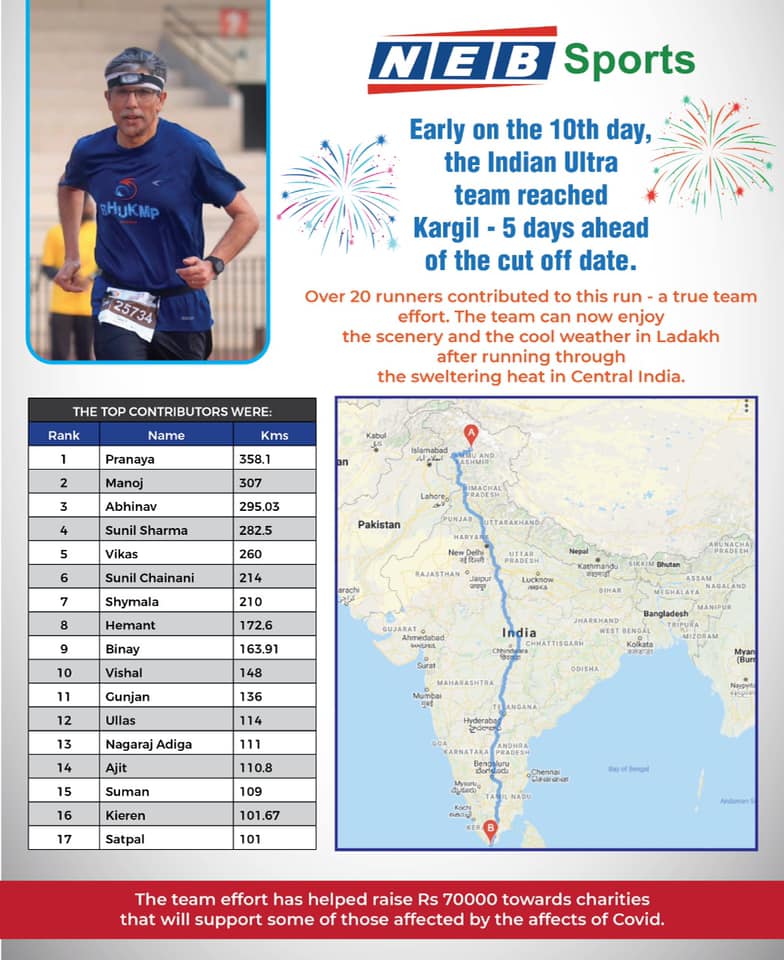 CHALLENGE 1 – LOCKDOWN 29029 CHALLENGE
The objective was to climb the height of Mount Everest (29029 feet)  in your own premises. This meant climbing (and descending) 2500-3000 floors depending on the height of your floor, with only the ascents counting. In my house the height of the first level is about 11 feet so I needed to climb 2700 floors. I asked some of my athletic friends to join me, and promised that for each successful climb I would donate a small sum to a charity which was helping feed guest workers affected by the lockdown.
We started on 13 April and set a goal of finishing by the end of the month. 15 persons registered for the challenge – some of the others who joined the challenge included seasoned climbers and a few members of the Indian Ultra marathon team.
I started slowly and managed about 1500 feet on Day 1 – climbing up and down stairs can be truly monotonous, but it helps to have a goal. We set up a Google spreadsheet to monitor each persons progress.
On Day 2, I managed 3000 feet and increased this to about 3600 feet on Day 3. This gave me the confidence that I could finish in 10 days. One of the things I realised is that the staircase is one area which is not cooled and so going up and down is a very 'sweaty' task.
With growing confidence I managed about 4000 feet on day 4 and about 5000 feet on Day 5 and 6 – so started day 7 at about 22000 feet with 7000 feet to go – expected to do this in 2 days as my legs were weary by then…..started early on April 19th and managed about 3000 feet before breakfast and felt I could do another 1000 feet that day – when I restarted the hope of summiting soon got me going and I so pushed myself to summit on day 7, much ahead of my expectations.
The learning – when you set yourself a goal, you can mentally push yourself to get it!!
CHALLENGE 2 – VIRTUAL KANYAKUMARI-KARGIL RUN (3814 KM)
Over the last few years I have accompanied the Indian Ultra marathon teams as Manager/Crew member for several international events. You can imagine how tough it is for such athletes to be stuck at home for a long period!!
When things started to open up, we decided to challenge ourselves to run a cumulative distance of 3814 km within 15 days – the challenge was restricted to those who had run/been crew for the Indian teams.
We started our journey on 21st May and aimed to finish latest by 4th June – and me and a running friend promised to contribute to a charity a sum for completion on time plus a bonus for each day we finished early.
The route map is enclosed in the attached map.
27 runners participated but on any day we had between 15 and 25 runners on the road – some could not run regularly due to weather conditions or curfew. All runners were advised to take precautions – wear masks if close to other walkers/runners, washing hands etc.
The team rose to the challenge and we started with covering about 280 km on Day 1 and this built up to a peak of 480 km on Day 8. It was amazing to see the infectious energy of our runners as we pushed each other on – details were logged into a spreadsheet available to all the runners.
We reached our destination on Day 10 (30th May) – and raised Rs 70000 which was donated to local charities. I ran a total of 214 km in the 10 days and was placed 6th among the team – this is easily the maximum I have ever run in a spell of 10 days, and it is thankfully due to having a goal in mind and constant encouragement from my teammates.
During the lockdown period, I have heard many complain about losing fitness/putting on weight – but if you are determined, you can find a way to stay fit. I have, in fact, shed almost 4-5 kg and probably am at my lightest weight in the past 2 decades!!