THE FOREIGN SUBSIDIARY: WORKING WITHIN THE INTERNATIONAL FIRM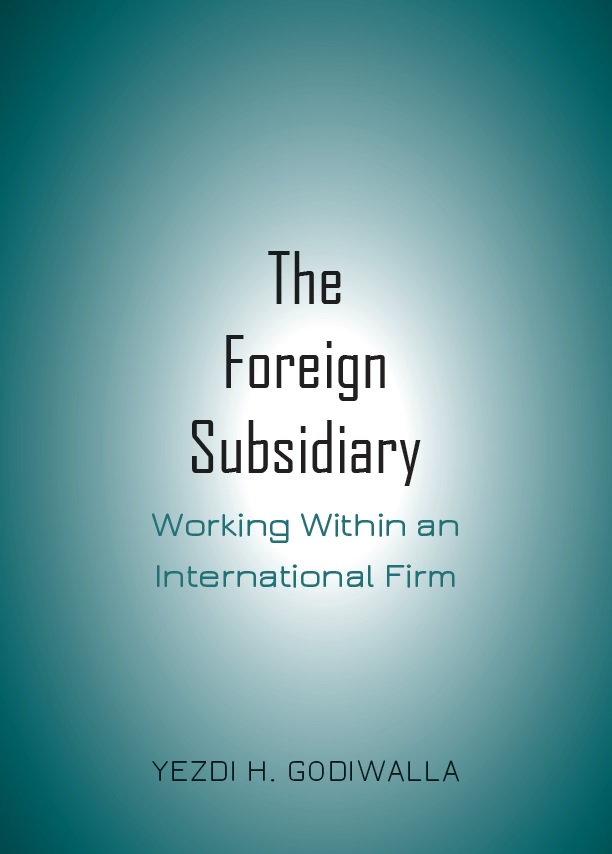 A book by Dr Yezdi H Godiwalla (PGP 1968)
About the author: Dr Yezdi H Godiwalla is Emeritus Professor of Management, College of Business and Economics, University of Wisconsin-Whitewater, USA, where he was professor for 41 years. He has published/presented: four scholarly books, numerous articles, papers/seminars and consulting projects. He has received awards for his teaching and research, including the 2013 "WP Roseman Excellence in Teaching Award" (University's highest teaching award). He has BA (Honours), Ranchi University; MBA, Indian Institute of Management-Ahmedabad; and PhD, Oklahoma State University, USA. He worked with Tata Steel, and, Godrej and Boyce, India.
Synopsis The book explains the role of a foreign subsidiary in international management as it helps a multinational corporation (MNC) to geographically expand and grow its business volume. Growth of an MNC would come from increases in its: (1) domestic operations, and, more so, (2) international operations. The effective management of the foreign subsidiary is vital to an MNC's long term survival, competitiveness and growth. The book is conceptual and practical in that it provides both, theories, and, implications and recommendations for practice. It is a good testament to the tenet that the practicing manager should be as conceptually sound as the theorist should be pragmatically astute.
The MNC and its foreign subsidiaries, to quote the book, "will hold true to their purpose of enlarging the scope of business around the world and transferring from one country to another country: people, values, ideas and views and perspectives, knowledge, arts and know-how and skills, lifestyles and standards of living, goods and services, equipment, finance, and (engineering and organizational) technologies." MNCs and their foreign subsidiaries are the agents of global change in that they usher in newer ways of life and uplift the plight of the lesser fortunate societies in countries across the world.
The foreign subsidiary is a vital link between: (1) the fountain source of the MNC's headquarters (HQ) and its home country operations, and, (2) their chosen global markets and environments which they would enact as they geographically expand. Future growth in revenues and profits would come from there. They would provide a stable base for the MNC's financial vitality.
Managing a foreign subsidiary is complex. It operates in diverse cultural and operating environments. The MNC HQ's management of its foreign subsidiaries would have to cope with the complexities of the differences in its multiple country environments of cultures and operating conditions. Managing a foreign subsidiary, from an MNC's HQ point of view, is complex, interesting and challenging. To quote the book about the role of the MNC's expatriate who goes and manages a foreign subsidiary: "The expatriate who manages the foreign subsidiary is vital for managing the foreign performance of the MNCs. The expatriate will face a lot of challenges in his (or her) foreign subsidiary assignments. The MNC should train and mentor him, collaborate with him, and reward him better because he is the key to improved foreign subsidiary's performance."
The book has 21 chapters in these five sections:
1. Global Organizational and Foreign Subsidiary Strategies
2. HQ-Foreign Subsidiary Relationship: Constructs for Strategy, Structure, Culture, and Organizational Technologies
3. Entrepreneurship, Innovation, and Competitiveness
4. Training Expatriate Executives
5. Ethical and Social Responsibility Issues for the Foreign Subsidiary.
The book details are:
Published by: Peter Lang Publishers, New York
Publishing date: January, 2020
Available: in both, print (hardback) and electronic forms
Pages: 432
Price: USD 129.95
(The book can also be purchased online at publisher's website: www.peterlang.com/view/title/70267?format=HC)