Chirag Gyanani (pgp 2019)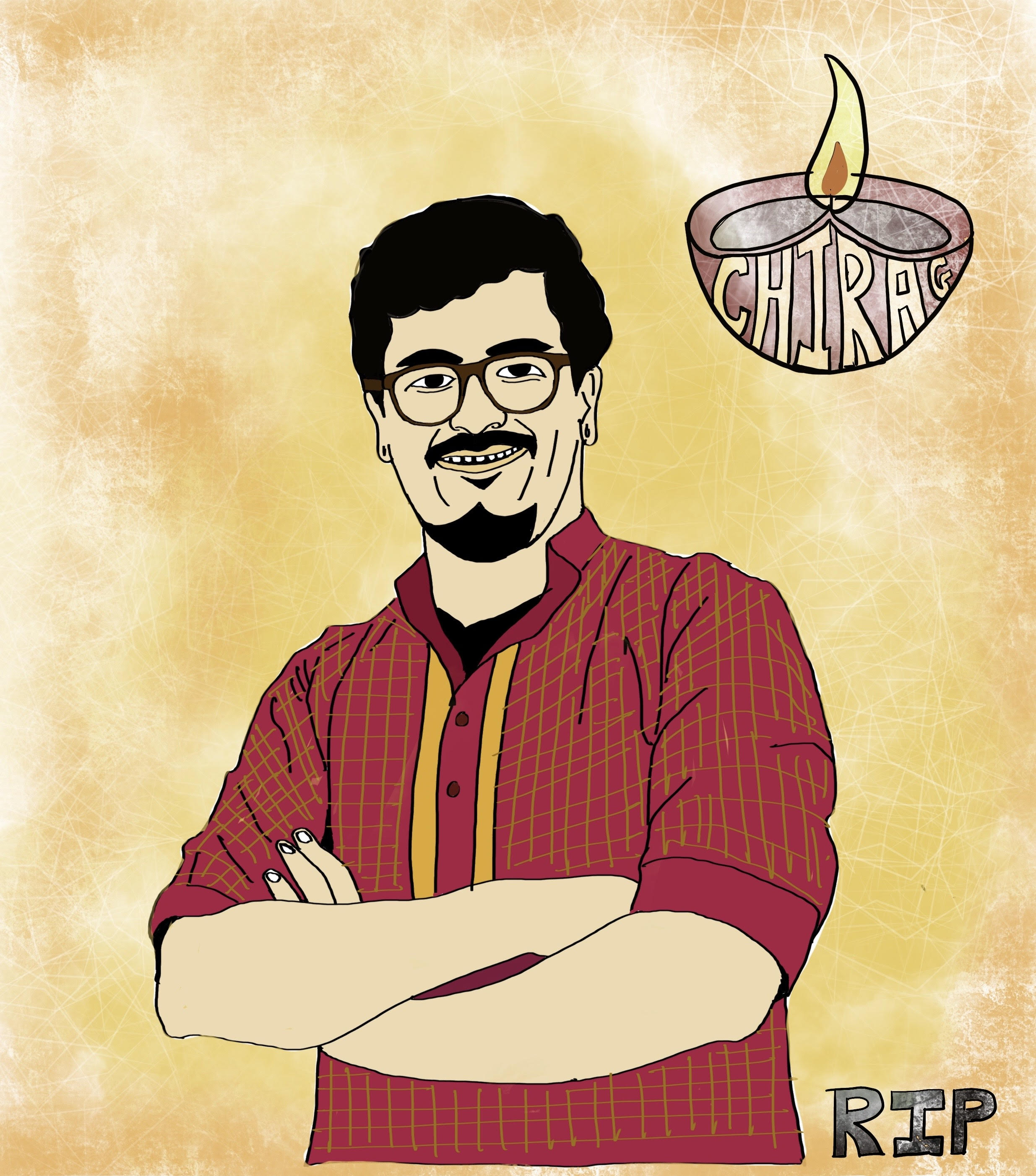 REMEMBERING CHIRAG
The Batch of 2019 expresses deep sorrow at the passing away of our dear friend, Chirag Gyanani. A few of  his close friends and colleagues have shared their fond remembrances and condolences here. 
PGP1 Study Group (Thejaswi Havisha, Sarthak Sagar, Rachita Sharma, Sudhir Yadav, Suraj Tarenia) Going down the memory lane we recall Chirag as someone who was a true friend. He was so mature and responsible for his age yet playful like a child. He was a funny and honest individual who smartly used sarcasm to convey his message. He helped the study group C7 steer in the right direction countless times both in an academic sense as well as a counselor on life. While many are confused about what to expect from life, he had a much clearer vision of what he wanted out of it. His ambitions coupled with hard work enabled him to be where he was. We hope he is in a peaceful state amidst beautiful music that he so dearly loved to listen all the time. 
Our thoughts and prayers are with the grieving family. May his soul remain in peace.
Love, C7
Sandipan Bala, Batch of 2019 Chirag was a terrific batchmate, my   favorite football partner at IIMA and above all a very kind-hearted soul. I am at loss for words. Praying for his soul to rest in peace.
Kevin Darji, Batch of 2019 Chirag and I were really good friends at IIMA. It is really tragic, shocking and sad, and am almost unable to believe that he is no more with us. At IIMA, Chirag was always very active, got involved with everyone and everything, and acted in a selfless manner. He was the Mr. Photographer, spent a lot of time to edit and make videos for the class. I especially got to know Chirag better and see his brilliance when we did one business case competition together. Chirag brilliantly combined his strengths of innate Gujrati business acumen with formal training of the MBA. We won the competition thanks to of Chirag, he handily beat all others using his amazing business insights and amazing execution skills. May his soul rest in peace, and may God give strength to his family to pass through such tough times.
Sandeep Ramachandran, Batch of 2019 Shocked to hear about Chirag's passing. Chirag as a very approachable friend who was always willing to help out his fellow classmates. We bonded over our common love for the sport – football. My condolences to his family, may they find the strength through these tough times. Rest in peace.
Rhythm Sodhi, Batch of 2019 The deeply sad news of the untimely demise of my colleague and friend Chirag has come as a big shock. He was an extremely bright and kind-hearted person whom I had the good fortune of knowing and working with at IIMA. Apart from his deep insights during class discussions, I was deeply impressed by his professionalism during the time when we were members of a case competition team. Also, I shall always remember the great empathy he showed in guiding me thoroughly through the exchange program as a member of the exchange council. It is difficult to believe that such a talented and caring individual is no longer with us. I pray for strength to his family in this difficult time.
Umang Agarwal, Batch of 2019 I was shocked and saddened to hear that Chirag is no more among us. He was such a humble and wonderful person.
My association with Chirag started at IIMA in 2017, where we were in the same section for first year. We occasionally had general discussions about life and studies. But I only got to really know Chirag when we got to be each other's neighbors in the classroom for one of the terms. He was usually a quiet person, who really believed in sharing knowledge. At the same time, Chirag had the enthusiasm and ability to lead meaningful long discussions on diverse topics. 
We shared a common interest in biking. I remember him travelling from campus in Ahmedabad to home in Baroda on bike and speaking fondly of it. We even rode together to Nalsarovar once, with a group of friends – a very memorable trip that was ideated and executed by Chirag. He quickly convinced a group of ~8 people overnight to travel together. This was the level of Chirag's rapport with his friends.
A real humble person, capable of having intelligent discussions and forming long-lasting bonds with friends – that is how I would remember Chirag. Unfortunately, the last we talked was during our convocation in 2019. May Chirag be at peace. May his family get the strength to deal with this great loss. Om Shanti!
Pranjal Mishra, Batch of 2019 It is hard to accept this loss. The news of your demise came about day ago, and it is difficult to find the right words for describing the sinking feeling it has brought along since. Images of yesteryear from the second floor of Dorm 14, from Section-C and from the LKP at IIMA are trying to impose a different reality. All these images are teeming with your jovial, carefree nature, generosity and beaming face. Upon confronting reality, these images signify much more than the loss of a friend. They signify that it is possible to cherish life, make it a bit fuller, a bit lighter, a bit brighter each day. Thank you, Chirag. May your beaming face grant us strength in this bereavement.
Vineet Gupta, Batch of 2019 To the family and friends of Chirag,
I was deeply saddened to hear that Chirag passed away. My thoughts are with your family in these difficult times. I had the pleasure of knowing Chirag for 2 years and living in the same dorm as him. We have shared playing cricket at nights in the dorm, having thoughtful conversations, organizing dorm events, working together as study group members and a lot of other things at IIM-A. Chirag was an amazing person, who kept everyone around him cheerful and positive. I feel so lucky to have gotten to know him and will truly miss him as a dear friend.
With heartfelt sympathy,
Vineet
Vinit Patel, Batch of 2018 May your soul rest in peace my friend. You were one of the sharpest, calmest and down-to-earth people in our IIM A dormitory. Strength to your family in these times, and Dorm 14 will always remember you.
Suyog on behalf of Dorm seniors from Batch of 2018 He was very soft-spoken, and we had a really good time playing cricket in the dorm with him. We will miss him.
Aprajita Sharma, Batch of 2019 I knew him since I hung-out at Dorm 14 but became close friends only after we took a course together in the final semester. We'd always meet before class, sit together during class, and dwell on philosophy for sometimes up to an hour after class. His perspective was so refreshing, from the course readings to just conversations quite literally under the tree. It is still hard for me to believe that I won't get to speak to him again, given I spoke to him on the night prior to his demise. He was so full of life, and we had almost a 30-minute conversation. He did yearn to get home since he'd been away for 10 months. All my prayers with his family for strength and for comfort in knowing that he is at peace, forever shining bright just like his name. I will miss you very dearly, Chirag!
Moksh Garg, Batch of 2019 I still cannot believe while I am writing this down that a guy so full of love and enthusiasm is no longer with us. Chirag & I worked together in Exchange Council and despite not knowing a thing about him prior to his joining us, we were quite fortunate to have him onboard considering how diligently he worked for the turnaround of lot of issues for the institute. 
He was indeed a warrior always donning a big smile on his face notwithstanding the situation. He touched lot of lives with his warmth and happy-go-lucky attitude. I am drowned with messages from different parts of the world, all of them expressing their utmost grief over his sudden departure. This speaks volume about how much we loved him for the kind of person he was.
It is truly heartbreaking that he left us so soon. Sending our love to the family. May he rest in peace.
Pauline, Exchange student I share everyone's deep sorrow. Chirag was such a generous, happy young man. It is hardly believable that all the energy and life that sprung out of him through smiles and good actions went out of his body. I can imagine the pain of his family and closest friends. Whatever they believe, I hope they can keep feeling surrounded with his love and with soothing memories of all the good moments they have had with him. All my thoughts go to him tonight, and to his relatives.
Andrijana, Exchange student One of the first people I met in India was Chirag. When I think of him, I always picture his smile that was so big that his eyes would close. He had incredibly positive energy that he would pass on to others.  I am extremely saddened by the news of his passing. May he rest in peace and his family find serenity.
Anders Rasmussen, Exchange student You were an absolutely great guy, and I will forever remember our great times together at IIMA. You have left way too early, and before our paths could cross again. You have already touched so many lives with your warmth. May you rest in peace, my good friend.
Valentin, Exchange student Chirag was my buddy at IIMA, he helped me all along my journey in India, was always smiley and kind to everyone. May he rest in peace.
Beatrice, Exchange student I will never forget Chirag: always smiling and witty, very caring and friendly. As my exchange buddy at IIMA, he was the first person I met on campus and he's been there for me until the end of the year, showed me the best walks around campus, helped me navigate the complexities of IIMA, taught me to appreciate Gujarati food… I'm deeply shocked by the news and I'd like to send you my deepest sympathies. May you find peace and comfort in these difficult times. And may Chirag's soul rest in peace.