HEALTHCARE – SPECIAL INTEREST GROUP AT IIMA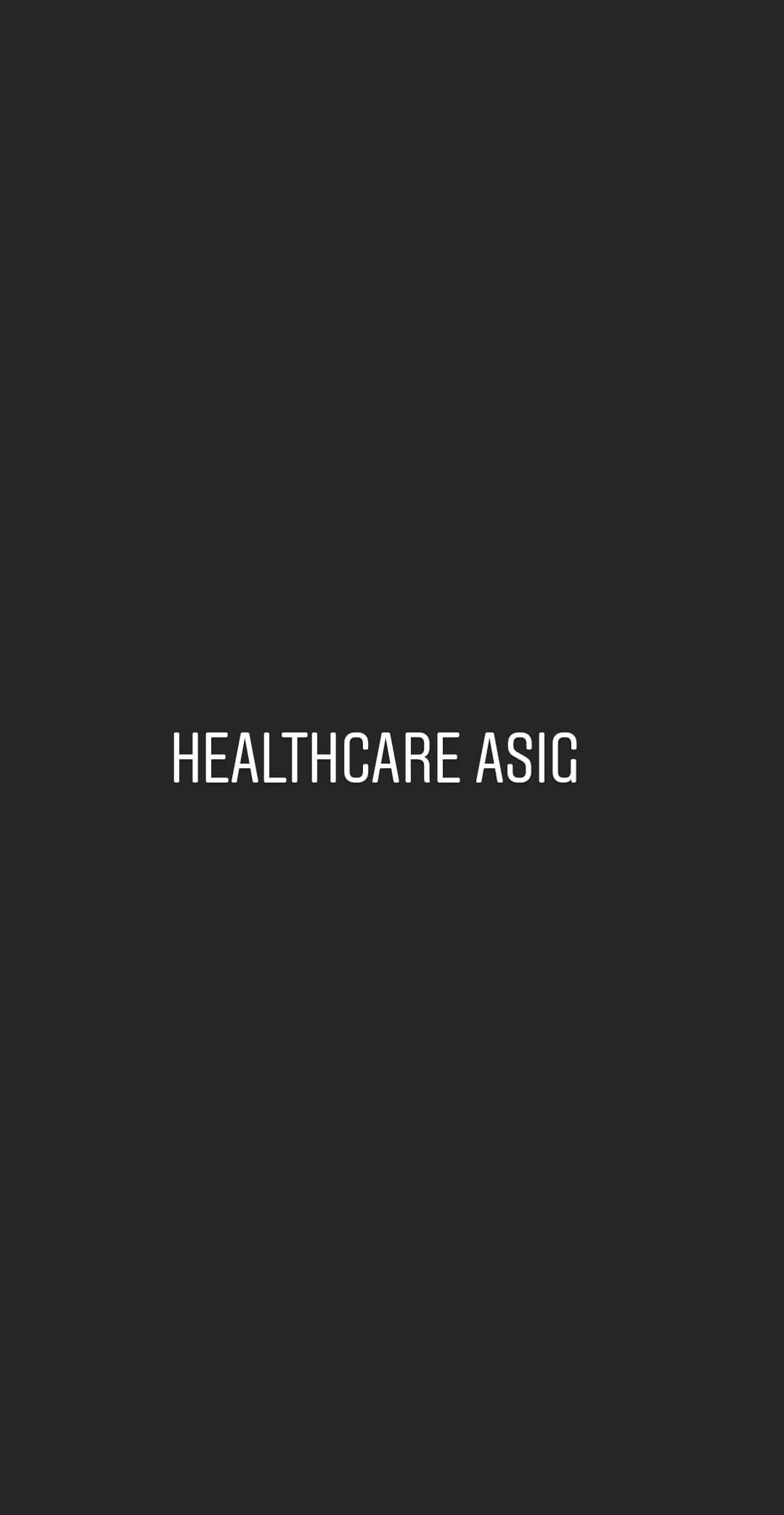 Contributions by Shweta Mani (PGP1999), Tushar Singh (PGP 1999) and Ulhas Joshi (PGP1977)
The idea of IIMA Healthcare SIG was mooted in 2018 as an important IIMA-alumni-focused initiative by Prof. Rakesh Basant  (Dean – Alumni & External Relations).
Unaware of what calamity was soon to hit the world, a group of healthcare-focused IIMA alumni (and, many of them are at the helm of affairs in various healthcare organizations), jumped at the opportunity to form a Special Interest Group for Healthcare at IIMA. The core team comprised Prof Viswanath Pingali, Prof Rajesh Chandwani, Mr Sudarshan Jain and Mr Manish Gupta. They moved speedily and the IIMA Healthcare SIG commenced its activities in February 2019.
INITIAL EFFORTS FOR THE IIMA HEALTHCARE SIG The initial core-team conceptualized the formation of the SIG, and its functioning with a four-fold-focus: 
1.  Providing inputs for healthcare policy formation
2.  Creating a platform for industry-academia-government interaction
3.  Enabling thought leadership initiatives
4.  Actively supporting healthcare entrepreneurship
Beginning with Alumni-chapter-wise pre-meetings, the initial efforts culminated in a formal kick-off session took place at IIMA in February 2019. This Kick-off meeting facilitated the understanding of the SIG's purpose, as well as classification of member-alumni according to their areas of interest or current engagement in the healthcare space.  
Mr Anurag Choudhury (Head – Alumni and External Partnerships) and his office speedily compiled a list of over 150 interested alumni. It was so delightful to note that the engagement profile of the healthcare-interested alumni members provided a broad representation of a number of healthcare specific areas – Health-tech entrepreneurship, Hospital care, Pharmaceutical industry (formulations and API), Medical diagnostics and devices, Healthcare-focused Private equity funds, experts from academia and healthcare consultancy, and persons engaged in healthcare specific policy matters. 
To enable even more convenient interaction in the Healthcare SIG, alumni were invited to join a special WhatsApp group "IIMA Healthcare SIG". Already this WhatsApp group has over 130 members actively participating. The group interactions are high and this has become a useful platform for healthcare-related knowledge and networking.  And, very soon, a number of activities were taken up actively. Some of the activities or events are described here.
PANEL DISCUSSION AT IIMA As a part of the SIG's endeavour to engage with IIMA's current students, a Panel Discussion on the Healthcare Sector was held in August 2019 at the IIMA campus. This was ably organized by IIMA's Panacea team and the IIMA Alumni & External Relations team. The panel comprised,
1.  Mr Sudarshan Jain (PGP 1977), Secretary General, Indian Pharmaceutical Alliance & Former MD of Abbott Healthcare 
2.  Mr Manish Gupta (PGP 1998), Co-Founder & CEO of Indegene
3.  Ms Meenakshi Nevatia (PGP 1994), Managing Director, Stryker India Pvt. Ltd.
4.  Rajiv Sharma (PGP 1996), CEO Sterling Hospitals
The panel discussion was moderated by Prof Viswanath Pingali. Besides describing their respective segments of the healthcare sector, the panel members highlighted the opportunities for aspiring healthcare-interested students in each segment. 
ACADEMIC & RESEARCH PURSUITS OF OUR SIG MEMBERS Meanwhile, significant academic and research work in the healthcare sector were taken up. 
Prof Arvind Sahay (PGP 1989) led a major study whose conclusions would have a significant impact in the government's pharmaceutical pricing policy. The study titled "Impact of Drug Price Control Order (DPCO) 2013 and National List of Essential Medicines (NLEM) 2015 on Access and Affordability of Medicines in India", (submitted in March 2020 to the Indian Pharmaceutical Alliance by Arvind Sahay & R Raghuram),  provides key insights to assess the efficacy of price regulation on affordability of and access to medicines. 
Subsequently, in August 2020, Prof Arvind Sahay released his new case study "Dealing with the Coronavirus: Pharma Industry and Government Collaboration in India", after his thorough study of the subject during the initial period of the pandemic. This case study was subsequently followed by a webinar where Prof Arvind Sahay is in dialogue with Mr. Satish Reddy, Chairman of Dr. Reddy's Laboratories & President of the Indian Pharmaceutical Alliance.
Prof. Viswanath Pingali, along with his co-authors (Prof. Amit Karna and Prof. Shamim Mondal) have been working on the impact of policy uncertainty on the pharmaceutical markets in India. They find the Indian firms are able to withstand an uncertain policy environment much better than the firms from the OECD countries. The study is currently under review at a major academic journal.
HEALTH-TECH SUMMIT IN MUMBAI Our SIG's focus on Healthcare Entrepreneurship received a boost through a major event planned in Mumbai in November 2019. The event planned was a joint initiative between the IIMA Healthcare SIG and TiE Mumbai – aptly named IIMPACT Health Conference – The Digital Transformation of Healthcare.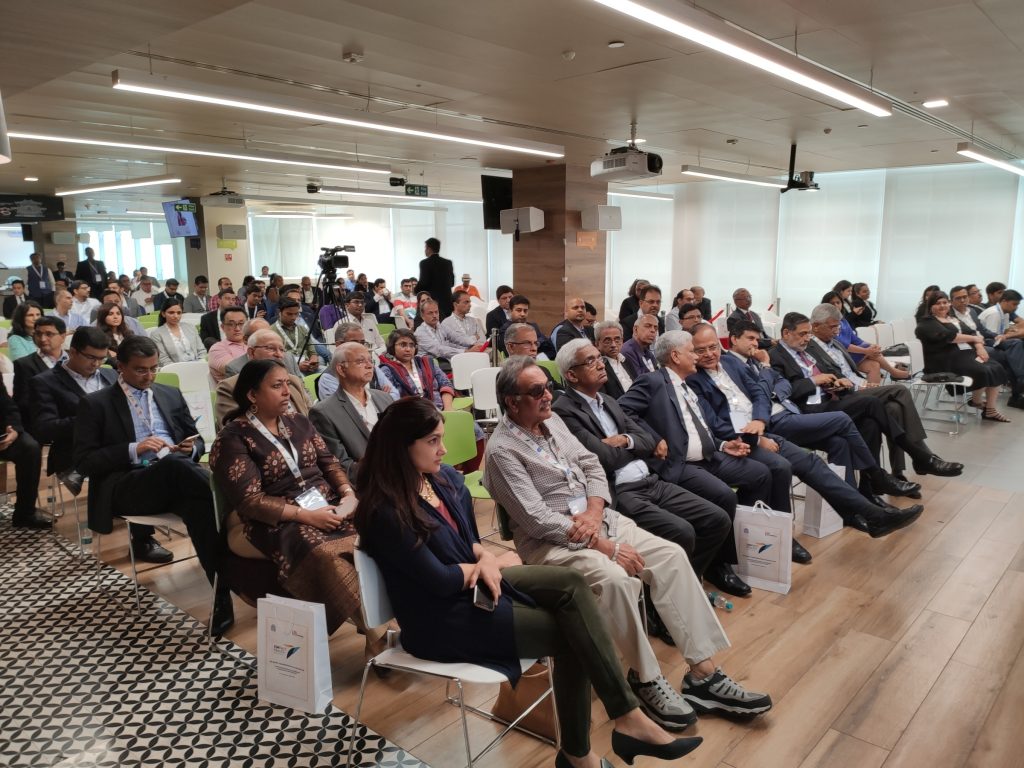 This marquee healthcare conclave was organized to promote, connect and foster the healthcare startup community among their peers and large Healthcare Companies. The conclave consisted of a start-up showcase that included 40 of India's most promising Health Tech start-ups and an all-day conference that was attended by over 250 entrepreneurs and leaders of Industry. The event was hosted by Abbott at their India headquarters in BKC, Mumbai on 30th November 2019.
The platform was dedicated to discussing how digital revolution continues to transform healthcare in fundamental ways. India is seeing its own digital health revolution. The speakers shared insights on the rapid growth of e-pharmacies, preventive health through wearables, use of AI to deliver treatment, clinic management via cloud-based platforms, rapid expansion in the use of big data, amongst others. 
Prof Rakesh Basant of IIM-A kicked off the event and set the context, followed by Mr. Amit Mookim, TiE and Mr. Jawed Zia, Abbott. Mr Pankaj Patel, Chairman – Zydus Cadila delivered the inaugural address.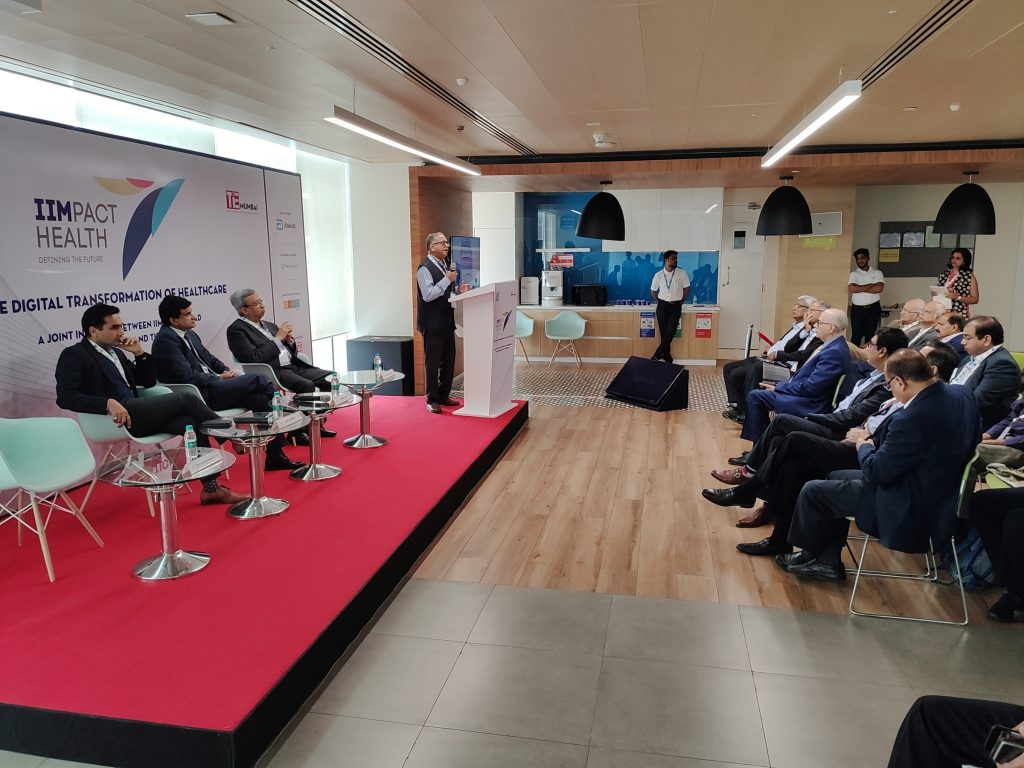 Prof. Viswanath Pingali, highlighted how technology will play a major role in improving the quality of care and pointed out that the next challenge in health-tech would be to provide healthcare access to the whole population.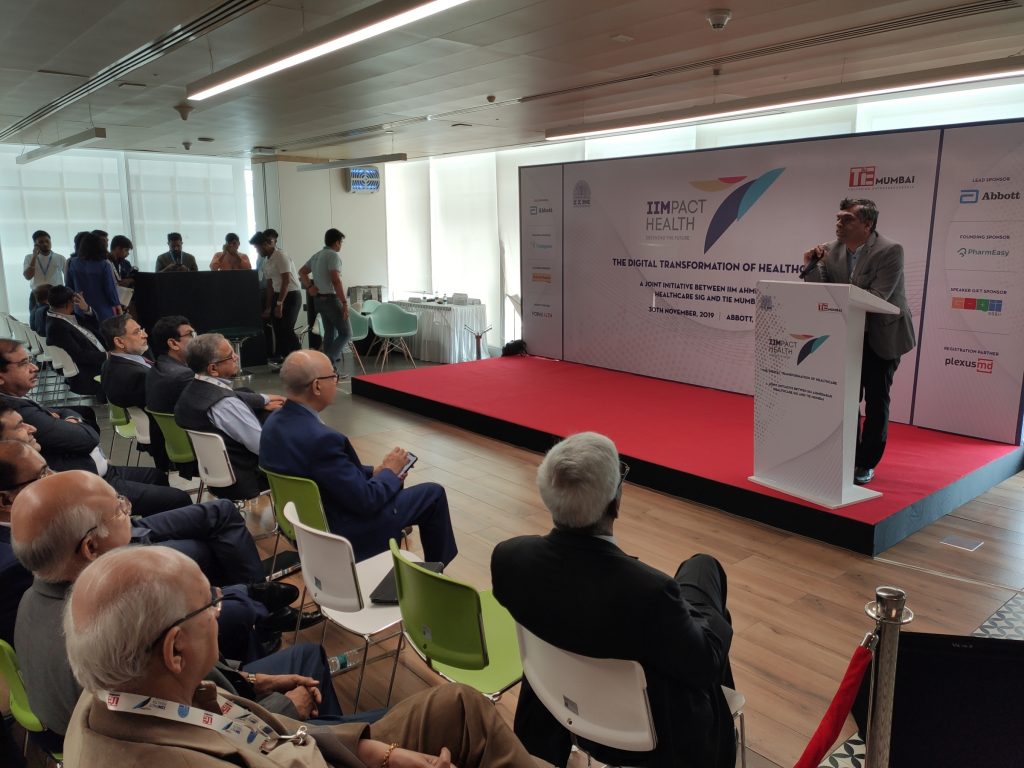 Mr. Gautam Kumra, Managing Partner India – McKinsey & Company pointed out that patient centric ecosystems can unlock full continuum of care. 
Mr. Prashant Gupta, Regional Business Lead, Healthcare, Microsoft Asia emphasized that organizations building healthcare solutions face significant challenges as the data needed for modern solutions leveraging advanced analytics and machine learning, can be difficult to access and is often segregated into different silos. The ability to digitally capture, annotate, and combine data to apply machine learning will transform the delivery of healthcare. 
Ms.Alka Goel, Founding Partner of Healthcare Fund Alkemi Ventures moderated a panel discussion on 'The opportunities and challenges in healthcare' with founders of young start-ups and incubators like igenetic, PharmEasy, Healthifyme, Doxper, myUpchar and BIRAC during a panel discussion on 'Scaling Healthcare Startups.' They believed that there are ways in which startups and large companies could come together to innovate and shape health sector.
Deepak Jayaraman, curator of award-winning podcast 'Play to Potential' chatted with health-tech entrepreneurs, Manish Gupta, Founder, Indegene and Vishal Gondal, Founder, GOQii, shared their respective journeys and insights into entrepreneurship, highlighting the diversity of the health-tech sector. 
In a session dedicated to showcasing the best start-ups in India, 3 start-ups, curated from a list of 45+ applications by CIIE and TiE, were invited to present to a Panel of VCs and Industry Leaders. The winning start-up 'Endimension Technology' focused on an AI based approach to diagnosing lung cancer. 
In a power-packed panel moderated by Mr. Vikas Bhadoria of Mckinsey, 'Using Technology to Disrupt Established Business,' Mr. Jawed Zia, the then head of Abbott's pharmaceutical business in India, predicted that technology would influence the quality and efficiency of services for better patient outcomes across the continuum of care. In the same panel discussion, Dr. Om Manchanda, Dr. Lal Pathlabs stated that Labs are getting closer to patients and emphasized the need to cater to the bottom of the pyramid. Ms.Meenakshi Nevatia, Stryker, shared her experiences and provided an understanding of the medical devices market with the audience on the differences between devices and medicines. Mr. Gautam Khanna, Hinduja Hospital, resonated the need to focus on the quality of outcomes. Mr.Venkat Changavalli, Advisor, Govt. of Telangana, highlighted that to make public private successful, the 3 Ps should be in place – political will, public servants who are willing and private partner who is capable and willing.
The Closing Keynote Speaker, Shri J Satyanarayana, Former Chairman, UIDAI and Chairman, NDHB Committee underlined the importance of creating an ecosystem rather than standalone systems. He stated that national digital health blueprint is a first step in building a digital health ecosystem in India.
Co-author of the book Bridigital Nation, and closing Keynote Speaker Roopa Purushothaman, Chief – Economist, Tata Group indicated that India's technology transformation can be different given that India's context is different. Other challenges in the country are driven by physical gaps and suboptimal system. India has a significant gap specifically in healthcare. This gap can be bridged through technology which needs to be specific to India's context. Professor Arvind Sahay and Mr Sudarshan Jain also addressed the very well-participated conclave. Significant to note were the tremendous and tireless efforts of SIG members Ms. Shweta Mani, Mr. Tushar Singh, Ms. Shreeya Jayaraman, Dr. Rohan Desai, Mr. Kalpen Shukla and others in organizing the Health-tech summit.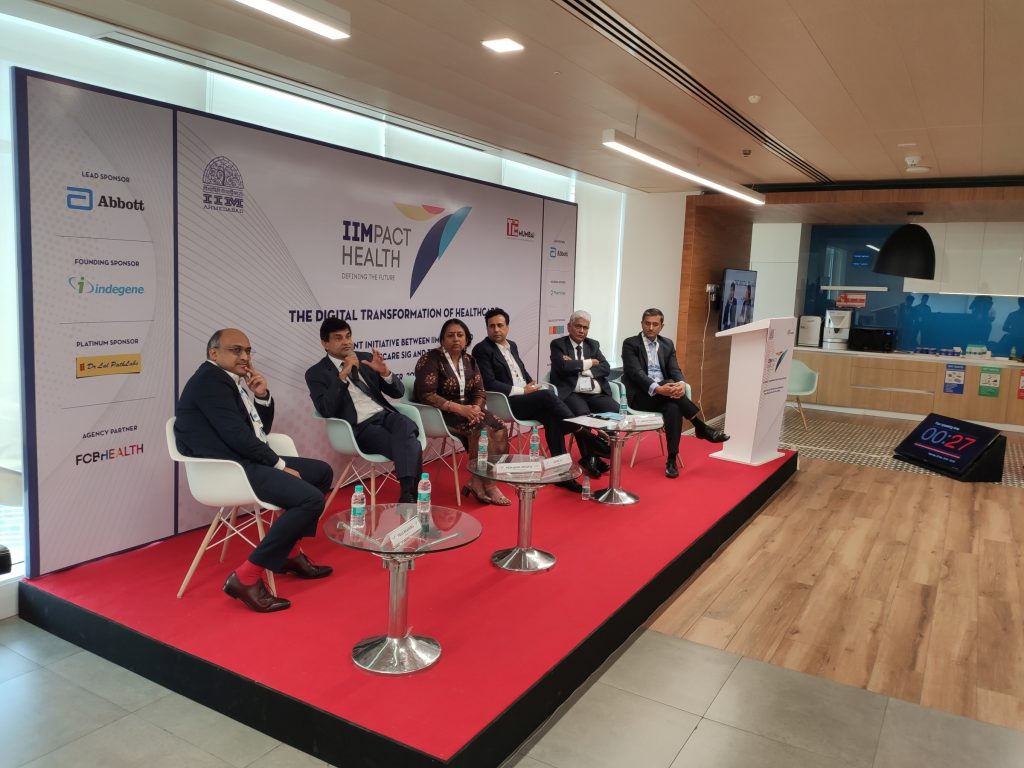 AT THE FOREFRONT TO HELP TACKLE THE COVID-19 PANDEMIC Even as the SIG concluded a year of functioning, more activities were planned, to be suddenly disrupted by the Covid-19 pandemic. But, who could have thought that this pandemic would trigger so many significant activities by SIG members in all the four focus areas of the SIG, in such a short time period. Some of our SIG members played a significant role in various areas, some of which are listed below: 
Dr. Dinesh Dua (PGP 1979) contributed on multiple fronts in the multiple positions he holds in the healthcare industry. In his roles as Chairman of Pharmexcil & Chairman of the Lifesciences Committee at CII, his diligent interactions with ministers and bureaucrats helped resolve initial issues related to the pharma industry's supply chain, and this helped in ensuring smooth inter-state movement of RM, FG and essential services. In the matter of supply of HydroxyChloroquine and Paracetamol, he put forth to the government, both domestic and international considerations, which facilitated the critical decisions taken. 
Srinivas Lanka (PGP 1985), senior pharma industry professional and Director on the board of well-known pharma companies, participated in committees of various ministries, including the one that facilitated the financial package to enable self-reliance in the Indian pharma industry. He was able to identify repurposing of one drug, which is currently under testing. He proactively created a discussion platform for over 100 scientists and doctors, and their suggestions aided ministerial deliberations and decisions. He also highlighted alternate medicine route for Covid-19 for consideration by the government's AYUSH department.
Sudarshan Jain (PGP 1977)'s efforts during the pandemic were visible on multiple fronts. As Secretary General of the Indian Pharmaceutical Alliance, he closely interacted with government and other public agencies, pharma industry associations and all other key stakeholders, in closely monitoring demand and supply of medicines, and helped ensure adequate stock of APIs, finished product formulations and channel availability. He also interacted with the International Generic and Bio-similar Medicines Association, the WHO, the Association of Affordable Medicines in the US, Medicines for Europe, and others, to understand any potential impact on supply of medicines globally. And, for about 15 essential drugs, coordination between the government bodies and members companies has helped ease medicine availability issues domestically, even as India continues to help nations in need of medicines. 
Prof Chirantan Chatterjee was actively involved the Virtual Healthcare Research Seminar Series 2020-21 of IIMA's CMHS, of which he is Chairperson. The virtual seminar will continue for some more months. Chirantan published various articles related to the pandemic. CMHS also launched Healthcast, a new podcast on Global Health and India. 
Rajiv Sharma (PGP1996), Group CEO & Director- Sterling Hospitals and his team faced a challenging situation at their hospital with sudden increase in number of COVID patients. Their efforts focused on multiple fronts – segregating COVID and non-COVID cases, speedy arrangement of appropriate safety gear for healthcare providers, appropriate sanitization of facilities, training and counselling of sample collection for COVID tests, and protocol for patient care. They used the opportunity to accelerate implementation of technology (tele-health, video consultation and so on) across their locations and facilities.
Dr Rohan Desai (PGP 2010), Founder & CEO of PlexusMD developed a free online training program; "Certificate Course in Management of Covid-19 (CCMC)" in collaboration with the Government of Gujarat.  PlexusMD facilitated preparation and delivery of the modules, in English, Hindi and Gujarati, by senior doctors and nurses with first-hand Covid-19 management experience. A large number of doctors, nurses and healthcare workers enrolled and completed the course. Rohan is now all set to roll out this training program to any other government or private healthcare facility. 
Siddharth Shah (PGP 2012), Founder & CEO of India's largest digital healthcare platform – Ascent Health and PharmEasy, used their proprietary technology for automating the Corona Virus Control Centre at the Municipal Corporation of Greater Mumbai. Among various things implemented, CovidAssistBot was their AI powered self-assessment Bot as per government guidelines. Their DocOn system was implemented to create and digitize the entire work flow for efficient monitoring and patient management for Covid patients at Mumbai's Kasturba Hospital. Also commendable was their campaign of gifting of masks to healthcare workers.
Dr. (Maj.) Mukund Kulkarni (SMP 2018-19) conducted many healthcare-focused activities during the lockdown, notable ones being his free tele-consultations, blood donation camps, Covid-19 testing for BOP population, and Covid-19 online and offline awareness programs.
Mangesh Wange (PGP 1994), CEO of Swades Foundation, engaged with the Government of Maharashtra and the district civic authorities in meeting the medical and personal protection equipment (PPE) requirements of healthcare workers and police personnel. They also provided daily essentials to the district tribals and urban migrant labour and slum dwellers. Well appreciated was their offering of cooked meals to Covid healthcare warriors at hospitals.
Shreeya Jayaraman (PGPX  2011) along with women from various IIMs came together to help in transporting over 400 migrants to their homes, and also provided masks, sanitizers, food and water for their journey. Their efforts had a good response. 
Sumant Bhadoria (PGP 2009)'s company Alfatek Systems, is involved with industrial rapid prototyping services, with special emphasis on 3D-bio-printing and additive manufacturing. During the Covid pandemic, they geared up their 3D printers to manufacture face shields, and promoted open sources designs for various Covid equipments and hand sanitizers. Alfatek Systems also partnered with multiple entrepreneurs to provide PPE products at competitive prices. 
During the lockdown period, Shrihari Shiddhaye (PGP 1992), Founder and Director of NextPlan Consulting, provided a platform for sharing thoughts related to the likely post-Covid work scenario. His well-attended healthcare focused webinars had significant inputs from pharma professionals in our SIG, like Ashok Jain (PGP 1980) – Executive Director of Micro Labs, Sudarshan Jain (PGP 1977), Siddharth Shah (PGP 2012), Prof Viswanath Pingali and others. 
Harkesh Dabas (IIMA 2011) is supporting a large program in the Ministry of Health in building and implementing a country-wide program management platform to support care and treatment. 
WEBINAR SERIES Towards enabling thought leadership activities, a plan is already in place to conduct monthly webinars through our SIG. 
The Healthcare SIG webinar series commenced with a webinar in early September 2020 "Government Industry Collaboration During Covid-19 and Way Forward for the Industry". Prof.Arvind Sahay spoke with Mr. Satish Reddy, Chairman of Dr. Reddy's and the President of the Indian Pharmaceutical Alliance on two broad aspects: 
1.  How did the Indian pharmaceutical industry, the relevant industry associations and the Indian Government come together to keep the pharmaceutical sector going at full steam? 
2.  Steps needed to ensure that the industry builds a sustainable advantage in order to not only maintain its position as "pharmacy of the post-Covid-19 world" but also enhance it substantively. The webinar was very well attended.
The next webinar from our SIG in October 2020 was on "Investors' Perspective on Opportunities in Healthcare", moderated by Mr. Manish Gupta, Co-Founder & CEO of Indegene. The panelists were Mr. Shashank Singh (Partner & Head of India, Apax Partners LLP), Mr. Dhiraj Poddar (MD, Country Head – India TA Associates) and Dr. Prem Pavoor (Partner & Head of India, Eight Roads Ventures). This webinar, too, was very well attended.
More webinars have been planned during the months ahead. These webinars will cover a wide cross section of topics and personalities in the Indian healthcare scenario.
We offer our humble tributes to the late Mr. D G Shah, an alumnus of IIMA (of the earliest PGP batch at IIMA), a senior Pharma industry professional, who after heading Pfizer in India, was Secretary General of the Indian Pharmaceutical Alliance. He played an important role in the initial phase of our conceptualizing efforts for the IIMA Healthcare SIG. In his memory, and to promote professional educational initiatives in the area of healthcare, the "IPA-D.G.Shah Best Public Policy Paper Award" has been instituted, supported generously by the Indian Pharmaceutical Alliance.  Tarun Jain, Associate Professor of Economics at IIMA, was awarded the "IPA-D.G.Shah Best Public Policy Paper Award- 2019" for the papers:
1.  Social connections and tertiary health-care utilization 
2.  Female leaders and their response to the social environment
WE HAVE MILES TO GO……. BEFORE WE SLEEP India has been recognized, the world over, for the commendable role played during the current Covid crisis. With its reach and scale across the globe, and with its demographic advantage, India will continue to play a prime role in all areas of medical care. Be it indigenization of medical requirements (such as for personal protection equipment) or playing the role of pharmacy of the world, the current situation has shown how Healthcare promises to be the most happening sector for many years ahead….with numerous exciting career and business opportunities. Our SIG will continue to proactively initiate activities and events to achieve its objectives.
We welcome more IIMA alumni, with interest and current or past association with the healthcare sector, to join this vibrant group of pharma professionals, working together with the common goal of promoting the growth of the healthcare sector.