 IIMA ALUMNI ASSOCIATION SINGAPORE CHAPTER
FEB – SEP 2020 ACTIVITY SUMMARY
The IIMA Alumni association executive committee took charge right in the pangs of COVID. It was the first AGM held virtually and heralded what was to become a norm for the year. The incoming committee was,
Deepika Deshpande PGP 93
Suraj Shetty PGP 05
Rahul Phondke PGP 95
Nayantara Bali PGP 88
Anand Nandakumar PGP 96
Saurab Nair PGP 11
Latika Ahuja PGP 86
The event calendar kicked off with a Trivia night conducted on 1st of May. It was attended by almost 40 alumni with families.  It was everything that a Trivia night would have i.e. Trivia and night.  The second generation of the alumni also turned out in high numbers to lend their team support. Several interesting Trivia questions were asked like,
Which Pritzker winning Architect worked on IIMA?
Which remarkable person has won an Olympic medal and a Nobel Prize?
What exactly were producers thinking when they made a multi crore dud like "Thugs of Hindustan"?
A huge initial victim of the COVID crisis was personal portfolios.  Most portfolios had gone down so low that you needed Scuba diving skills to bring them up. So, we decided to ask the experts. We had a Webinar "COVID-19 Crisis: Navigating Uncharted Market Conditions" later in the month covering portfolio management views during the crisis. Although no big secrets were revealed, we got various people joining in and we made sure we provided the digital shoulders of support.
As IIMA ages, so do the alumni despite almost every 40 + alumnus we know is running marathons.  Taking consideration of this, in June, we did a personal financial planning webinar, "Life Hacks: Financial Planning for Life's Uncertainties", covering the now increasingly relevant topic of wills, trusts, insurance etc.  Our learning was if you plan well, you can avoid the pitfalls of earlier generations, where the modus operandi was, "Where there is a will, there is a pray".
In August, we conducted Antakshari which was part Antakshari, part talent contest and part quiz show. Any more parts, and we would have had a Netflix season of our own. The first Alumni digital Antakshari was held on Friday, 14th August at 6 PM. It was successful as evidenced by the first cribbing for points taking place at 6:03 PM.
Team E (Vinay Dixit, Anju Dixit, Suraj Shetty, Sandhya Saxena, Avik Bera and Kalpana) won the competition with a "sound" margin …. that's what prolonged exposure to clichèd puns can do to you. Team A (Nayantara, Riddhi, Birendra Baid, Anu Sahai, Ravi Khanapurkar and Bhaskar) came in second.
While they were the official winners, a few other notable awards (to be pronounced as "Not able") need to be mentioned.
A) The "Meri Aawaz Suno" award – Won by Team D who believing in "Carpe Diem" seized the moment and belted out a melodious number …except that it was Team B's turn, who duly sang right after their sniggers subsided in 30 minutes.
B) The "Hum 7-7 Hain" award – Won by Team E whose 7 members started with different parts of the same song at different times in different scales.  It sounded like one of those distress calls by sea lions.
C) The "We are like this only" award – Won by our exec committee member mallu, Saurab Nair who with painstaking effort compiled a list of English questions only to see each and every member take the Hindi option and "tramble" upon his South Indian pride.
Guess him in the photo below…….he's the only one not smiling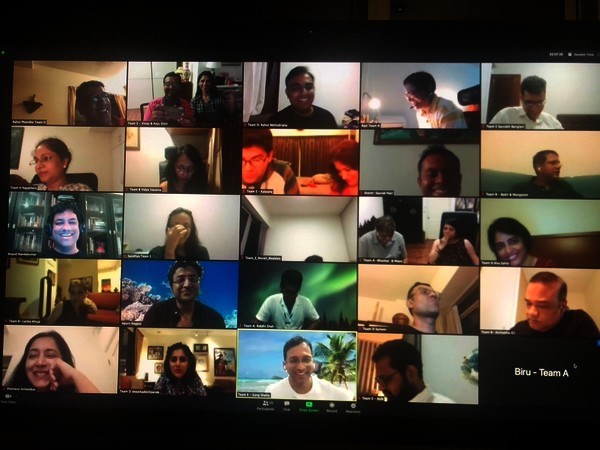 D) The "Hum" award – Won by team B, whose apparent understanding of lyrics was "Hmm …hmm …hmmmmm …. something something …. hmmm ". The only thing in common with the original number was that, unlike Celine Dion, it was rendered in the 20 HZ – 20000 HZ range.
We were grateful to Apurv Nagpal (PGP 93), the neutral judge, who despite the chaos, managed to keep a steady, unbroken, pope like smile throughout …. mostly because his screen froze up.
In September, we had a talk with Karan Bajaj, the successful author turned entrepreneur who recently exited his start up, Whitehat Jr, and discussed his views about life, education, entrepreneurship amongst other things.  It was an inspiring talk which also gave an inside view in to the road less travelled and a life less lived. Business like and philosophical in equal measure, it was conducted by IIMA alumni on behalf of the Pan IIM alumni community in Singapore.

We are also proud to announce the award of the Public Service Star, 2020 to Piyush Gupta (PGP 83) and the Public Service Medal, 2020 to Girija Pande (PGP 75) by the Government of Singapore. The alumni association congratulates them on this phenomenal achievement.
The association has been quite active considering what have been some remarkable times witnessing some remarkable never before events like entire cities being locked down, people being confined to homes for months and alumni being forced to watch Bobby Deol movies on TV. We hope to continue doing our best and keep the spirits and the tempo high.