A DECADE OF BUILDING THE BEER WORLD FOR THE FUTURE – FROM ST. ERHARD TO BIEROTHEK® GROUP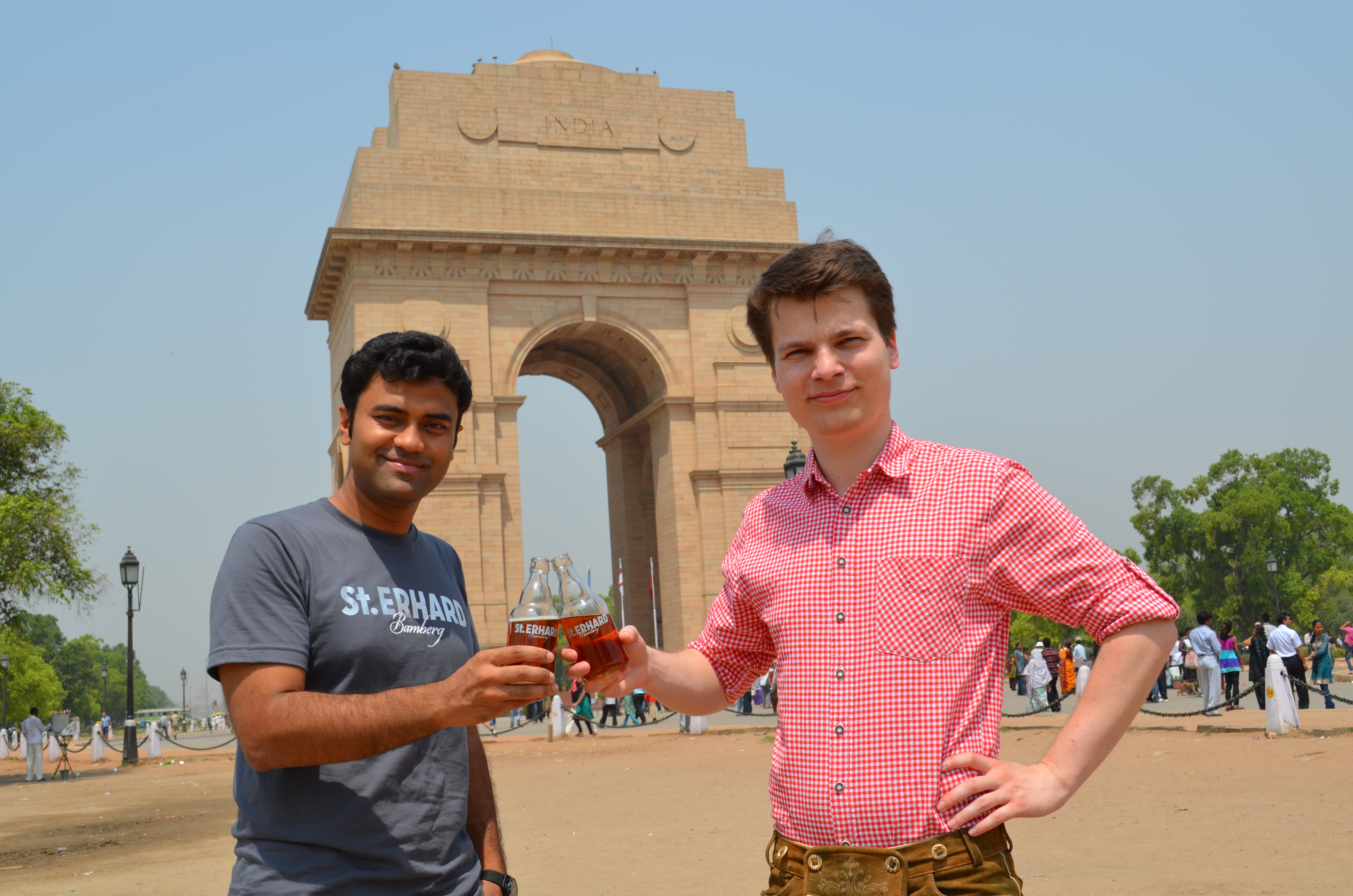 Recently, we came across a published feature in the Financial Times (Nov 2012), titled 'A network that runs from Bavaria to Delhi'. Digging deeper on the subject and clearly enlivened, we thought of reaching out to Mr Christian Klemenz (Exchange Student 2010) and Mr Vikanshu Bhargava (PGP 2011). With their entrepreneurial spirit and the support of a strong alumni network, they founded St. Erhard on June 30, 2011, a company that brewed german craft beer in Bavaria (Germany) and shipped it to India – in a first for our country. While communicating, it was updated that they still produce St. Erhard beer, but the business evolved to become Bierothek® Group in 2013, a specialist international retailer for beer specialities and one of the first climate-positive companies in the industry. Here, Mr Klemenz shares with us the journey so far, elaborating more on the vision and vision of building the beer world for the future.
It doesn't happen very often, so how was the journey of 'German beer enters India' in the year 2012? It all started with the ENVP course (Entrepreneurship: New Venture) of Prof. Dinesh Awasthi and Prof. Sunil Shuklain in the fall of 2010. I was an exchange student from Germany at IIMA and we were asked as a group to write a business plan for a new venture. I was always very much interested in entrepreneurship and brought in the idea of importing German beer into India. After returning back to Germany I always stayed in touch with my fellow team member Vikanshu Bhargava and we then started to work on making it a reality.
When you started, what was the competitive advantage for your product? How has it transitioned with time? We created a new brand from scratch, so we had to find another competitive advantage over heritage or history. Our competitive edge was rather the overall story and the modern design of our St. ERHARD bottles. In the starting phase, we were able to use PR as an effective marketing tool which helped us to get visibility, even on a global scale.
How did the network of the schools you both were associated with help in building St. ERHARD? The network and the reputation of both schools, IIMA and HHL Leipzig for sure helped us decisively in an early stage of the company. HHL's PR department, for example, facilitated a press article in Financial Times which yielded in demand from beer importers from countries such as Hong Kong, Mexico, and New Zealand.
What are your fondest memories from IIM-Ahmedabad? My fondest memories from my time at IIMA is the time spend with fellow students in the dorm. Be it playing chess, having rooftop parties, or working on group projects together.
How has the business evolved to become Bierothek® Group now, one of the first climate-positive companies in the industry? The export of our very own St. ERHARD beer brand was the starting point of the business, but it has developed and evolved a lot over time. We've now grown into becoming a carbon-negative craft beer retail group with multiple outlets in Europe. Today, our main business is the retail of other brands, but we still produce and export our own brands such as St. ERHARD.
For folks interested in the industry, what are the upcoming craft beer and brewery trends to look forward to? The global craft beer movement is in different development stages in different markets. Even though every market is unique, it can make sense to look into more advanced craft beer markets to better anticipate how the industry will develop in the upcoming years.
What plans are ahead for you in the alco-beverages business? Our main efforts go into digitisation and sustainability. We're currently expanding our e-commerce online shop into becoming an open marketplace where breweries can sell their beers directly on our platform. Furthermore, we put a high emphasis on sustainability. We offset all carbon emissions and plant trees for every purchase made. We believe that beer is a good medium for combining indulgence with climate action.