MAJOR VIKAS KUMAR GAUR (RETD) (PGPX 2007)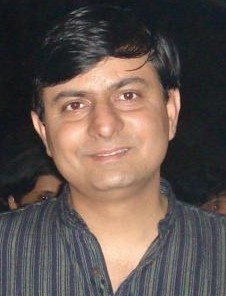 MAJOR VIKAS KUMAR GAUR (RETD)
(July 15, 1970 – Sep 26, 2022)
As we go about our daily lives, we rarely come across moments that leave us in a state of shock. When a smile that we so took for granted over the years disappears, and the news of a demise we least expected flashes right across our disbelieving minds.
With a profound sense of loss and grief, the PGPX batch of 2006-07 lost Vikas Kumar on Sep 26, 2022, in the UK.
An NDA graduate and an ex-army officer, Vikas was one of the braves on the frontline during the Kargil war. He was a well-rounded personality with many talents, and was the lead soul of many events and get-togethers for the batch.  A jovial, open hearted team member with a wonderful knack for relating to and getting along with everyone. His mere presence would spread a cheer among his batch mates. His performances in T-Nite are some of the cherished memories for the batch. His role as Amitabh Bachchan in the song 'Jhooma Chooma De' were talked about for days on campus after T-Nite. He was a popular candidate for study groups as he cheerfully carried more than his fair share of the load.
Vikas remained a cheerful and active participant in the group until the very end.
He is survived by his wife Vini, two sons Arunav and Manas, and the memories of his batch mates.
Bidding you farewell, Vikas. We are sure you will spread happiness and cheer wherever you are.
Here, you will be missed.  – PGPX Pioneers (2006-07)