CORAL REUNION (35 YEARS): CLASS OF 1987 (16-18 DEC, 2022)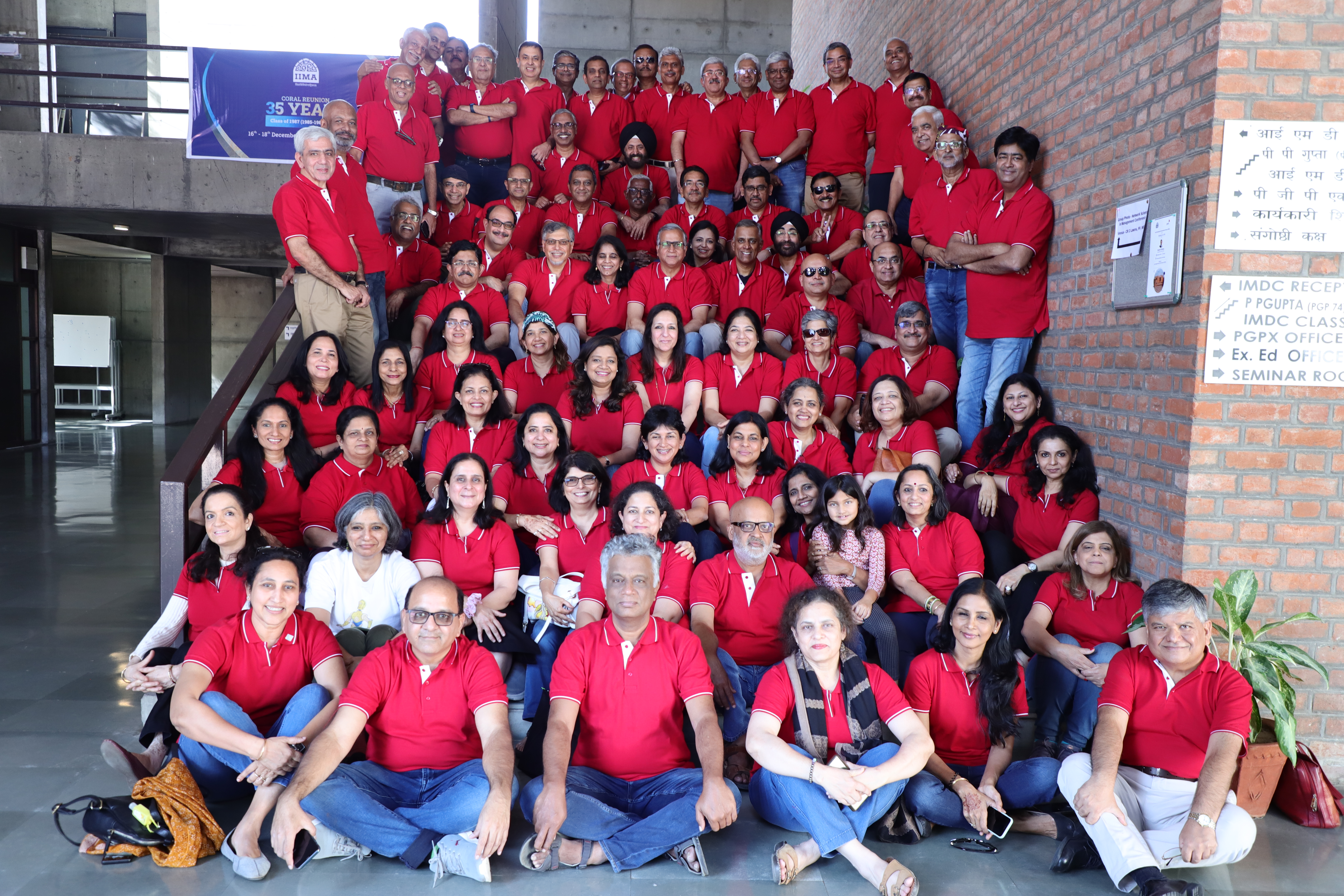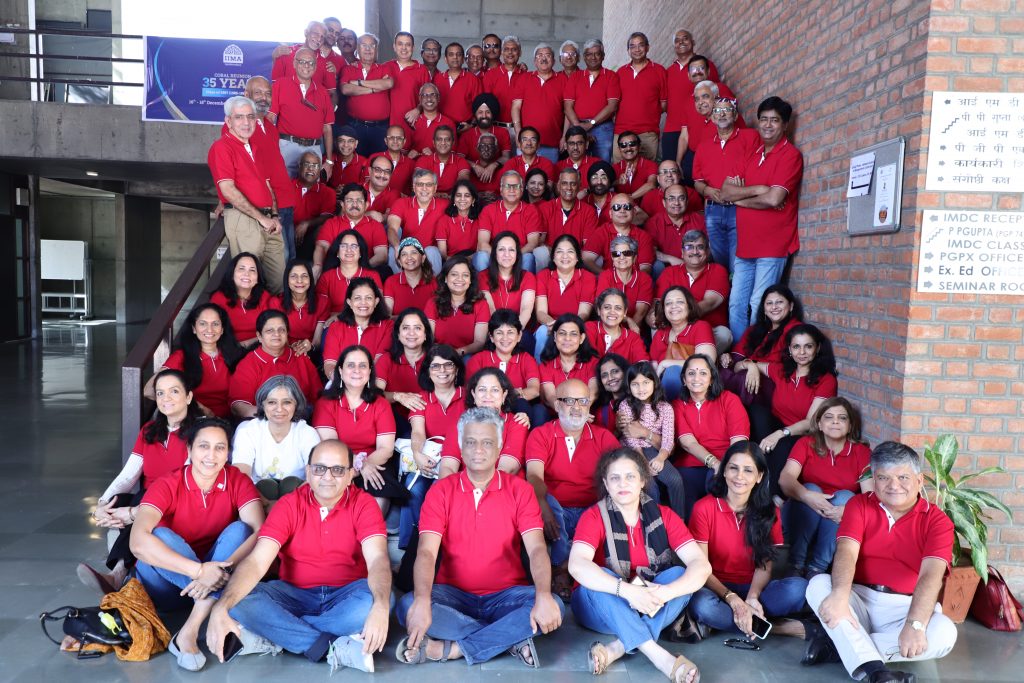 NOT JUST ANOTHER REUNION
T. Sreeram from Pune, on 2 engaging days
Leaving covid behind, the batch met for its Coral – 35th RU (36th?: The 30th happened in Dec'16) on campus. Sunil Samuelll Varghese, our lovable magician-turned-Mallu movie villain, kickstarted it all… and with many ayes, a Coral WhatsApp group was formed. Eeks, Eeks & Eeks then took over as the 3-member organising committee with help from Chiranjeev Kohli (now a venerable Prof), Sanjeev Kotnala, Rajat Jain, Harshit Jain & Jaya.
They came from near and far, some on 15th  Dec and most on Friday 16th: 60 of us PGPs, many with spouse. N Subbu of course landed a day earlier and as is his wont, made his customary rounds of all faculty blocks, complained that none of the Profs are at work, before realising that faculty have moved to the New Campus.


From Ahmedabad came Rambo, late because of traffic! From Bengaluru the elusive Hina (+ Aravind, also a PGP); Spiritual Shastri; proud BHU-ite Alok Lahoti (who gave us some fine campus photos);  our Food Ayatollah-cum-bard Dinesh Gopalan (+ Neela); the silent-achiever GL Pramod.  From Chennai our first-family Venkatesh + Vinita; the only guy who looks as young as in 1987: Eeks (+ Priya); sassy Sashi; the gentlemanly Anand Kumar; Bridge couple Sunil Varghese (+ Srihari); our Billy Bunter-turned-sadhu Srikumar (+ Srividya + niece). Hyderabad  was represented by just-retired Manikkam; our Singham Umesh Sharraf ; the warm Vivek Zulu Sehgal (+ Sulba); the couple who account for half the Bawa population in the South: Manek Daruvala (+Kerban);  Smiling Smeer Goel (+Smriti); Kolkata by the elusive Sanjoy Dey resurfacing after 35 years!
Mumbai was as usual well-represented by Navratna-teli  Sumit Malhotra (+Ravinder); space-photography whiz Richa (+nieceji Vandita who refused to come on the dance floor with geriatrics); the ever-beaming Shrijeet (+Ratna); the silent accumulator Birdie Naganath (+Priya); Marketer-cum doodler-par-excellence, author  Kotnala; the suave Giri Giri Peg (+Laxmi); Corporate-nautanki Sandeep Dasgupta; the boyish  Akshay Mehta; thesaurus Vinod Menon; ever-smiling Harshit (+Juhi);  ever-ready with-all-facts and ever-enthu Gauravi; soft-speaking but tough lady Jayashree.


From NCR came the formidable Manoj (+Tanuja); the man who knows everybody, N Subbu; ever-ready-to-fight-for-a-cause Meenakshi; now back-in India Shor;  dabbled-in-many-things Ankur Appu Mittal (+ Shalini); LNG-expert Ravishankar; the last of the Congressmen  Sanjay Bareja; forever-laughing new Nani Namrata (+ Rajinder aka Prem Chopra); I am-not-as-serious-as-you-think Vidhu (+Manju); Packaged-foods expert SP Singh;  ever-ready-to-organise-an event  Rajat (+Mona); Part-time-prof, full-time-entrepreneur Anchal Jain; surprise visitor  Money-can't . Pune was represented by alleged-Puneite Shrikant Gokhale (+Saloni) and myself Sreeram/BFT (+ Jayashree)
Pardesis came from Singapore represented by adman Krishna; seriously funny Prof Seshan Ramaswami;  Development Banker PS Srinivas;  from USA our fittest batchmate Fish + ever-smiling Jaya; the unassuming Deepak Gurnani (+Kiran ); the Kishoreda of the batch Shiva; Greta Garbo Champa Saigal; now-Canada-now USA Hari; watch-man Kapil Kapoor: from Dubai came Banker Harjitu (+ guaranteed better-half Shammi);  ready-still-for-any-game or quiz, Eli (+ Uma); I am driving-at 140mph-as-I am-messaging Gyanu.
After the customary meet and greet where everybody was pleased that the other had put on weight and lost more hair, came the first item on the agenda: Campus walk. Our old dorms look forlorn – most may be demolished, except for a few to retain the old façade. The New campus has a swank sports complex with squash, indoor swimming pool, steam & sauna rooms and 3 shuttle courts: Now Varghesmon has 3 places where he could twist his knee. Campus walk was followed by a scintillating chat with current PGPs: Just that none of them turned up! So as is our wont, we all engaged in soliloquy and clapped for ourselves….
Post-tea followed Second Life: i.e. Life beyond the ordinary/ Corporate life: Presentation by batchmates and display of their books, art, photos, woodwork, etc. Rambo amazed us with his Woodwork, Alternate Education, Humour, books (Look up Luckfogic.com (He was always poor in his spellings) / Neotiny.in/ Taradiddlesmithy.com). He also suggested we see 'The Intern'; told us about the power of Griffes: Extraordinary gestures. Both suggestions ably implemented by Bill Clinton.
Kotnala showed us some of his brilliant doodles, spoke about his writing on Hindu customs, festivals in 'The Ignorant Hindu'….. and in passing, that all the weight he has lost is due to cancer! He amazed us by his continued zest for life, positivity and complete lack of self-sympathy. Hats off Kots!
Benjamin Button Akshay Mehta then spoke on his plans and actions to live to 120. He suggested that we eat less, make every morsel meaningful. He blogs at GrowYoung@SubStack.com. Sunil Varghese spoke of the power of Bridge (look up www.mastermindbridge.co), for fun as well as to save us from dementia, Alzheimers, etc. He also zapped us with a card-trick leaving us clamouring for more! Sandeep Dasgupta jumped on top of a table and spoke on how the world of theatre helped him in life: This man has been stage-acting for the last 15 years (in addition to his Corporate acting of 35 years)! Richa Arora took over to speak on her tryst with Fine Art B&W photography and zapped us with some scintillating photos of spaces.
Dinesh Gopalan, our Food Ayatollah also told us to make lunch our best meal, eat light (at night), shun processed foods like plague. SP Singh, with his lifetime of working in processed foods, suggested otherwise! Unable to reconcile with such conflicting advice, we gorged on our multi-course dinner beyond our stomach's content…. Hina looked relieved that in this clash of the titans, what she peddles (Diageo booze) did not get the treatment. Shastrigaru  told us to 'Find your gift, give it back'; to self-publish books ('Use Kindle Direct Publishing: No expense, only effort'). Jaya spoke passionately on Collaborative Philanthropy… ISDM context (Indian School of Development Management).
Books by our batch authors were on display of: Kotnala (4), Umesh Sharraf (2), Thosar(2) ,  Appu (1), Sandy (1), Rambo(1), Ravishankar(1). Also displayed were Doodles by Kots & paintings by Sandy.
Dinner we were free to have at the IMDC or go out in dorm groups. D1 chose to go to good old Vishala. Where else would we in D2 go?
Day 2: Saturday 17 December 2022, started with Ahmedabad Heritage walk for those interested. The rest of us lolled about the campus or made valiant attempts to get out of bed just in time for breakfast.
Then the formal session on Being an Entrepreneur conceived by Rajat started with a Panel discussion among N Subbu, Ankur Mittal, Sashi, moderated by Harshit. The panellists  shared their challenges and pleasures of being an entrepreneur. Rajat, Namrata and Harshit spoke on the good work being done by PadUp Ventures, Rajat's early stage Tech startups accelerator with the sole purpose of creating entrepreneurial success. Eeks held a fireside chat with one of our earliest stars Fish on his journey from the time Infy was a 1Mn USD Co; his premature on-line health venture; and his ever-grand ambitions. Manoj Kumar shared the story of his ValMore Action Advisory to deliver multiX growth.

Dinesh Gopalan on 'Path to retirement' gave us some sensible tips for retired life:  consolidate & simplify our assets; sell the white elephants and rent what we need; ensure joint names in assets; do our nominations;  write a will; surrender our Life Insurance policies after retirement; do our debt investments in MFs as they are tax-efficient and hassle-free….
A fun-filled Quiz anchored by Harshit Jain included pages from SM Sundaram's college-time personal accounts, revealing some unmentionable activities. Meenakshi, the tireless warrior, made a strong case for alumni involvement going beyond funding to be actively involved with the Institute. Director Prof Errol D' Souza shared details of the many academic developments and also the need to rebuild the old campus primarily because it has become unsafe for residents.
The gala dinner followed. Our-time Profs who were nice enough to join us for dinner: Indira Parikh, Rail Raghuram, Ravindra Dholakia, Venkat Rao, BH Jajoo eagerly chatted with us. Then followed the highpoint of the RU: Talent Show! Gauravi and Shiva were the star attractions, whenever they stopped singing, they started singing! PS, Rajat, Harshit were the surprise elements. Every Tom, Dick & Hari was on the floor with completely un-coordinated steps, reminding us all that even elephants must learn to dance. Vidhu's wonderful recitation of 'Madhushala' was a delight. The event went past 2 am and then shifted to a classroom, such was the enthu and the unwillingness to leave our early-adulthood days ….
And then 18th morning onwards we started trundling back home…. With promises to meet wherever soon.
But for Eeks and Chiranjeev Kohli (who fell sick and sadly had to skip it though in India for the event), this RU would not have been so engaging. Thanks Vinita for our lovely red T-shirt. Rajat  announced that the next g2g will be organised by the NCR  gang in February 2024, drawing much cheers. So, till we meet again, bye…