JOIN HANDS TO SAVE HANDS: A 1991 BATCH INITIATIVE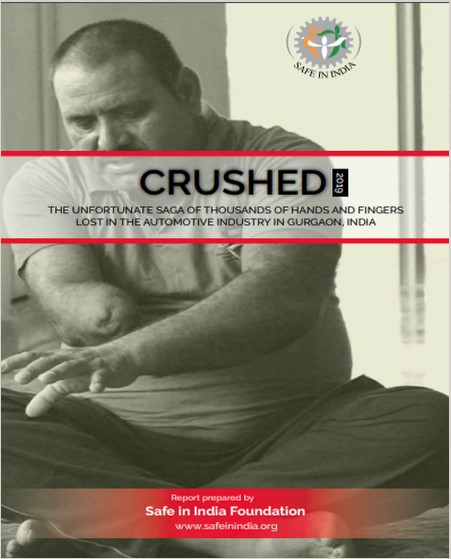 Launch of Report "Crushed" by Safe in India Foundation
As reported by Vinay Dixit, V Krishna, Roy Cherian (IIMA91 alumni) and Ganesh Mahidhar (IIMA20)
93% of crush injuries in Gurgaon happen in the supply chain of Maruti, Hero and Honda! The numbers in other auto-sector hubs for other brands could be similar. We can change this, together!
Call to action: As IIMA alumni and as influential leaders in the country, we request you to look at the safety of workplaces you influence and/or manage including in your supply chains. Please challenge the cost-benefit of safety with a long term view, to make India a productive and socially-conscious producer of goods. We can do this, slowly but surely! Spread the word!!
August 7, 2019 marked the launch of a sobering report on industrial accidents in the Indian auto-sector supply chain, under the title "Crushed" at an event co-hosted by Director, IIMA and Safe in India Foundation ("SII"), an IIMA91 batch initiative, led by Sandeep Sachdeva, Ravi Gulati and Prabhat Agarwal.
The initiative deals with the problem that "20 workers lose their hands or fingers every day just in Gurgaon". SII assists these injured workers with their ESIC (Employee State Insurance Corporation) healthcare and compensations, and helps drive systemic change in ESIC services for Indian workers and auto-sector supply chain safety. In the past 3 years, SII has assisted 2000+ workers with their ESIC healthcare and helped them receive Rs15cr+ compensation.
This launch event was the first one of the three step road-show. The panel discussions highlighted the tensions between various stakeholders but also supported Safe in India in its solution-centric approach. Here are a few excerpts:
Prof Errol D'Souza, Co-host and chair of the panel set the context in current auto-industry down-turn "Bad times are good times to look at long term sustainability issues…many firms are looking up their supply chain and saying it's time for us to take responsibility… France is the first country to pass a law requiring companies to do due diligence and take responsibility of what is happening in their supply chain." (See Prof D'Souza opening address video). 
Dablesh Kumar, an injured worker, worries: "There are companies which do not want safety for workers" (See Dablesh's video).
Manmohan Bajpai, another injured worker, requested: "I just want you to talk to higher levels officers, that in addition of rate, quality and quantity, car and two-wheeler companies should demand safety of workers in their supply chain" (See Manmohan's video).  
Mr Saji Narayanan, President BMS wants that "Safety should be a worker's fundamental right";
Mr AS Raju, Maruti Suzuki believes that "Companies which do well on safety do well on other business aspects".
Mr Rajiv Khandelwal, Aajeevika Bureau: "Crushed' is a powerful indictment of automobile industry's brutal neglect of its workers. In its data, interviews, images and insights it gives the government, industry and the civil society of India a superb opportunity to bring justice and relief now! ".
Mr Ashim Roy, NTUI: "Business has no morals and therefore we have moved from business being liable to being responsible".
Mr Kamal Jaswal, Common Cause: "It is very urgent to put in place the task force that is conceived in the Report".
Mr Sunil Parekh, FICCI: "I will support including the subject of safety and livelihood in the mandate of the Business associations. Somehow it has never been included"
(See Full IIMA Panel discussion/Q&A video)
Mr Sandeep Sachdeva, Safe In India presented the Report Findings: "Both the government and the OEMs are responsible…Let's focus first on Power Press Accidents which are 52% of all…Do challenge us too" (See Presentation of Report Findings in Hindi at Gurgaon and in English at IIMA):
93% were making components for Maruti-Suzuki, Honda or Hero.
83% of machines had no/malfunctioning safety sensors.
48% of workers felt excessive production pressure from supervisors.
52% accidents happen on only one type of machine – the Power Press.
70% were in lower tiers (2/3/4) of auto-sector supply chain.
65% were below 30 years of age and a similar percentage were contract worker.
47% lacked or had poor quality of safety gear.
67% were given their ESIC insurance card on or after the day of the accident!
Mr Ravi Gulati, Safe In India: "I am sure all are moved by this tragedy…we should really look at how the cars and two-wheelers, we use, are being made and hold these brands accountable."
(See Full Gurgaon Panel discussion/Q&A video).
The audience Q&A raised several difficult questions around India refusing to sign the ILO Convention 155 of 1981, SII's lack of understanding of the role of caste-system in workers' plight, a higher need to use media/social media to build pressure on stakeholders, and country's failure to have a legal system that delivers justice to workers.  They also expressed a desire for the expansion of activities of Safe In India, to other parts of India, and an expansion of its services.
This event was followed by a public launch in Gurgaon and a closed room stakeholder meeting at the Ministry of Labour. Sh Santosh Gangwar, Hon'ble Minister of Labour, supported the Report and its recommendations: "I would urge the industry, governmental organizations and specifically the auto industry to work on the basis of this report to find practical solutions, and improve the overall industrial safety standards". (See Minister's full video address). 
Media took serious interest in the subject, with good coverage from HT, TOI, Scroll, BT, FE, etc. See the launch media coverage here.
This journey has just begun. Safe in India have been asking the industry and the government to form a joint task force. Ministry of Labour, ESIC and Maruti-Suzuki have started engaging well. They now need other auto-sector players including sector associations to come to the table too and will keep escalating matters until they engage. Let us join hands to save hands!

PS: The report "Crushed" can be accessed online here and all the above videos are available in the Safe In India Youtube channel. Pls contact sandeep.sachdeva@safeinindia.org should you have any questions and/or suggestion or if you/your contacts can help in several areas listed here.