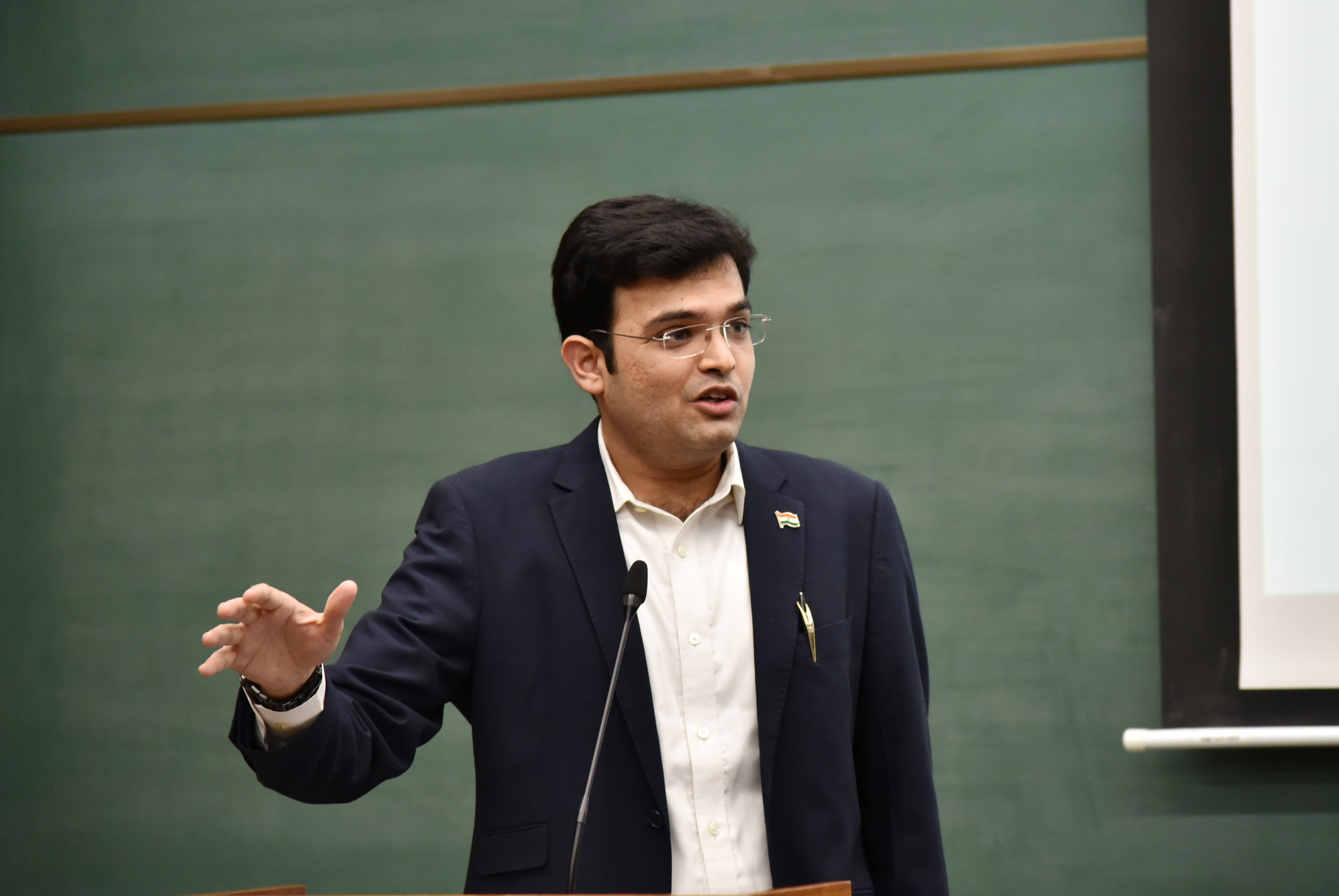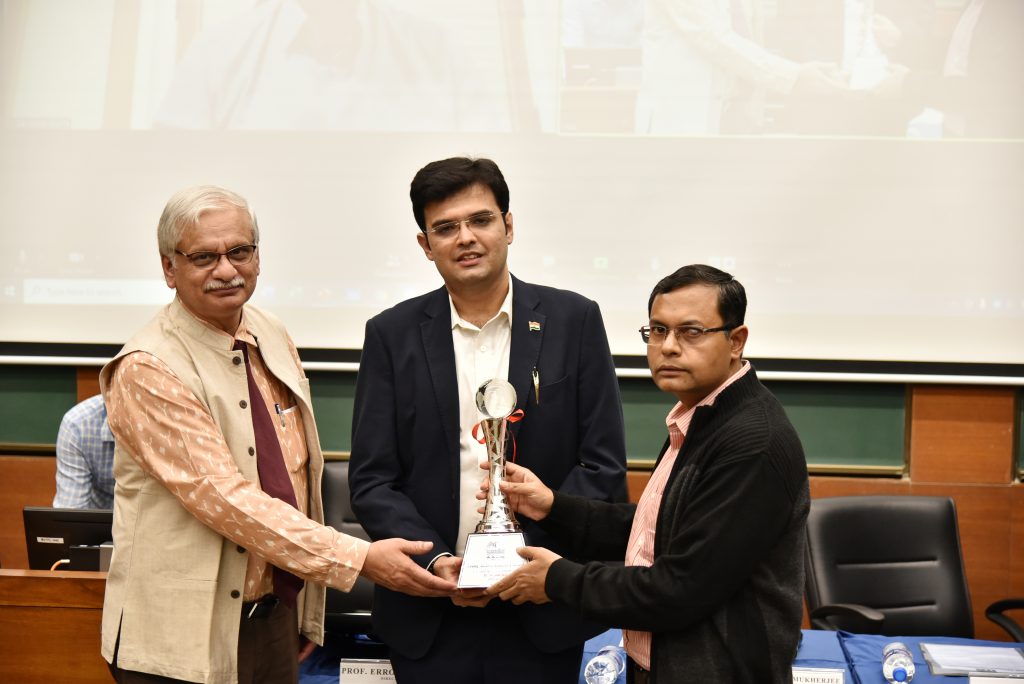 DHAVAL JAIN (PGP 2012)
YOUNG ALUMNI ACHIEVER'S AWARD – 2021
PUBLIC SERVICE
Mr Dhaval Jain is the Indian Administrative Service Officer with the Government of India since 2014. He has been awarded the President's Gold Medal for his outstanding performance at the academy, amongst many other national accolades. His stellar contributions in public administration have led to him being invited to present his work to the President and Prime Minister of India. The US Government also selected him to represent India amongst 24 countries in their most prestigious exchange program – the International Visitors Leadership Program or the IVLP. He has also served as the Municipal Commissioner of Howrah, West Bengal, and was responsible for managing more than 60,000 Covid-19 cases in the city during the pandemic. He currently serves as the Managing director for West Bengal Agri Marketing Corporation Ltd.
What does the YAAA and recognition mean to you? It means a lot to me, especially because in my IAS interview they asked me, "Why are you going for IAS after IIMA management degree?" I expressed that this is the best use of management education that I can take forward. For me, this thought stands validated today because I'm getting this award. Further, it is a responsibility that I take in terms of the hard work and the zeal that I should continue putting in the right direction. This award is a big motivation.
Additionally, I think this award, in a way, helps build that trust in the current or coming students that public services is a career path after IIMA, especially when the government or public services organisations don't come for placements. Considering this, this recognition by the alma mater means a lot for me, personally.
How does it feel to be back to the alma mater? What are your fondest memories from the campus? I have not told this to anybody but I'll share an experience here. I was working in Delhi on an assignment, and I was supposed to come to Ahmedabad for some work. So, every time I came to the city, I made it a point to visit the campus. I had that old PGP id card that I used to show at the main gate saying 'I am an alumni'. Upon entry, I used to walk on the grass barefoot across my dorm D12, come to the Placement Office, click a few pictures and even eat at the student mess sometimes. This always brought me back to the many memories.
If I were to share about the fondest memories from a lot many, it has to be the times I have spent in the dorms. I believe the dorms are where the culture of IIMA actually resides. This is why we are very connected to our dorm mates and still have a lot of interaction on WhatsApp or Telegram groups. I remember the dorm naming, which is unique at the IIMA campus. There is a culture in the way the senior batches interact and connect with the junior batches. We used to share intimate stories and the seniors were very creative to come up with nice dorm names for each of us. In our case, they named us on Mahabharata characters through a dorm naming that happened across one night.
I also cherish my time at the Placement Office. I remember vividly the time that I used to spend with the team, 8-10 hours at a stretch in those formal shoes till the placement process gets over. After the dreadfully hectic day, you go back to the room, having cold coffee, spring rolls from IMDC, just laughing, giving high fives and just having fun. These moments will always stay with me. I will never forget that one offer from the recruiter that I got in the parking lot of IIMA. I was one of the negotiators for the offers. So, once the placement was over, we were supposed to walk the company out as a good gesture. I warmed up a bit more and walked to the recruiter's car with 'You need to give us one more offer'. He was putting his luggage in the dicky of the car and was completely taken by surprise. One more offer can be a life-changing experience for someone and it was important to me. And, he somehow signed the placement at that moment straight away. That had to be the highlight for me in my entire PlacCom tenure.
From big corporate dreams at IIMA to bureaucracy, what influenced the transition? I always feel that IIMA is a place that transforms and pushes us to expand our boundaries. The rigorous pedagogy and the surprise quizzes at IIMA prepare us for the unstructured world where we start pushing our limits and competing with ourselves. I believe, at some point, today or tomorrow or in a short duration of time, the canvas of the corporate world will fall short for us. I have seen it with many folks for IIMA, where they wish to contribute more and make a bigger impact, but their corporate jobs are holding them back. I feel this is where the transition happens because somehow the canvas and the impact zone is far bigger in public service, especially when one is prepared for this 'pushing the limits' kind of environment.
For me, it was a personal decision. My family, especially my grandfather, always wanted me to get into Civil Services. I never took it seriously until an incident made me rethink my priorities. I was working for a consulting firm and got an offer to take up a project in New York. I was really young to take that up, so I asked my boss, "Why me?" hoping that he will say something special about me. Instead, he candidly responded, "Because you are a low-cost resource." He was not wrong economically from a business perspective as I was definitely cheaper than a US guy put on that project. But, this hurt me. This is when I decided to never do a job in my life where a person, in seconds, will find my value in terms of my hourly wage. I am still on good terms with the boss, but that trigger helped me come to the other side for my own self, of course with the expectations of my family in the subconscious mind.
Your efforts across multiple domains in West Bengal and its districts, ranging from 'health, education, skill development and transport' have been highly recognised for their impact. What has been the most challenging assignment until now? What is your success mantra? The most challenging and interesting time has been the short assignment with the Ministry of Mines in Delhi. So, my Secretary called me and shared that he really wishes to work against the illegal mining which is going across the country. Illegal mining is something where nobody wishes to explore. We took the project and luckily, I had done some bit of image processing as a part of my engineering. So, the team realised that we can actually bring up a space application and satellite-based monitoring system of these mining areas and the leases that have been granted by the government. I spent a lot of time at ISRO and BISAG-N in Ahmedabad. We came up with this monitoring system that compared two different time shots of a leased mining site through satellite imaging, processing software and geo-referencing. So, any mining activity outside the marked area was generated as an SMS trigger. This was extremely sophisticated in comparison to the traditional system of reporting illegal mining that involves many different authorities and processes. We also implemented this system in 3-4 other states in a span of just 3 months. A few of them have adopted it as part of routine functioning. This was a path-breaking initiative that I took and I was also appreciated and selected to present this idea to the Prime Minister of India and the Cabinet Secretary at Vigyan Bhawan.
The initiatives undertaken by you during the recent Covid-19 pandemic have been crucial in mitigation across Howrah. What were the key challenges you faced with intricacies involved in managing a crisis and its aspects? It was a very tough time, especially the time when it began and we had no idea what we were facing with the lockdown. I was recently given the charge as Municipal Commissioner at Howrah which is an extremely congested city with 21,441 per sq. km. for the recorded population. With the nuance of the pandemic that had a highly transmissible spread, it was difficult to keep everybody safe. This was a time when nobody was ready to go near the first deceased who passed away due to Covid-19. This was the first covid-related death and the fear was immense. At this time, I realised that the government machinery is considered to be the first responding machinery in the country, but how are we supposed to motivate people employed for basic civil services to come out of their homes and serve their duties. I mean, they also have families. But, we had to cremate this body. It became a natural sense to me that I have to reach out to the crematorium operators, van operators and ambulance operators to make this happen. I started visiting their homes, sitting with their families, discussing the risks and safety measures. This motivation was the only way out to inspire these critical 'human' contributors to join the fight against the pandemic. During the first cremation, I also had to be at the crematorium to set an example and build confidence. This was also the time when we reached out to the deceased family, giving them an option to come down and pay their last respects. In this scenario, the family denied joining us. It affected me deep that here we are talking about people who are paid Rs 8000 and 9000 a month, and they are the people who are risking their lives to pull bodies out of the ambulance, bring the bodies to the crematorium with the utmost dignity and also pay the last respects in the absence of family members. It is unbelievable that this frontline group is the one that generally goes invisible as our hierarchy is such. With this experience, I realised that these workers are the most important clogs of the municipal services and they deserve undivided respect for their unconditional services.
In 2019, you were the only representative selected from India to represent the country at the International Visitors Leadership Program at USA selected by the US Department of State. How was the experience? It was fantastic. It is the most prestigious exchange program of the US government and to be a part of it, you have to be selected by the U.S. Embassies across the world or the Consulates in the cities. You can't apply for the program. This has been an interesting experience as I was the only person from our country with participants from other countries. We all went to the US to experience the government functioning there, with perspectives from so many other participating countries at one platform. So, it is a great learning experience.
I remember that I was posted near the Bangladesh border in North Bengal, spending a lot of nights stopping human trafficking across the border. One day, the members from the US Consulate came over to my office and I was surprised with them knowing about my anti-human trafficking work as this wasn't something that was publicised. I was still on probation then, and my only further interaction with them was for panel discussions or seminars that I was interested in just for knowledge intake. One fine day, they got in touch again to discuss this program with me as a potential participant from our country.
I will also share a funny episode here. During the program, one of my co-participant was the opposition leader from Slovenia. After the course was over, their government got into power and he gained the position in the ruling party as the Foreign Affairs Minister. Now, he visited India and there were senior ambassadors receiving him at the airport. He asked them out of nowhere, "Where is Dhaval?". I was pretty junior in the hierarchy and this was a surprise for everyone as nobody knew me. Still, I received a call from one of the ambassadors sharing this with me. So, this is the connection and network built during this particular program. For me, it has been a life-changing experience.
In terms of the learning, I was very impressed by federalism in the US where individual freedom is the most protected. I feel this is something that we can adopt and there are many things that other countries can adopt from us too.
Being in public life with no focus on self-glorification, what do you feel is your most satisfying accomplishment? I think it has to be the President Gold Medal that I received from Shri Pranab Mukherjee. This is the most prestigious award at LBSNAA Mussoorie which is awarded to the best officer trainee of the batch. This is the most emotional moment for me as when this award was due at the Mussoorie Academy, we weren't aware that I would be receiving this accolade and it was more of a surprise. My father is someone who has been strict, disciplined and refrains from showing emotions easily. He has never attended any of my convocations or PTA meets in school. But, to my shock, he was attending this ceremony with my mother. So, when the award was announced on the stage and the President took my name, I saw my father crying like a baby. At that moment, I realised what more I can do to make my family and people close to me proud. It was the culmination of most of my journeys.