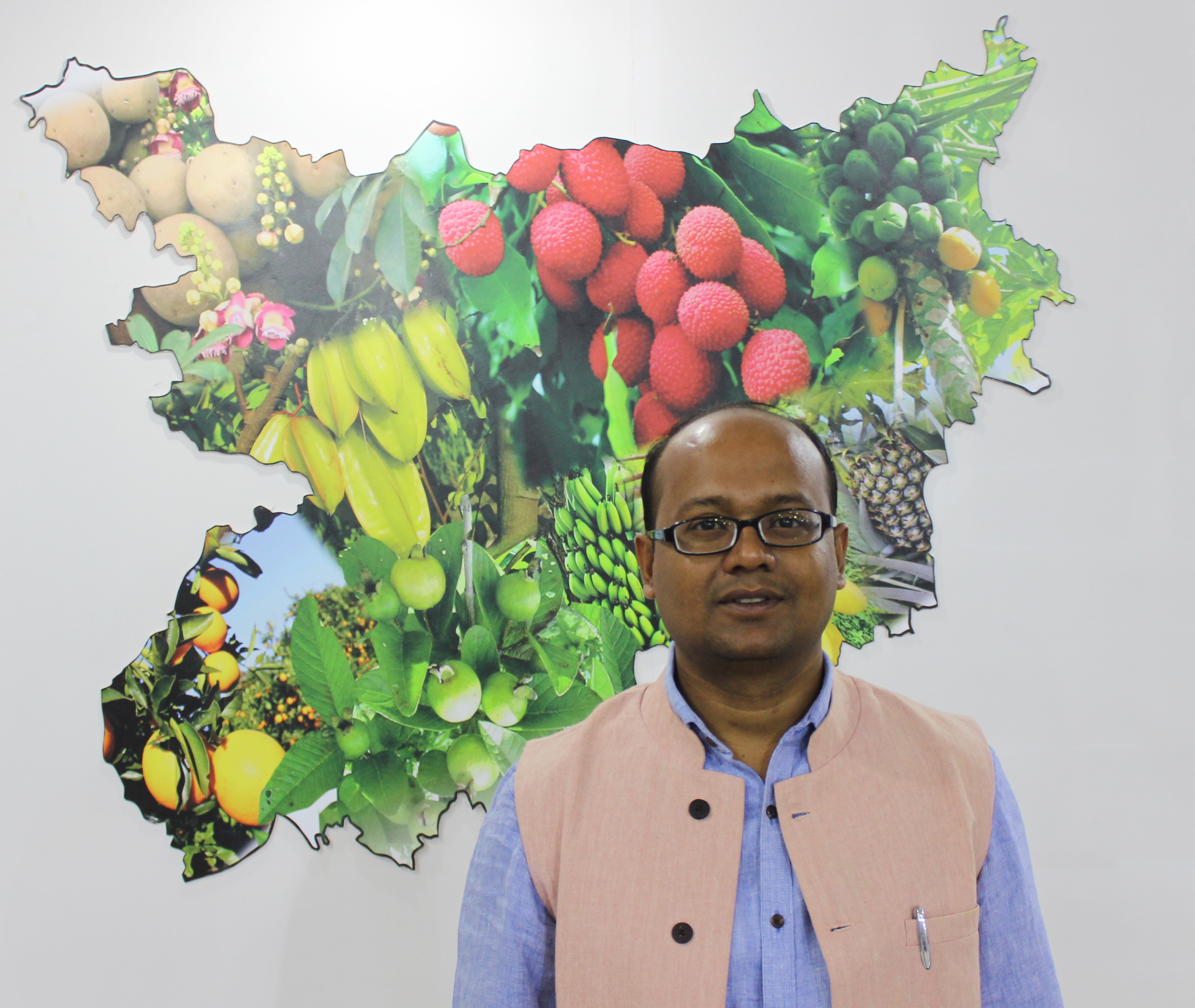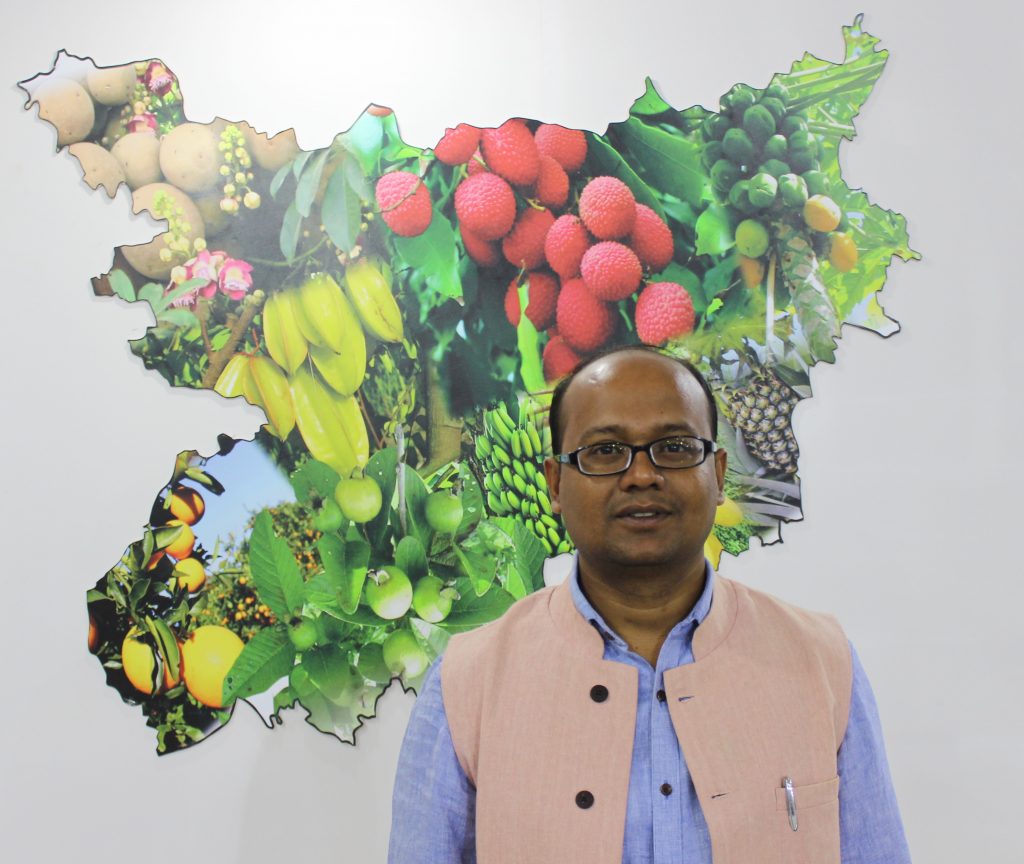 KAUSHLENDRA (PGDABM 2007)
YOUNG ALUMNI ACHIEVER'S AWARD – 2021
SOCIAL SERVICE
The founder of Kaushalya Foundation and Samriddhii, Kaushlendra dropped out from placements to revolutionize the vegetable market in India. Born in a village in Nalanda, Bihar, Kaushlendra grew up seeing the marginal farmers struggling to be part of the mainstream economy. Developing a vigour for their upheaval, he pursued agricultural engineering from the Indian Council of Agriculture Research, Junagadh, Gujarat. Subsequently, he worked with a firm that enabled him to communicate directly with farmers in Andhra Pradesh about various drip irrigation techniques and products. During his stint at this firm, he cracked CAT and secured a seat at IIMA. He was also awarded a gold medal for academic excellence. Following IIMA, he shifted base to Bihar to work at the grassroots level by establishing cooperative ventures with the local farmers. These ventures have made it possible to have an alternate and cost-effective supply chain to help small farmers sell their horticulture produce directly to customers. His integrated and inclusive model for the vegetable value chain is to be adopted in many states of India. Next, he aims at making education accessible to all, ensuring that everybody has an opportunity to participate in the knowledge-based economy at large.
What does the YAAA and recognition mean to you? I am humbled to be recognized as a young alumni achiever. It means a lot to be recognised by my alma mater that has provided a solid foundation to me which in turn has enabled me to accomplish a lot in my life and for the community at large.
What are your fondest memories from the campus? The last time I visited the campus was in 2019 for a social entrepreneurship workshop organized by Prof Anil Gupta. I was invited to speak to the participants.
About the fondest memories from the campus, each moment spent at IIMA counts. It is difficult to choose a few, as it was every day that I learnt something new, each day was an experiment and a positive experience in its own. It is through my association with IIMA that I have grown in all aspects of my life, as a social entrepreneur, son, brother, husband, father and a normal human being. If I have to highlight the best memory from IIMA, it has to be the group meetings where I actually learnt to cooperate and collaborate, while competing with my group mates. These meetings were fun as we all were probably the only ones in the class who used to take the least possible stress of the assignments. The memory that comes to my mind is when people were in awe when I, someone from the FABM programme, scored the highest in the Cost Accounting course. There was this particular time again when I cried inconsolably for scoring an F grade in a Economics course. The peer support was immense during that time, again marking the relationships we built at IIMA important. The memories are so many and countless.
The integrated and inclusive model for the vegetable value chain by Samriddhii is recommended to be adopted across other states of India. What influenced your efforts in redesigning the vegetable supply chain, especially in Bihar? In this journey, I owe a lot to Prof. Piyush Kumar Sinha. He was instrumental in getting together the like-minded students and faculty to form a social interest group to focus on social issues with a focus on backward states in the country. While the group was quite informal in nature, we all used to meet each other religiously every week as an action-focussed group. It was during one of these meetings that the idea of vegetable value chain cropped up and we all worked together in getting this idea in shape. Subsequently, in the last two months at IIMA, I had started interacting with potential funders who could help this idea forward.
Your work as a social entrepreneur is widely acclaimed and impact stories are immense. What drives you and is your success mantra? How would you describe your journey so far? It has been amazing and very satisfying. When I started, I never thought that one day this model could become a policy of the government, it could inspire others to take this route of social entrepreneurship, motivate many to return to their home lands and do something for the communities there at large.
In terms of your outreach, there must have been immense challenges. Would you like to share about them? If I talk about the farmers associating with Samriddhii, it was more of a social shock for them than the income shock. It was indeed difficult for the farmers to believe in somebody who came to their village, knows nothing major about growing vegetables and is talking about big stocks. It took them at least 8-9 months to understand why I wanted to work with them. I still remember my first meeting with the farmers in Bada Hasanpur village, which is 40kms from Patna. I was here with Mr Vinod Yadav, who was the first farmer to associate with us. As we started, we realized, within 5 minutes, the entire assembly had left, with disbelief in my efforts towards collective action and work at the grassroots level. So, it did take time and tested my patience, but eventually, when they started trusting us, there was no looking back.
What challenges and limitations did you majorly face in the current Indian horticulture ecosystem? With the advent of malls in the retail sector, you know with large format stores that also sell vegetables, we did lose our primary customers, the urban educated class, to modern retailers. Here, we had to diversify into other crops such as pulses. Later, we faced other problems like, leaving the retail space all together and becoming an aggregator. These are typical challenges associated with the large ecosystem where we have many stakeholders with ever changing dynamics.
With all the difficulties in the initial two years, we did find our solutions to the issues. As a team, we decided that instead of competing with the modern retailers and burning our cash, why not collaborate with them! We started working on associating with the retailers as our customers by making certain changes to our supply and value chain. We perceived that these modern retailers are ultimately catering to our customers, making this a win-win situation for everybody. Currently, through the changes we incorporated and adopted, we are the largest player in organized value chain management of vegetables and fruits in eastern India, I believe.
There are very important elements to your organizations and their activities that set them apart from other similar initiatives in the space. Would you like to highlight a few of these elements? The major difference is in our structure, as we are a social enterprise that is driven by collective action. We are not a commercial entity, as we follow a low-cost model. What sets us apart from retailers is our ideology that focuses on co-existence and inclusivity, where we focus on creating value for everybody, ranging from our farmers to the customers we serve. Under every circumstance, we ensure that we find channels to ensure that the fruits and vegetables from our farmers are reaching the consumers. We also undertake many innovative initiatives to ensure maximum impact, with a focus on 'quality brand' and not 'mere commodity'.
Also, our organization has always had the ability to adapt to changing market requirements. So, when lockdown hit us during the pandemic, we switched to offering free transportation of the produce across many districts in Bihar. It was difficult to get the required permissions from the government, but consumers needed the supply and farmers needed to sell their produce. So, we took the initiative to take the lead, in order to help the marginalized farmers during the struggle where they were predisposed to many relative risks.
According to you, as you have been working with the farmers at the grassroots level for so long, what can be the systemic measures taken to ensure sustainable farmer incomes? We as a country need to find ways to increase investment in agriculture, especially towards the marginal farmers. So, we need a paradigm shift in public policies where we need to start thinking about the small scale farmers specifically and focus on facilitating private investing in rural areas. Also, we need to promote crop diversification in a true sense. We also need low-cost storage infrastructure at the panchayat level, that is conducive to marginal farmers with small lands. Further, we need to innovate and promote technology which is at scale and gender neutral.
What are the milestones that you wish to achieve next? We have so far focussed our efforts on agriculture, but with the pandemic, we wish to increase our scope and focus on education to benefit the communities at large. In this view, we started Buniyadi Shiksha school six months back, with five others opening in a short time. Focussing on low-cost quality education, we have volunteers to support the initiative who are dedicating 2 hours per day to the cause. This is a step towards contributing to the knowledge-based economy where education is of utmost importance.
At a personal level, what are your future plans? Moving forward, I wish to work on making education the pivot to socio-economic empowerment for all. I want to move in the direction of creating positive reinforcement for the kids in rural India who spend their childhood by engaging in meagre jobs with no focus on education. I aspire to empower these kids to achieve the inevitable and be contributors to a growing economy in their future.
What would be your advice to others who wish to be social entrepreneurs? The first thing I would tell them is to take a pen and paper to write down their objective behind this thought. This field is not at all about name, fame and money. So, during a period when one ventures into this and reflects on looking at their own batchmates with many materialistic possessions unlike you, it would then these objectives that you wrote on the paper would get you back on the real purpose. Here, we are talking about the systemic changes that you will bring and the impact that you will create that would live beyond you.
And, do always remember the quote of the greatest social entrepreneur of all time – Late Shri M. K. Gandhi, "First they ignore you, then they laugh at you, then they fight you, then you win."  This will keep you motivated even if the going gets tough and you find yourselves in a highly adverse environment.